There are many reasons to love Malaysia and one of them is how easy it is to go on a mini getaway. All you really need is a car to get you there—and a day with no special occasions (Read: Chinese New Year, Hari Raya, etc). A month ago, we were invited on a two-day trip to Ipoh by BMW Group Malaysia to test out some of the cars from the PHEV range. Of course, it'll be boring to just head straight to Ipoh so they meticulously planned out a route where we'll be able to make a few stops at tourist attractions. I don't know about you but I, for one, have never visited the Menara Condong in Teluk Intan before.
*All drive durations here are estimated from the KL city centre.
1. Templer Park Rainforest Retreat — 1 hour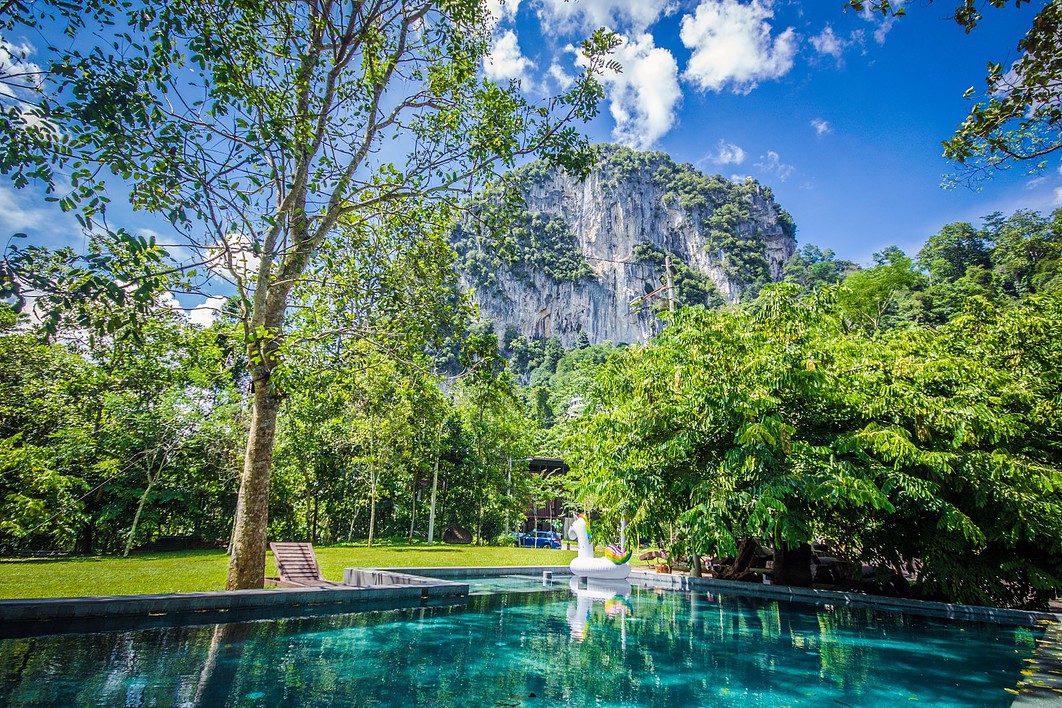 In dire need of an escape from the concrete jungle that is Kuala Lumpur? Salvation is a mere one-hour drive away from the said city. Located on a hilltop and surrounded with a 360-degree view of the Kanching Rainforest Reserve, the retreat is equipped with everything you need for a relaxing holiday—with the people who matter. There's an infinity pool, an outdoor sauna, BBQ pits, Wi-Fi, activities such as jungle trekking, and more. Oh, and the rooms are air-conditioned.
With the BMW 740Le xDrive
Most people were surprised when I said this was my favourite out of the four cars we drove on this trip. And then I realised it's because we were on the highway most of the time. It's quite a long car which I imagine wouldn't be so fun to drive (or park) when going around in KL. That said, it is a very comfortable car, be it as the driver or passenger. The latter, however, gets the best service as the rear seats are fitted with massage functions (eight massage programmes, to be exact). At the front, we got a kick out of the Gesture Control where one can easily control the centre console—such as adjusting the volume or choosing a radio station—with a simple circular motion of the index finger or 'pointing' at the screen.
Comfort aside, the power of the engine is glorious and receptive, making the journey ultra smooth at every turn. The numbers: The 2.0 litre BMW TwinPower Turbo four-cylinder in-line engine delivers an output of 326 hp, 500 Nm of torque, a top speed of 250 km/h and a 0-100 km/h acceleration in 5.3 seconds. All these from a combination of the combustion engine and electric drive system.
2. Menara Condong Teluk Intan — 2 hours 30 minutes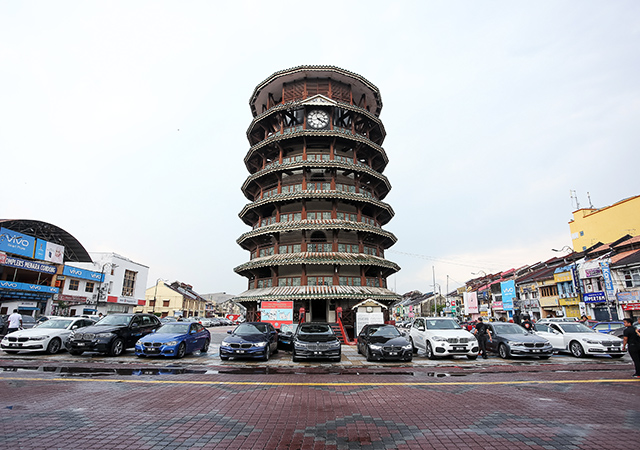 I've seen it in photos. I know it exists. And finally, I've seen it in real life. Standing at its base, it's hard to really see that it's 'leaning' at all but the 25.5-metre tall tower does command a presence amidst the rows of shops surrounding it. Step inside and climb the stairs, though, and you'll feel that it's definitely leaning. Fun fact: While it's also known as the Clock Tower, it was originally built to store water during the drought season. And that is why the tower became slanted—the weight of the water in the tank caused it lean as it was built on soft soil.
With the BMW X5 xDrive40e M Sport
Personally, I've always been a fan of admiring SUVs but not of driving them – only because, admittedly, it's not very convenient when it comes to parking or braving the jam on Federal Highway (or Bukit Bintang) to/from events on an (almost) daily basis. But for road trips? Go for it. You can pack a ton and load them all in the boot. Everyone gets more-than-ample space. And all that weight doesn't bother your fuel spending (and Mother Earth destruction) so much since this one is a hybrid. Upgraded with the 40e variant, the X5 is an effortless beast that boasts fancy features such as the Harman Kardon surround sound system.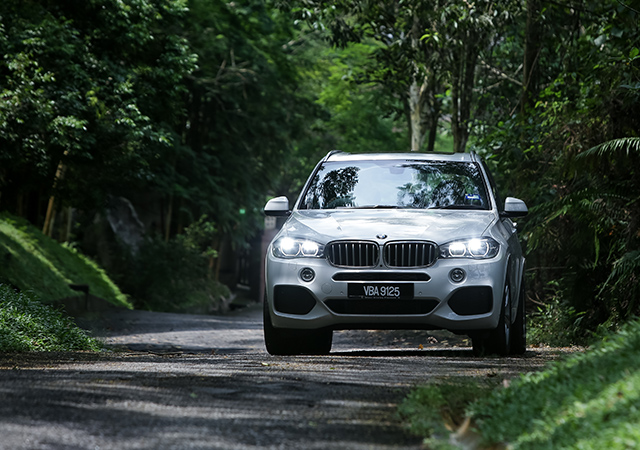 The plug-in hybrid SUV is capable of going 0-100 km/h in 6.8 seconds and covering 30km in the all-electric mode. But since you can choose an eDrive Mode depending on the driving conditions, there is the option to prolong your battery charge. Also, the car is meant to recharge itself a little through regenerative braking. I should point out as well that the SUV isn't as large as others—it's more of a 5+2 seater. Another thing to note from my turn at the wheel (and through the nightmarish rural roads on our way to the next stop) is the ease of overtaking vehicles (cars, lorries, motorcycles, cows) (just kidding on the last one) and the lack of delay with the power delivery despite its size.
3. Kellie's Castle — 2 hours 45 minutes
I've heard of it and how it's possibly haunted. However, it's also gorgeous inside during the day as it contains elements of Scottish, Moorish and Indian architecture. Its founder William Kellie Smith built it as a symbol of love for his wife upon the birth of their son. Unfortunately, it was never finished as many of the workers were struck by the Spanish Flu. Fun fact: In here is where the first elevator in Malaysia is located and it was used as a setting in the film Anna and the King.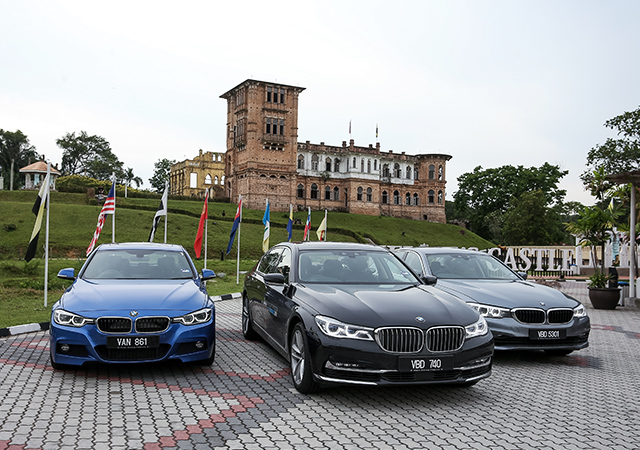 With the BMW 330e M Sport
I've previously reviewed the M Sport variant with few complaints but once you've driven the 740Le xDrive and X5 xDrive40e in less than half a day, you can definitely feel the difference behind the wheels of the 330e. Don't get me wrong. The 330e is pleasant to drive and sporty in design. Like the others, you can opt to go all-electric in the Max eDrive mode or maintain the default Auto eDrive. Whichever it is, you can feel a slight delay when switching lanes and switching between accelerating and braking while on the highway. The battery also depletes faster than expected.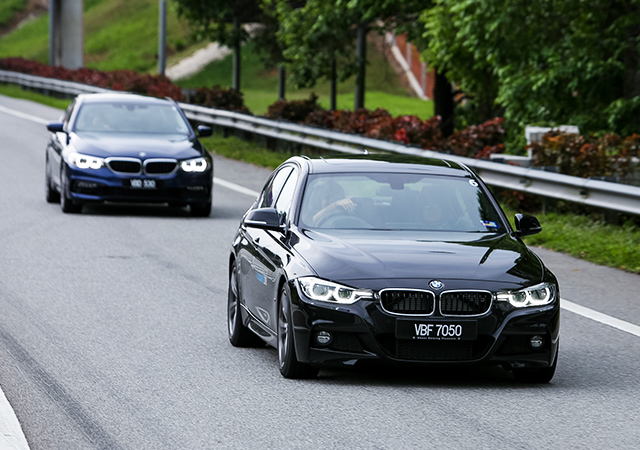 The drive is nevertheless smooth and almost silent with close to no vibrations. Also, it can sprint from 0-100 km/h in 6.1 seconds. On the note of road trips, boot space could be larger but opening it handsfree with a wave of your foot beneath is a nice added feature. Every car should have it.
4. Weil Hotel — 3 hours
If you're doing an overnight stay in Ipoh—like we did—and you're driving one of the BMW cars that requires a bit of recharging—like we did—you'll be weil sorted at this 4-star hotel. Not only is it at a strategic location (it's right next to the Ipoh Parade Shopping Centre) but it houses three new BMW i Charging Stations. If you're wondering where are the best places to eat in this quaint town, check out our Buro City Guide: Ipoh. Alternatively, here's Nobu KL's Chef Phillip Leong's mini guide to his hometown.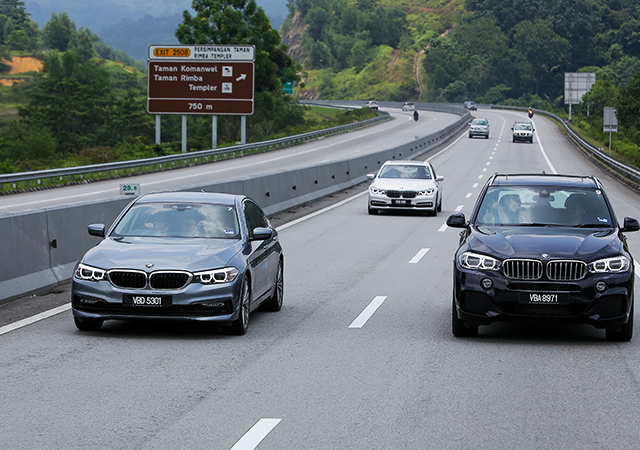 With the BMW 530e Sport
We've talked about the 530e Sport before. Out of the four cars, the 530e here sits nicely in the middle in my ranking. It's quite a looker and doesn't compromise the least when it comes to performance. Boasting a 6.2-second century sprint and a top speed of 235 km/h, it's a testament of efficiency with a fuel consumption figure of 2.0 litres of petrol per 100 km. However, while on the highway, it's best to use the Battery Control mode to set its charge level manually as cruising at high speed on EV Mode could drain the battery faster. Setting it manually could appoint the electric motor to generate charge instead when accelerating, and reserve power for all-electric driving later.
You can also check out our journey in the video below—captured with the GoPro Hero5 and edited with the Quik app.
For more info on the vehicle models above, visit BMW Malaysia's website.
| | |
| --- | --- |
| SHARE THE STORY | |
| Explore More | |