It wasn't just all food and fun at the Iftar with BMW event last night, though that's a given. Instead, the highlight quickly shifted gears from the evening's warm affair to the preview of three brand new additions to the BMW X family: The BMW X4, BMW X5 and the BMW X2 M35i. While that may look like a flurry of X'es and numbers, we can assure you that the X is in its name is the only similarity the three vehicles share. We break it down below for your reading pleasure:
The second-generation BMW X4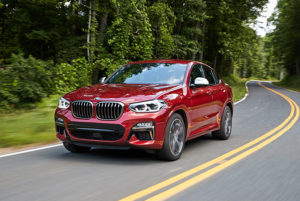 bmw x4 2019 malaysia launch
The new BMW X4 is many things but to sum it up, it's a leader in the Sports Activity Coupe (SAC) portfolio. To be locally assembled in Malaysia, it's distinctive from its muscular dynamics all around—which includes acoustic glass fitted in to reduce wind noise—but take it for a spin, and it's more than just a sexy-looking car.
At its core is a formidable 2.0-litre four-cylinder petrol engine that's capable of a peak torque output of 350 Nm, a top speed of 240km/h and a record of 0-100km/h in 6.3 seconds. All of that with a mere combined fuel consumption of 7.8 litres per 100km. Not to mention, gear changes are faster thanks to an 8-speed Steptronic Sport transmission. So, yes, it's agile.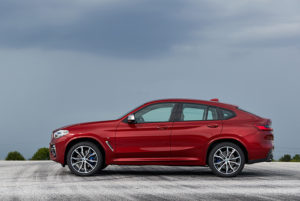 bmw x4 2019 malaysia launch
As for its interior, expect exquisite Vernasca Leather upholstery in Tacora Red, a large Panorama Glass Roof, a three-zone air conditioning system, a full-colour Head-Up Display and a larger free-standing 10.25-inch Navigational System Professional with Touch Sensitive Control Display. The advanced Voice Control system has also been improved to follow instructions phrased in natural language for better convenience.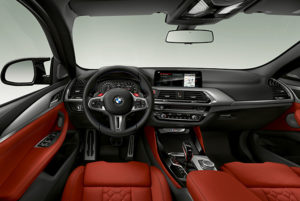 bmw x4 2019 malaysia launch
The second-generation BMW X4 xDrive30i M Sport will be available beginning 1 June 2019 with an estimated retail price (OTR without insurance) of RM380,000.
BMW X5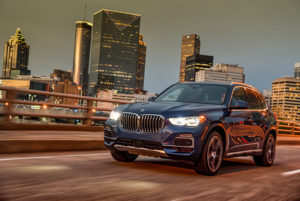 bmw x5 2019 malaysia launch
Could the BMW X5 look even more athletic? Turns out it can with the new BMW X5. Athletic with clean precise lines and clearly defined surfaces. Its presence is easily demanded with the large kidney grille taking centre stage. In general, it's grown in dimensions all-round while improving its manoeuvrability and maximising comfort. The roofline is also higher while the luggage compartment sees a larger jump from 650 litres up to 1,870 litres.
Despite its massive frame, the new BMW X5 hosts a fuel-efficient three-litre six-cylinder petrol engine. The numbers: a peak torque of 450 Nm, a top speed of 243km/h and 0-100km/h in 5.5 seconds—all with a stat of 9.2 litres per 100km/h of travel, which is significantly lowered than its predecessor. To assist with all that power is an expanded range of driver assistance systems, which includes the latest BMW Personal CoPilot that has a cruise control system with braking function, Lane Departure Warning with steering intervention and more.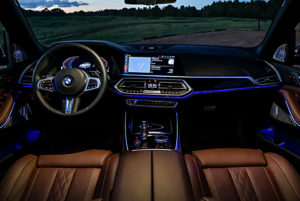 bmw x5 2019 malaysia launch
Within the chamber of the vehicle is the electrically adjustable sports seats with Vernasca Leather upholstery, ambient lighting complete with the Welcome Carpet, four-zone air conditioning, and a Panorama glass roof that has been increased by 30 per cent. Also, the cargo cover can now be electrically retracted into the luggage compartment floor. In addition, its new BMW Head-Up Display is now 70 per cent larger than before; the 12.3-inch Information Display with an equally large central Control Display.
Last, but not least, you can easily unlock the vehicle by placing an Android smartphone (they call it the BMW Digital Key by using NFC) close to the driver's door handle. Similarly, place the smartphone in the centre console's charging tray and you'll be able to start the engine.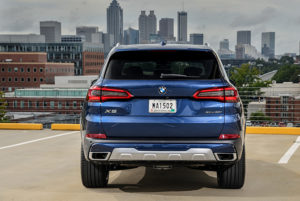 bmw x5 2019 malaysia launch
The all-new BMW X5 xDrive40i M Sport will be available beginning August 2019 with an estimated retail price (OTR without insurance) of RM640,000.
BMW X2 M35i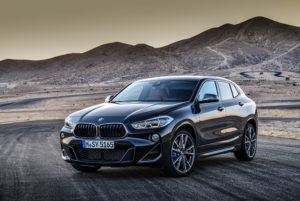 bmw x2 2019 malaysia launch
Also a Sports Activity Coupe, the new BMW X2 M35i is akin to a redefined sports car, evident not just from its exterior but especially its M Performance exhaust system that produces a particularly sporty sound spectrum thanks to the adapted silencer system.
Powered by a 2.0-litre TwinPower Turbo engine—the first-ever M Performance 4-cylinder turbocharged petrol engine—it sets a new benchmark with the following results: a peak torque of 450 Nm, top speed of 250km/h, 0-100km/h in sheer 5.0 seconds and a fuel consumption of 7.4 litres per 100km. The new BMW X2 M35i also comes with xDrive, the intelligent four-wheel drive technology.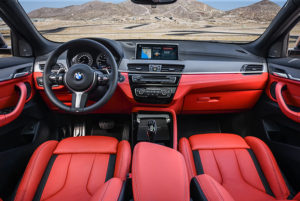 bmw x2 2019 malaysia launch
Highlights of the interior include: exclusive M sports seats at the front (for the first time!) for absolute comfort (even at sharp bends), Navigation Plus with an 8.8-inch touch sensitive control display, and the exclusive M Sport leather steering wheel with shift paddles.
The all-new BMW X2 M35i will be available beginning July 2019 with an estimated retail price (OTR without insurance) of RM400,000.
| | |
| --- | --- |
| SHARE THE STORY | |
| Explore More | |