We've said it before and we'll say it again: Malaysia is a treasure trove of hidden gems and road trip destinations. Ipoh is one such popular spot—for its graffiti art; for its chicken rice, tau foo fah and more; for its cafes; and so much more. But if you've been more times than you like to admit, and you're looking for the perfect getaway that's not too far from KL for a drive, then The Banjaran Hotsprings Retreat in Ipoh is your answer.
Luxurious, unique and rejuvenating—it's not your typical rainforest-like retreat. Nestled in a 22.7-acre valley, Ipoh's popular The Banjaran Hotsprings Retreat is surrounded by 260-million-years-old Paleozoic limestone hills and a lush rainforest. If that's not enticing enough, know that the retreat includes geothermal hot springs, natural caves and cascading waterfalls. All these within just 2 hours and 15 minutes away by car. Or even sooner with the right vehicle, as we discovered during The Mercedes-Benz Luxury Drive with both the E-Class and S-Class. Here's everything we learnt and explored during one of the most relaxing road trips ever.
Driving to Ipoh with the Mercedes-Benz S450
The drive started off at the house of Nick Young's grandmother a.k.a Carcosa Seri Negara, which made for the perfect backdrop for the Mercedes-Benz limousines. Our carriage for the day: the luxurious S40. "The S-Class is the definitive statement of luxury in its purest form, making it an absolute Pinnacle of Luxury," said Mark Raine, Vice President Sales & Marketing, Mercedes-Benz Malaysia.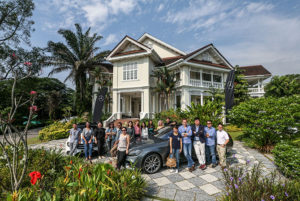 Mercedes Benz banjaran hotsprings ipoh roadtrip
FUN FACT: Carcosa Seri Negara
Besides now being world-famous for appearing in Crazy Rich Asians, Carcosa Seri Negara was also the site where the nation's independence agreement was signed. Built in 1896, it once acted as the official guest house for visiting royalties.
Without a single stop, the S450 powered its way out of KL, onto the highways and into the quaint town of Ipoh. As a luxury limousine, it's expected to be ultra comfortable in the back but this very comfort extends to the front as well—driver included. And on that note, it's a given that the needs of the passengers are taken care of, but Mercedes-Benz clearly didn't forget about the person behind the wheel.
For starters, the steering wheel itself has touch-sensitive Touch Control buttons that work with swiping motions—just like how you would use a smartphone—to control the entire infotainment system. A system which can be viewed via the large wide-screen cockpit that even allows three different display styles ("Classic", "Sporty" and "Progressive"). In addition, another futuristic element is weaved into this very system with the Linguatronic voice control, which for the first time includes vehicle functions such as to control the air conditioning, seat massage function and interior lighting.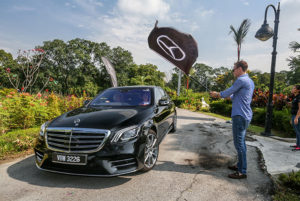 Mercedes Benz banjaran hotsprings ipoh roadtrip
The S450 is a beauty with a few sporty touches, evident from the front bumper at first glance, and to match it is a set of numbers that don't disappoint. With a maximum output of 367 hp and a peak torque of 500 Nm, the S450 easily accelerates from 0-100km/h in a sharp 5.4 seconds. And for a car that size, manoeuvring down narrow streets or round curved bends on the highway is surprisingly easier than it looks.
PIT STOP: STG Tea House Cafe, Ipoh
After a swift two-hour drive, it was time for lunch and STG Tea House Cafe (Sabah Tea Garden for short) was more than accommodating. A refurbished colonial bungalow transformed into an elegant mansion, here's one Instagram-worthy spot that doesn't disappoint the foodies.
CHECK-IN: The Banjaran Hotsprings Retreat, Ipoh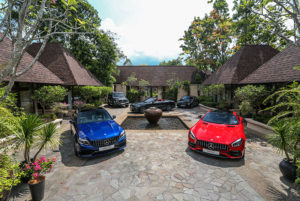 Mercedes Benz banjaran hotsprings ipoh roadtrip
Stomachs satisfied, the drive continued on to the depths of our retreat. Upon exiting our car, it was almost as if we had been transported to a different dimension. One of utmost peace, surrounded by nature, but with the same Malaysian heat. Our room was the Water Villa and it was incredibly spacious. The sight of private pool and Jacuzzi hot tub (filled with natural geothermal hot springs water) was enough to seduce us to stay in—although the aromatherapy massage at the spa was certainly worth leaving the room for an hour-ish. By night, still there was no need to leave the sanctuary as a unique and intimate dining experience awaited us in the form of Jeff's Cellar, located within an ethereal cave chamber.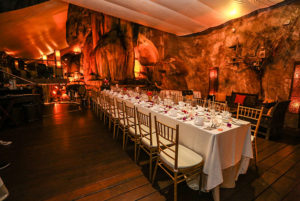 banjaran hotsprings ipoh – jeff cellar
PIT STOP: Foh Shan Dim Sum
Dim sum is a must when in Ipoh and since we're already there, why waste a good chance for siu mais and egg tarts? In the wee hours of the morning (7.30am), despite the downpour and despite the one-hour test drive slot we had with the Mercedes-Benz car (it was a 20-minute drive), off we went. Variety: 9/10. Taste: 7/10.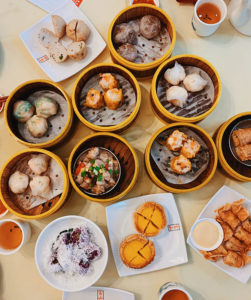 foh shan dim sum ipoh
Driving back to KL with the Mercedes-Benz E350 AMG Line
The rest of the day was well spent in the villa. There was a big public swimming pool but why bother when there's a private pool and hot tub in your own room? After checking out in the afternoon, we headed to Ninety One for lunch before the drive back to KL in the E350 AMG Line.  Locally assembled with a four-cylinder 2.0 engine and belt-driver starter generator, it's the sporty star of the E-Class range, equally combining safety, comfort, performance and luxury design in one.
Once more, we whizzed back to KL without stopping (why the need to stop when it's a comfortable ride and a bladder that doesn't complain). Officially, the numbers are a maximum output of 299hp, torque of 400 Nm (with an addition of 150 Nm boost thanks to the belt-driven starter generator), and a 0-100km/h acceleration in 5.9 seconds.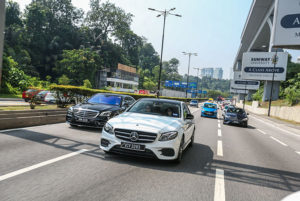 Mercedes Benz banjaran hotsprings ipoh roadtrip
Also worth mentioning is the new addition of the Driving Assistance Package to help avoid collision and overall improving the driving experience. That very goal is further achieved with the Dynamic Body Control suspension with adjustable damping between maximum agility or high damping comfort—depending on the type of route or personal preference.
Driving in Malaysia might be daunting and downright frustrating to some, but it certainly makes a huge difference with the right ride. Besides, the food in our neighbouring states is definitely worth it, right?
The Mercedes-Benz S450 is priced at RM699,888 (OTR without insurance) while the E350 is priced at RM399,888 (OTR without insurance). For more information, visit Mercedes-Benz Malaysia's website.
| | |
| --- | --- |
| SHARE THE STORY | |
| Explore More | |