Food + Drink
An interview with Darren Chin, the man behind DC Restaurant
Behind a grounded philosophy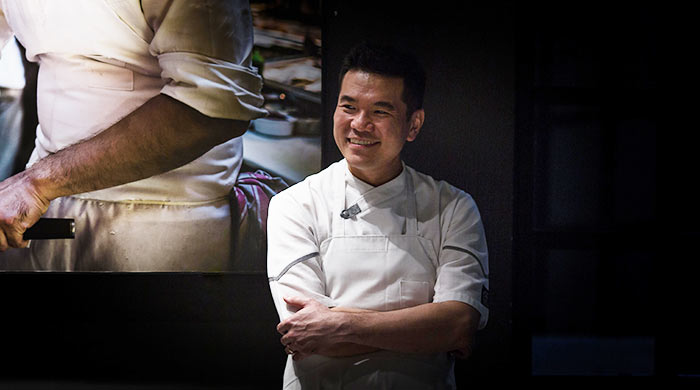 Among some of the restaurants spearheading KL's fine dining scene is DC Restaurant, an establishment helmed by Darren Chin that serves a tantalising and innovative menu of French-meets-Southeast-Asia flavours. The restaurant was founded in 2014, but Darren is no stranger to the industry—his dad David Chin is the founder of Dave's Deli Group, the company which owns Dave's Bistro & Grill in 1 Utama, and Darren spent many years heading the kitchen at Dave's.
The turning point came for Darren when he was 30: he packed his bags and went to train at Le Cordon Bleu in Paris, a stint that redeveloped him as a chef. Inspired by what he learned and experienced in the French capital, he came back and started drawing up plans for his dream restaurant—which led to the birth of DC Restaurant.
Here, Darren talks to us about some of his inspirations, favourite food memories, as well as his restaurant's journey so far:
What was your childhood experience of food at home?
"My best childhood memories of food definitely involves my dad's home cooking—they are still my favourite food memories after all these years."
You've mentioned that going to France was a turning point for you. What were your biggest takeaways from your stint at Le Cordon Bleu?
"I went to France when I was 31 years old, so the enduring part was to unlearn what I was used to and relearning classic French cooking techniques. That formed the basis of my cuisine, and that also redeveloped me as a chef. It felt like an enlightenment to some extent.  My stint there also allowed me to really see how the French appreciate food, and how food is a part of life and should be celebrated."
Tell us about the idea behind DC Restaurant.
"DC Restaurant is a true reflection of how I would like to express myself. It is every chef's dream to own their own restaurant, and I was very fortunate to have a supportive family—they made my dream come true."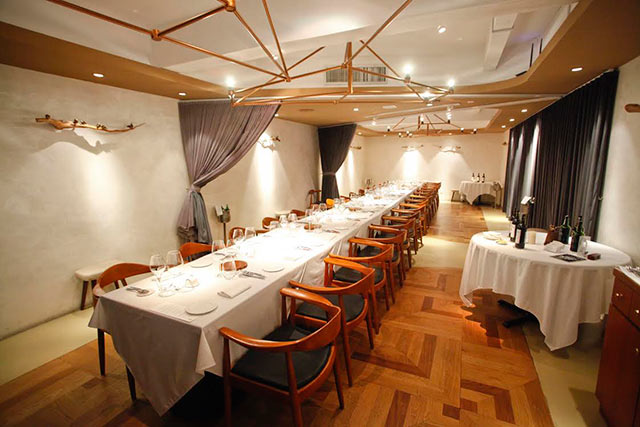 "It is now two years since we opened and it has been quite a journey so far. Our cuisine is constantly evolving and getting better, and I am getting closer to self-realisation through my cuisine."
What are some of the things that inspire you when it comes to creating a menu?
"For me, ingredients come first. To physically see and smell fresh produce is always fascinating. I am constantly asking myself how can we bring out the best of that ingredient. Second is to apply the best technique. This is to give diners a different mouthfeel and sensation."
Which dish on the menu best reflects your restaurant's philosophy?
"I would say the menu itself is a reflection of my restaurant's philosophy, which is originality, quality, sincerity and NO cutting corners. The most important thing is being true to yourself and believing in what we do. A lot of people have opinions and suggestions, especially when it comes to food. But I think it is very important to uphold that integrity."
Your favourite ingredient to work with?
"I love working with seafood, king crab, Uni, line-caught fresh fish. There is a lot of diversity with seafood, which can bring out the subtleties and purity in a dish."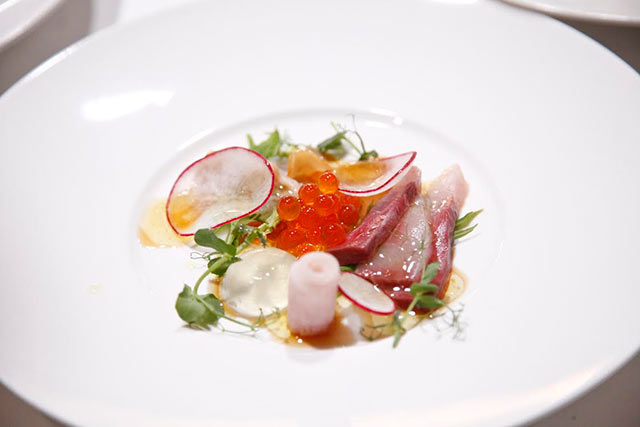 What are your views on KL's current fine dining scene? Has there been any new establishments that captured your attention?
"Some people say fine dining is out of fashion, that it is too stuffy and posh, and guests appreciate more simple, less sophisticated dining. But in my opinion, everyone has a special occasion to celebrate. It is always nice to splurge and pamper ourselves every once in a while. 
Over the last two years, the fine dining scene has picked up quite a bit. It is worth checking out Cilantro, which just renovated with Chef Takashi helming the kitchen. James Won from enfin also has a beautiful restaurant. "
Tell us about one of your most memorable dining experiences.
"My first encounter with "haute cuisine" was at Tetsuya's and Quay (by Peter Gilmore) in Sydney. It was truly an eye opener for me, and some of those dishes still remain in my memory since 1998. But it was not just about the food—it was the whole dining procession that left a lasting memory.
It is always good to travel, to see what other chefs are doing with their cuisine. Most recently, my trip to Bali at Cuca Restaurant (Jimbaran) and Mejekawi (Kudeta-Seminyak) was also very memorable."
Words of advice for the budding chef/restaurateur?
"Always be true to yourself and never stop believing—you will eventually get to your destination. Keep pushing!"
DC Restaurant is located at 44, Persiaran Zaaba, Taman Tun Dr Ismail, 60000 Kuala Lumpur.
Related stories:
#BuroDiningGuide: 5 Restaurants to try for authentic of unique Malaysian cuisine
| | |
| --- | --- |
| SHARE THE STORY | |
| Explore More | |