Ramadan is the season to be reminded of humility and to practise it. It's the season to be reminded of family and spend more quality time with them because that's what really matters in life. And for the latter, there's no better way than to have a meal at the dinner table. Whether you're looking for a place to break your day's fast or you're simply a fan of Malay-inspired cuisine, here are some of our recommendations.
Buka Puasa buffet at Mosaic, Mandarin Oriental Kuala Lumpur, 6 June – 5 July 2016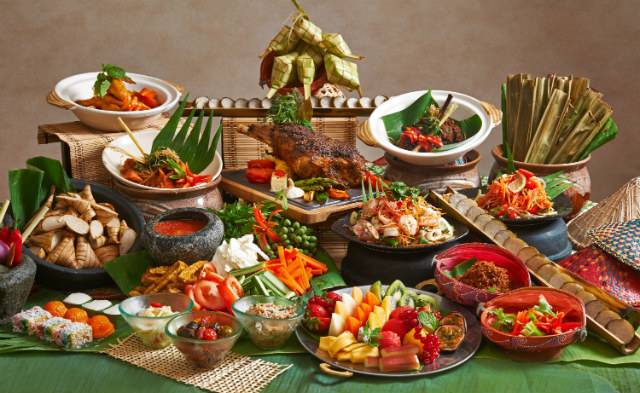 The spirit of Ramadan is certainly ablaze at Mandarin Oriental's Mosaic as the restaurant offers a unique rendition of over 100 authentic local and international dishes. For appetisers, there are assortments of kerabu (such as Urap Nangka Tampe, Kerabu Sotong Tradisi and Ulam Kampung dengan Telur) and local snacks (Keropok Lekor, Serunding Daging Mak Tok and Kerepek Ubi Kayu Pedas).
Move on to heartwarming soups and a traditional Malay porridge before tackling a mouthwatering (and huge) selection of main courses that include Lemang, Rendang Daging, Kambing Kuzi Rencah Asli, Ayam Percik Pantai Timur, Sambal Tumis Udang Harimau Petai and Ikan Talang Masin Goreng Asam.
Finally, finish your meal on a sweet note with your favourite local desserts such as Bubur Pulut Hitam, Bubur Kacang Bersago, Putu Buluh Bambu, Malay kuih and Ice Kacang.
The Buka Puasa buffet is priced at RM188 nett per person and RM94 nett per child (4 to 11 years old). Enjoy a special price of RM138 nett per person and RM69 nett per child for bookings made on 6 June to 12 June, and on 4 and 5 July. For dining reservations, call 03 2330 8797 or email [email protected].
The Lobster Briyani Gam and Buzzy Bandung at Pince & Pints Kuala Lumpur, 23 May – 17 July 2016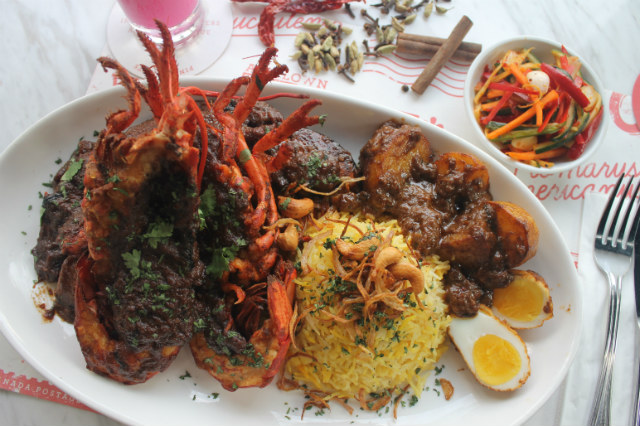 Who doesn't love lobster? Just for this Ramadan season, Pince and Pints Kuala Lumpur is giving their lobsters a special local twist—by pairing it with the classic Johorean Briyani Gam that was first introduced in the 1880's by Johor's first Menteri Besar, Dato' Jaafar Muhammad. It's a family recipe that has been passed down for generations up until one of his descendants who is also one of the Directors of Pince & Pints Kuala Lumpur.
An already mouthwatering dish in its original serving, the recipe has been adapted to bring out the natural juiciness and sweetness of the fresh, live lobsters; and easily takes half a day or more to complete. The basmati rice is fragrant with the exotic and luxurious spices that were used to prepare it while the sauce truly goes amazingly well with both the Briyani Gam and lobster.
Buzzy Bandung, on the other hand, is another Dato' Jaafar family favourite. A rose syrup concoction made with evaporated milk and topped with ice cream soda, it's thirst-quenching and velvety on the palate.
The Lobster Briyani Gam is priced at RM178++ while the Buzzy Bandung is available a la carte for RM9.90++. There are limited portions available daily so be sure to make a reservation at 03 2201 3233 or visit their website.
Middle East-inspired Iftar sets at Bakar, until 5 July 2016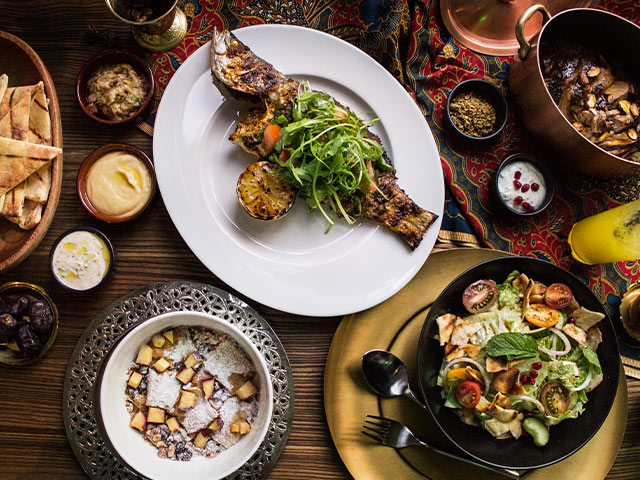 Located in Bangsar's Lorong Kurau, you honestly can't go wrong with the food at Bakar. Rich in intricate flavours and prepared over the charcoal fire's flames, the cosy eatery is known for modern BBQ dishes with a contemporary spin; and the two new Ramadan-exclusive menus don't fall short from its usual fares' standards. Both iftar sets begin with soft Lebanese flatbread and flavourful dips to go with it followed by the Fattoush Salad, a colourful mix of vegetables topped with crispy bread and pomegranate dressing. Next comes one of the main highlights of the menu—the Lamb Ouzi with rice and topped with lamb shoulder that has been slow-cooked for 12 hours and with sides of mint yoghurt and dukkha.
The only difference between the two Iftar sets is that one of them is meant for a larger group by including the local all-time favourite, Ikan Bakar. Dessert is Umm Ali, an Egyptian style bread pudding that's fluffy and just sweet enough to end the night on a very satisfying note.
The Iftar at Bakar sets are available at RM280 nett (2 – 3 pax) and RM580 nett (4 – 6 pax). You can call 03 2280 0073 to make a reservation or visit The Big Group Facebook for more information.
A Mediterranean-Malaysian Buka Puasa menu at Quivo, 5 June – 5 July 2016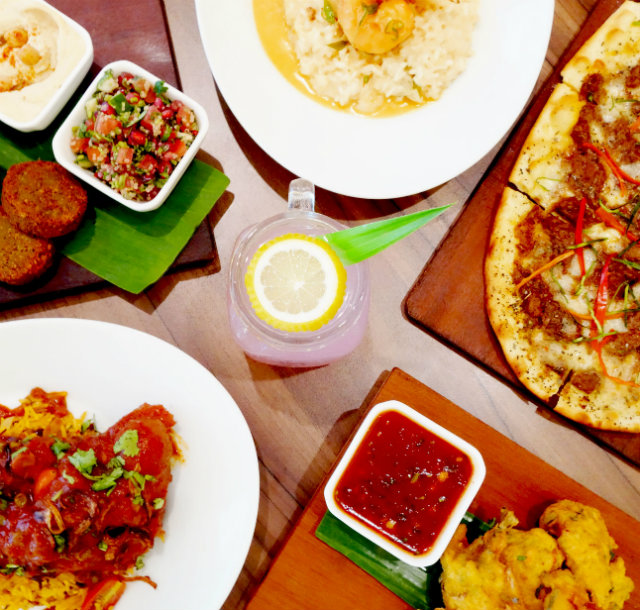 Yet another unique fusion for Ramadan, Quivo is offering a lavish spread of familiar delights with their exclusive menu of starters, sharing plates, mains and a dessert. There's an oxtail consommé, sharing plates of their version of cucur udang, Braised Lamb Biryani Masak Merah and even a Beef Rendang Pizza, among others.
To make a reservation, call 03 2141 7711.
Related stories:
Reasons to become vegetarian, part one
Timbre @ The Row: Comfort food meets live music
Kirin Ichiban x Ginza Tenkuni: An excellent tempura experience
| | |
| --- | --- |
| SHARE THE STORY | |
| Explore More | |