The best kind of vegetarian food is the kind that makes you forget about your love for meat
Call me naive, but I've always been a firm believer in serendipitous destiny. That is to say that the right person in the right place at the right time can meld most auspiciously together to yield amazing results. Partners in life and business Meetha and Prabodh Sheth most succinctly vindicate these convictions. A chance meeting by Prabodh with a person who wanted to sell her restaurant but who needed the buyer to remain true to its vegetarian principles found its propitious soul mate in Meeta, a lifelong vegetarian and a food prodigy who could recreate flavours she had tasted with unerring accuracy and even improve on them. 
Things quickly fell into place, as they are wont to do when things are meant to be, and soon Meeta was mesmerising diners with the meat-free cuisine she had learned from her mother and grandmother in Gujarat, India. There is a compelling quality to Ganga (19 Lorong Kurau, Off Jalan Riong, Bangsar Pertama, 59100 Kuala Lumpur), and it lies not in the spartan though scrupulously tidy decor, but in the disarming charm and candour with which the couple greet customers, and in the food they serve. Not merely nutritious, coeliac-friendly, and vegetarian, it's also meat-free cuisine at its most quietly spectacular. Perish the thought of gluten-riddled mock meats or the flaccid overcooked vegetables that too often besmirch the menus of vegetarian eateries. At Ganga, expect to be entranced by a smorgasbord of distinctive delights, from the kandvi—scrolls evocative of chee cheong fun that are made from yoghurt and gram flour—that are nuanced yet bewitching in the discretion of its flavour, to such snacks as the hara bhara kabab comprising crispy spinach and potato patties. This is vegetarian soul food at its most stellar, with even the drinks—the mango lassi is the best I've had in KL—vying for attention. 
And now, having established themselves as the ones to watch in the meat-free revolution, Meetha and Prabodh have once again upped the ante, and opened a Mediterranean-centric vegetarian restaurant next door. And although it's been opened for only two months, reservations are now requisite, and Barat (17 Lorong Kurau, 59100 Bangsar) shows every sign of giving its elder 'sibling' a good hard run for its money.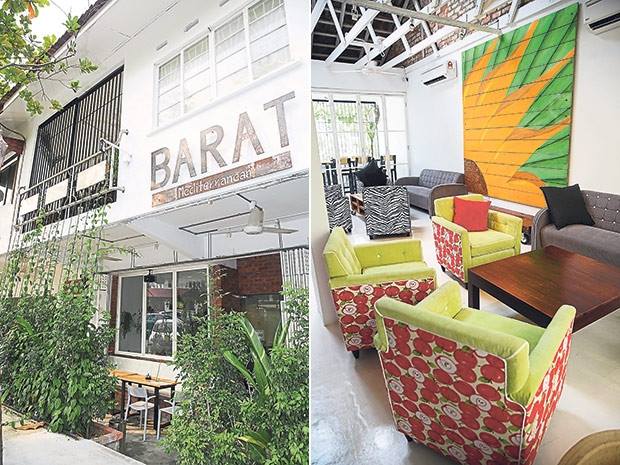 "Barat is the culmination of the food we have served and enjoyed at home, and we want to share it with diners and show them that this is not a vegetarian restaurant, but a restaurant that happens not to serve meat, and you won't miss its absence because of the quality of the cuisine," Prabodh told me. And as with Ganga, chef Lingesh, who was undertaking his mandatory three-month pre-marital vegetarian stint, stumbled into their path, culinary music was made, and the rest is history.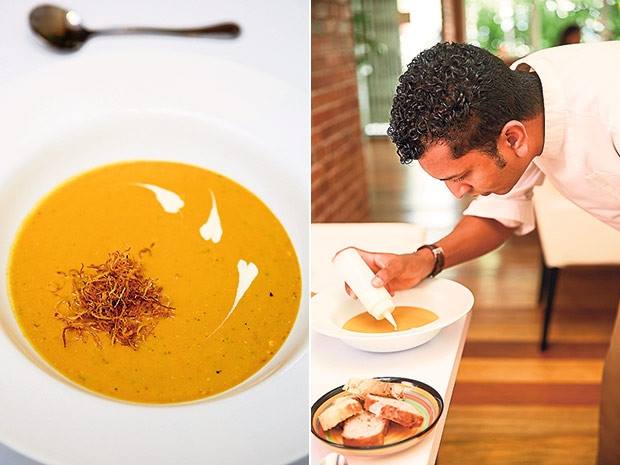 Borrowing from the formula of Ganga's Sunday buffet brunch—"Where I experiment and serve all kinds of food to determine which ones diners like so I can incorporate them into the menu," says Meetha—Barat is offering an eleven-course degustation that is as enthralling as it is well priced, at RM125. A plethora of unexpected gems include the spiced pumpkin soup laced with ginger (think dessert and soup having a romantic slow dance together), grilled peppers stuffed with cheese, and a nuttily creamy pistachio carbonara juxtaposed with the chewy brio of sun-dried tomatoes. Quite apart from the thoughtful creativity of the food at Barat, it's also the confidence with which Lingesh and his team execute the cuisine that draws you in, keen to unearth each new flavour sensation, having absolutely forgotten that the meal is void of animal protein. It's exactly as Prabodh promised, and more.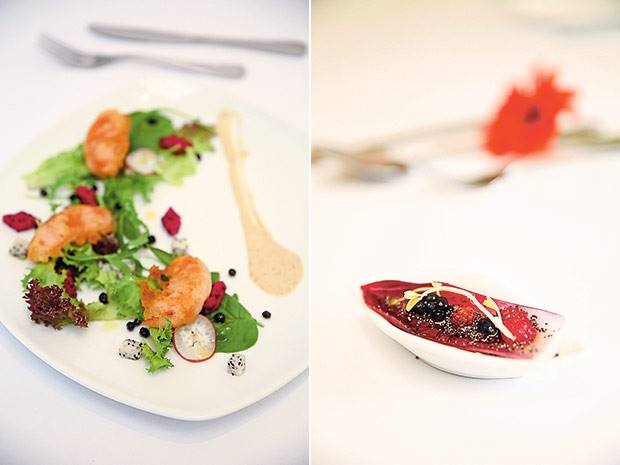 And if, as Oscar Wilde claimed, imitation is the best form of flattery, then other restaurateurs, vegetarian or otherwise, would do well to flatter Ganga and Barat, for there is a valuable lesson to be gleaned from their success, and it is that producing meat-free food that is imaginative, delicious, and memorable lies within the reach of everyone. The question is whether they can be bothered. Meetha and Prabodh could, and they have been rewarded by customer loyalty in spades. Bravo!
Follow Fay on Twitter and Instagram at @misskhoo.
Related stories:
Healthy snacking: Vegetable chips
Paying for water in restaurants: Yay or nay?
Penang food: When too much still isn't enough
Healthy snacking: Vegetable chipsPaying for water in restaurants: Yay or nay?Penang food: When too much still isn't enough
Source:http://www.buro247.my/lifestyle/food-and-drink/la-recherche-des-aliments-perdu-in-search-of-foods.html