After a day of scouring the streets for popular Penang favourites (char kuey teow, nasi kandar and more) during our #BuroRoadTrip, we figured it wouldn't hurt to dine at somewhere a little fancier when night falls. On our last night in Penang, we headed to Thirty Two at the Mansion (32 Mansion, for short) with high hopes upon seeing the gorgeous exterior of the building. All we knew was that it's a pork-free restaurant that serves a Western menu with a couple of Asian dishes and a lovely ambiance as it's situated by the sea. Read on for our experience at 32 Mansion.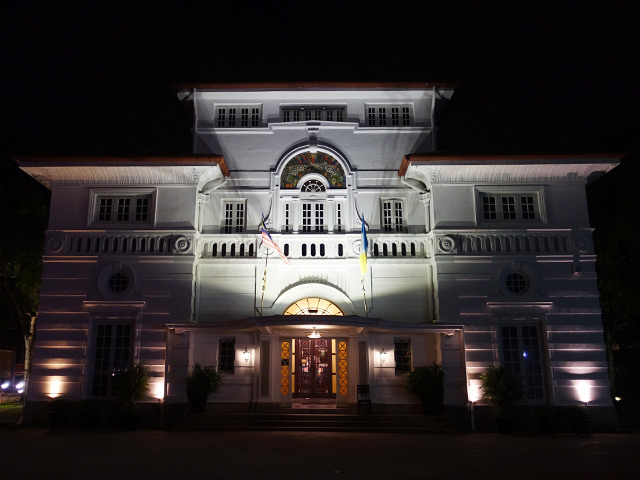 Cai Mei Khoo, Editor-in-Chief
Located along the coast near the E&O hotel, Thirty Two at the Mansion is set in a beautiful colonial space that houses a lounge, beachside bar, private dining rooms and a restaurant. With a cozy, relaxed ambiance and a pianist entertaining the diners, 32 Mansion seems to be the go-to restaurant for birthday dinners—there were three that night alone. For starters, we had pie tee, pan seared scallops and seared duck foie gras, all of which I felt were rather average. I'm not sure I would order pie tee at a restaurant like Thirty Two given that good pie tee is easy to find along the streets of Penang. The main course was much better—a personal favourite was the sea bass, which was light and well-flavoured. The other dish that was commendable was the Crab Laksa Lemak that while tasty, lacked any detectable trace of actual crab meat (perhaps it had all melted into the broth?). The other issue I had was the temperature at which the food was served—our food was barely lukewarm.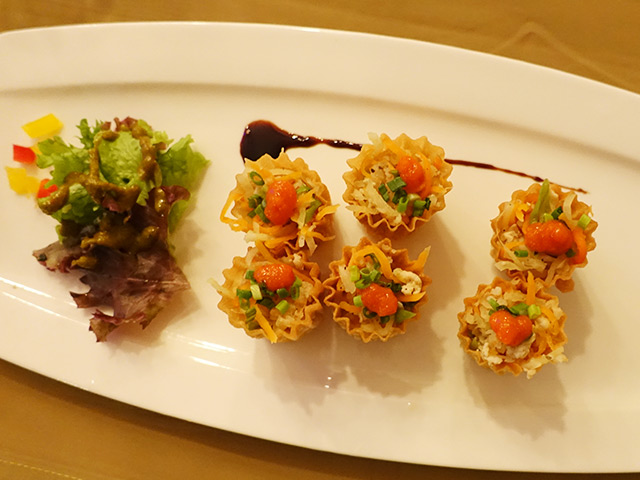 Gwen Ong, Deputy Editor
I love Penang for its old world charm where the city George Town boasts a proud heritage of cultural attractions and beautiful colonial buildings. One such establishment currently houses the 32 Mansion restaurant—the Italianate villa has been around since the 1920s! So how was the food? For starters, the foie gras was pleasantly done with a slightly charred and melt-in-your-mouth texture; while the pie tee may have lacked a crisp outer, it was something that I couldn't resist popping into my mouth simply because the little top hats make for a cute appetiser. Moving on to the mains, we had a table full of dishes including baked salmon and roasted sea bass. The former was cooked with a nice crusty skin while the latter tasted fresh and well seasoned. I was more intrigued by 32 Mansion's take on the laksa actually. Their Crab Laksa Lemak comes with shredded crabmeat served in a creamy broth with a sweet taste. However, the additional heh koh (prawn paste) on the side was unnecessary as the dish was good on its own.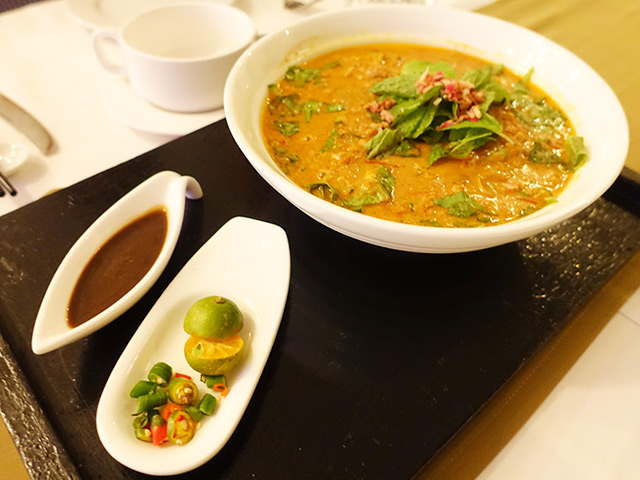 Wei Yeen Loh, Fashion and Beauty Writer
As a finishing touch to an extensive range of appetisers and main courses, we indulged in a total of four desserts that evening. Chocolate lovers would delight in a light, moist chocolate cake that wasn't too overwhelmingly sweet or chocolate-y—the best kind to conclude a filling meal. While the crêpes Suzette could have fared better if the orange butter sauce had bore less of a resemblance to cordial, the satisfying gula melaka ice cream right after made up for it thanks to the creamy, fragrant flavour (read: no artificial flavouring here). And finally, the sticky toffee date pudding was a nice treat to dig into and could have been a favourite if the texture wasn't so overly set.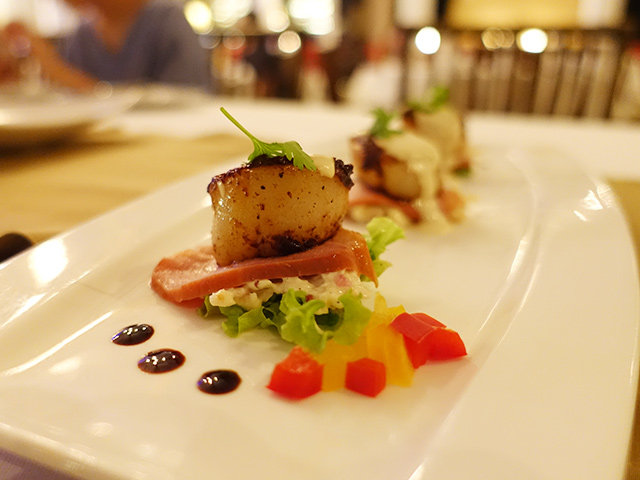 Yi Suen Chong, Digital Designer
With its stately exterior, Thirty Two at the Mansion stands tall with a nice colonial charm. Located on the intersection between Jalan Sultan Ahmad Shah and Lebuh Farquhar, the building sits overlooking the sea and presents a cool setting for a lovely dining experience. Our party of four was seated in the air-conditioned gazebo area where a pianist entertained us with recitals of classic songs throughout the evening. The menu comprises of both Western and Asian dishes where we started with a selection of appetisers—but if I have to pick a favourite, the Pan-Seared Scallop & Smoked Duck faired quite decently. As for mains, I enjoyed the Baked Salmon with Slow Cooked Potatoes served with wilted rocket and king oyster mushroom. For desserts, the Gula Melaka & Coconut Ice Cream was refreshing and fragrant, and simply a sweet ending to our meal.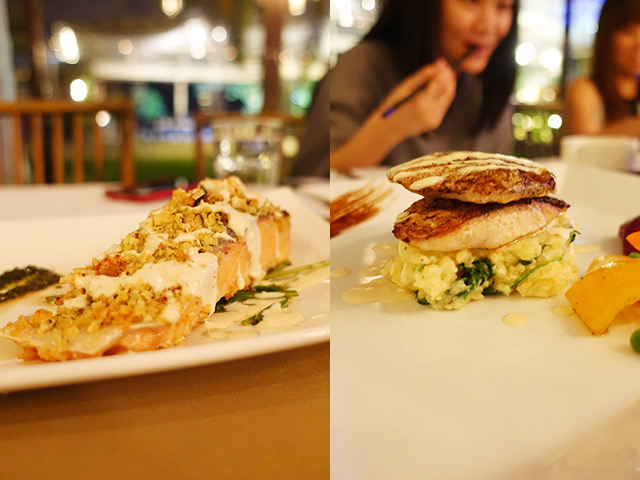 Thirty Two at the Mansion is located at 32, Jalan Sultan Ahmad Shah, 10050 George Town. For more information, visit their website or Facebook.
Photos were taken with a Sony RX100M4 camera.
Related stories:
24 Questions with Dato' Nicol David on her hometown Penang
A luxurious afternoon at Pañpuri Organic Spa in E&O Hotel, Penang
| | |
| --- | --- |
| SHARE THE STORY | |
| Explore More | |