Steaks are not a new phenomenon in Malaysia. Long before many culinary genres landed on our shores, steak was already firmly entrenched in our national psyche, thanks to such institutions as The Ship and Victoria Station. It says something however that despite the plethora of choices we now enjoy that both restaurant chains are still such an integral feature of our gastronomic landscape.
But we've long since moved on from the garlic sauce smothered hunks of leather on sizzling plates whose primary function, apart from the visual showmanship, were to convert said average pieces of flesh into overwrought carbon. These days, steaks are very "next level", as they are wont to say. Dry-aged, marbled, grass vs grain-fed, Wagyu vs Kobe are just some of the terms that are bandied about by steak aficionados as being crucial to the art of steak appreciation. In Sydney's affluent neighbourhood of Woollahra, one of the most successful stores is the boutique butcher Victor Churchill. Here, staff wear gloves to handle the meat, which is in turn enshrined like jewellery in brightly lit cabinets. I remember staring agog at the extortionately priced Wagyu by Victorian producer David Blackmore, which boasts a marbling score of 9+, and which costs a not inconsiderable AUD$189.99 per kilo. Incidentally, a 9+ Wagyu—off the charts by any standards-would, in Japan, cost no less than USD$600 per kilo in comparison.
These days, steaks are very "next level", as they are wont to say.
The steak du jour since it supplanted Kobe some years ago, Wagyu ('wa' meaning Japanese and 'gyu' meaning cow) is so enamoured because its preternaturally high intramuscular fat content turns what would otherwise just be steak into an otherworldly dining experience. And contrary to popular thought, a little goes a long way with Wagyu. The mania for marbling is great news for people like me. Even back in the day when we were satisfied with mere bog standard sirloin cuts, I used to dispense with the meat as a necessary evil and precursor to the real star: the fat, of which there never seemed to be enough, until now, that is.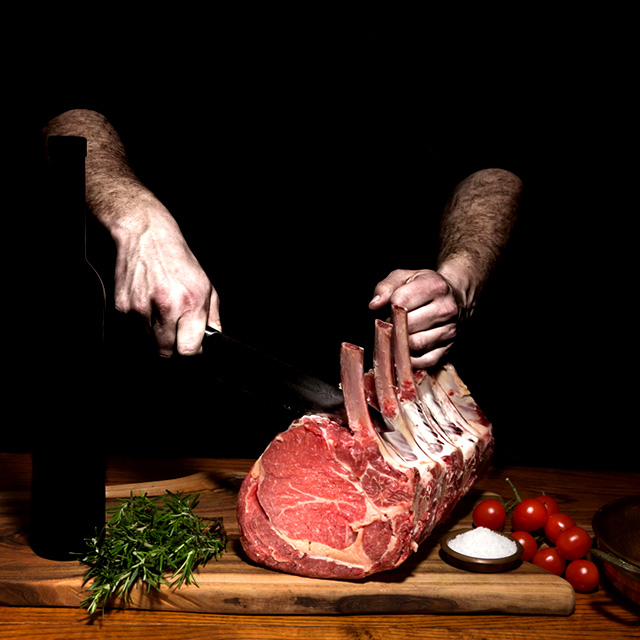 If you're on the hunt for great steaks in KL, look no further my friends, for I've done the hard graft for you. For the best value, top quality steaks, Lucky Bo (65 Jalan Bangkung, Bangsar, +603-2092-1222) ticks all the boxes. Not only are their Margaret River and Sanchoku Japanese steaks cooked to perfection in a Josper oven (a Josper is to steak what sous vide is to chicken: a match made in culinary heaven), their price points are also some of the best around. Expect to cough up no more than RM125 for a 300g slab of rib eye with a respectable marbling score of 5-6. But it's the tomahawk—exquisitely charred on the outside and irreproachably medium rare on the inside—that's the star here. That, and the marbling and rendered fat, which is so quiveringly good that I shudder at the mere memory of it. Best of all, it costs half of what the hotels charge, at RM400 for a 1.2kg portion.
If money is no object, then the Mandarin Oriental Grill—which also uses the Josper as its steak-cooking implement of choice-should be one of your requisite meal pit stops. The aforementioned Blackmore Wagyu is served here, as is the Black Angus, also from Australia. The indisputable crowd favourite however is the hay-smoked Wagyu rib eye that's served with double-baked cheese soufflé and black truffle jus. Even though the beef marbling notches in at a relatively modest six, this unabashedly decadent dish has helped establish the Grill as the yardstick by which other steak-preneurs should measure themselves.
But if the thought of shelling out RM400 for a steak dinner makes you green around the gills, then take comfort in the knowledge that the sizzling steak is still very much an option.
Follow Fay on Twitter and Instagram at @misskhoo.
Related stories:
Mandarin Grill: A classic steakhouse experience
Reasons to become vegetarian, part one
| | |
| --- | --- |
| SHARE THE STORY | |
| Explore More | |