Soup is now my default lunch whenever I am careening at breakneck speed to meet looming deadlines, and have neither time nor energy to cook on my side.
Oh soup, how do I love thee? Let me count the ways. Ever since I was knee high to a grasshopper, I've loved soup. It didn't matter whether it was clear, like my maternal grandmother's still beloved chicken soup with a plethora of onions, carrots and potatoes, or so thick you could stand a spoon in it, like my mother's oxtail or Dutch pea soups, I loved them all. And although you might think time would have dissipated this passion, it's done quite the contrary, and soup is now my default lunch whenever I am careening at breakneck speed to meet looming deadlines, and have neither time nor energy to cook on my side.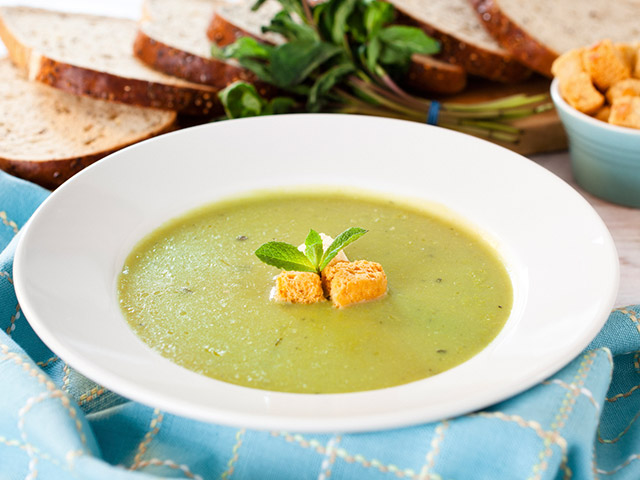 Because let's face it, what's not to love about soup? You could argue that living in the tropics might prove a natural hindrance to drinking hot soup, but to this I have two terse responses: 1) you can enjoy them cold, and 2) how different is it to steaming bowls of fish ball noodle soup or har mee? All it takes is a little preparation, some cooking and blitzing and voila, seven or so liquid lunches are ready for consumption at the drop of a hat. 
You could be a food snob and make your own chicken, beef and vegetable stocks, then freeze them ready for use, but if you're time starved like me, good litre packs of natural store bought stocks more than cut it, and I always ensure I have at least five litres stashed in my pantry ready to be deployed. Then there are the soups themselves. You could invest in a crock pot-no they didn't go extinct when the '80s ended-then throw all your ingredients into it and leave it to do its magic whilst you're at work, or you could make thicker soups using a variety of vegetables. The remarkable thing is: if you possess even a rudimentary understanding of flavour pairings (root vegetables all tend to be great dance partners, and the more the merrier; garlic, onion and ginger rev up the flavour quotient of soups), then you are already more than halfway to a happy result. And if you have a pronounced predilection for Asian flavours but don't fancy herbal soups or concoctions with funny organs, then a little experimentation and research will yield you ample rewards. Last night I decided to adapt Luke Nguyen's beetroot soup recipe, and started off by sautéing ginger, galangal, onions, garlic, coriander roots, stalks and leaves, kaffir lime leaves, lemongrass and chilli with cooking oil, then added peeled beetroots and a litre of water and simmered (after first bringing it to a boil) until the beetroots were tender. I then sifted the solids from the soup but retained the beetroots, and added fresh chilli, coriander and Vietnamese mint leaves, and a little ginger and galangal, and simmered a little longer, before blitzing the lot. I then finished with coconut milk, fish sauce and lime juice, and voila, a traditionally western root vegetable had suddenly become a dazzling damsel of the east. 
Remember, there are virtually no limits to your burgeoning soup repertoire, and with a little experimentation, you'll never be bored by this liquid gold. But if in the unlikely event you need a little more persuasion to come over to the soupy side and hang with me, then I'll leave you with three quick but compelling reasons: a) it fills you up, so that b) you'll lose weight, but most importantly, c) you'll save a lot of money, and there's nothing not to love about that. Just remember to leave out the cream. Happy soup adventures, musketeers!
Follow Fay on Twitter and Instagram at @misskhoo.
Related stories:

Source:http://www.buro247.my/lifestyle/insiders/the-continuing-allure-of-the-pop-up.html
A Paean to Pasta… and all things wheaty and delicious 
Dian Lee talks about Healthy Ever After and soup cleansing