Ask any Malaysian what we're most proud of and chances are you'll get "food", "culture" and "diversity" among the recurring answers. Well, those three are very closely intertwined—thanks to our cultural diversity, we are blessed with a melting pot of food that often brings us all together, regardless or race, religion, or background.
Since we've shared our favourite Malaysian dishes before, we're serving up our top Malaysian dessert picks in this month's edition of Team Buro Answers in conjunction with Malaysia Day. From tau fu fah to cendol to kuih, we dish out why we love these local delicacies and our recommendations on where to try them.
Rachel Au, Editor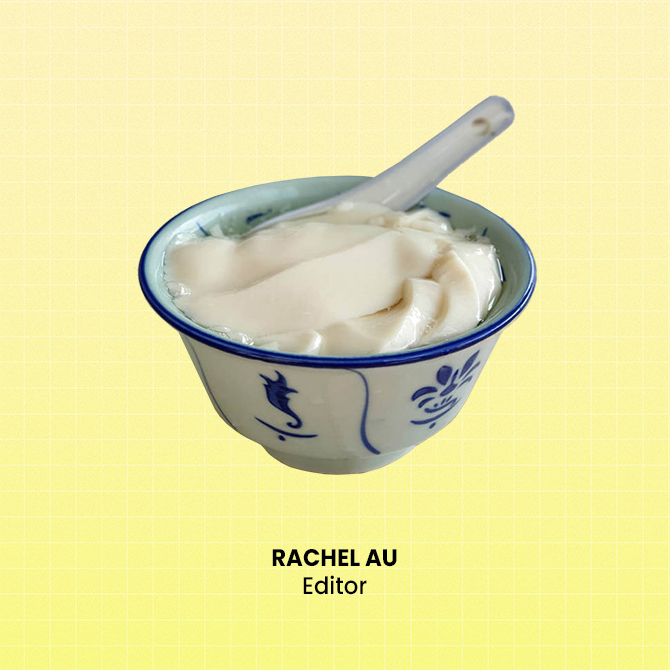 "This was a tough question. How do you pick just one? But the first dessert that popped to mind was tau fu fah. Ais kacang or cendol is too sweet for me nowadays but tau fu fah? With its silky soft texture, a light soybean scent and topped with sweet brown sugar (or white syrup or soy milk), it's comfort food. That, and perhaps because it's linked to a cherished childhood memory where I would go with my grandmother to the SS2 night market and she'll treat me to a bowl of tau fu fah. That would be the best tau fu fah I had but it's been years since we've gone to that stall.
"The next best that came to mind is in Ipoh—not Funny Mountain (they're good too) but my personal favourite is from Ding Feng Tau Fu Fah in Concubine Lane. It has the softest texture I've ever eaten. But in KL, Dao satisfies that craving easily with a similar smooth texture and several options to go with: ginger syrup, brown/white sugar syrup, chrysanthemum, red bean paste/black sesame paste, or soy milk. It's one of the simple pleasures in life."
Adelina Tan, Deputy Editor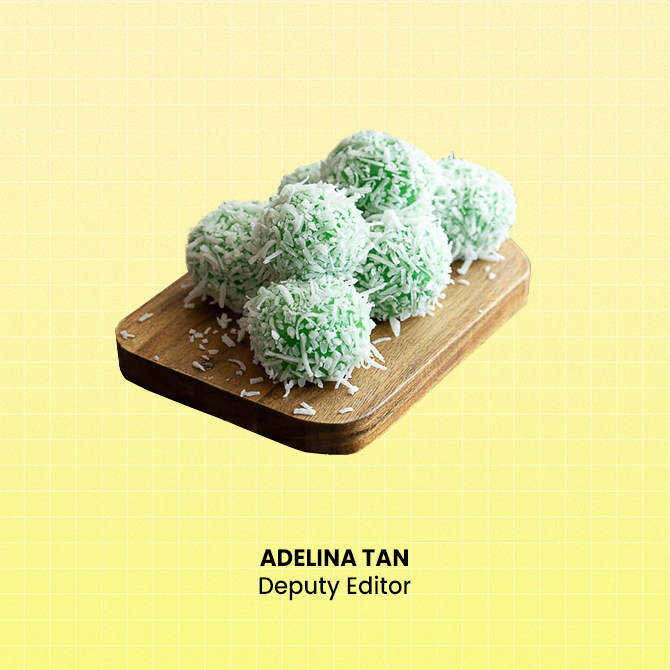 "Onde-onde is the way to my heart. These little green balls—like most Nyonya kuih—are petite and, best of all, easy to share! The bright and instantly recognisable hue comes from pandan, which is infused into the sticky glutinous rice dough. Meant to be popped whole into your mouth, gooey and aromatic gula Melaka syrup bursts out in one bite. With some onde-onde, you may even taste little chunks of the gula Melaka—which I quite enjoy, as these add a little bit of crunch.
"The best onde-onde is generous with this brown nectar and not too doughy. I usually get my fix from Nyonya Colors (which has shops in a few popular shopping malls) and look forward to visiting Baba Charlie in Melaka when interstate travel is possible again. For a modern take on this dessert, try Elevete Patisserie's scrumptious 'The Locale Cake'."
Natalie Khoo, Senior Lifestyle Writer
"I honestly can't pick just one Malaysian dessert because, hello, it's Malaysia we're talking about. Why settle for one when there's so many options across our diverse cuisines, from cakoi (AKA youtiao) to kuih and kek lapis? For the sake of this article, however, I'll go with cendol, simply because the weather has been pretty hot and humid these days, which is when this particular dessert really hits the spot for me.
"Just green jelly and corn with the icy cold mix of coconut milk and palm sugar syrup will be enough to satisfy my cravings, though I do appreciate those with added cincau (grass jelly), jackfruit, or a scoop of vanilla ice cream topping on occasion. I might be stepping on some toes here, but I like my cendol without red beans (one reason why I'd pick cendol over ais kacang). While I typically get mine from the rojak stall near my house (side note: name a better Malaysian food combination than rojak and cendol, I'll wait), I do enjoy the version from Penang Road Famous TeoChew Chendul too. Better yet, try the original version at Lebuh Keng Kwee in Penang!"
Redzhanna Jazmin, Beauty Writer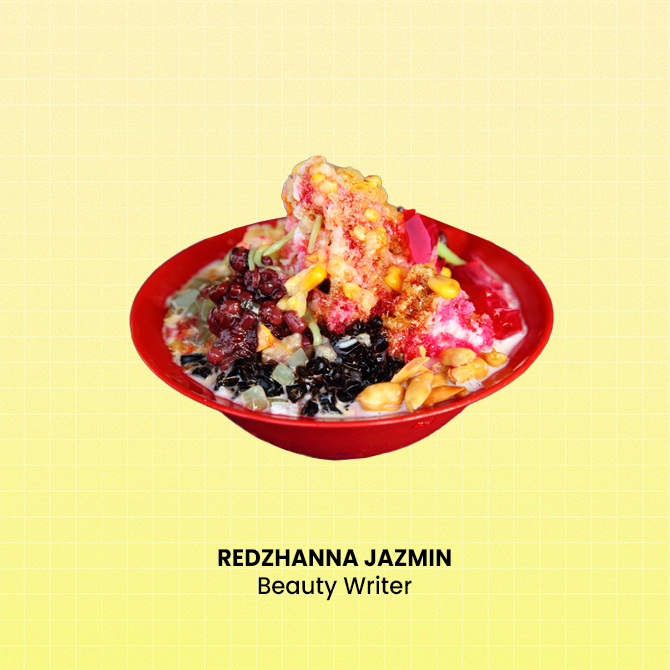 "If I had to pick just one Malaysian dessert to eat for the rest of my life, it would be ais kacang. It's sweet, it's icy, it's got an addictive mix of crunchy and jelly textures, and it melts down into a delicious drink—what's not to love? It is a bit much for every day, but I only tend to eat it during special occasions (AKA Raya open houses), and it's for this reason that I haven't ever gotten sick of it. If you're ever having a craving, I recommend Kwong Wah Ice Kacang in Petaling Jaya."
Kelly Lim, Fashion Writer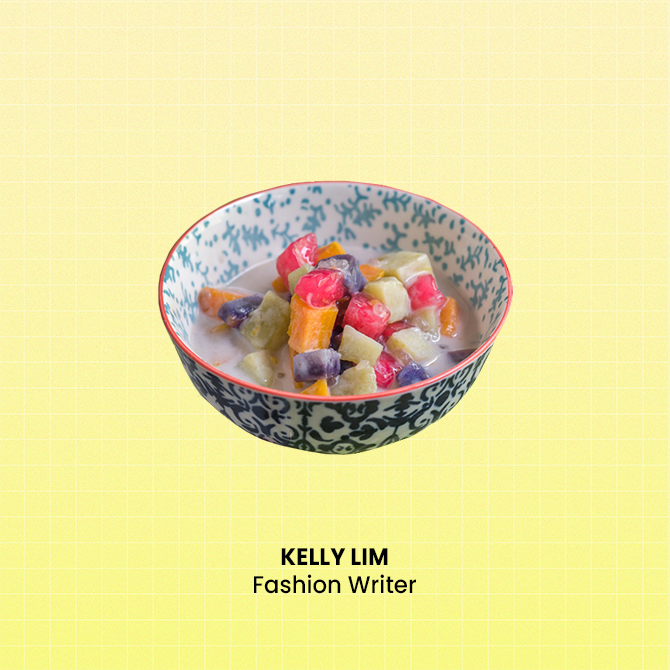 "I'm a sucker for sweet potatoes, taro and coconut so Bubur Cha Cha is the ultimate comfort dessert that's also on the 'healthier' side—if you count the fact that you're getting some fibre intake from the veggies in it. Though it can be served hot or cold, I personally love it warmed up, especially since I used to live abroad where the climate is colder and the coconut milk tends to solidify when it's cooler. My favourite would have to be my grandma's but one place I have been meaning to try is Hong Kee Tongsui at Seksyen 17 as they're said to be one of the most authentic ones around."
Sarah Tai, Senior Web Designer
"My pick would have to be everyone's favourite fried banana fritters, goreng pisang. Whoa, I can actually still hear the voice of my primary school teacher telling my class that the grammatically correct way to say it is 'pisang goreng' because 'you're not frying the banana, the banana has already been fried' but that's not the point and I'm going way off-topic. Anyway, this sweet and crunchy dessert (more like a snack, honestly) tends to bring back a lot of childhood memories.
"While I'm not really particular with where I buy my pisang goreng (any stall available would do), the one that I find myself gravitating towards is the SS2 Goreng Pisang. Not only are their banana fritters to my liking and extremely affordable (only RM1 a piece and if you're lucky, the lovely makcik (aunty) will give you an extra for free!); but they also have a wide range of other classic Malaysian street snacks to choose from. So, for those who aren't ready to leave the house yet, apparently they deliver on FoodPanda so go get your goreng pisang cravings sorted!"
Amos Yip, Junior Web Designer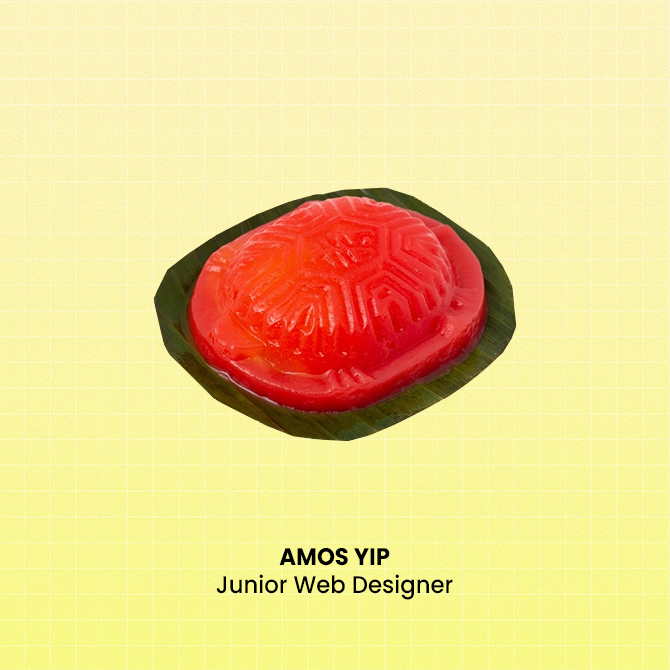 "I love eating foods with a gooey or chewy texture, be it mochi, daifuku, or even gummy bears. With that being said, my favourite Malaysian dessert is Ang Ku Kueh (Red Tortoise Cake). Ang Ku Kueh is a kind of dessert made of chewy glutinous rice flour skin with fillings such as red bean, green bean, and peanut paste. It's a very nostalgic flavour to me because growing up, I would always go to the pasar malam (night market) near my house to get them and share half of it with my sister so that I can 1) make sure it's the filling I like, and 2) I can have half of hers as well. If you like eating chewy-textured food like me, you can now get them delivered to your doorstep from @okay.eats on Instagram!"
For more food and drink stories, head over here. 
| | |
| --- | --- |
| SHARE THE STORY | |
| Explore More | |