Food + Drink
Review: Gordon Ramsay Bar & Grill brings the chef's British classics to Malaysia
Chuffed to bits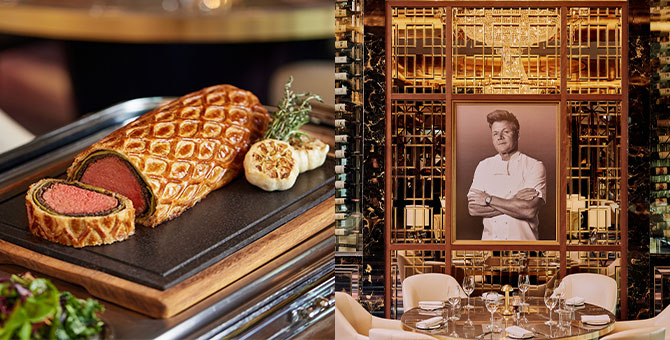 After more than a year of anticipation, Gordon Ramsay Bar & Grill finally opened its doors in Sunway City Kuala Lumpur on 18 June 2022—bringing the iconic British chef's world-renowned dishes to Malaysian shores. This landmark launch also cements the first-ever Gordon Ramsay Bar & Grill outside of the United Kingdom, timed in tandem with the grand metamorphosis of Sunway Resort.
With a long waiting list to its name, gastronomes near and far have been curious to know what to expect and whether it's worth the hype. Well, having dined in the esteemed establishment, here's what I can tell from my maiden experience.
Setting the scene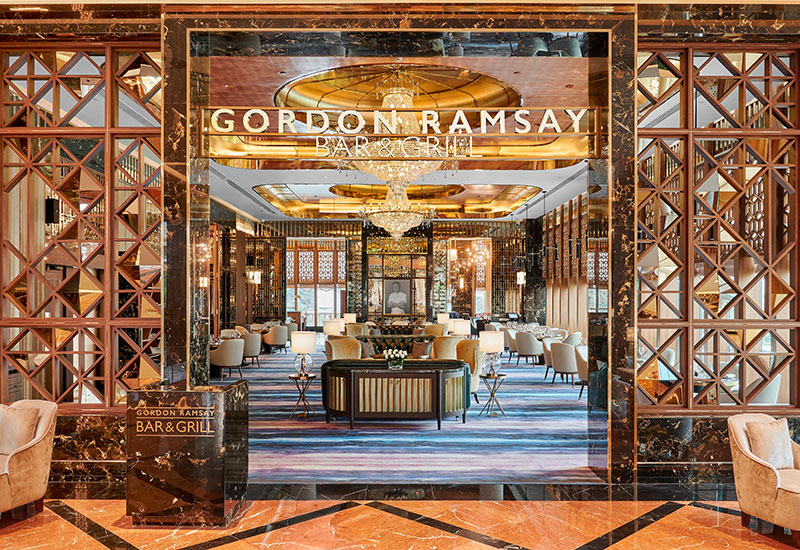 Stepping into the Gordon Ramsay Bar & Grill, the first thing that catches my attention is a monochrome portrait of the celebrity chef himself—cross-armed with a half-smile, front and centre in the lounge area. Everything else seemed to be dripping in grandeur, from the shiny brass finishes on the light fixtures to the spotless chandeliers hanging from the 24k gold hand-placed ceiling.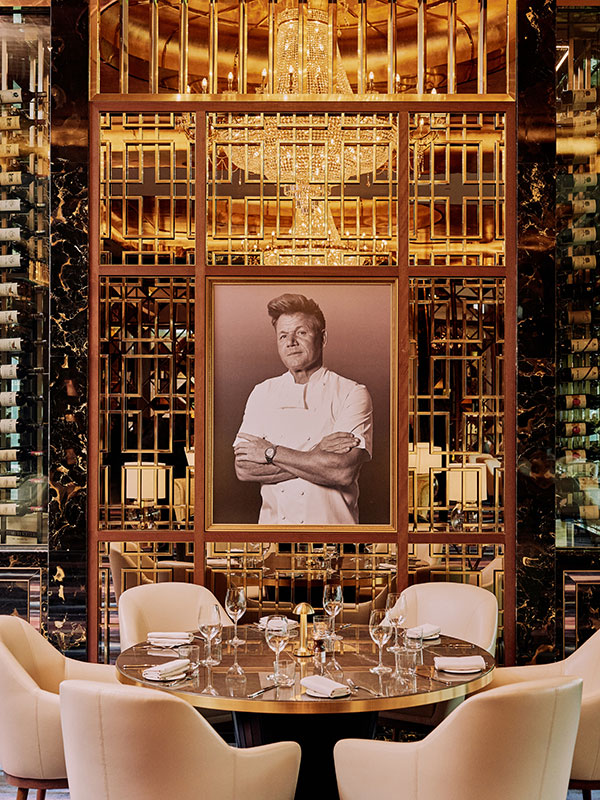 Further inside, the main dining area is characterised by a rich red and forest green colour palette and polished walnut hardwood flooring outlined with marble. Monochrome portraits of British style icons line the walls—featuring the likes of The Rolling Stones frontman Sir Mick Jagger, the original 007 Sir Sean Connery, as well as supermodels Jean Shrimpton and Twiggy—as immortalised by renowned photographers Terry O'Neill and Arthur Steel.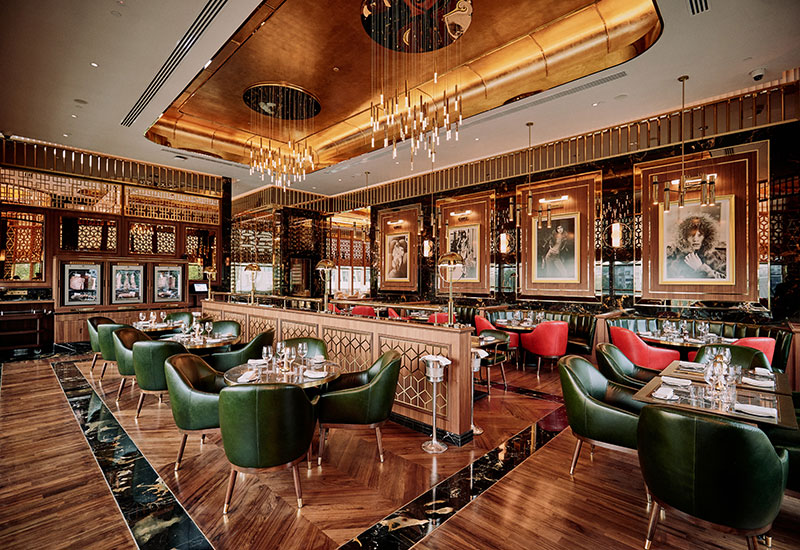 A highlight for wine aficionados is the 360-degree glass wine room, boasting a 1,000-strong selection from over 240 global labels. Presiding over this floor-to-ceiling cellar is another portrait of Ramsay—this time in a British red coat—as dashing and commanding as ever.
There are three private dining rooms scattered around the space, each uniquely designed and named after the other existing Gordon Ramsay Bar & Grill locations in the UK: 8 Mayfair, 10 Soho, and 12 Chelsea. Along with the lounge, main dining area, and bar, the restaurant seats up to a total of 150 guests at a time.
Prepping the palate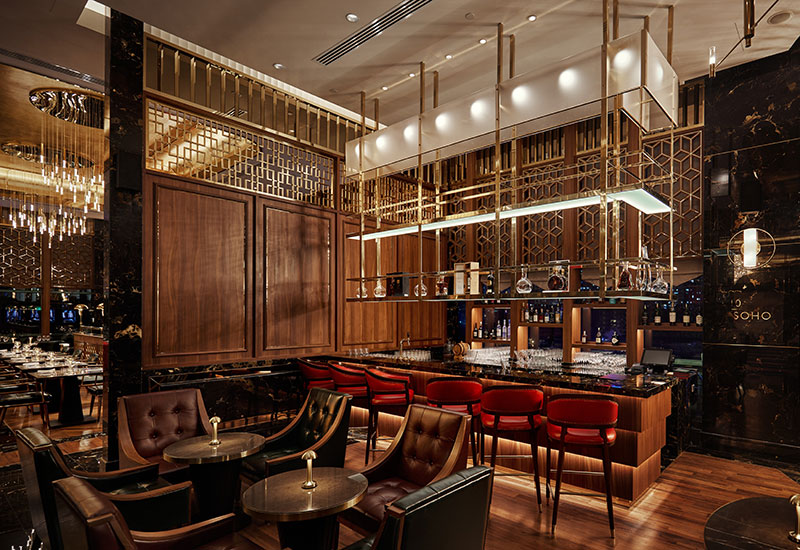 Before tucking myself in for lunch, I am led to the swanky cocktail bar to craft my own cocktail. (I didn't do much really, except mix what had already been prepared beforehand by the bar manager, Marek Klecka.)
As I'm personally not a fan of Negroni, I opt for the signature Chelsea Royal Garden of the two cocktail options offered. I almost regretted my choice, after seeing my companions being served a literally smoking barrel-aged Negroni with a custom-made ice embossed with the restaurant's logo. All was well after sipping on my refreshing concoction of St. Germain elderflower, fresh green apple juice, prosecco, and lemon bitters topped with apple foam. It's barely one o'clock, but I find myself enjoying a smooth, balanced cocktail I would drink at any time of the day.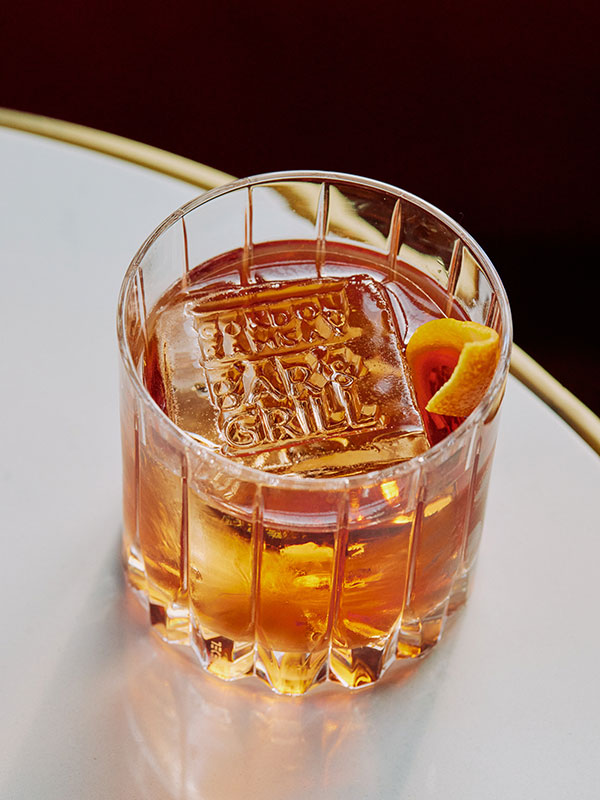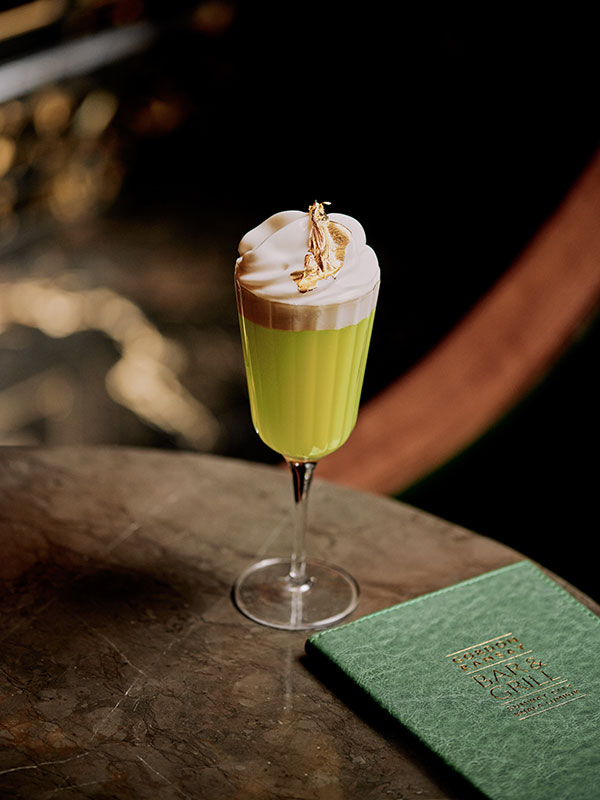 Suffice to say, if you're here for the 'Grill', you might as well make a stop at the 'Bar'. The menu features a variety of classics, cocktails with Malaysian-inspired flavours, and an extensive range of premium wines and spirits to complete your visit with a fancy libation or three.
Building up to a British affair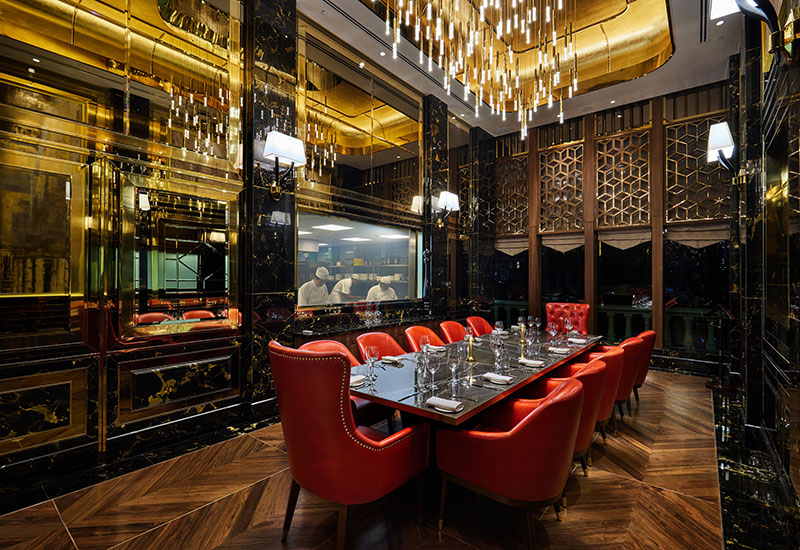 I proceed to 12 Chelsea for lunch next—the only room in the restaurant with a "discreet screen" that grants patrons a peek into the kitchen. Most of the culinary team may look young and bright-eyed (think 25 and below), but the fact that they have each been trained and given the nod by Ramsay himself says something.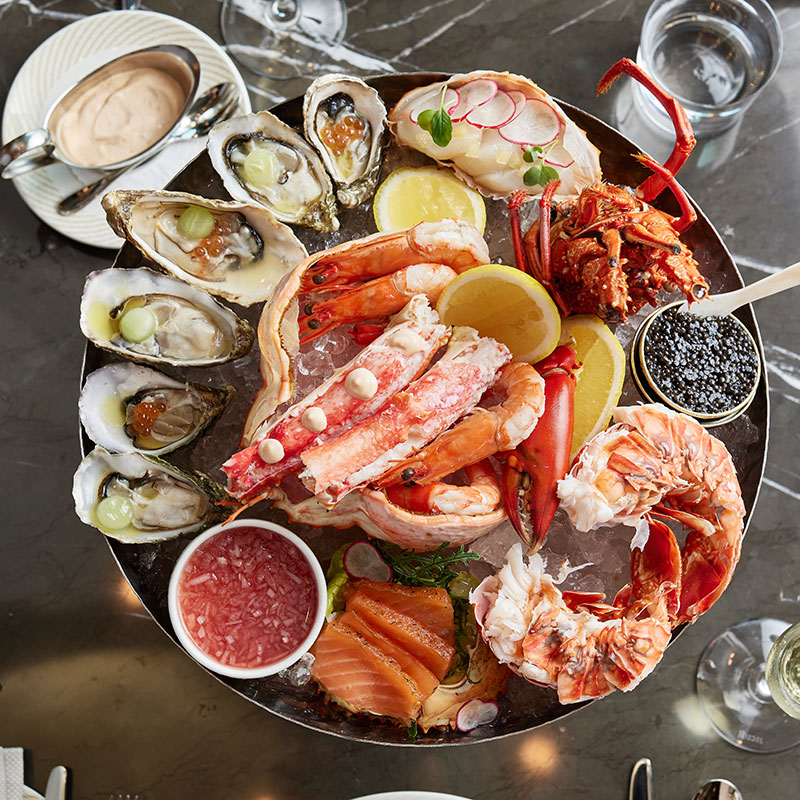 The menu references that of Savoy Grill, one of Ramsay's most iconic restaurants in London. To start, a Seafood Tower arrives filled with oysters, Boston lobster, scallop ceviche, king crab legs, prawns, and citrus-cured salmon. This platter easily feeds two, or perhaps three small eaters, making for a meal in its own right, with the lobster and oysters being the stars of the show.
While the ensuing Aged Steak Tartare is not for everyone (especially if you're not a fan of raw meat), it is one of the highlights of my meal. The game chips offer a nice bite to cut through the delicate, beefy flavours of the tartare and the velvety mouthfeel of the egg yolk confit and gherkin gel mix.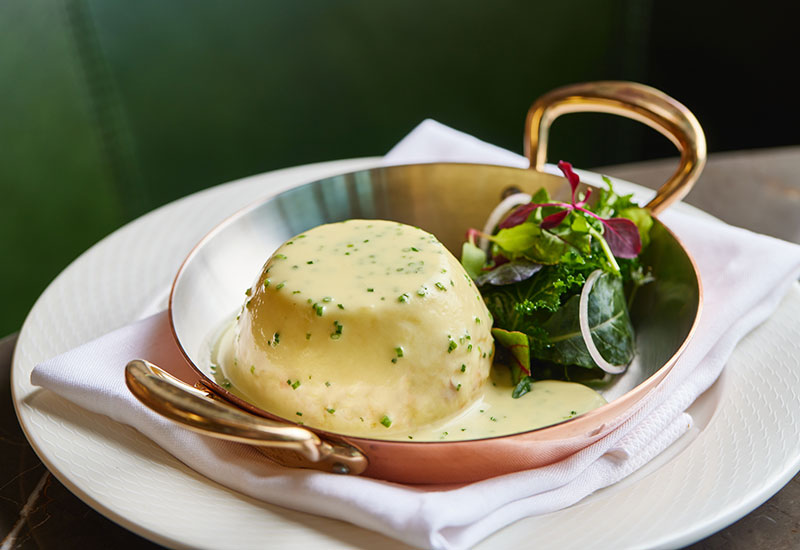 Up next is the signature Arnold Bennett Twice-baked Soufflé, one of the crowd-favourites on my table. The quintessentially British dish is made with smoked haddock and topped aged cheddar sauce, with a herb salad on the side. Surprisingly, I find myself enjoying the greens, which add a nice earthy hint to balance the rich, cheesy flavours.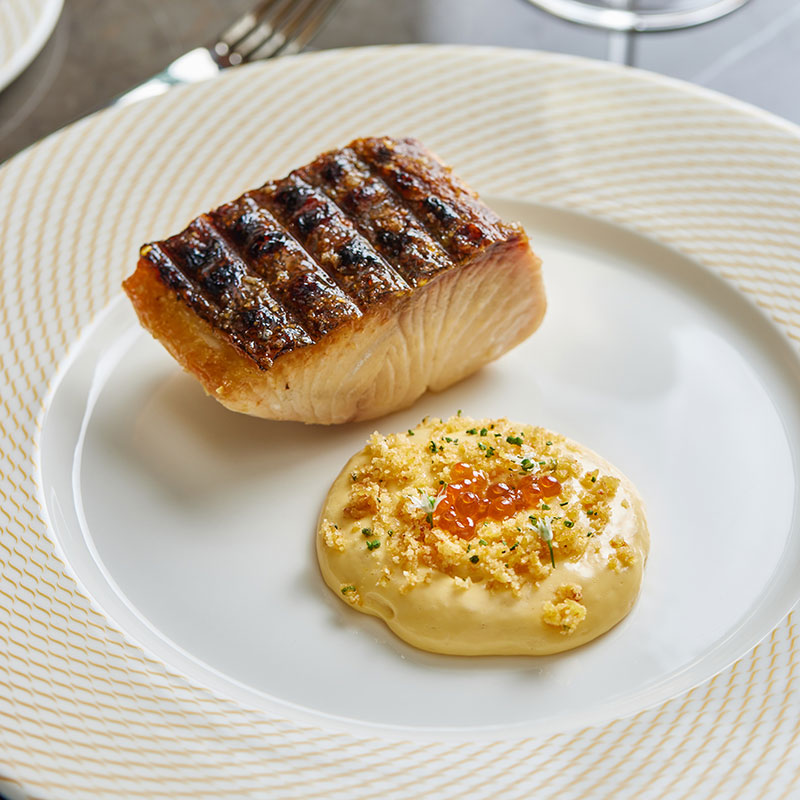 The Murray River Cod is another hit—cooked to a desirably tender, flaky texture with a crispy skin. It is served with brown butter sabayon, salmon roe, and chicken skin crumble, which complement the fish really well.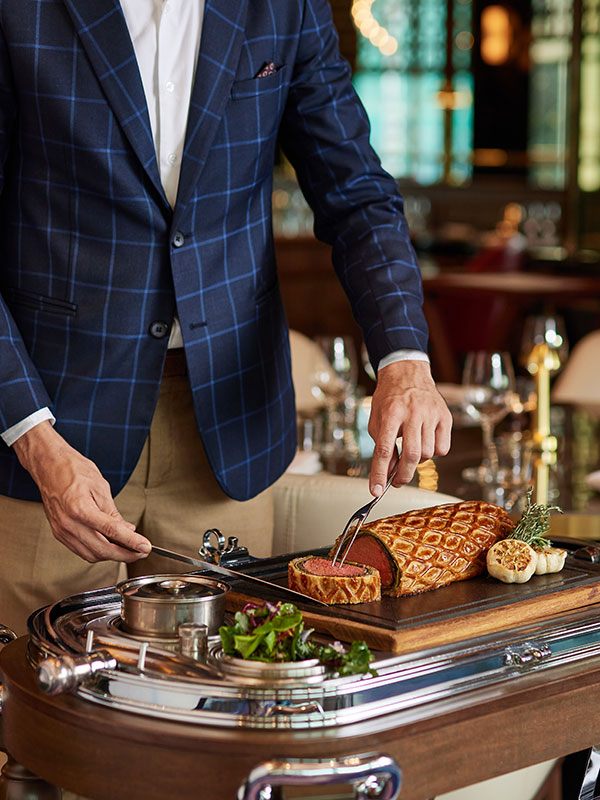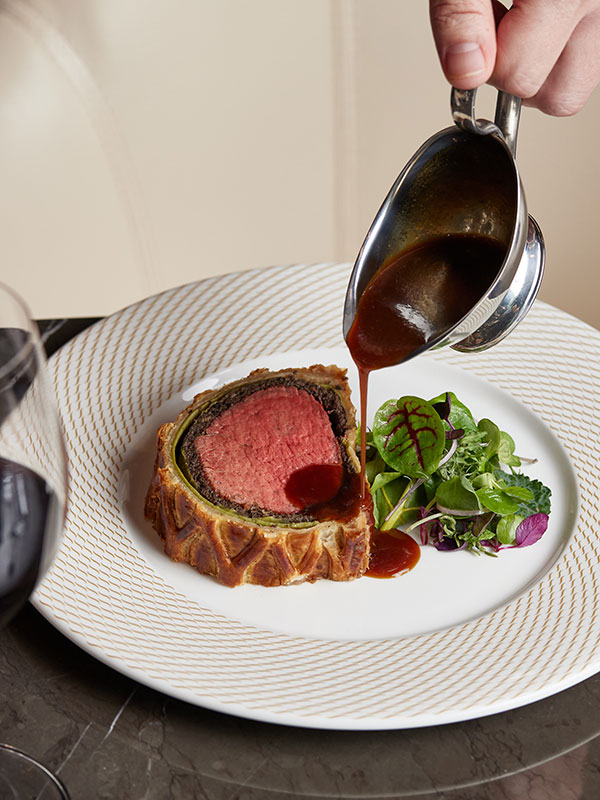 You can't really say you've dined at Gordon Ramsay Bar & Grill until you've had its Classic Beef Wellington, which has quickly become synonymous with the restaurant (and chef). Served with mushroom duxelle, jus, and salad, the generous slice of beef—dry-aged for 38 days—is cooked medium rare (read: the only way to go) with flaky puff pastry. The accompanying pomme puree is creamy but not cloying—a comforting side to chow down in between cuts of the flavourful Wellington.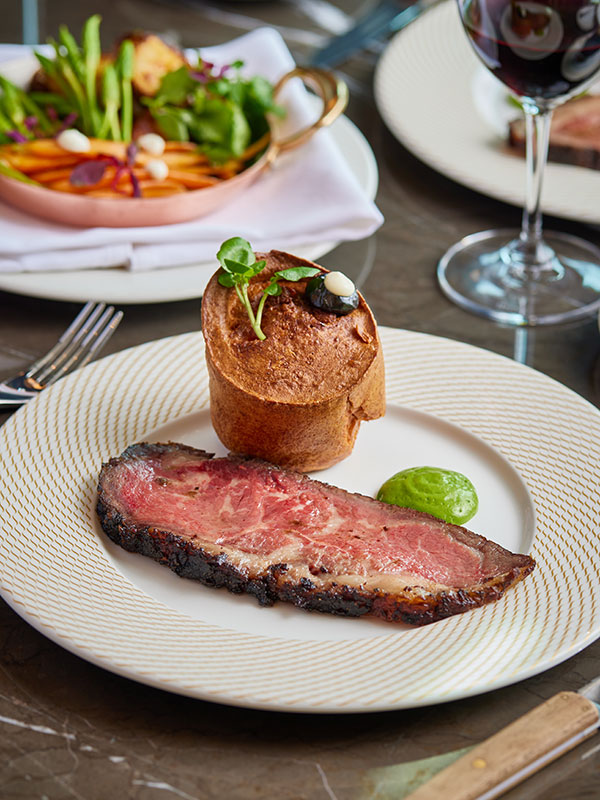 Rounding off mains is a traditional Sunday Roast, served with fluffy Yorkshire pudding, spinach puree, and butter-roasted potatoes, carrots and brocollini. If you happen to drop by on a Sunday, it doesn't get more British than this classic, hearty combination.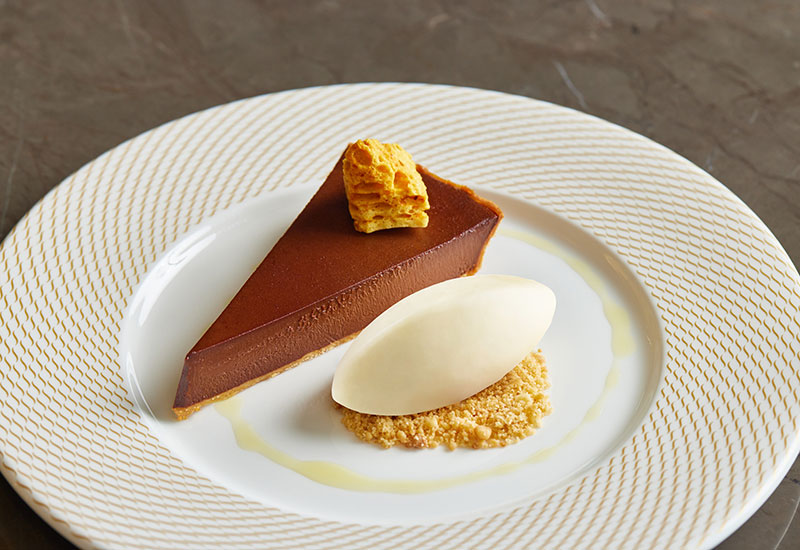 For someone who's not big on desserts like me, the 64 per cent Manjari Chocolate Tart offers a semi-sweet treat that's brilliantly paired with a refreshing yoghurt sorbet. It's also topped with a crunchy honeycomb and extra virgin olive oil for a decadent finish. An assortment of French cheeses (surprise, surprise, it's not all British!) closes the meal, ranging from the soft Epoisses to the luscious and creamy Cremeux de Bourgogne to the pungent Bleu d'Auvergne for bolder palates.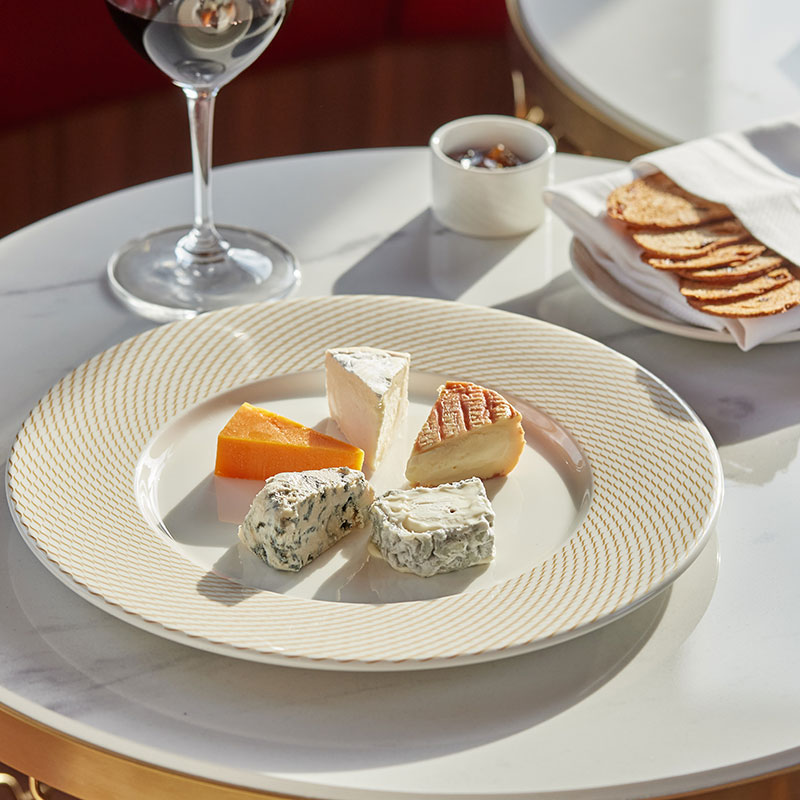 By the end of my four-hour long feast, I can safely say it's worth putting down your name on the booking list here. The Gordon Ramsay Bar & Grill in Sunway Resort lives up to its fame, bringing world-famous British classics to Malaysia in a lavish setting fit for grand occasions.
To make a reservation, click here or email [email protected].
---
Gordon Ramsay Bar & Grill
Address: Lobby Level Sunway Resort, Persiaran Lagoon, Bandar Sunway, 47500 Subang Jaya, Selangor
Opening hours: Lunch – 12pm to 3pm | Dinner – 5pm to 10.30pm
Contact: 603 7492 8000
Website | Facebook | Instagram
Find more food reviews here.
| | |
| --- | --- |
| SHARE THE STORY | |
| Explore More | |