Food + Drink
#BUROSupportsLocal: 8 Premium ready-to-cook kits to order and elevate your MCO meals at home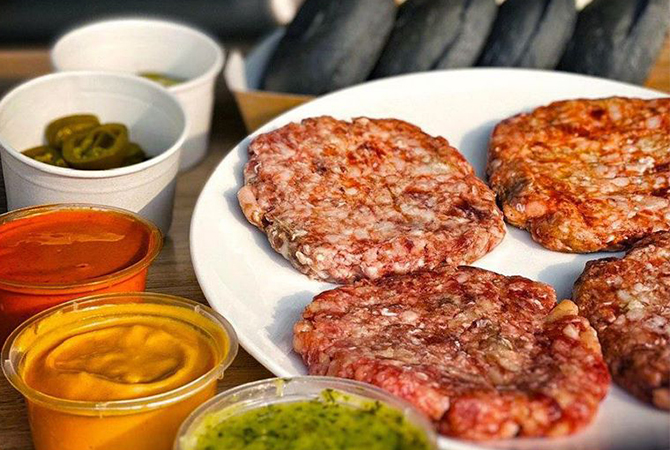 The Movement Control Order (MCO)—as we all know—is slated to end on 14 April 2020. At the moment, Malaysians are proving to be responsible citizens; staying at home and practising social distancing. This means that we will all be having our meals at home. However, the good news is that we don't have to compromise on scrumptious food because there are various restaurants and cafes in the Klang Valley that are still offering deliveries and takeaways during MCO.
Did you know that the MCO is a great time for you to level up your cooking skills? To make things easier for you, some restaurants and cafes in KL have prepared ready-to-cook kits. These food sets come with premium ingredients, and easy-to-follow instructions. They are *definitely* perfect ways to spend the weekend (especially when you're not working). Make the most of self-isolation at home with these fun and palatable options—and put your cooking skills to the test:
*All prices and details are correct at the time of publishing*
1. Dewakan
The "Cook Like Dewakan" food kit allows you to experience the restaurant's gourmet food at home. Dewakan aims to make cooking fun and interesting for you. Using the same quality ingredients supplied to the restaurant, you will get chef-crafted meals that are inspired by Dewakan's very essence. The meals can be prepared free of fuss and in the right portions—with directions for you to follow.
The first Malaysian restaurant to make it to Asia's 50 Best Restaurants list—helmed by Chef Darren Teoh—is making quarantine cooking special. Ready-to-cook kits include options like Braised Baby Goat from Boden Farm, Corn fed chicken slow cooked in Kulim oil and basted with a seafood butter, as well as Beef Short Ribs. Every main comes with two sides, such as Braised Chickpeas, Pumpkin Kimchi, and Smoked Chicken Broth. To discover your inner chef, all you have to do is head over to the link below to order and your kit will be delivered to you.
Delivery Time: 4pm – 6pm
Website | Facebook | Instagram
To order, visit this website.
2. Bref by Darren Chin
If you haven't had the chance, now's the time to try Bref's signature wagyu burger—in a DIY set. At RM35 per set, the DIY wagyu burger kit comes with Chef Darren Chin's freshly baked croll. Available for delivery, all you have to do is text Chef Darren Chin at the number provided below to order; with your name, contact, and address. Cook and plate your wagyu burger in your own desired way.
Contact: 012 2232 991
Website | Facebook | Instagram
3. Skillet x Beta
Ready to step up your cooking game at home during MCO? Check out the Skillet x Beta DIY food kit. You can either have the ingredients pan-seared or heated. The ready-to-cook kits are available for both takeaway and delivery. DIY appetisers include options like Pan-seared Foie Gras, Sous-vide Norwegian Salmon, and Chicken Otak. As for DIY mains, you get to feast on meals such as Lobster Pasta, 36 Hours Sous-vide Coffee Short-Ribs, Chicken Roulade, and Pan-seared Scallops with Lawas Highland Rice Risotto. It's your turn to prepare a fine dining meal at home!
Address: Fraser Place Kuala Lumpur, 10, Jalan Perak, Kuala Lumpur
Opening Hours: 11am – 7pm
Contact: 019 2121 240
Website | Facebook | Instagram (Beta)
Website | Facebook | Instagram (Skillet At 163)
To order, visit this website.
4. Char Line Asado + Bar
The South American-inspired wood fired grill restaurant and bar is here to help you take meals at home up a notch—even if you don't have any groceries. Their handy ready-to-cook meals come with all the ingredients needed for each recipe. Even better, they are prepped and measured out exactly. Available for delivery, the DIY food kits eliminate unnecessary trouble for you and make cooking extra enjoyable. You can also refer to the step-by-step guide and video tutorials (on their Instagram page) to get a head start.
Dishes include the likes of Cherry Tomato Linguine with Wild Rocket, Pan Seared Snapper Nicoise Salad, Crab and Cream Cheese Tortellini with Soy Butter Sauce, Eggplant and Tofu Rice Bowl, Pan Seared Duck Breast with orange and glazed carrots, as well as Steak Sandwich with bone marrow and caramelised onions.
Contact: 03 7490 5327
Opening Hours: 11.30am – 7pm
Website | Facebook | Instagram
To order, visit this website.
5. myBurgerLab
Many of us would definitely be craving for burgers from myBurgerLab during MCO. Good news is that you can now get your own ready-to-cook kit to prepare at home! With only 30 sets available per day, the MBL At Home" kit is available for self-pickup for now (they will have it for delivery soon).
The DIY meal kit consists of four charcoal buns, 500 grammes of of myBurgerLab beef blend (or chicken thigh), three portions of yellow cheddar, three portions of white cheddar, myBurgerLab pickles, myBurgerLab jalapeños, original x-sauce, red sauce, green salsa, and a pint of ice-cream from Inside Scoop. Pickup locations are the following outlets: Seapark, MyTown, and Bangsar. The instructions for cooking are available on their Instagram!
Address:
14, Jalan 21/22, SeaPark, Petaling Jaya (Seapark)
19, Jalan Telawi 3, Bangsar, Kuala Lumpur (Bangsar)
G-020, Ground Floor, MyTown Shopping Centre, Jalan Cochrane, Cheras (MyTown)
Contact: 010 369 5275 (General WhatsApp line)
Operating Hours: 11am – 6.45pm
Website | Facebook | Instagram
To order, visit this website.
6. VCR
The popular cafe has introduced the Home Starter Pack—allowing you to create your one-of-a-kind VCR Big Breakfast at home. You will get their staple sourdough, chipolata sausages, granola, strawberry coulis, turkey ham, and tomato bean sauce. In the Instagram post above, you have the instructions for both the Basic and Prime packs. Oh, VCR also wants you to know that the ready-to-cook food kit doesn't come with a black tray. VCR's Home Starter Pack DIY sets are available for delivery.
Contact:
03 2110 2330 (Pudu)
03 2202 1115 (Bangsar)
Operating Hours: 9am – 5pm
Website | Facebook | Instagram
To order, visit this website (Pudu) and this website (Bangsar).
7. Entier French Dining
The restaurant has prepared four meal kits that are super easy to cook and assemble at home. They include Asparagus (green asparagus, kombu butter, 65º Celsius egg, and mushroom sauce); Escargot Pasta (escargot burgundy garlic butter sauce, and hand-made semolina spaghetti); Beet Ragout Pasta (beef ragout, mushroom, hand-made semolina spaghetti); and Chocolate Souffle (souffle with 70 percent single-origin Pahang chocolate). The ready-to-cook kits come with step-by-step instructions and are available for drive-through pick up. You can just stay in the car and your order will be sent to you. At the moment, call the number provided below to order. An e-store will be ready soon and can be accessed from the link below. To check the full menu, head over to Entier's Instagram page.
Address: Alila Bangsar, 58 Jalan Ang Seng, Kuala Lumpur
Contact: 016 263 0596
Opening Hours: 11am – 8pm
Website | Facebook | Instagram
To order, visit this website.
8. Pacific Standard Bar
While not exactly food, the bar has introduced the Bartender's Home Cocktail Kit so you can try being a bartender at home. Kits to order include Cosmopolitan (vodka, orange curacao, cranberry, and lime juice); Dirty Martini (gin, mancino secco, and olive brine); and Classis Margarita (cimmaron blanco, orange curacao, and lime infusion). Each kit comes with two servings. You can check the menu on Pacific Standard Bar's Instagram page and order by calling the number below. Similar to Entier, you can wait in the car and your booze will sent to you.
Address: Level 41, Alila Bangsar, 58 Jalan Ang Seng, Kuala Lumpur
Contact: 016 263 0596
Opening Hours: 11am – 8pm
Just because you're "stuck" at home doesn't mean you can't still enjoy delicious gourmet meals. These ready-to-cook/DIY kits are created to elevate your meals at home—allowing you to cook and have lots of fun along the way. Meanwhile, let's continue to self-isolate and practise social distancing! #StayHome.
For more delivery and takeaway options in KL, click here.
| | |
| --- | --- |
| SHARE THE STORY | |
| Explore More | |