1. Sushi Kazu, Bukit Damansara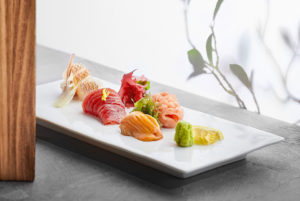 Sushi Kazu
Meet the newest omakase joint in town. Helmed by Master Chef Norikazu Shibata (with 36 years of culinary experience), you will notice the establishment's intentionally stripped-back aesthetics. This is to showcase Chef Norikazu Shibata's back-to-basic ethos. He specialises in Edomae sushi—a culinary art form used to highlight the season's best ingredients. Available for lunch and dinner, dishes to feast on include Ikameshi (squid stuffed with rice), Mini Bara Chirashi (rice bowl with tamago, ikura, and cuts of seasonal sashimi), Chutoro Nigiri Sushi (medium fatty tuna), and Akagai Nigiri Sushi (ark shell). If you enjoy Japanese whiskies and cocktails, head over to Bā after your meal—on the other side of the elegant, oval-shaped counter.
Address: Lot 8-A, Plaza Batai, Bukit Damansara
Opening Hours: 12pm – 3pm, 6pm – 11pm (Daily except Monday)
Contact: 03 7490 2208
Website | Facebook | Instagram
2. Da Bao, Petaling Street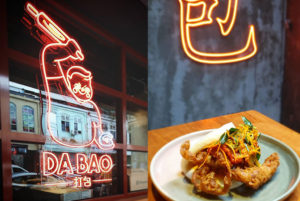 Da Bao KL
This is the spot for fans of all things bun. Da Bao serves steamed buns stuffed with interesting ingredients; definitely not your average baos. There is the sake-braised pork belly with lemongrass, roasted peanuts, and pork lard as well as spiced rendang mutton with jackfruit, pickled bunga kantan, and fried garlic. You should also try the matcha bao—green tea ice cream and fried buns. To look for Da Bao, all you have to do is spot the red neon sign on the shop's window.
Address: 145, Jalan Petaling, Kuala Lumpur
Opening Hours: 12pm – Late (Tuesday – Friday), 11am – Late (Saturday and Sunday)
3. The H. Temptation, Petaling Jaya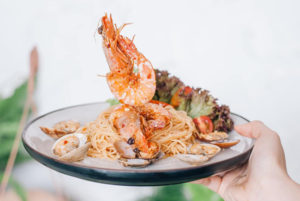 The H. Temptation
This new cafe specialises in healthy fare. If you are wondering, yes—the "H" stands for healthy. Similar to many of the recent cafe openings in the city, The H. Temptation is a green oasis; with leafy plants adorning both the exterior and interior of the place. The philosophy here is simple: to prepare less sinful indulgences of known dishes. You will find signature items such as Seafood Aglio Oglio, Herbal Dan Gui and Wolfberries Chicken, and Pan-seared Salmon Miso Soup. The nasi lemak here—coined Nasi X Lemak—comes with brown rice cooked with coconut oil and infused with blue pea flower. Vegetarian options are available too.
Address: Lot 3A-1, Level 1, Symphony Square, Jalan Professor Khoo Khay Khim, Petaling Jaya
Opening Hours: 11am – 9pm (Monday – Sunday)
Contact: 03 7932 3201
4. Apollo Dining, Bangsar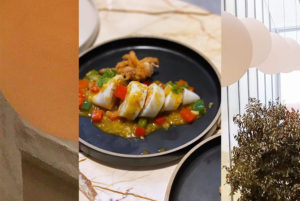 Apollo Dining
It isn't very often that we have a restaurant which excels both in its design and cuisine. Therefore, Apollo's debut in Kuala Lumpur's dining scene is one to celebrate. The restaurant combines a contemporary take on its food offerings with stunning aesthetics. Dishes to try include Chilli Crab Squid Ink Aglio Oglio, Braised Beef Short Ribs with curry and watercress, Duck Risotto with goji, mushroom, and cheese, as well as Lobster and Tiger Prawn Dumplings. Side note: Apollo is serving dishes from the Chinese New Year menu until 8 February so follow them to find out more about future offerings.
Address: 28, Jalan Kemuja, Bangsar
Opening Hours: 11am – 11pm (Tuesday – Thursday), 11am – 12am (Friday – Sunday), Close on Monday
Contact: 03 2201 7565
5. 108 Matcha Saro, KLCC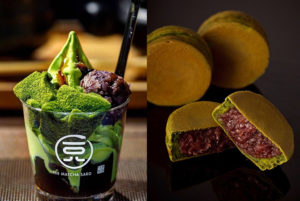 108 Matcha Saro
Oh, for the love of matcha! This dessert shop originated from Asahikawa, Hokkaido and is finally here in Malaysia. The base of all the offerings is on selective Kyoto Uji Matcha; which will then be mixed with other ingredients. Opt for the matcha parfait—with matcha jelly, matcha syrup, white mochi, and matcha warabi mochi. You can also try the matcha-flavoured obanyaki—with red bean paste. Fun Fact: 108 Matcha Saro uses red beans from Pingtung in Taiwan. Of course, you will be able to indulge in matcha-based drinks too!
Address: Lot 251, Level 2, Suria KLCC
Opening Hours: 10am – 10pm
6. Jēn, Cheras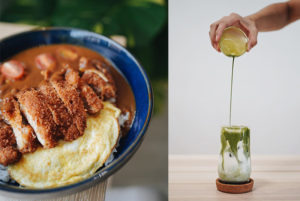 Jēn Cafe
Minimally-designed with white walls and neutral-coloured furniture, Jēn is one for the books. In addition to the ample amount of zen you will be getting here, this cafe is where one should go for simple but scrumptious comfort food. Feast on their crispy breaded chicken with Japanese curry, Korean BBQ Chicken Bao, Nasi Lemak Rendang with chicken, and pastries.
Address: 6-1, Jalan Manis 3, Taman Segar, Cheras
Opening Hours: 11am – 8pm (Tuesday – Sunday), Close on Monday
Contact: 03 9134 8978
7. Roti & Kopi House, Damansara Uptown
Describing this establishment as beautiful would be an understatement. A newcomer to the dining scene in the area, Roti & Kopi House aims to stand out by serving modern versions of local specialties. One example would be Roti Tiger (wholemeal toast with cheese). Other options to explore are Rendang Beef Toast and Nasi Lemak Toast. The restaurant is really Instagrammable too—with its smart usage of wood elements in it designs as well as the floral galore at the entrance. In addition to traditional Malaysian snacks such as onde-onde, kuih lapis, and ketayap, you can also get specialty white coffee in the form of dark roasted Liberica Jeans from Johor.
Address: 101C, Level 1, Tower C, Damansara Uptown, Petaling Jaya
Opening Hours: 7am – 7pm (Monday – Friday), 8am – 8pm (Saturday – Sunday)
For January 2020's list of new cafes and restaurants, click here.
| | |
| --- | --- |
| SHARE THE STORY | |
| Explore More | |