It's only coconut milk-infused rice (with a tinge of pandan), cucumber slices, hardboiled egg, ikan bilis (fried anchovies), roasted nuts and most important of all, sambal. (Get that one wrong and everything is ruined. Yes? Yes.) And yet, modestly wrapped in banana leaf (or not), this simple dish has become quintessentially Malaysian. The first tourist attraction we bring any friends from overseas to is a nasi lemak stall. The first cravings of home we have whilst we're abroad is nasi lemak. You get the idea.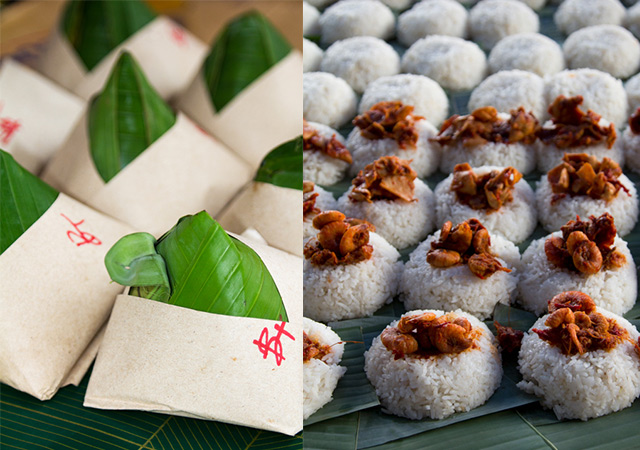 A decade or so ago, it was more common to see mak ciks and kakaks setting up stalls by the roadside selling either the convenient triangular-shaped nasi lemak bungkus or rows of containers with a myriad of dishes to go with the, as I'd like to call it, nasi lemak starter pack (rice and the garnishes as mentioned above). From sambal sotong to fried chicken to beef rendang, the combinations were endless and we could have it for breakfast every day.
Of course, while it is commonly—and traditionally—a breakfast dish, there's no specific rule that you can only eat it in the mornings. Just like how there's no stopping anyone from creating an alternate, whimsical version of it. In recent times, foodpreneurs have been inspired to whip up things like the Nasi Lemak Burger (although the idea was first spotted at a certain fast food establishment across the Causeway), a nasi lemak cake and a nasi lemak ice cream flavour.
For a dish that we're so proud of, the question is: Is nasi lemak truly Malaysian? Singapore has it. Indonesia has a variation of it. So where and when was it born? Unfortunately, there are no birth certificates to prove anything but heritage historian Ahmad Najib "Nadge" Ariffin told The Star that it does seem to originate from the west coast of Peninsular Malaysia.
An expert and researcher in culture, tradition and heritage in Southeast Asia as well as the founder of Nusantara Academy of Development, Geocultures & Ethnolinguistics, Nadge explained that nasi lemak definitely started within the Malay society in Southeast Asia. He elaborated, "They were very mobile people and the concept of 'coconut milk rice' was a slow invention that spread throughout the different communities."
"The east coast, which is the most culturally conservative part of the country, has its own signature traditional rice dishes with prominent, distinct fish flavours such as nasi dagang and nasi kerabu," he added.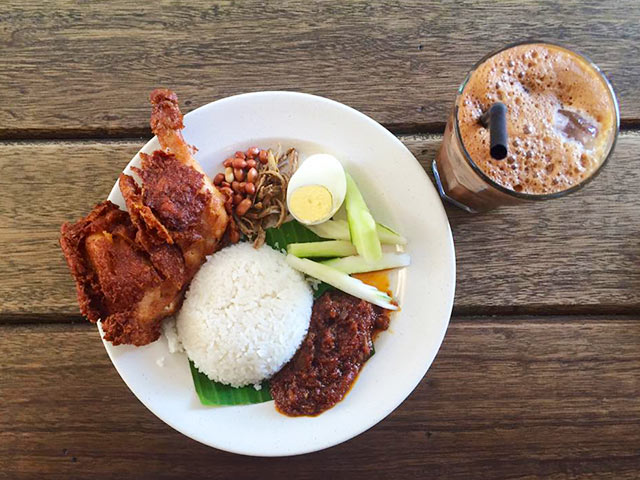 On another note, one of the earliest records of the mention of nasi lemak was in a study paper—which was later compiled into a book titled The Circumstances of Malay Life—by British scholar Sir Richard Olaf Winstedt who was fascinated with Malayan folklore, history and language, and has thus published many works from his research. Fun fact: He was awarded an honorary Doctor of Law degree from the University of Malaya in 1951. The dish has also made an appearance in The Straits Time newspaper dated 21 July 1935, noting its availability at the Kuala Lumpur Malay Market at Kampong Bahru.
But the story behind nasi lemak that has been passed around is much simpler. It began in a small village near Malacca where a widow named Mak Kuntum, and her daughter, Seri, resided. After her husband died in a battle, Mak Kuntum had to work as a masseur to earn money for the family (apparently she was really good too!) and so Seri was often left at home to take care of the chores.
One day, Seri accidentally spilt coconut milk into the boiling pot of rice and soon the sweet aroma of santan began to fill the whole room. When Mak Kuntum returned home for lunch, she couldn't help but notice the fragrant smell of the rice. Upon tasting it, she was further intrigued and immediately asked her daughter, "Apa kau masak ni, Seri?" (What did you cook, Seri?) To which Seri replied, "Nasi le, Mak!" (Rice, mother!) And from that day on, the coconut milk-infused rice became known as nasi lemak.
The rest, as they say, is history.
Related stories:
How to make a Healthy Organic Nasi Lemak Salad by The Good Co.
5 Alternatives in KL to satisfy your desire for Nasi Lemak Burger
| | |
| --- | --- |
| SHARE THE STORY | |
| Explore More | |