There is just something so magical about food—from connecting us with other cultures to boosting one's own mood. Hence, when I found out that I'd be heading to the newly-renovated Mandarin Grill for a review, I was engulfed in excitement. Mandarin Oriental Kuala Lumpur is a place I have fond memories of. Growing up, my parents would often bring me here for staycations, afternoon teas, and celebrations. Therefore, the idea of going to the hotel for a food tasting was extremely welcoming. While I have never been to Mandarin Grill (opened since February 2010), I was thrilled by its new appearance. The interiors were refreshed with a stylish yet casual setting. The botanical elements stood out with light green and turquoise colours acting as extensions of the lush greenery from KLCC Park. Seated right by the window with natural light coming through, there was a sense of opulence without over-the-top luxury. The appointment of Chef de Cuisine Luigi Stinga from two Michelin star restaurant, Seta in Mandarin Oriental Milan, enforces Mandarin Grill's new direction in serving Italian cuisine.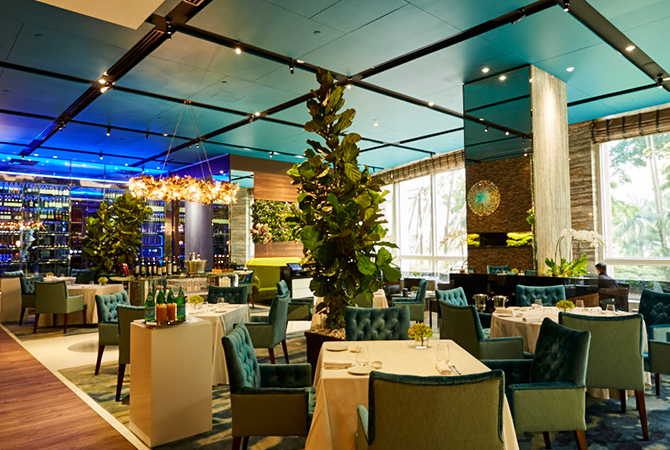 During the food tasting session, I was presented with signature dishes; highlights from the Chef's repertoire. Here's my review of everything I had in Mandarin Grill, both hits and misses:
Caviale E Prosecco
What is it? It's pretty straightfoward—caviar and Prosecco. On a bed of Prosecco foam lies a block of Malaysian potato in the middle topped with caviar from France. #International. On its own, the Prosecco foam is fresh, lively in taste, and fruity in aroma. The perfect start to any meal with its palatable lightness. Oh, that's also my tip with this dish; start with a bit of the bubbles. You'll get a hint of sweetness. What I love the most about Caviale E Prosecco is that each layer has its own ecosystem. But one spoonful of everything is akin to savouring an entire universe. I like that the potato is adequately soft and pulpy in texture. The mild bitterness is drowned out by the exquisite caviar that's full of sweet brine which pops in your mouth. It's savoury yet acidic. The perfect indulgence. Chef Luigi has crafted a plate that's definitely an ideal candidate for a starter/first impression. It's elegant, decadent, creamy and thin at the same time. How? Ask the Chef but I know I'd be looking forward to more of this. As simple as it looks, there is so much complexity to it. On to the next one!
Risotto Ai Sapori Di Mare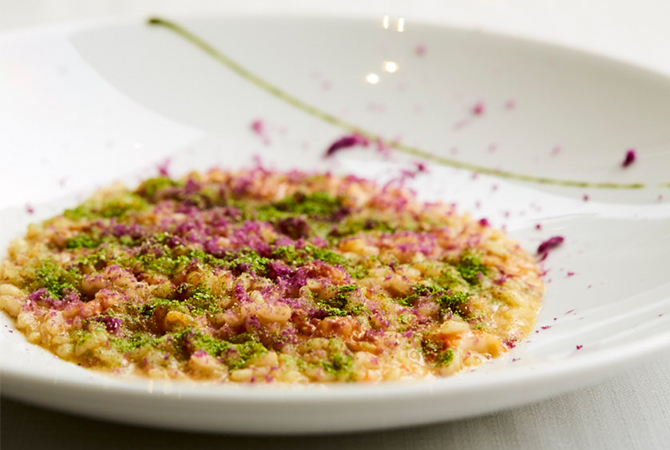 "Wow, this looks really beautiful," I said to myself when the dish was first placed in front of me. Like an illustration pulled straight off an anime. Or a fairytale. Picture Tinkerbell but with sparkling green and shimmering purple pixie dusts. Alright, enough with the appearance. Just know that it's gorgeous. Let's talk about the matter of the tongue (and tastebuds). Risotto with extra virgin olive oil and prawns sound like the perfect combo, doesn't it? It's not often that you see Italian fare prepared like this. After all, it is Chef Luigi's plan to not do things the traditional way. He aims to introduce contemporary Italian cuisine to Malaysia and this seafood risotto is a prime example of his capabilities. While the risotto was a tad too briny, the consistency sufficed. Unlike many that I have encountered, Mandarin Grill's concoction wasn't too creamy. Personally, I'd have preferred it to be less salty but the sweet potato flakes were the saving grace, in my opinion. They provided crunch and added just the right amount of sweetness to the dish. Cooked in fish stock and grained, the sweet potato elevated the risotto from average to excellent. Definitely worth trying.
Ravioli Di Baccalà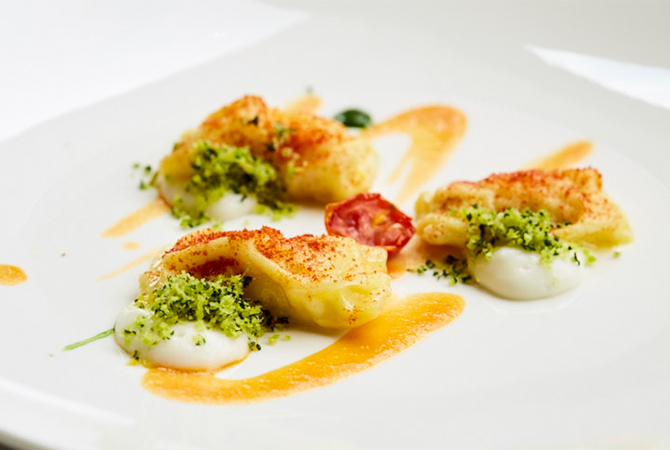 No, you won't be served with just three pieces. In fact, you'll be getting seven (or sette in Italian). Served with dried salted cod fish fillings, potato and oregano, the plating for the dish was immaculate. From an aerial view, you'll be able to visualise a school of fishes moving towards the same direction. It's like they have one common goal—to provide satisfaction to the hungry. Too macabre? Well, wait till you taste the baccalà. I have always thought of bacalhau as a Portuguese delicacy so I was surprised to see Ravioli Di Baccalà on the menu. The crispy oregano bits were delightful enhancements to an otherwise rather simple fare. A lot of work has gone into the preparation of something so Daedalean and I have no intention of minimising Chef Luigi's talents in any way. However, I personally feel that—as opposed to the risotto that's too salty for my liking—the cod fish should have been seasoned better. While I enjoyed the soft, chewy texture of the fish (that's also adequately cooked), blandness came through instead. Of course, this wouldn't be the same for everyone. Palatable but not drop dead brilliant—at least not yet. This is one of Mandarin Grill's signature dishes and maybe that explains the extremely high expectations. Would I order this again? For the al dente pasta, yes.
Tiramisù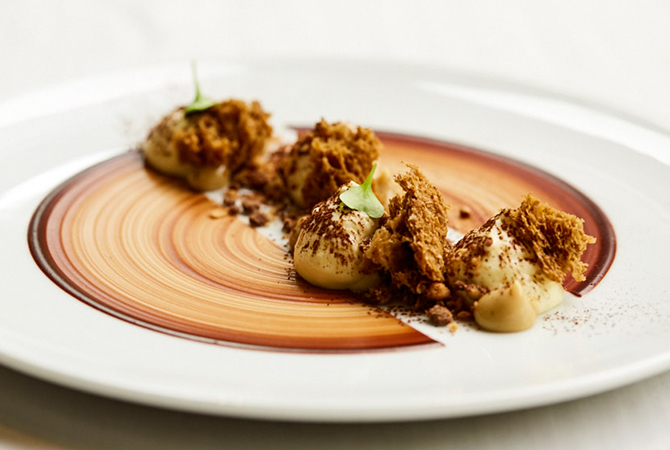 There's always time for desserts. According to Chef Luigi, his version is lighter and healthier than the traditional creations—aka grandmother's style. While my go-to dessert is tiramisu, I'm not usually fond of anything too sweet. Hence, I was excited to give this dish a go. Made with the usual coffee, chocolate, and mascarpone cream, I relished in how airy each bite was. The highlight though was the toned down sugariness. You don't get the uncomfortable pain in the teeth with this and that's important. It melts in your mouth; that's how buoyant and delectable Mandarin Grill's Tiramisù is. I'd even go to the extent of calling it divine and my favourite out of everything I tried that day. The classic Italian dessert excels best with balance. It's beloved from many all around the world and straying too far away from nonna's methods might result in some unfavourable comments. From the sponge cake to the coffee, I wouldn't mind skipping the antipasti, primi, and secondi.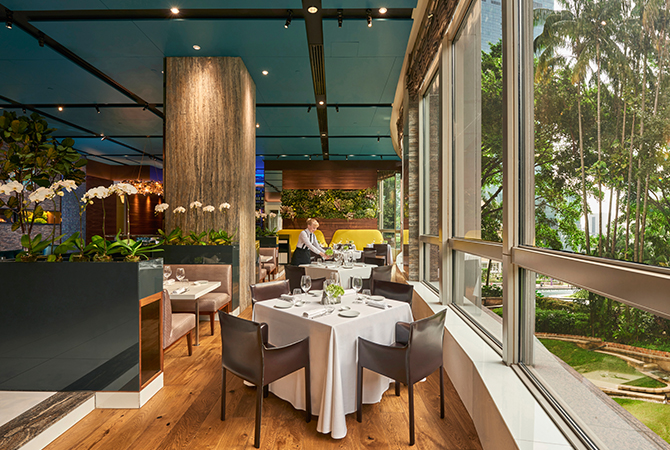 This is definitely a restaurant I'd return to, especially for the tiramisu and the Prosecco foam. According to Chef Luigi Stinga, there will be constant changes to ingredients utilised for his dishes depending on the season. That's definitely something to look forward to! In general, I'd say that Mandarin Grill is more impressive than it is disappointing. With so many options on the list, it will take me awhile to try every possible creation. Oh, if you're into fine wines but can't finish the entire bottle on your own, you'll be able get them by the glass—with the help of Coravin.
For more information or reservations, call 03 2330 8798 or email [email protected]
| | |
| --- | --- |
| SHARE THE STORY | |
| Explore More | |