What makes a good sake pairing menu? Typically, we know that white wine is great with seafood, while red wine pairs well with red meats. Of course, sommeliers, winemakers and chefs have all debunk this general rule of thumb. However, when it comes to sake, it goes well with most flavours, if not doing it better than wine even. This is because sake acts as a catalyst, complementing the food by refreshing the palate and enhancing the flavours—it does not steal the limelight. It either expands the umami or softens the bolder profiles.
Incidentally, DC Restaurant's Kuheiji sake pairing menu by Chef Darren Chin, Sous Chef Tran TT and team exemplifies this brilliantly. For starters, for the unfamiliar, Kamoshibito Kuheiji is a name to remember. Produced by the Banjo Jozo brewery in Nagoya, it's a family name known and sought after in the world of sake, having brewed the fermented rice drink since as early as 1657. While the brewery remains true to tradition by making sake by hand—keeping it as close to its natural form as possible—the current 15th generation owner, Kuheiji Kuno is also a believer of new innovations, taking influences from the French wine culture and techniques. The result is an elegant harmony unlike any. Ask Mahamad Hafiz Abdullah, the restaurant manager at DC Restaurant, whose knowledge and warm hospitality are unparalleled. With his captivating description and storytelling talent, you're in for a treat right from the start, before the bread is even served. And the bread basket is good.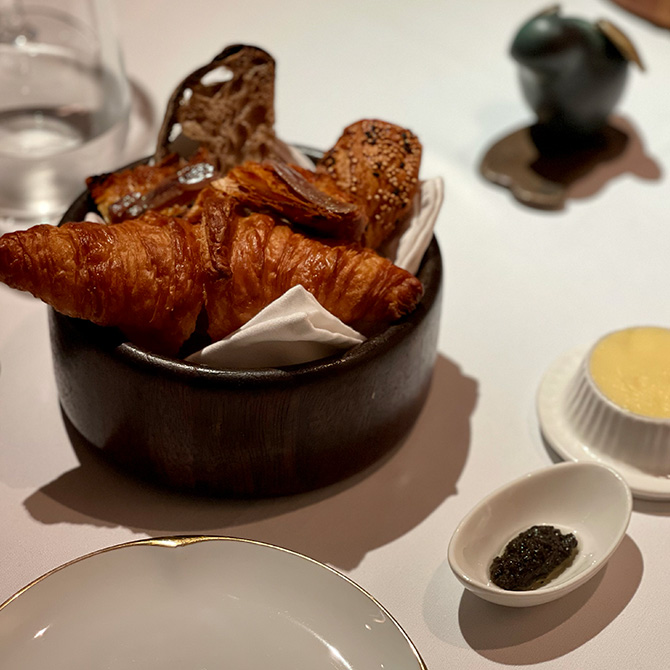 So, the Kuheiji sake pairing menu. Priced at RM798++ per person (minimum two persons), it's a six-course menu with five glasses of sake. The courses alone would easily take you on a culinary cruise around the world as it dances its way around French cuisine and techniques, a dash of Asian influences, and paying homage to the premium ingredients used. Thus, it solidifies how versatile sake really is—especially when it's as beautiful as Kuheiji sake.
Thankfully, I had this menu with three other dinner companions, which meant getting to taste, literally, a bit of everything.
*Premium Iranian caviar set (RM688+)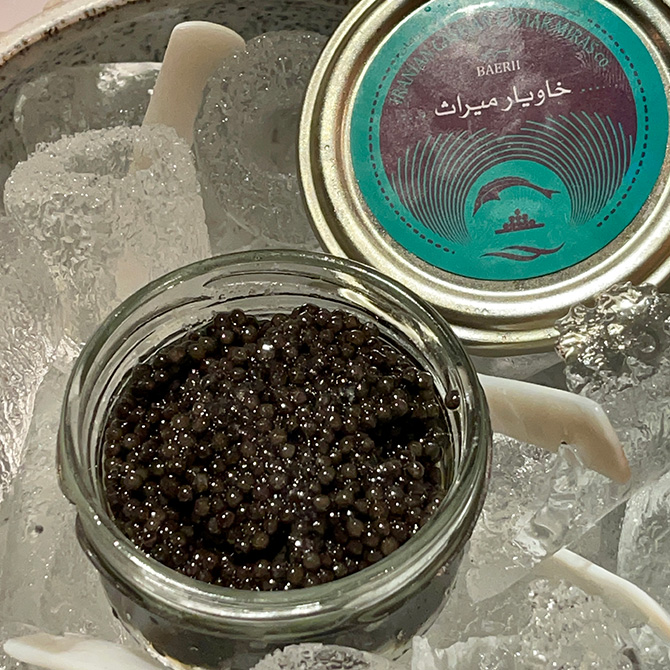 While this is an optional add-on to the menu, I highly recommend it. Iranian caviar is among the best of the best, and you can tell from its perfect pearl-like shape and its clean jet-black colour with a light sheen. And while on its own, it's the right amount of briny meets rich buttery taste; DC Restaurant serves it with a fuss-free Sardinia flat bread and a side of chive cream. There is that slight pop in the mouth, but mostly, it melts gently in the mouth. With a sip of the Kuheiji, Ka No Chi, Yamadanishiki, Junmai Daiginjo 2019, the umami flavours are boosted with a tinge of sweetness from the sake. Let's just say it's a fancy dinner party on the palate.
Chef seasonal amuse-bouche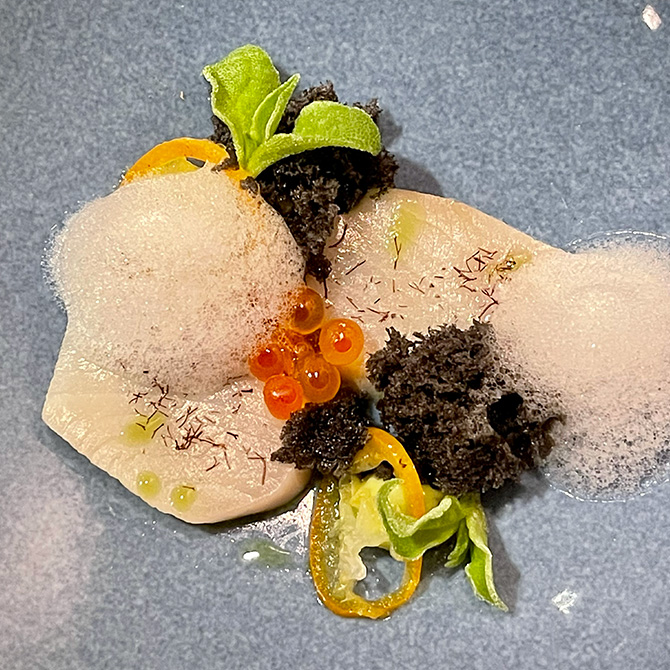 On this night, we had a series of dainty amuse-bouche treats. A mini tartlet of cured Spanish mackerel provided a nice crunch from the base and bite from the fish. The mushroom arancini made for a feel-good snack, similar to the fascinating crispy white fungus in mushroom stock, topped with fresh cheese and bottarga skrei pearls. I'll admit: I'd never have pegged a Chinese soup staple as a French-style amuse-bouche. The creativity here was a hint of what's to come for the night. Then came the hiramasa kingfish—sweet, tender and clean. All four worked well with the Kuheiji, Ka No Chi, Yamadanishiki, Junmai Daiginjo 2019, which carried sweeter, fruitier notes, compared to the other four sakes to come.
First course: Blue swimmer crab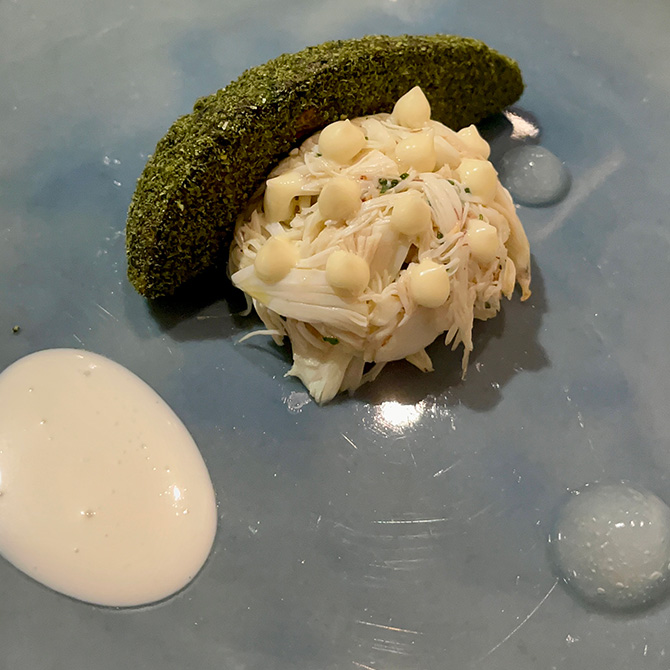 On the plate, we saw the crab meat in strips and then balled like an ice cream scoop—the portion was generous. But the second highlight here was the accompanying charred avocado in a crescent shape and finely—might I say, thoroughly—dusted with nori powder. The dish is complemented with smoked yoghurt cream and lemon gel to add dimension. Chef Darren tells us later that this different surge of creativity is in part thanks to his sous chef, who though is experimental, understands the ingredients well enough to fuse new combinations with surprising success. This party of four gave approving nods unanimously. The sake of choice for this dish was the Kuheiji, Kurodasho, Yamadanishiki, Junmai Daiginjo 2019. While not as sweet as the first sake of the night, the Kurodasho carries notes of white peach and wild blackberries that pairs well with the acidity from the lemon gel and creamy avocado.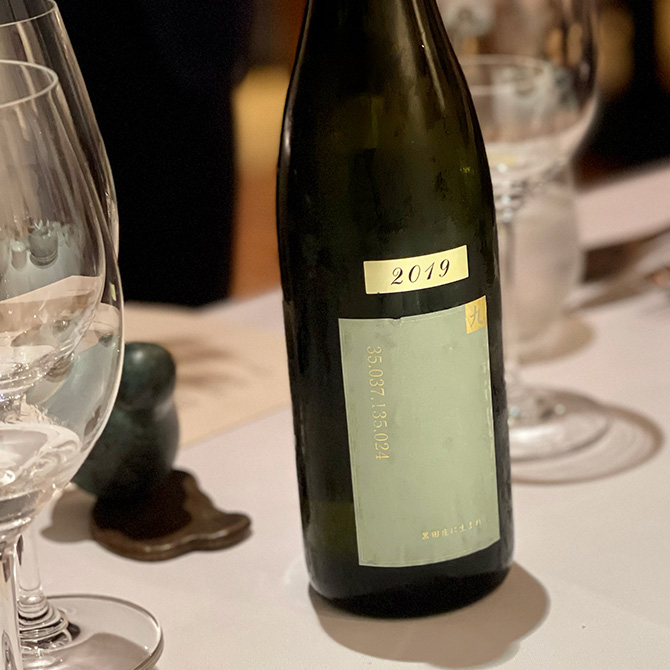 Second course: Scottish diver scallop
Served on a bed of sweet corn velouté, with a side of haricort verts (thin French green beans) and savoury clam foam, the Scottish diver scallop was a plump delight. Seared to perfection, it went well with the sweetness from the corn veloute, the savoury foam and the crunch of the green beans—individually and altogether.
Third course: Shiitake dashi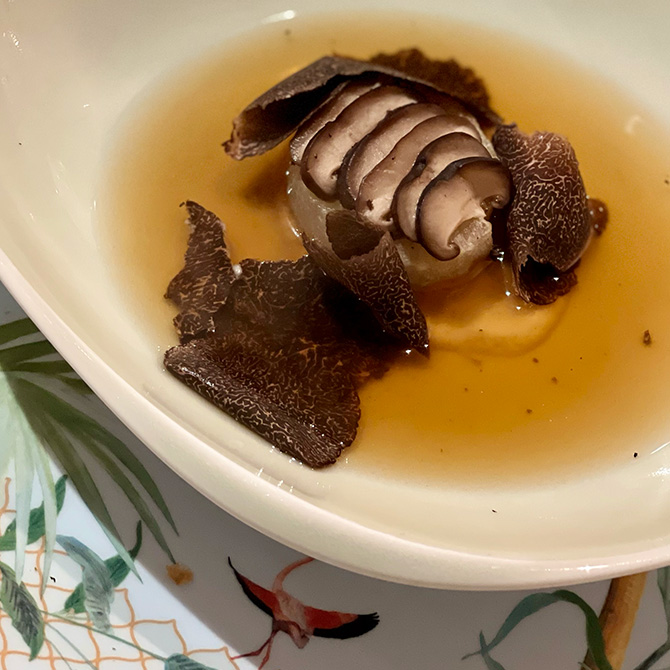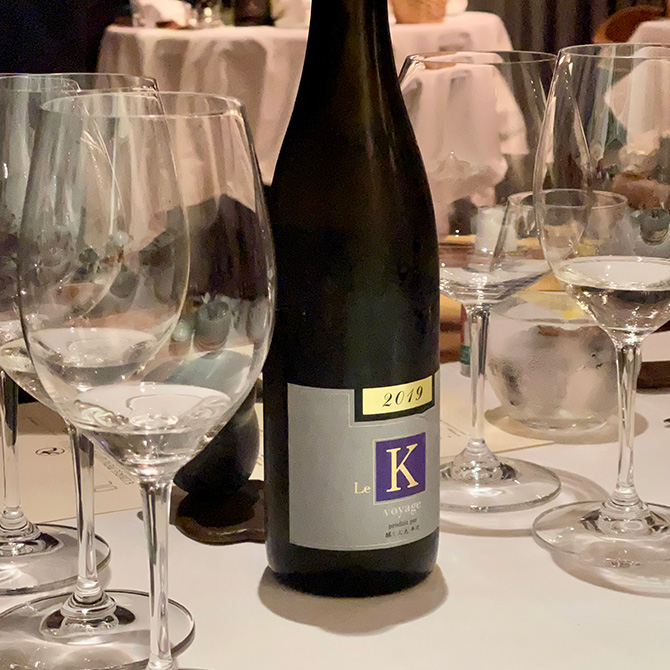 Comfort food, but make it luxurious. It started with a small show-and-tell: the opening of a treasure box of black truffles, followed by shaving delicate pieces atop a charred Hokkaido daikon coated in parsnip pureé, before pouring warm shiitake dashi over it. It's proof that the simplest ingredients could work wonders for the tastebuds (and heart) with the right combination. The accompanying Kuheiji, Voyage, Yamadanishiki, Junmai Ginjo 2019 has an unassuming English label, thus standing out from typical sake bottles. Fifty-five per cent polished, its more matured notes fill up the gaps with a humble dish like this.
Fourth course: "Echo of the Sea"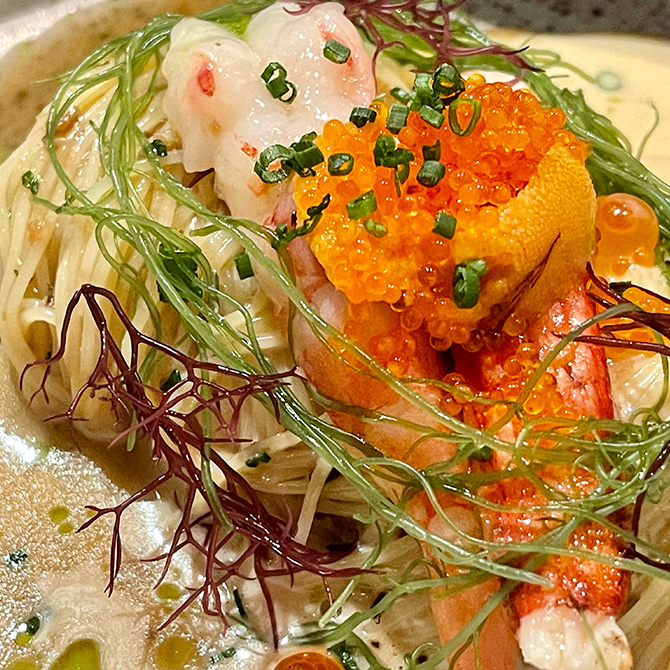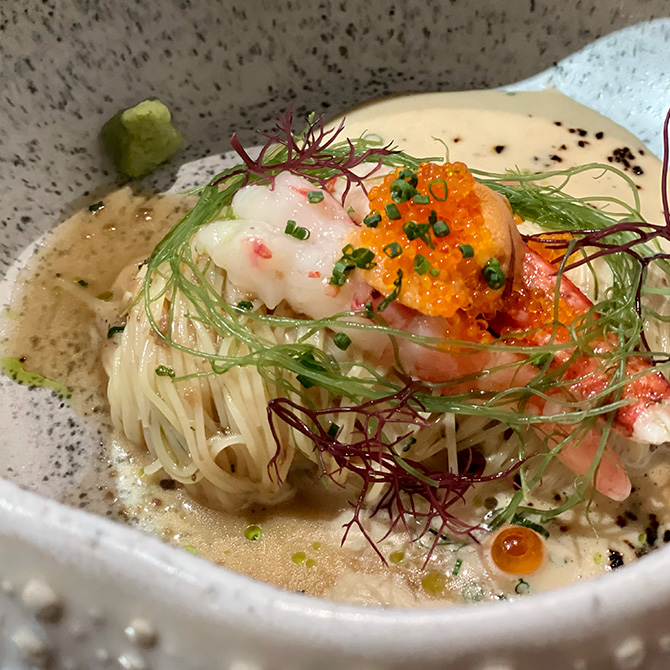 No visit to DC Restaurant is complete without the signature cold Cappellini with Hokkaido Bafun uni, Alaskan king crab, cured Amaebi and savoury seafood sabayon. If you think about it, the consistency of this dish after all these years, signifies the sharp and precise techniques of Chef Darren Chin and his team. We were advised to toss it with a smidge of wasabi to elevate it. It's sweet, it's briny, and it's a burst of textures. Hafiz explains that the Kuheiji, Human, Yamadanishiki, Junmai Daiginjo 2019 has 45 per cent fewer minerals, which balances the rich flavours of the "Echo of the Sea".
Fifth course: Main course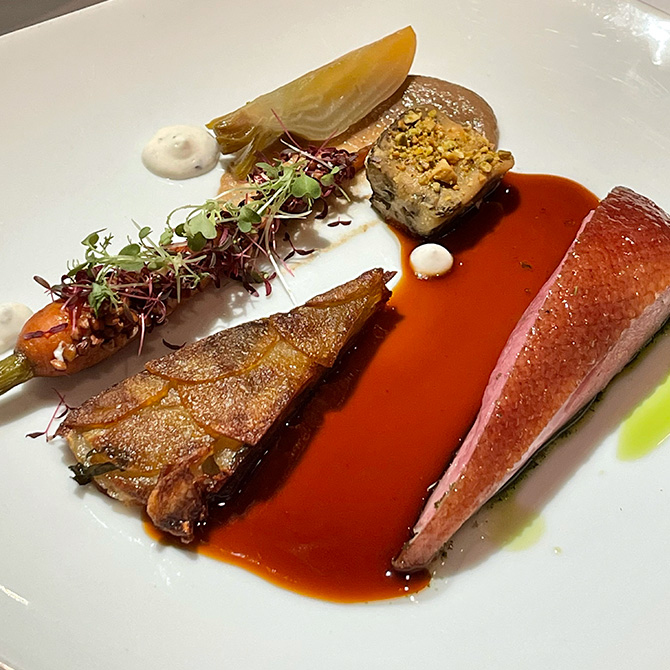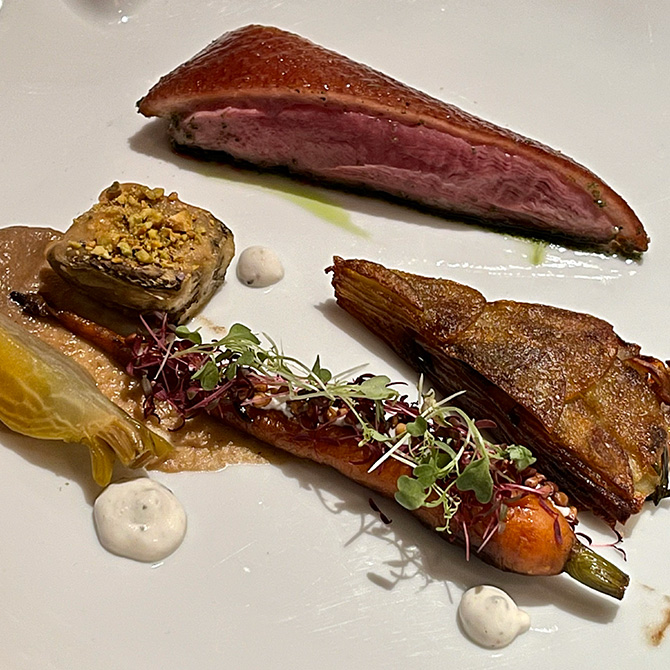 A party of four meant four different main courses to try. I wish you luck if you had to pick one, but the winner of the night was undoubtedly the Silverhill Irish duck supreme, cooked to perfection (aged for seven days in fact!) with its bright pink flesh and crisp herb crust. Accompanying it were eggplant, baby carrot, cumin yoghurt and a beautiful and buttery pommes anna.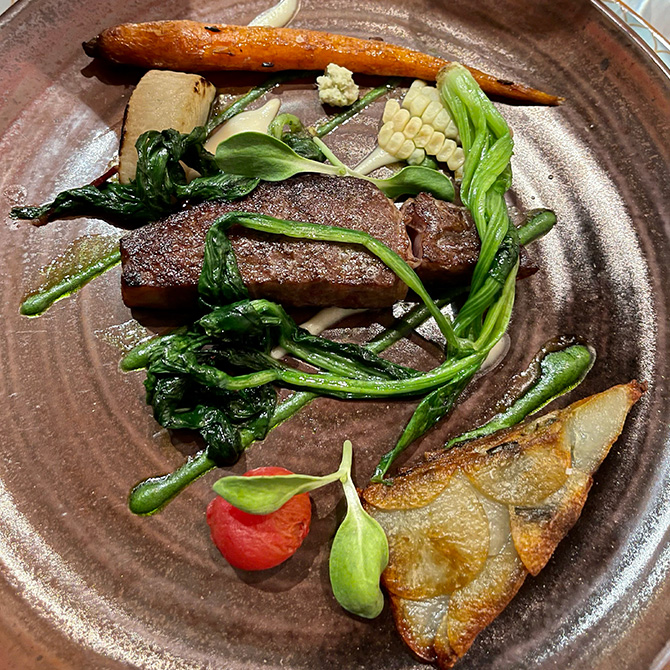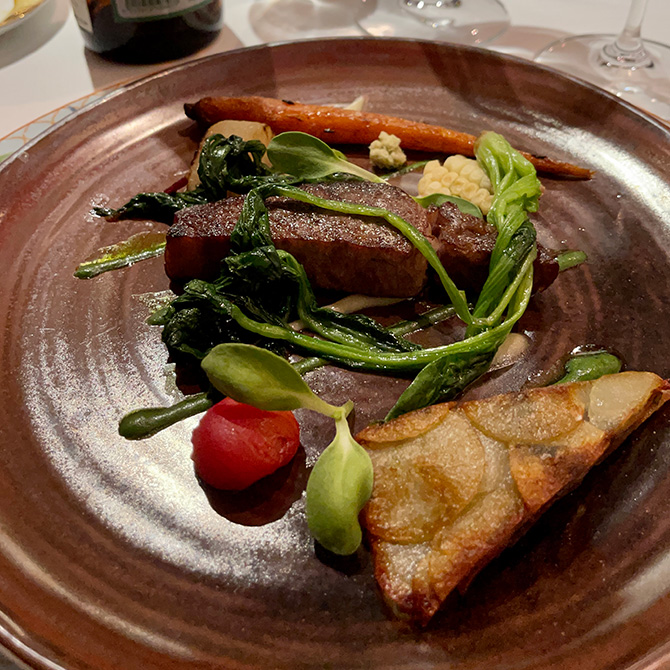 The other meat alternative is the Miyazaki Japanese A5 wagyu tenderloin with a mini spread of fresh greens, ranging from watercress to Jerusalem artichoke to Chitose-vegetables.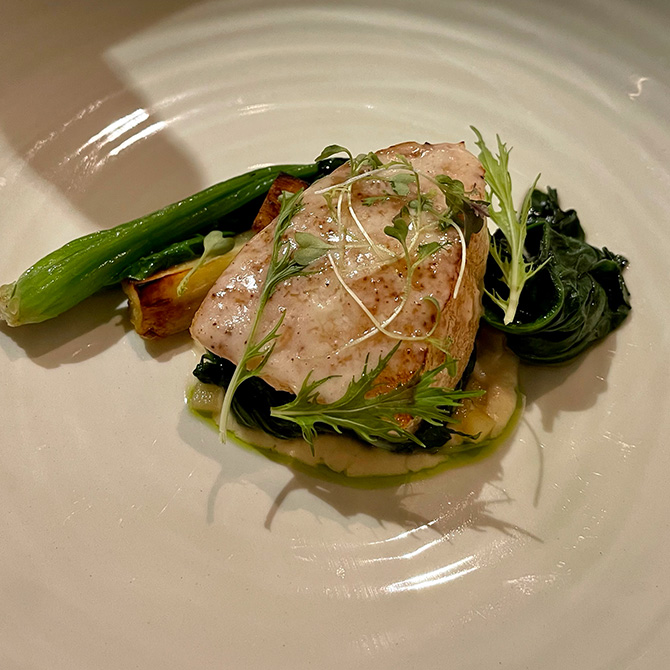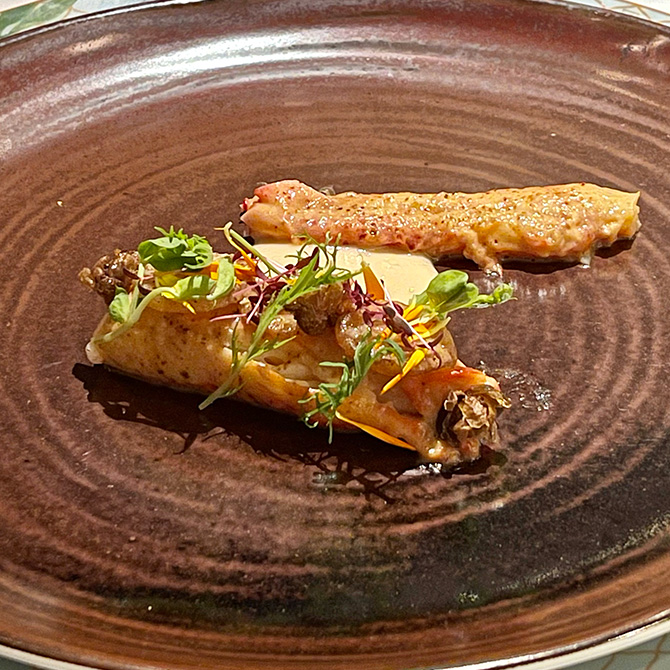 On the other hand, seafood lovers can opt between the delicate Alaskan king crab on a bed of aromatic, smoked cauliflower cream alongside fried capers and umami sabayon; or the fresh Chilean seabass atop buttermilk espuma, complemented by Chitose vegetables, parsnips, apple and interestingly, mussel jus.
The hero sake: Kuheiji, Sauvage, Omachi, Junmai Daiginjo 2019. The crop in question, Omachi, is one of the main reasons for its superiority. Omachi is the oldest sake rice, having surfaced over 100 years ago, and to truly bring out its profile, Kuheiji fermented it under higher temperatures. As a result, we get rich aromas, ripe fruit and a floral acidity. It pairs beautifully with both the meats and seafood.
Sixth course: Dessert/cheese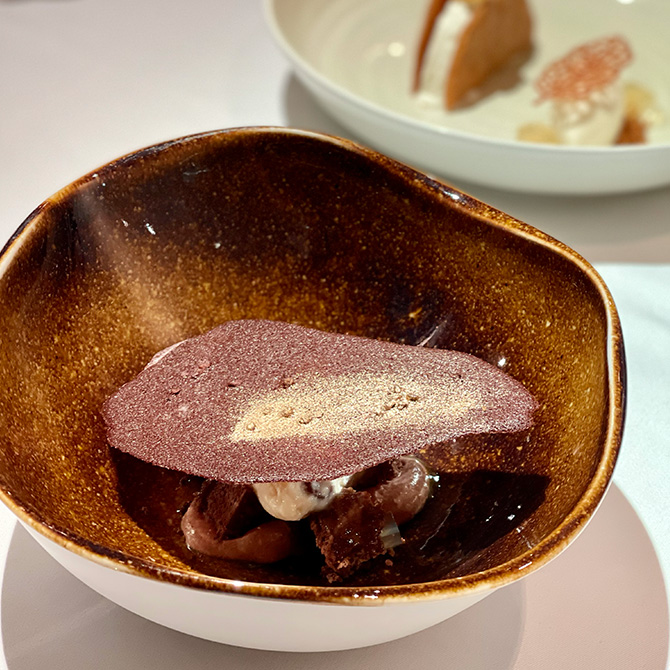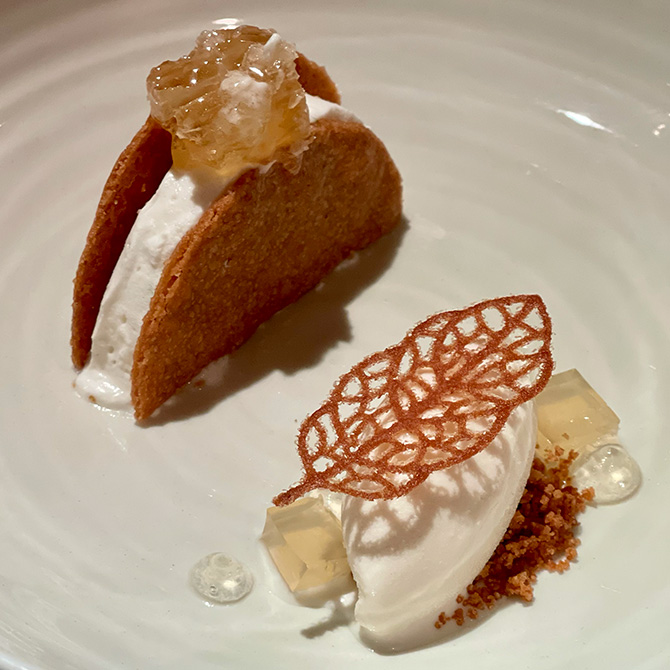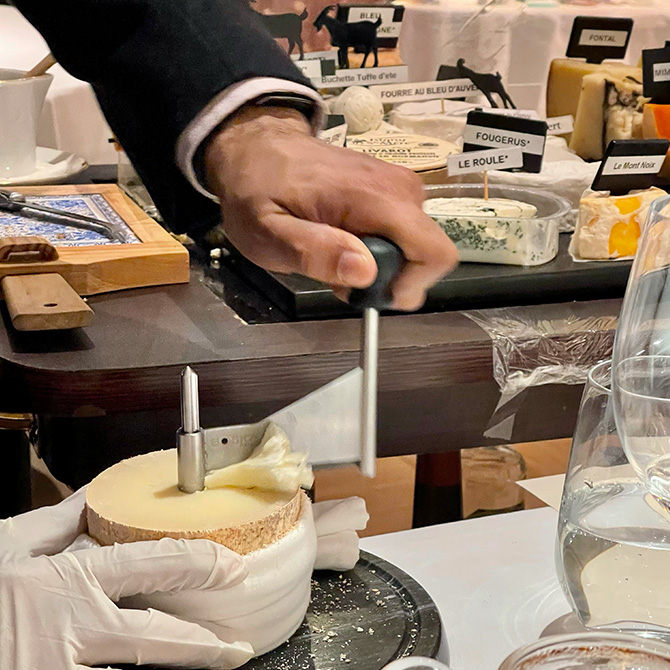 All good things must come to an end, but at least it can be a sweet finish. For dessert, as a party of four, we ordered one of everything. The "Rhum & Raisin" is a boozy take on your typical brownies and ice cream. Except replace it with a soft chocolate sponge with boozy rhum, a side of raisin ice cream, light rhum mousse, cacao brittle and dark raisin pureé. It's a boozy treat, but if you're as full as I was from the entire course, it could be a tad rich. I personally liked the Milk & Honey, which was a masterpiece of parfait glace, apple cider gel, caramel streusel, milk ice cream and wildflower honey from Mae Rim province Chiang Mai.
Or take your pick (choose only five types of A.O.P cheese) from the famous cheese trolley.
It's been a while since I had such a lovely, indulgent dinner, and while I'll admit that I'm no sake connoisseur (yet), Kamoshibito Kuheiji sake is a step above the rest. It's evident from that first sip. It's easy. It's bright. It opens up the palate, and to a variety of dimensions. But it's to be expected. You can trust DC Restaurant for its impeccable taste, just like its food.
---
DC Restaurant
Address: 44, Persiaran Zaaba, Taman Tun Dr Ismail, 60000 Kuala Lumpur
Contact: +603 7731 0502
Mobile: +601 2223 2991
Opening hours: 6pm to 11pm, Tues – Sun
For more information or to make a reservation, visit DC Restaurant's website, Facebook and Instagram.
| | |
| --- | --- |
| SHARE THE STORY | |
| Explore More | |