Food + Drink
Johnnie Walker: The Blue Label limited edition Penang design is exquisite and here's the liquid lowdown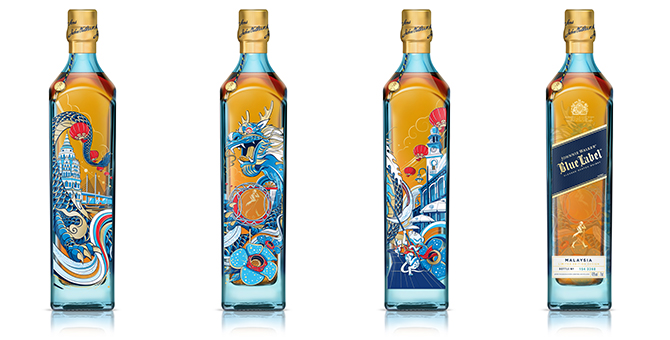 Whether you're into top-notch whisky or beautiful designs (or even both), here's something that will interest you. Johnnie Walker has recently launched its inaugural Blue Label Penang design. The never-before-seen variant was revealed on 8 January in Penang's Majestic Theatre. From traditional Chinese delicacies to palm reading stations to the presence of Jeremy Lee (Brand Ambassador of Diageo Malaysia), the occasion was, without a doubt, scintillating.
Jeremy Lee leading a mentoring session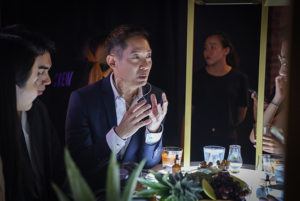 What do you have to know about the limited edition Penang design? The special version of the Johnnie Walker Blue Label was created in collaboration with Shan Jiang. The bespoke bottle and pack illustrations were crafted by the illustrator to honour the intricacies of Malaysia—or more specifically, the state of Penang. On the Blue Label bottle, you will notice a rich combination of Malaysian and Chinese cultures. Shan Jiang concocted this very blend of characteristics to highlight the elements that make Penang the metropolis that it has become today.
Johnnie Walker Blue Label Penang design group shot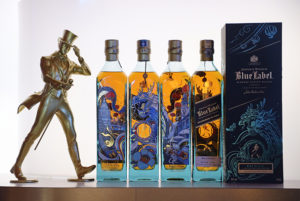 The London-based illustrator included a number of symbols any Malaysian and Penangite will (and should) be able to identify instantly. One of them is the Dragon Dance—shown on the three facets of Johnnie Walker's legendary square bottle. The majestic emblem of Penang was included to exhibit strength and elegance. The largest Buddhist temple in Malaysia, Kek Lok Si Temple is also present; meant to present Penang's architectural beauty. To showcase the cultural icon of the Malaysian Chinese, Shan Jiang utilised striking red lanterns. Last but not least, spot the Penang Bridge!
Johnnie Walker Blue Label Penang design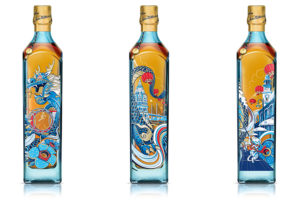 The Johnnie Walker Blue Label is extraordinary and that's a given. After all, the production of its whisky is ultimately complex. In fact, the right quality, character, and flavour are immensely necessary for perfectly aged rare whiskies to reach the endgame; only one in 10,000 casks in Johnnie Walker's reserves end up as this whisky. It's mind-blowing but that does encourage a heightened sense of appreciation for the liquour. Taste-wise, you will get hints of hazelnuts, honey, sherry, oranges, ginger, kumquats, sandalwood, and dark chocolate. Of course—different elements such as environment can affect how you identify the ingredients.
Johnnie Walker Blue Label Penang design box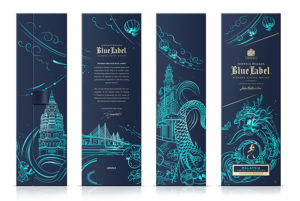 The smooth finish of perfectly-balanced soft smoke you get at the end of every sip might be considered one of the contributors to Johnnie Walker Blue Label's victory at the Scotch Whisky Masters and Double Gold at the International Spirits Challenge last year. Malaysians have so much to be proud of and the limited edition Penang design is another massive addition to the long list of achievements. What are your thoughts on the one-of-a-kind Johnnie Walker Blue Label bottle?
The Johnnie Walker Blue Label limited edition Penang design is priced at RM968 and can be purchased here. For more information, visit this website.
| | |
| --- | --- |
| SHARE THE STORY | |
| Explore More | |