Cantonese food in KL is a dime a dozen. The same can be said for Japanese cuisine. But a fusion of the two culinary styles? Not so much. But KL is in luck this week as Japanese Master Chef Tokukatsu Toh will be taking over the reins at Lai Po Heen of Mandarin Oriental Kuala Lumpur from 8 to 14 April 2019 to deliver just that.
Japanese-Chinese cuisine (also known as Chuka) isn't new—not in Japan, especially. Since the late 19th century, what were originally Chinese dishes were then slowly adapted to suit the tastebuds of the Japanese. Chef Tokukatsu Toh is proof of this. He grew up in Yokohama (where Tokyo's "Chinatown" resides) and followed the footsteps of most of his family members into the Chinese cuisine industry in Japan. 
With over 20 years of experience, he first began his professional culinary journey at the Chinese restaurant in Sunshine Prince Hotel before reaching one of the biggest highlights of his career: becoming the Chief Chef of Michelin-starred Sense Restaurant at Mandarin Oriental, Tokyo in 2014. He eventually left to establish his own restaurant 'Kiseki Japan' in 2018; and this week, Malaysians have a chance to taste the reason behind his success.
I'm one of those Malaysians. Lunch and dinner sets menus, as well as an a la carte menu, by Chef Tokukatsu Toh are available—my lunch companions and I tried the 6-course Emperor & Empress set menu, and it was truly fit for royals.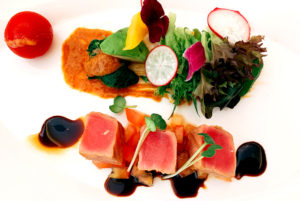 tokukatsu toh lai po heen review
It started with a surprisingly generous-sized appetiser: Grilled tuna with seasonal vegetables and avocado. Here is where Chef Tokukatsu Toh's flair for Cantonese cuisine shows. The dish was every bit flavourful (tuna grilled to perfection with dollops of sweet soy sauce plus a nutty sauce to go with the greens) as it was refreshing (the avocado and side of vegetables).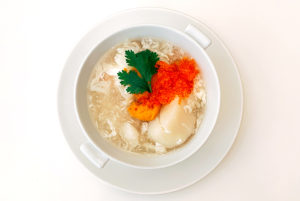 tokukatsu toh lai po heen review-1
Next came Seafood Royale. Akin to the traditional 'soup' course but with a Japanese twist, the name is one hundred per cent apt. At first glance, the slightly thick-textured soup with bits of egg whites is accompanied by a bright orange piece of uni and an equally large piece of scallop—sprinkled with a lavish amount of tobiko on top. Take a scoop or two with your spoon and you'll discover a large prawn sitting on top of a bed of silky chawanmushi-style egg beneath all that. So elegant, so tasty, so different.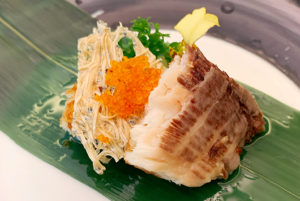 tokukatsu toh lai po heen review
The third dish was a Jasmine smoked golden pomfret with honey sauce. By now, I'd have to say Chef Tokukatsu Toh also scores major points for his plating and presentation style. For example, this surprised us a little when a plate with a martini glass placed upside down was served on our table. Remove the glass and a bold smoky fragrance engulfed the senses before the dish even touched our palate.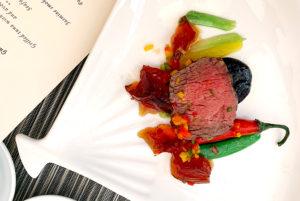 tokukatsu toh lai po heen review
The same can be said for the dish that came after: Pan-fried beef loin with vegetables and wasabi jelly sauce. The meat was tender and the clear, blobs of jelly on the side to complement as the sauce was an interesting form and an even more interesting flavour—a tad tangy and bits of spiciness. And since no Chinese meal is complete without some form of carbs, the final savoury dish was a no-frills Brothless 'tantan' noodles prepared Japanese style.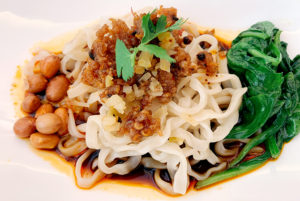 tokukatsu toh lai po heen review
The menu ends on a sweet note in the form of a sesame soymilk pudding with caviar on top. Personally, I'm not sure of the combination but both were certainly delightful when consumed separately. All in all, it was an interesting journey of flavours that was worthy of the Chuka title.
The a la carte menu starts from RM48 while the set menu starts from RM318. For bookings, call 03 2330 8798 or email [email protected].
| | |
| --- | --- |
| SHARE THE STORY | |
| Explore More | |