Food + Drink
9 Instagram-worthy cafes to visit in Ipoh
Sweet spots
PHOTO: @conniesimplelife / Instagram | PHOTO: @d_chum / Instagram | PHOTO: @captureplates / Instagram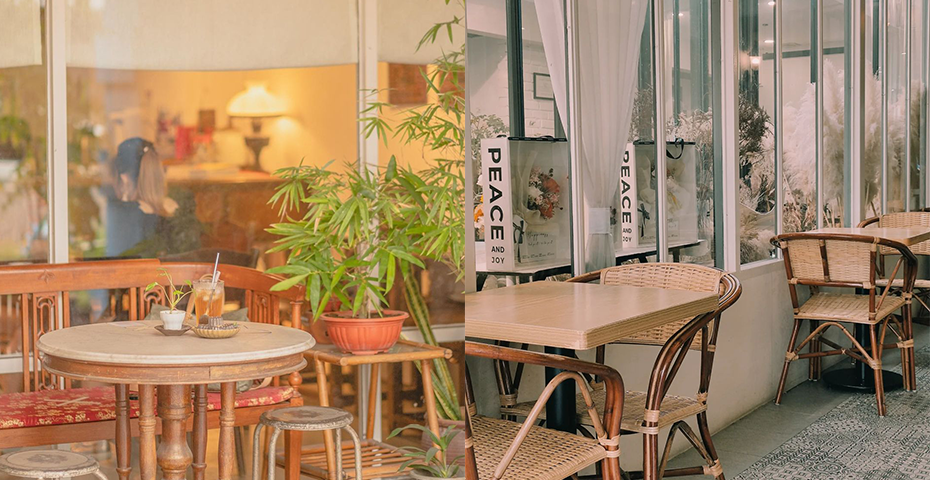 When you think of Ipoh's food scene, do chicken rice, dim sum and white coffee only spring to mind? Well, think again! The once quaint and sleepy mining town has transformed over the past decade into a bustling and hip city offering a plethora of delectable treats, from premium bakery goods to fusion cuisines and everything in between.
Below, we've gleaned 10 of the best cafes in the heart of Ipoh's sprawling food scene that you don't want your stomachs (and cameras) to miss out on.
Purple Moon Lover
Facing out towards the busy street of Canning Garden is Purple Moon Lover, a stunning one-storey house that combines modern Nordic architecture with Japanese-inspired aesthetics such as the zen-like garden with its cobble-stoned path and bonsai plants leading the way into the cafe. Inside, customers can enjoy an array of delectable house speciality desserts including adorable anime-inspired treats and buns. There's also a floor-to-ceiling bookshelf of manga comics—perfect to kill some time in between your city explorations!
Address: 53, Jalan Lee Kwee Foh, Taman Canning, Ipoh, Perak 31400
Opening hours: 10am to 8pm (Mondays to Fridays) | 10am to 9pm (Saturdays & Sundays)
Contact: +605 547 6328
Asow Eatery Station
View this post on Instagram
Plant lovers, this one's for you! This glasshouse-inspired cafe offers peace and tranquillity away from the urban city, welcoming you into a mini rainforest instead. As Asow Eatery Station has a nursery attached to it, expect a lot of different potted plants and foliage around you while you indulge in their similarly tropical desserts such as their Mandarin Orange Mousse Cake (that looks deceivingly like a real orange!) and their signature Gula Melaka Mousse with Mango Jelly Layer and Coconut Biscotti cake. Psst, you can also take home a little green friend while you're there!
Address: PT 188913 Jalan Tambun Baru, Ampang Baru 6, Ampang Baru New Village, Ipoh, Perak 31350
Opening hours: 10am to 10pm daily
Contact: +6011 1116 0518 | +6016 523 0787 (WhatsApp)
Seong Man
View this post on Instagram
This oriential tea-house is great for people looking to wind down with something more low-key but still delicious nonetheless. If you're not into the usual sweet cakes or drinks, Seong Man is an excellent choice that offers a wide selection of teas and traditional kuih-muih that make for great pairings. Desserts also include pu-erh tea cheesecake, Sago pudding with gula melaka, and more. With its wooden vintage furniture and dainty ceramics on display, Seong Man gives off a homely vibe that will suit customers of all ages.
Address: 124, Jalan Sultan Iskandar, Ipoh, Malaysia
Opening hours: 11am to 6pm (Thursdays to Sundays)
Contact: +6012 458 6117
Dé Cafe & Rest House
View this post on Instagram
Fancy a little treasure hunt during your excursions? This cafe is the epitome of a hidden gem in the city with its entrance tucked in the corner of a nondescript alleyway. Find it though, and you'll be treated to some great quality coffee and cakes in a cosy cafe that also doubles as a hostel! If you're travelling solo, this will be a great option for you to stay and dine in.
Address: 35 Jalan Sultan Iskandar, Ipoh, Perak 30000
Opening hours: 12pm to 8pm (Tuesdays to Fridays & Sundays) | 10am to 8pm (Saturdays) | 10am to 5pm (Sundays)
Contact: +605 246 1010
Cha Kori Cafe
View this post on Instagram
Another famous Japanese-inspired cafe is Cha Kori, which is Insta-worthy the minute you see it. With its high glass windows and bright neon sign by the entrance, we can already foresee the line of shutterbugs waiting for their turn to snap a shot or two. There's also another Instagrammable nook at the back of the cafe with a cool smashed-out feature wall but we digress! Cha Kori specialises in decadent desserts with a plethora of options for layered cakes, mille crepes, swiss rolls, and more.
Address: 35 Jalan Market, Ipoh, Perak 30000
Opening hours: 10am to 10.30pm daily (Tuesdays closed)
Contact: +6011 1332 4118
Être Patisserie
View this post on Instagram
This modern French patisserie is as good as it gets for those who enjoy the finer things in life. Owned and headed by Chef Ann Lee who worked in three Michelin star restaurants in Europe, Être Patisserie boasts a stunning selection of petit gâteaux, freshly baked goods, cakes, and more that would almost be a shame to eat. For recommendations, try their signature Mango Tart and Chestnut Mont Blanc.
Address: 30, Jalan Lee Kwee Foh, Taman Canning Garden, Ipoh, Perak 31400
Opening hours: 10am to 6pm (Tuesdays to Sundays)
Contact: +6016 557 1111
Website | Facebook | Instagram
Platf9rm Coffee & Brew
View this post on Instagram
We couldn't do a whole list of cafes to visit in Ipoh without mentioning the one that went viral back in 2019. Platf9rm first made a buzz on the Internet for being a Harry Potter-themed cafe where Potterheads all over can meet up (or apparate to, if they could). This cafe promises customers the entire Harry Potter experience—from its Diagon Alley storefront and butterbeer concoctions to the iconic train trolley seen in the movies—there are plenty of things to keep you entertained in this magical cafe. Props are also provided so don't worry if you didn't bring your house robe!
Address: 22 Lorong Panglima, Ipoh, Perak 30000
Opening hours: 11.30am to 6.30pm daily
Contact: [email protected]gmail.com
Petit Mary Patisserie
View this post on Instagram
Run by the same bakers behind Pink Moon Lover, Petit Mary Patisserie is a floral-themed cafe that will tick any cafe-hopper's boxes. It's a perfect place for one to get acquainted with friends over afternoon tea with their plethora of macarons, delicate desserts, cakes, and teas.
Address: 83, Jalan Langsat, Taman Teh Teng Seng, Ipoh, Perak 30350
Opening hours: 9am to 8pm daily
Contact: +605 708 0506
Girlie's Cafe
View this post on Instagram
Don't be fooled by the name—this cafe is open to all genders! If you're looking for a cosy spot to replenish your energy, then Girlie's Cafe's famed Signature Burnt Cheesecake should be one to try out! Known for its silky smooth texture that melts in your mouth, you'll be in fluffy paradise with just one bite. Other delights to try out are their Lotus Biscoff Burnt Cheesecake, watermelon cake, and fig tart.
Address: 26, Jalan Market, 30000 Ipoh, Perak
Opening hours: 10am to 5pm (Tuesdays to Fridays) | 10am to 6pm (Fridays to Sundays)
Contact: 016 550 4451
For more cafes to visit around Malaysia, head here.
| | |
| --- | --- |
| SHARE THE STORY | |
| Explore More | |