Here's our guide on where to order doughnuts in the Klang Valley, from sourdough varieties to bombolonis
There's just something about doughnuts—whether with or without holes—that offer a quick yet satisfying treat to soothe sweet cravings. In case you haven't noticed, bombolonis, also known as Italian-style stuffed doughnuts, have especially *blown up* since the pandemic, with new bakeries and home-bakers emerging to offer the cream-filled snack/dessert.
What's more, there are now more contemporary alternatives to the usual doughnut-chain types, such as sourdough and shokupan doughnuts. Whichever type you're craving for right now, donut worry—we've got you sorted with our list of bakeries, cafes, and home-based shops that deliver these delightful balls of dough in the Klang Valley.
Halo Doughnut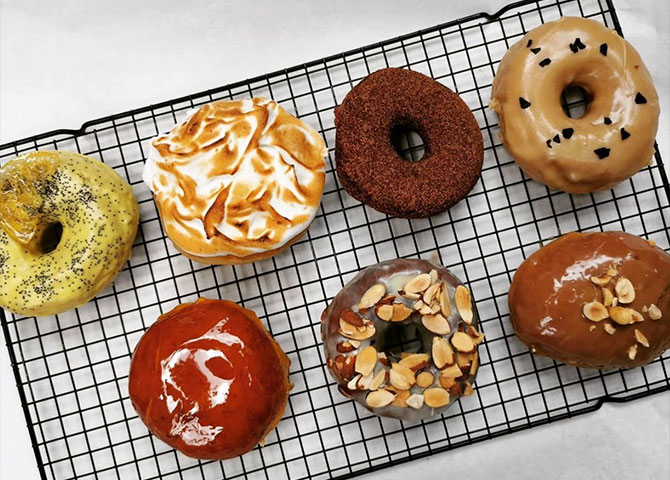 Birthed amidst the pandemic, Halo Doughnut is the brainchild of Khristabelle Adelaide Teri, a former video producer turned baker. She started baking in early 2020 and before long, her doughnuts garnered the attention of her friends, who cheered her on to start selling them. Sure enough, her artisanal sourdough doughnuts became a hit at pop-ups and events around the Klang Valley. Today, the shop offers a rotating menu with a few signatures including Burnt & Salty, Cinnammon Affair, and Crème Brulee.
Instagram (DM to pre-order)
Sugar and I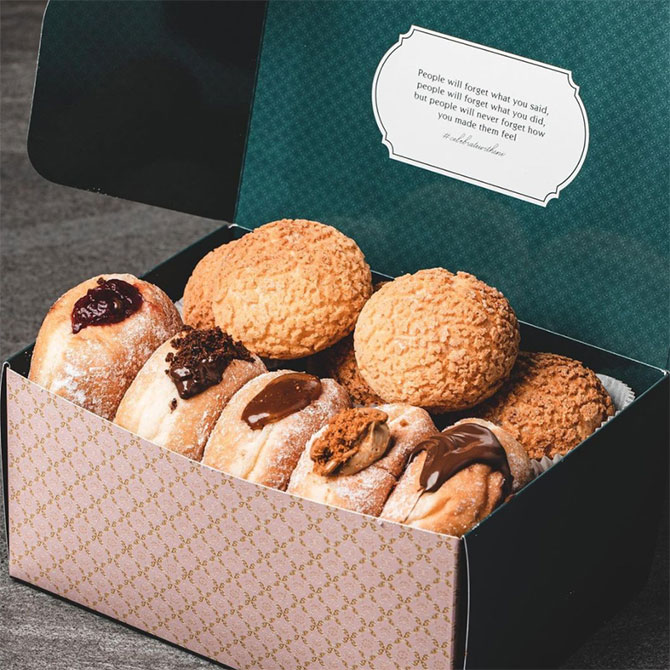 This Instagram-famous shop is popular for its bombolonis and Japanese cream puffs that ooze with indulgent fillings. Founded by part-time model, emcee, and singer Syed Mohd Ilyas, Sugar and I also offers speciality drinks, brownies, cinnamon rolls, ice cream pints, and cold pressed juices for the complete afternoon tea treat or dessert. Among the fan-favourite bomboloni flavours to try include Lotus Biscoff, Matcha, Nutella, and Cookie Monster. The donuts arrive packaged neatly in a floral-themed box, which makes it a great option for gifting loved ones too!
Order here

Hari Hari Dough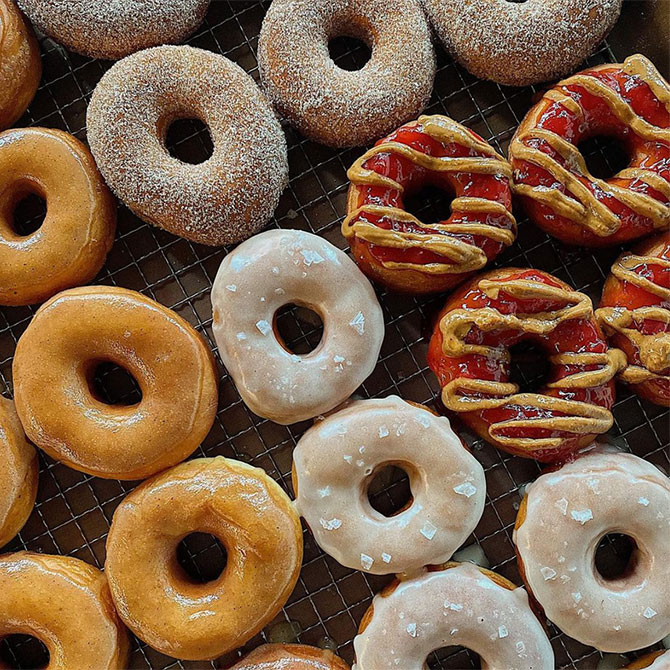 Based in Damansara Perdana in Petaling Jaya Hari Hari Dough is one of the newer doughnut shops on this list. Contrary to its name (for non-Malay speakers: 'hari hari' means every day). the shop operates on weekends only, as its founders work full-time jobs on weekdays. But back to the doughnuts, expect "chubby BBs" such as Sugar & Spice (a classic sugar and cinnamon topping), Pancakes (a crowd-favourite with maple syrup and vanilla sugar glaze), and Stingless X Salty (topped with trigona honey and sea salt flakes).
Pre-order here
The Doughnads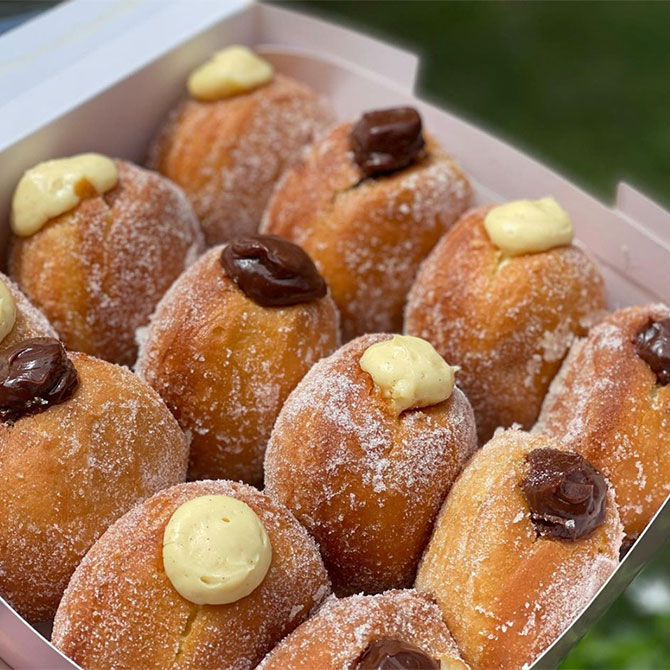 Fans of bombolonis can also check out The Doughnads, started by certified pastry chef and self-professed dessert enthusiast Nadia. The home-based shop specialises in brioche bombolonis that go through an overnight resting and proofing process to result in their delicate, fluffy texture. Everything is homemade from scratch using all-natural ingredients with no preservatives, artificial flavours, or colouring. Flavours include Vanilla Bean, ChocoMel (Chocolate Caramel), Biscoff Bombe, and Tiramisu, to name a few.
Instagram (DM to order)
Noti Doughnuts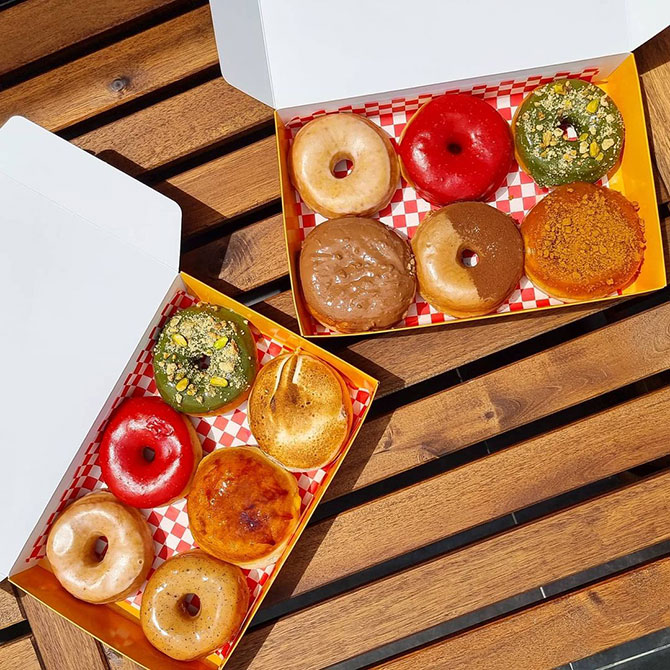 Yet another new doughnut shop launched earlier this year is Noti Doughnuts, proudly "kneaded and raised" in KL. Aside from the Classic Raised doughnut, you'll find irresistible creations like Lemon Meringue, Matcha Pistachio, Salted Coconut Caramel, and Crème Brulee from this shop. They come in boxes of six or a dozen pieces and above, which are ideal for sharing or even for parties and picnics!
Pre-order here

Dough By Meg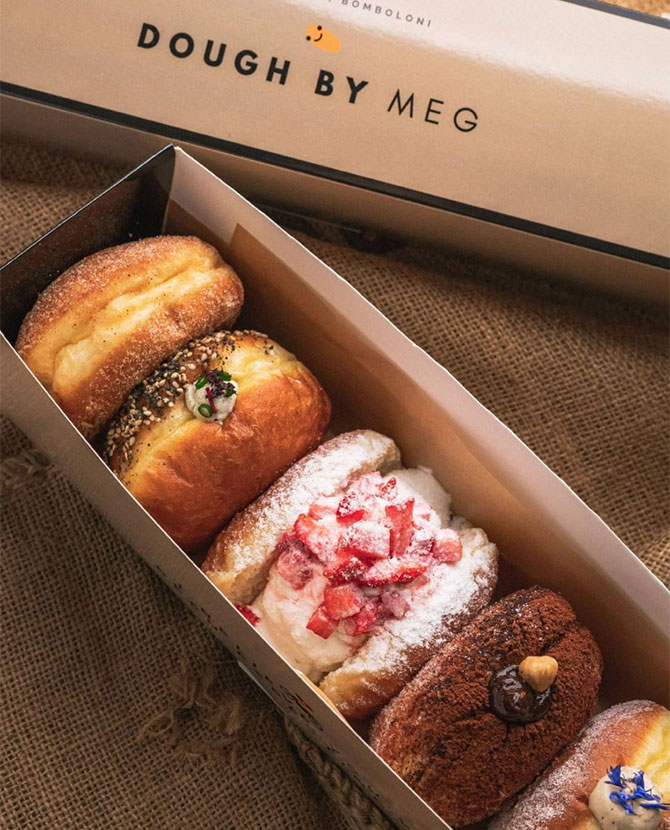 Dough By Meg launched on Instagram in May this year, offering a premium range of bombolonis that look almost too pretty to eat. Think fluffy, stuffed Italian-style doughnuts with creamy fillings ready to burst out from the top, decorated with icing or chocolate dusting, fruits, nuts, and/or edible flowers. Every box comes with six pioneering flavours, namely The OG Cinnamon Sugar, Sesame Garlic Cream Cheese, Strawberry Milk Cream, Nutty Chocolate Hazelnut, Classic Hazelnut, and London Fog Earl Grey.
Order here

Basket Break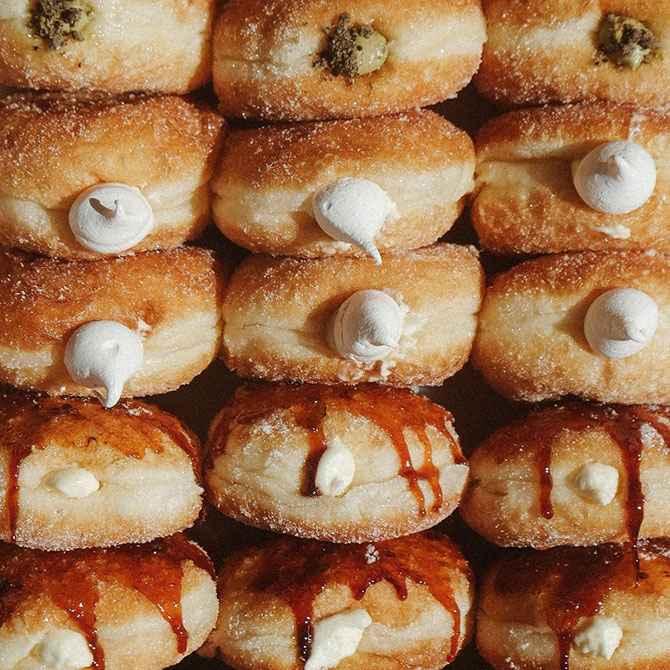 Basket Break is a Puchong-based doughnut shop that offers small batch, slow fermented sourdough bombolonis with slightly tangy hints. It takes about three days to produce each batch of sourdough doughnuts, hence why it currently operates on pre-orders and bake sales only. With that said, quality is assured and the menu rotates on a monthly basis to keep fans coming back for more. Some popular flavours include Vanilla Bean Brulee and Hojicha, though you might want to keep a watch for the Korean Garlic and Pistachio Mascarpone flavours for a more distinctive delight.
Pre-order here

Michelle Young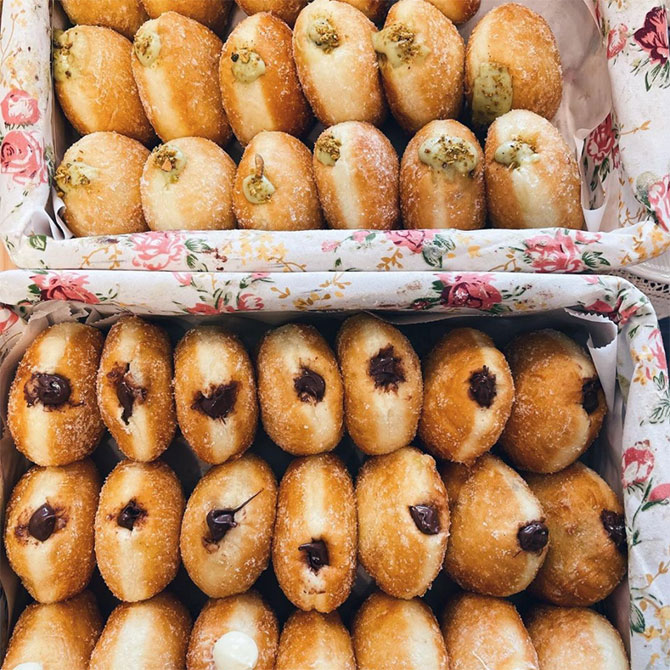 Owner and head baker of her namesake bakery-café, Michelle Young has gained a loyal following from foodies since starting her business in December 2020. The shop now offers a diverse range of baked goods, from cakes to cookies and yes, doughnuts. Her brand of doughnuts resemble a bomboloni but are made using Japanese flour, which results in a soft, pillowy texture, paired with rich, homemade cream filling. Take your pick from corn, pistachio, tiramisu, and Nutella, among others.
Order here

Donut Plan
Born in KL in 2019, Donut Plan offers handmade shokupan doughnuts—a cross between Japanese milk bread and classic American doughnuts. (Note: In some places, this is called a sho-nut). Its colourful creations feature a bread-like texture with a soft bounce and milky flavour. The menu rotates weekly, but some recurring favourites include Lemon Poppyseed, Yuri Matcha, and Hojicha Biscoff.
Facebook | Instagram (DM to pre-order)
Yum Cha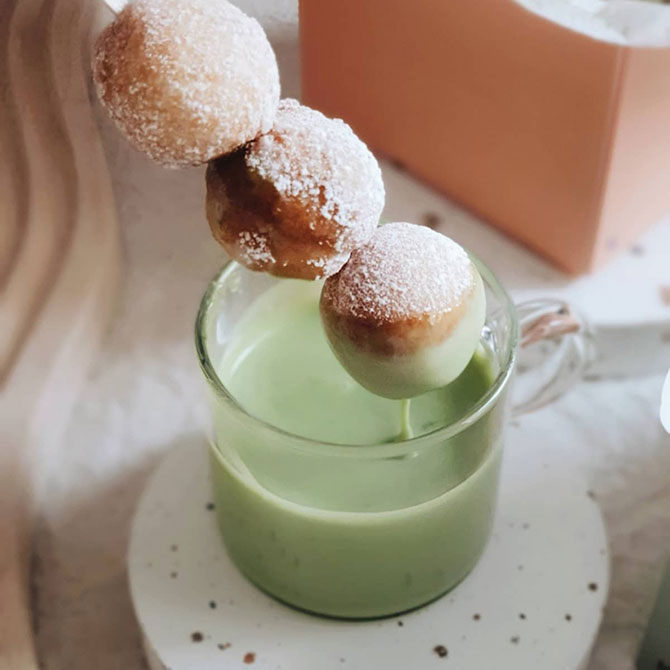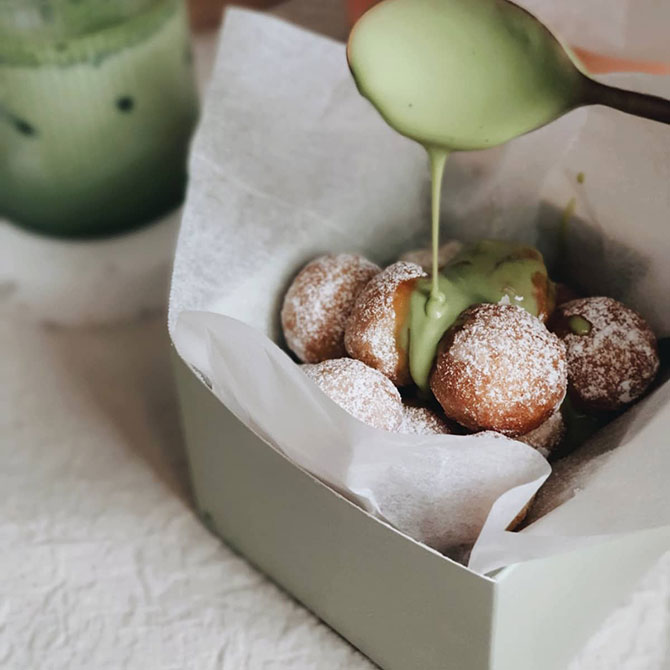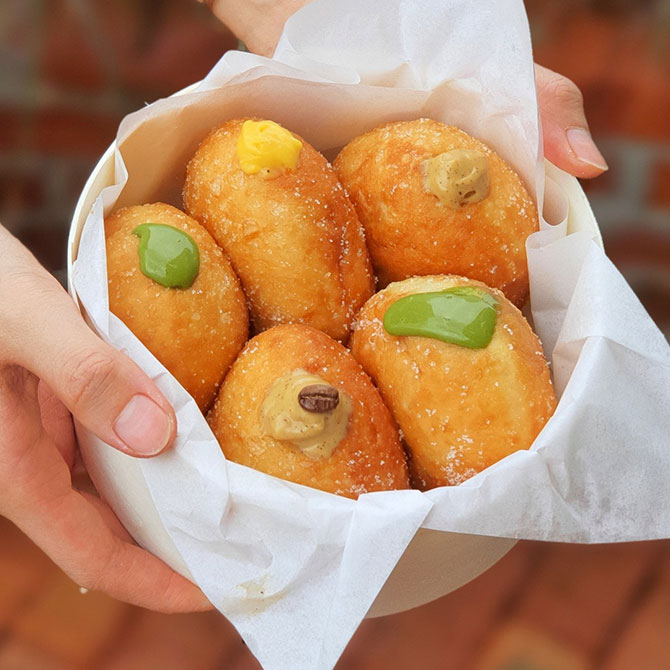 Established in April this year, Yum Cha is a new dessert and pastry café in OUG that offers a range of baked goods including caneles, doughnuts, croissants, burnt cheesecakes, and more. Unlike bombolonis or classic doughnuts, however, this café sells bite-sized mini doughnuts with flavoured icing coating that are meant to be enjoyed with dipping or pour-over sauces as opposed to traditional fillings. However, the latter is also available in an assortment of flavours such as vanilla, earl grey, matcha, and espresso.
Order here

For more dessert options, head over here.