Slathered in between two crisp wedges of toast along with sizeable chunks of butter to make kaya toast, or had alongside pulut tai-tais and lepat pisangs, kaya is the indomitable condiment of Malaysian breakfasts. Heck, this rich, aromatic coconut curd would be considered the undisputed national jam of Malaysia, if such a title ever existed.
In the past decade though, with the rise of toast franchises like Toast Box and Singapore's Ya Kun Kaya Toast, and with tubs of industrial kaya becoming increasingly available at local supermarkets, the tradition of making kaya at home has slowly but surely waned. Don't get me wrong, the kaya served at these franchises and minimarts isn't bad per se. (Ya Kun especially seems to have its kaya recipe down pat.) But when it comes to the flavour of the kaya itself, nothing beats the glorious goodness of a traditional, preservative-free home-made kaya, made slow and soulfully, laboured over with the love and attention usually reserved for newborn babies, or a wallet-busting steak you bought to impress a date. (Not that I've ever done the latter. *ahem*)
At first glance, making kaya seems like a straightforward affair. All it requires is eggs, sugar, and santan (coconut milk) stirred and cooked over low heat. And with time, it'll thicken into a rich curd, perfuming your kitchen with the sweet smell of coconut, caramel and comfort. It sounds easy enough, but getting the kaya to a sultry smooth consistency can be tricky. Heat the kaya too quickly and the eggs will curdle before you know it, heat it too slowly and you'll be stirring till tomorrow comes.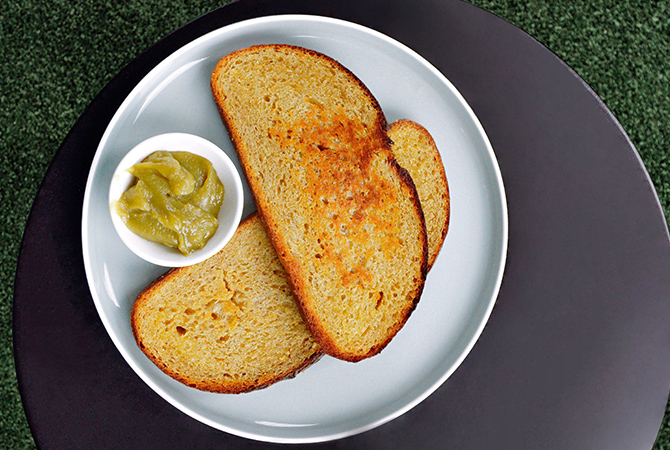 Do a quick search online, or ask a bunch of aunties how they make kaya (as you do in Malaysia), and you'll find that there's really no surefire way to prevent your kaya from turning lumpy like Southern grits. Sure, cooking it low and slow over a double-boiler seems to be the most common method out there, but I, in my eternal impatience, have curdled one too many kayas through this technique. Then there are some recipes that unbelievably eschew the use of a double-boiler altogether, cooking their kaya over direct heat and somehow, through some deft hand movements and a hopeful prayer or two, never get any lumps. Even more baffling is the method that I've heard some mak ciks swear by — cooking it in a wok for hours over a bare flicker of flame, letting it slowly set into a tau-fu-fah-like consistency, which seems like an entirely different beast of a kaya.
All these methods are fine and all, but for me, and I suspect for many other new-age home cooks out there, I'd like to have a robust kaya recipe under my belt that is not only fool-proof but relatively quick and easy to whip up too. Luckily for you, I put myself through a series of arduous kaya experiments last year, and I'm proud to say I've got a pretty robust kaya recipe to share that has worked wonders for me till today!
Now I'm not claiming this is the ultimate kaya recipe to end all kaya recipes, as it follows the pretty standard double-boiler method, but it has one nifty little trick that makes it super robust. On the off chance that you do get a little over-excited and start seeing lumps in your kaya (this usually happens halfway through for me), I've found that you can just blend the lumps away in a strong blender, and strain out any stray solid bits that remain and continue cooking your kaya as per usual (assuming you haven't completely overcooked the eggs in the kaya)!
Yes, this method might draw the horror of some octogenarian auntie out there who's been making kaya for more years than I've been alive, but at least you won't have to throw away a perfectly salvageable home-made kaya. And who knows, with some luck, you might even have a sultry smooth, unbelievably rich and jammy kaya to slather all over your toast for the week!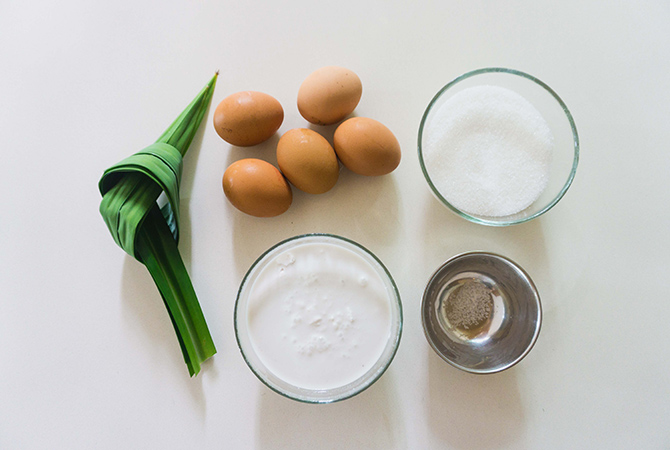 Pandan Kaya
Ingredients:
3 eggs
2 egg yolks
200g coconut milk
4 pandan leaves (or 5-10g of pandan extract)
150g fine caster sugar
2g salt
Directions:
Blend the pandan leaves with the eggs, egg yolk, and coconut milk until smooth. Then, sift the mixture to remove those fibrous strands of pandan. If you're using pandan extract, ignore this step and just add the extract to the eggs and coconut milk and stir well.

Prepare a bain marie or double-boiler set over a medium-low flame, and pour the liquid into a bowl on the bain marie, along with the sugar and salt.

Now here's where your patience will be tested. With a spatula, stir the mixture until it turns thick and custardy. This will take around 30 minutes, if not longer. It might not look like much is happening at first, but keep stirring and scraping the bottom and sides of the bowl, making sure the eggs don't curdle, and it'll soon thicken up!

When your kaya reaches a custard-like consistency, remove it from the double-boiler and let it cool down. If there are large lumps of curdled eggs in the kaya (it happens to the best of us, no biggie), you can pass it through a sieve and give it a whisk, which should smoothen it out! If that doesn't work, you can blend it and give it a strain (add some water if it's too thick to blend, and then cook it further to get to the desired consistency).

Use your kaya to make kaya toast, pulut tai-tai or a bunch of other Malaysian favourites!
Follow Jun on his blog for more recipes and musings on food.
| | |
| --- | --- |
| SHARE THE STORY | |
| Explore More | |