Food + Drink
Make that perfect crispy 'Siu Yuk' with this easy, fool-proof recipe
The secrets to that pork-fect 'siu yuk'
PHOTOS: LOH YI JUN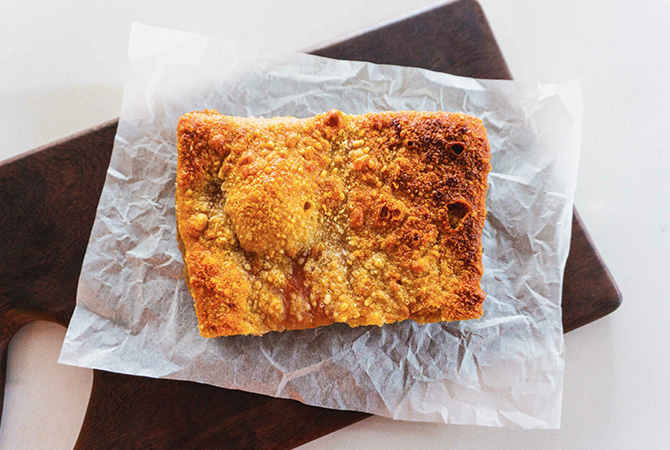 It seems like Chinese New Year has crept up on us earlier than usual this year! So if you're scrambling before the final weekend before CNY, looking desperately for a dish to really impress your relatives with during that reunion dinner (团圆饭), I've got just the recipe for you!
After running my little recipe blog for just shy of two years, I've amassed a modest amount of recipes—some unabashedly classical, some weird and wacky, some accidentally genius. But time and again, the recipe that people seem to gravitate towards the most is the one for siu yuk, titled "Secrets to Crispy Pork Belly Skin. Every. Single. Time.". Either I've tapped into some sort of primal human desire for pork here, or the recipe is actually legitimately good. (I think it's a little bit of both, heh.)
In my books, siu yuk is the holy grail of pork dishes; it beats English roasts and Italian porchettas any day of the week. But at first glance, it might not seem like a particularly difficult task to get that crisp crackling on top of all good siu yuks. After all, you can find perfectly decent versions of the dish at most neighbourhood Chinese hawker centres in Malaysia. Those chicken rice shop uncles and aunties might have gotten their recipes down pat, but those who have tried to make siu yuk at home will know that while this hawker stall staple might seem simple in concept, it's devilishly difficult to get right, especially within the limitations of the modest home oven.
So for a (Chinese) home cook, making a great siu yuk is the ultimate accomplishment—get it right and you'll be forever immortalised in your friends' and family's memories as the ultimate home cook they know (and secretly want to be), get it wrong and you'd rather cancel that dinner party you so painstakingly planned than face the public scrutiny of your sub-par shao rou.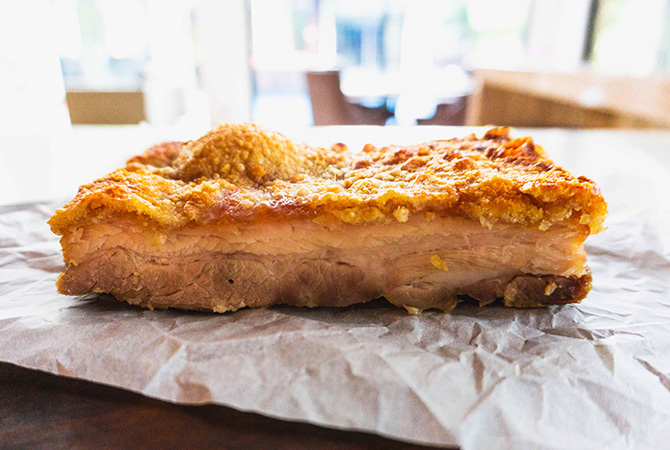 Luckily, my mum falls in the former. But her road to gloriously crispy siu yuk was fraught with many failures. After so many mediocre attempts—some with vinegar-soaked skin, others with skin poked to death—she finally found a fool-proof method for this pinnacle of Cantonese roast. It isn't an intuitive method at all (in fact, I don't think any hawker centre in Malaysia uses this method), but for her, and for all her friends and relatives, she's since spread her porky gospel to, it works like a charm every time.
So without further ado, here's my mom's three-step secret to salaciously shattery siu yuk:
Don't season the skin
It's important to season meat before cooking, whether it's through a brine, marinade, dry rub, or a quick flurry of salt before searing in the pan. Usually, when seasoning, we'd season all sides of the meat evenly. In this case, however, since we're trying to reduce the amount of moisture on the skin (moisture makes it difficult for the skin to crisp up), it really helps to leave the skin seasoning-free. Even using a dry rub would wick up moisture onto the surface of the skin, which you'll then have to dry again.
So the most efficient seasoning method is to use a dry rub or pasty marinade and season only the meat part of the belly, and leave it in the fridge uncovered overnight. The frigid fridge air (heh, get it?) will help dry off the skin layer while the rest of the belly is being flavoured! Oh, and pro-tip—for that distinct, Cantonese hawker shao rou taste, use a five-spice and lam yee (fermented bean curd) paste-rub.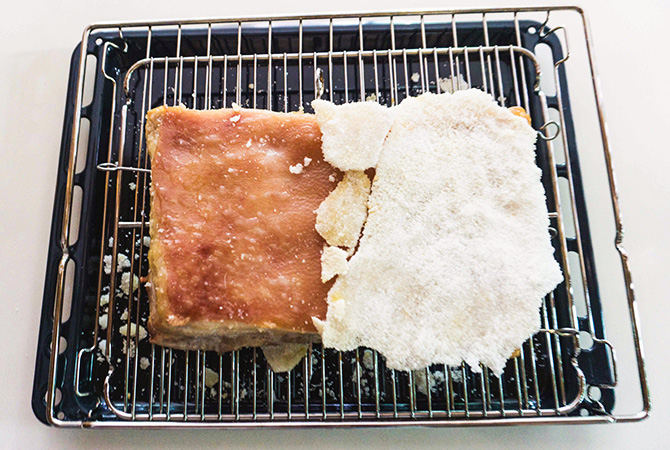 Salt crust
This next step might sound a little strange, but it's the crux of this whole recipe. It requires putting a thick layer of salt on the skin of your pork belly, making sure every inch of that pristine skin is covered in salt, then roasting it whole. Roasting this salt-covered belly in the oven will then draw out more moisture from the skin and form a hardened salt crust, which is then removed.
For some reason, this seems to work flawlessly each time. I'm curious to know what actually happens in the skin which makes this salt crust technique work so well, but it was a little hard finding reliable literature on this, so I'll just attribute this to kitchen fairy magic for now. Perhaps one day when I'm feeling more science-y, I'll Kenji Lopez-Alt my way to an explanation.
Let the skin bubble!
The last step in this process is pretty straightforward—just roast the belly at ridiculously high heat to make the skin really crisp up and bubble and pop. This is one of those moments that'll make you wanna sit in front of the oven and brave the heat just to watch the whole thing happen.
---
Siu Yuk (燒肉)
Ingredients
500g pork belly, get the ones with a good layer of fat (a 2:1 meat-to-fat ratio is what I usually aim for)
2 tbsp lam yee (fermented bean curd)
15g five-spice powder
5g pepper
Lots of salt
Directions
First, let's prep the pork belly. Take a small, sharp skewer or paring knife and stab tiny little holes all over the pork belly skin, each one about 1cm deep and 2-3cm apart. This will allow more fat to release through the skin as it roasts, helping the skin crisp up.

To make your marinade, mix the lam yee, five spice powder, and half a teaspoon of salt together in a bowl. Rub the marinade on the meat parts of the pork belly, leaving the skin marinade-free. Keep in the refrigerator uncovered overnight (up to 1 day). The next day, take the pork belly out of the fridge an hour before roasting to get it to room temperature.

Heat your oven to 200°C and place a deep tray with boiling water on the bottom of the oven. (See notes for explanation.)

Stick skewers through the pork belly (4 would be ideal) to help it stay flat when roasting. Place a thick layer of salt on the skin of the pork belly, making sure the whole skin is evenly covered. Then, place the pork belly on a wire rack and roast in the oven for 40 minutes.

Remove the pork belly from the oven and crack the salt crust, then remove all the salt from the pork skin. Turn the oven up to 240°C and roast the pork belly for a further 30 minutes, or until the skin is super crispy. When done, remove the pork belly from the oven and let it cool slightly before cutting it up into cubes. (When slicing it, flip it upside-down and slice it from the meat down towards the skin.)

Resist the temptation to finish it all in one go.

Fail step 5. Feel guilty about yourself, but also feel really good from all that glorious porky goodness.
Notes:
The tray of water in the oven serves two purposes. First, it helps to create steam, which helps with making the skin crispy. (I'm actually not too sure how this actually works, but it does help. Think of how steam gives bread a firm crust.) It also serves an extra purpose in helping catch all that fat drippings from the pork belly and prevents any bits from scorching on your pan, which makes clean-up a whole lot easier!
That's it, three straightforward, though admittedly unorthodox steps to fool-proof siu yuk, just in time for Chinese New Year! Gong Xi Fa Cai to all of you, Buro readers!
Follow Jun on his blog for more recipes and musings on food.
| | |
| --- | --- |
| SHARE THE STORY | |
| Explore More | |