Food + Drink
How Louis XIII and Shin'Labo presented a caviar experience encapsulating time
Time is luxury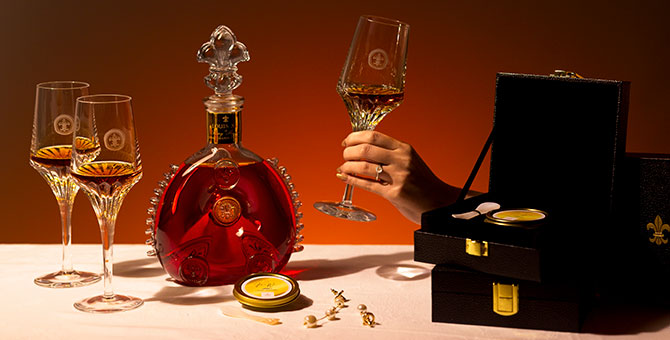 They say good things take time. One might add that great things take longer. Think a good bottle of wine, a full-blooming garden, or a thriving city. None of these things are made in a day.
With that said, time is a luxury that money can't buy and many can't afford to spare. Perhaps even more so in today's fast-paced environment, where the demand is always *here and now*. It's for this reason that I consider a recent 'caviar sensation' experience hosted by Louis XIII and Shin'Labo as the most luxurious meal I've had this year.
Don't get me wrong, the meal's price point definitely lives up to the conventional idea of luxury. At up to RM27,000 for a Magnum decanter, Louis XIII is a cognac only few have access to. Similarly, caviar has long been a hallmark of fine dining due to the resources required to produce it.
However, it's the journey of time—encapsulated in a precious glass of Louis XIII and exquisite dishes featuring carefully selected T'lur caviar by the restaurant's eponymous Chef James Won—that made the experience an extravagant evening to remember.
The cognac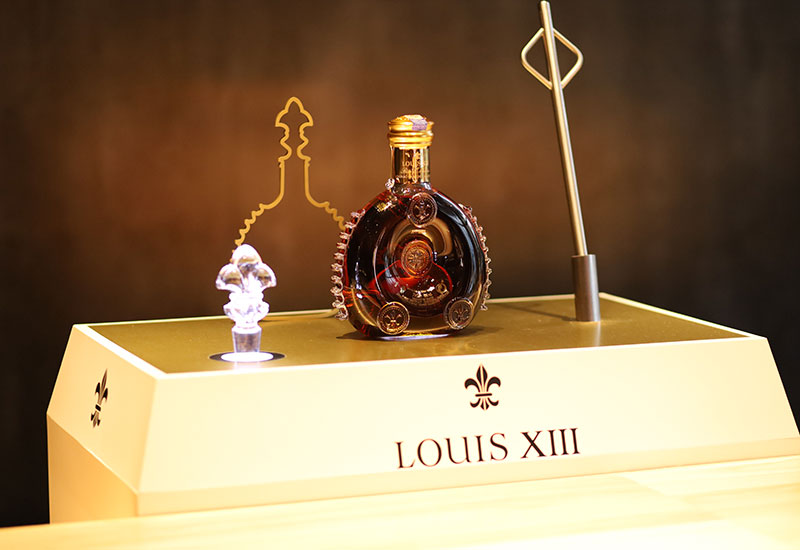 For the uninitiated, every bottle of Louis XIII cognac is a century in the making. While the average cognac is aged between four to ten years, Louis XIII comprises 1,200 eaux-de-vie aged between 40 to 100 years old. The blend is made from grapes grown, distilled, and aged in Grande Champagne, the first cru of the Cognac region.
It can take up to four generations of cellar masters to oversee decanters before they're ready to drink. Each cellar master is tasked with selecting the oldest and best eaux-de-vie from the House's cellars and sampling the blend as it ages. At the same time, the cellar master has to coach a successor to carry on the same processes as they might not live to taste the final blend. Today, it is Cellar Master Baptiste Loiseau who holds this honour.
Ever since the first Louis XIII cognac was made in 1874, the House has preserved its legacy of this time-intensive cognac-making process for every decanter thereafter. To further distinguish itself from other spirits, Louis XIII cognac is housed in ornate decanters that are mouth-blown by skilled master craftsmen in France.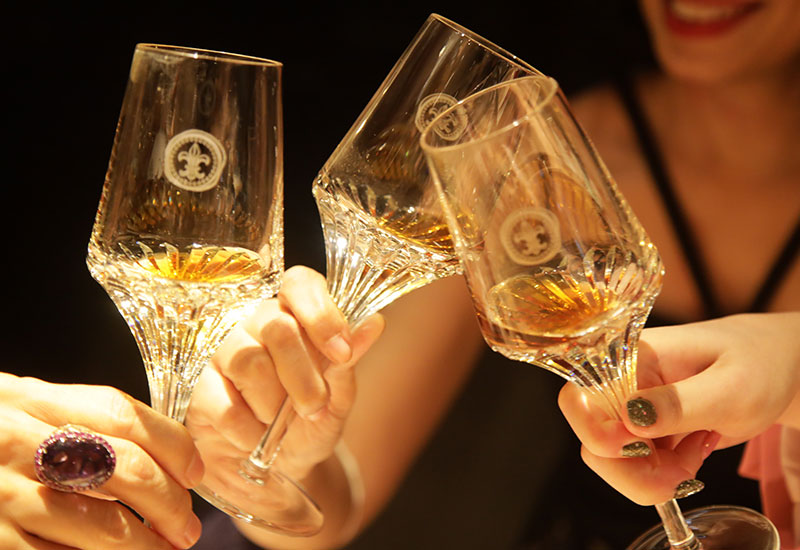 A cognac of such rich history and maturity merits its price and prestige, and sampling it is no less rewarding. Served in special baccarat tulip glasses designed to produce a perfect G note with every clink, each pour is often followed by reverberating chimes and cheerful laughter—as I observed that fateful evening.
Even before taking a sip, the scent of sweet fruits and honey filled the room. On the nose, the glorious golden amber liquid presented aromas of myrrh, honey, dried roses, plum, honeysuckle, leather, figs, and passion fruit. Every small sip from that point on burst with complex flavours and nuances that left a lingering warmth.
The caviar
Although caviar doesn't take a century to produce, it is still a lengthy process that's also very laborious. In Chef James Won's words, "there was a lot of drama" involved for this particular batch of caviar. Given that the T'lur caviar farm is in Tanjung Malim, Perak, and there were periods when interstate travel wasn't allowed due to lockdowns, logistics was a huge challenge.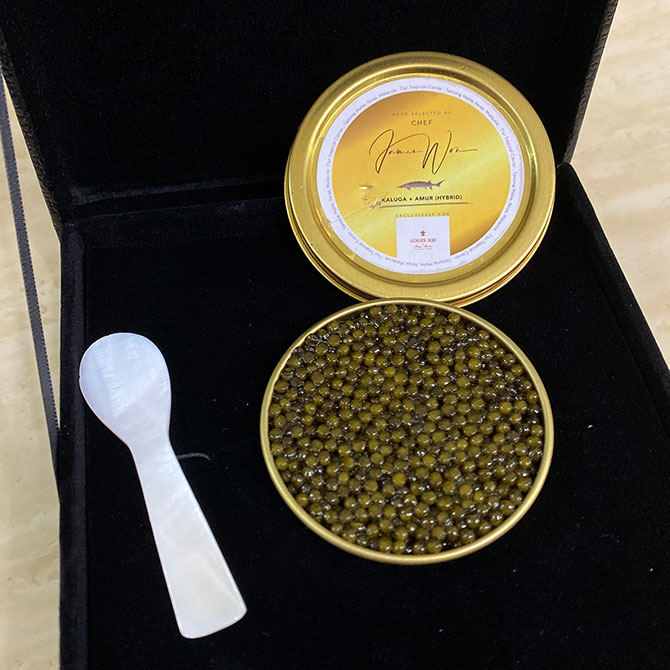 Nevertheless, Won was adamant about seeing to every detail—from cherry-picking the sturgeon to monitoring its growth and ensuring optimal conditions for it to produce top-quality yield. The entire collaborative process took roughly a span of two years from the moment of inception to completion, presented to guests of the evening in a black case emblazoned with the Louis XIII logo. The resulting caviar, harvested from a hybrid species of Kaluga and Amur sturgeons, was simply exquisite. Every morsel offered creamy, umami flavours with a delightful buttery finish.
The pairing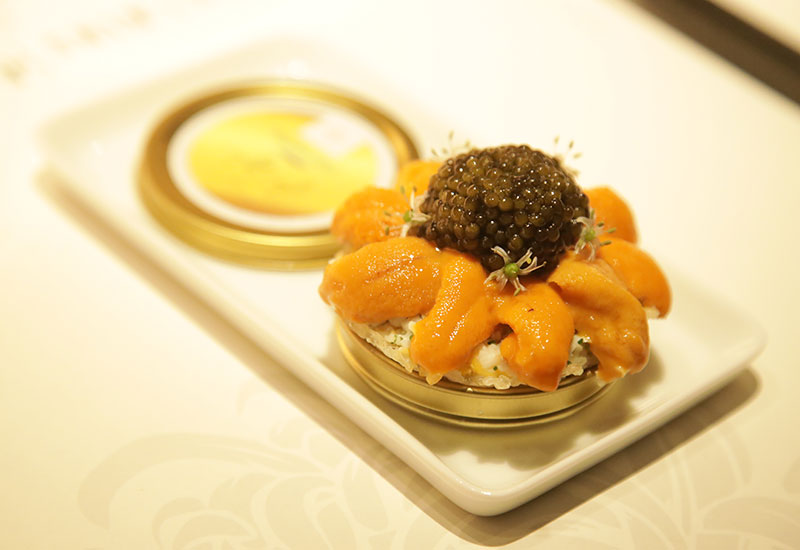 I won't pour over every dish (as BURO's Deputy Editor has covered most of them in her thorough review of Shin'Labo); but a few highlights worth mentioning include the Sashimi Trio, Hokkaido Scallop and Caviar, and A5 Ohmi Hime Beef. Of course, this meal wouldn't be complete without the ultimate pairing of the evening: the Caviar Sensation Experience.
The piece de resistance arrived in the form of a caviar and uni tart entrée. Shaped almost like a sunflower with uni for petals and a heart of luscious caviar, this was a true masterpiece on both the eyes and the palate. The combination of the two rich ingredients created an explosion of decadent, umami flavours that melt like butter in the mouth. I honestly didn't want the dish to end (thankfully, the portion was very generous).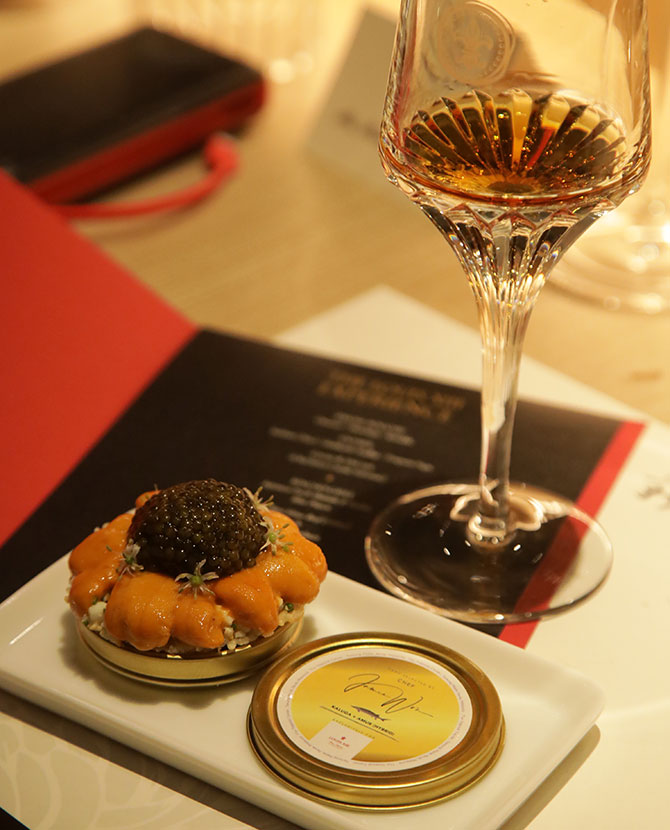 When enjoyed in between sips of Louis XIII, the flavours of both the dish and cognac intensified. I also picked up spicier hints from the latter, complementing the dish's intensity note for note. To add, the cognac also paired beautifully with the yuzu bergamot parfait glacé dessert. The creamy ice cream brought out the expression of vanilla and honey in the cognac, which, in turn, rounded off the dessert's citrusy notes for a balanced finish.
By the end of the night, I thought to myself that this was probably the most luxurious meal I've had all year. Now that some time has passed and the memory of the evening still brings a smile to my face, I'm positive that it was.
Find more food and drink stories here.
| | |
| --- | --- |
| SHARE THE STORY | |
| Explore More | |