When Mandarin Grill reopened in 2019 with a refreshed menu and appearance, the restaurant garnered quite a reputation. Mandarin Oriental Kuala Lumpur's signature restaurant appointed Chef de Cuisine Luigi Stinga from two Michelin star restaurant, Seta, in Mandarin Oriental Milan to enforce Mandarin Grill's new direction in serving Italian cuisine. In addition, the interiors were refreshed with a stylish yet casual setting. The botanical elements stood out with light green and turquoise colours acting as extensions of the lush greenery from KLCC Park.
After a long delay amid the Covid-19 pandemic and the Movement Control Order (MCO), Mandarin has officially reopened on 11 November 2020. This time, Mandarin Grill will feature an all-new menu following Chef de Cuisine Luigi Stinga's gastronomic exploration of local and Asian cuisines. If you read my review of the previous menu, you'll definitely notice the differences between both sets of offerings. While the former consists of highlights from Chef Luigi's repertoire, the latter showcases his expertise and flair—brilliantly fusing flavours of the east and west.
Here are the five dishes you need try from Mandarin Grill's new menu for 2020:
---
Antipasti
Uovo Crema Di Scamorza, Scorza Nera E Tartufo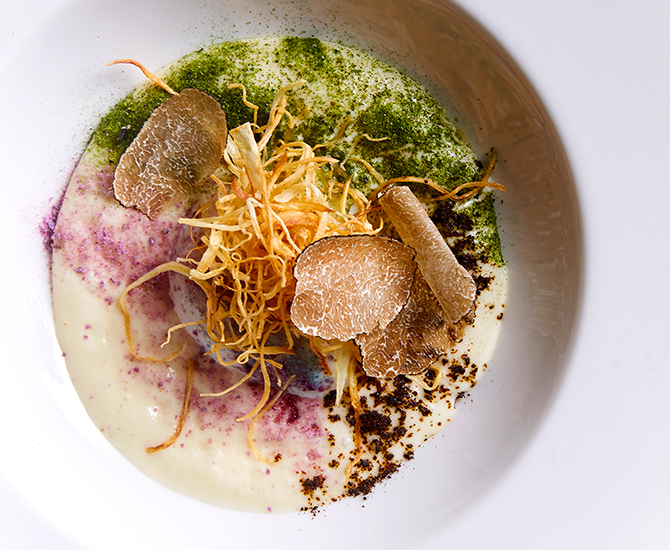 You know you're all set for a great meal when you begin with a dish that looks this exquisite. The slow-cooked organic egg—served with smoked scarmorza cream and fresh black truffle—is a delicate yet refreshing starter. In addition to the softness of the cream that goes really well with the added crunch from deep-fried salsify, the addition of fresh black truffle shavings brought extra depth.
Every scoop is akin to tasting the galaxy and its otherworldly intricacies. Already light and smooth on the palate, the presence of purple sweet potato, green kale, and brown burnt shallot powders added grandeur—with both taste and sight.
Primi
Cappelletto Ripieno Di 'Beef Rendang'
Chef Luigi Stinga had the opportunity to learn more about local flavours during the past few months—and this particular dish is the result of his culinary exploration. Served with an aromatic beef and mushroom broth, the homemade cappelletti is filled with beef rendang for a localised take on Italian cuisine. Take sips of the light yet savoury broth and be transported to the Italian countryside. Think Under The Tuscan Sun or A Room With A View.
The beef is gently spiced; providing hints of heat. An interesting marriage of gastronomic identities, the beef rendang pasta dumplings are worth trying whenever you dine at Mandarin Grill.
Paste
Tagliolini Alla Chitarra Cacio E Pepe Con Ricci Di Mare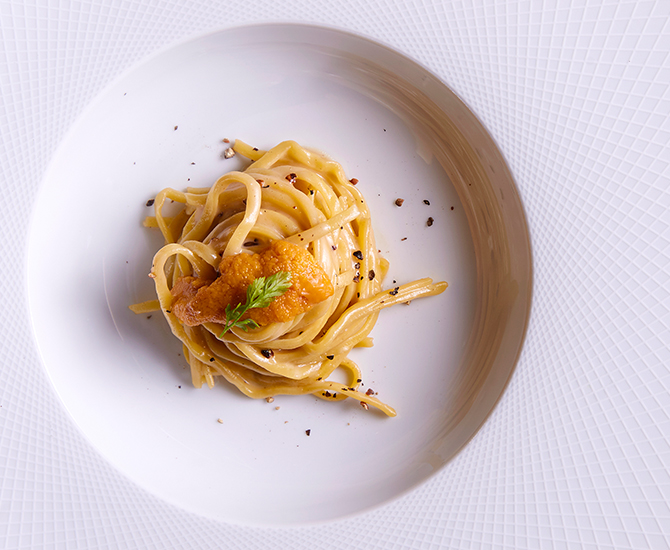 Did someone say sea urchin on pasta? Chef Luigi's take on the classic Italian pasta dish, Cacio E Pepe, is served with exactly that. Already seasoned really well with pecorino cheese and black pepper, the addition of sea urchin is interesting. This dish—with fresh handmade tagliolini that's prepared al dente—is a massively contemporary twist on traditional Italian fare.
Without completely taking away the down-to-earth essence of nonna's cooking, the pasta is light yet piquant and simple yet powerful. If you're searching for something unusually different for both your mind and palate, you've found one.
Secondi
Agnello Su Crema Di Cipollotto, Patate E Limone Nero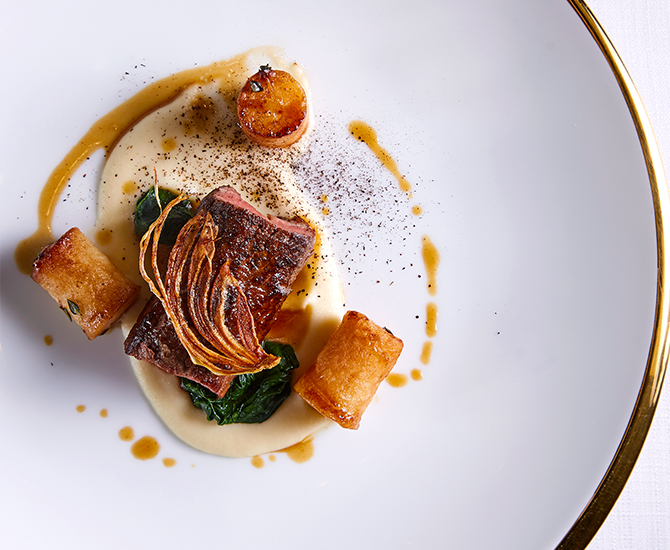 This lamb loin dish—with roasted white spring onion as well as pureed and roasted potatoes—is another dish you need to add to your list of must-haves at Mandarin Grill. Dusted with black lemon powder for hints of smoky citrus, the slow-cooked meat isn't just immensely tender but also really easy on the palate. For a dish that's usually heavy, kudos to Chef Luigi for concocting one that's surprisingly lush yet delicate.
You get a ambitious yet successful amalgamation of a variety of strong ingredients. The presence of the black lemon from the definitely toned down the gaminess of the lamb. For an elevated experience, pair your lamb with a glass (or two) of Bolgheri Rosso DOC—a blend of Cabernet (both Sauvignon and Franc) and Merlot.
Dolci
Tiramisu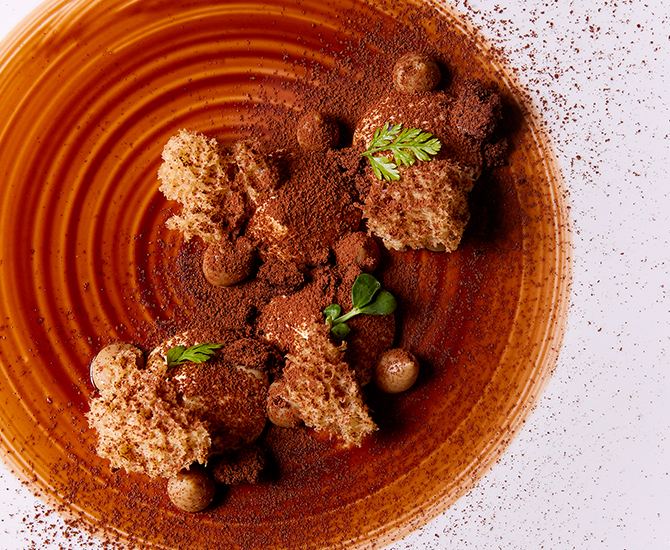 There's always room for dessert at Mandarin Grill—especially if the dessert is Chef Luigi's very own take on the universally-loved Tiramisu. On first glance, the beautifully-plated dessert resembles a yet-to-be-named planet; exuding palatable outer space vibes. Think of the sponge as majestic hills. Thanos might even want to give this a go!
The Tiramisu—served with coffee cream, mascarpone, and cocoa powder—isn't just pleasing on the eyes. Lighter than traditional creations, the dessert is airy and buoyant. Even better, the sweetness is toned down; allowing you to truly savour the flavour profiles of different ingredients. This will be an immaculate finale to any meal.
---
Opening Hours: Wednesday – Sunday (12pm – 2pm and 6pm – 10.30pm)
Contact: 03 2330 8798 or [email protected]
Website | Facebook | Instagram
---
| | |
| --- | --- |
| SHARE THE STORY | |
| Explore More | |