Food + Drink
Christmas 2019: Celebrate all things merry and joyful with these must-try dinner menus in KL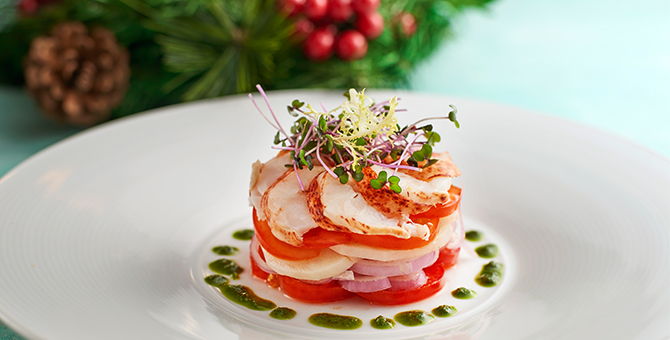 Do you hear sleigh bells ringing already? It's time to gather your family and friends as celebrations are about to begin. Kuala Lumpur is filled with a myriad of establishments that have curated interesting and special Christmas-themed food extravaganza. The most magical time of the year requires the most tantalising of meals. Without further ado, have a look at the set menus below.
1. Saint Pierre Kuala Lumpur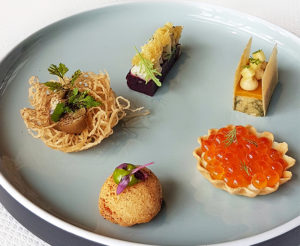 Saint Pierre Festive menu
For Christmas this year, Chef Emmanuel Stroobant has curated a joyous festive menu. The Christmas Eve dinner menu is an eight-course meal featuring the chef's modern French fare. Begin with canapés before continuing with fine de claire oyster, uni with black winter truffle, lobster with Iranian saffron, and Cornish chicken with cep mushroom. As for the main course, choose between the lamb with sage and juniper or Kyushu Wagyu (with RM190 supplement). Desserts include Spiced Wine with orange and Cinnamon with rum and coconut.
Availability: 24 December 2019 (7pm onwards)
Price: RM668
Contact: 03 2732 5008
2. Mandarin Oriental Kuala Lumpur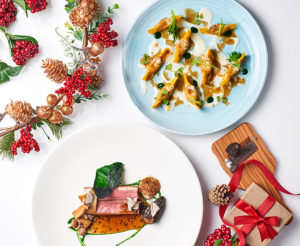 Mandarin Oriental Christmas Day menu
Retreat to an opulent Yuletide celebration at Mandarin Oriental Kuala Lumpur this festive period. The hotel has a myriad of dining options but here's one you should try—the Christmas Day five-course set dinner at its restaurant Mandarin Grill.
Price: RM408
Availability: 25 December 2019 (6.30pm – 10.30pm)
Contact: 03 2179 8798
3. Le Meridien Kuala Lumpur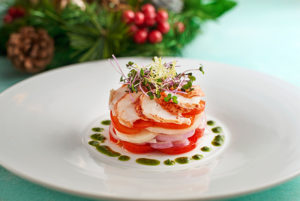 Le Meridien Favola Christmas menu
Do things a little different this year and celebrate Christmas the Italian way at Favola. Tantalise your taste buds with Italian Chef Domenico Piraz's delectable creations. The Christmas Eve four-course dinner begins with either the Astice All'algherese (Boston lobster with Amoroso tomatoes, baby potatoes and Maldon salt) or Cubetto Di Manzo, Salsa Di Formaggio E Mostarda (slow cooked beef cheek cube served with light parmesan cheese fondue and mustard fruit). Next, you will get the Tortellini Natalizi (chicken and black truffle tortellini with capon consommé and Julienne of vegetables). As for mains, make a decision between Sardegna Nel Cuore (red garupa with artichokes, black olives, Sardinian Fregula, and light saffron broth) or Classico Ma Moderno (classic baked turkey roulade filled with own meat, pistachio, apricots, plums, vegetables, and cooking jus). As for dessert, the Mantenendo La Tradizione (panettone bread pudding with maple orange zest ice cream) will be a great finisher to a good meal.
Price: RM318 nett (RM348 nett with a glass of prosecco)
Availability: 24 December 2019
Contact: 03 2263 7434
4. The RuMa Hotel and Residences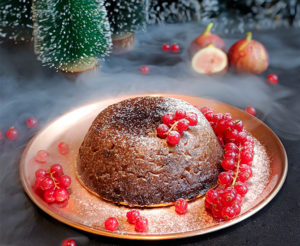 The RuMa Christmas menu
Executive Chef Tyson Gee of Atas Modern Malaysia Eatery has curated a special five-course dinner menu to celebrate the most magical time of the year. The menu showcases classic Christmas dishes infused with the restaurant's signature spin. Expect dishes such as warm foie gras with caramelised figs and bitter herbs; roasted lobster with calamari, clam, long coriander, and coconut broth; as well as roasted turkey with savoury bread pudding, brussel sprouts, and natural reduction. For the perfect ending to the meal, there is the decadent warm Christmas pudding and honey comb ice cream.
Price: RM288 nett (RM458 nett with wine pairing)
Availability: 24 & 25 December 2019 (7.30pm – 10.30pm)
Contact: 03 2778 0888
5. The Westin Kuala Lumpur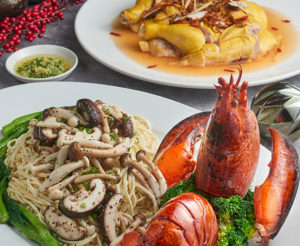 The Westin Christmas dinner menu
Taking on the theme of Chocolate Imperial, the Chinese culinary team at the hotel's Five Sen5es is all set to charm your palate and ignite your senses this Christmas. Highlights include chocolate sesame dumpling, Boston lobster with superior stock and egg noodle, Imperial steamed village chicken, and Cordycep flower with ginger. This is bound to be a special celebration with the five-course set dinner menu.
Price: RM160 nett
Availability: 24 December 2019 (6pm – 10pm)
Contact: 03 2773 8495
6. Nobu Kuala Lumpur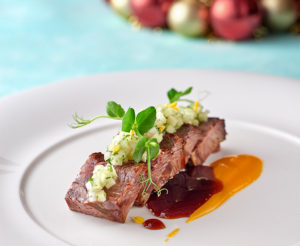 Nobu Christmas dinner menu
Treat yourself and your loved ones to a special omakase menu this Christmas. Crafted by Executive Chef Philip Leong and his team, expect a series of enticing dishes such as Santenmori with a selection of seasonal premium ingredients such as botan ebi with truffle and oyster with chopped toro, braised Wagyu cheek, dashi poached lobster, and the Christmas Tree dessert (green tea mousse and tofu Bavarian).
Price: RM560++
Availability: 21 December 2019 – 25 December 2019
Contact: 03 2164 5084
7. L'titude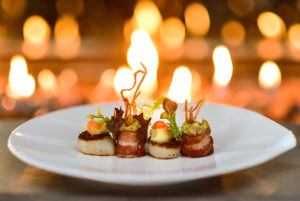 Latitude Getting Christmas menu
Located in the Genting Club, the restaurant is offering a six-course dinner menu on both Christmas Eve and Christmas Day. The Western menu consists of a scallop and bacon appetiser, Cioppino seafood stew, smoked duck, sous vide turkey, and a dessert of coffee espuma, vanilla ice cream, and sponge cake.
Price: RM288 nett per person
Availability: 24 December 2019 & 25 December 2019 (6pm – 2am)
Contact: 03 6101 1118
8. The Ritz-Carlton Kuala Lumpur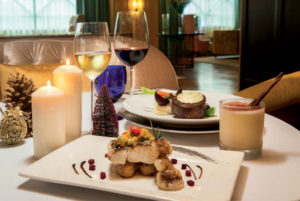 Ritz-carlton christmas dinner menu
This Christmas Eve, join Chef Wai at the hotel's The Library for a lavish dinner. The four-course Christmas meal comprises of festive seasonal creations crafted by the chef. Look forward to the expertly-prepared meats that Chef Wai is known for. Combined with the elegant yet relaxing ambience of the restaurant, this is bound to a day you won't forget.
Price: RM300 per person, RM450 per person with wine pairing
Availability: 24 December 2019 (7pm – 11pm)
Contact: 018 621 4252
9. Botanica+Co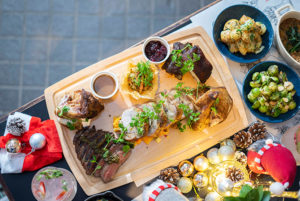 Botanica+Co christmas menu
Throughout the entire month of December, the restaurant is offering a menu that exudes extreme festive spirit. The Festive Seasonal Menu includes dishes such as Split Pea Soup, Cured Salmon Carpaccio, Roasted Butternut Pumpkin, Roast Turkey, Christmas Roast Platter, and Gingerbread Pudding. As for drinks, you get to try the mulled wine if you haven't.
Price: RM20 – RM198
Availability: 2 December 2019 – 31 December 2019
Contact: 03 2268 3818 (Alila Bangsar) & 016 965 6422 (Bangsar South)
10. Christmas Supper Club with Chef Melba Nunis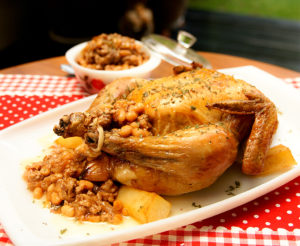 Kristang Christmas with Chef Melba Nunis
This month, Chef Melba will be hosting the Kristang Family Christmas supper clubs. They will feature dishes that are usually only available during the festive season, such as Feng (innard curry), Mama Mercy's Roast Chicken, Teem (Chestnut soup), and Stuffed Pickled Green Chillies. In addition to these, Chef Melba is also doing dishes for takeaway, including Smoked Bacon Bone Devil Curry, Beef Kari Seccu, and Chicken Macaroni Pie. Gather the troop, there is a requirement of eight to twelve diners for the supper clubs.
Availability: 7 December 2019 – 20 December 2019
Contact: 012 402 0500
11. Park Avenue Lounge, SkyAvenue Genting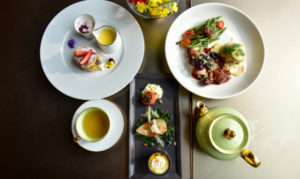 This Yuletide season, head over to the cosy, luxurious restaurant and enjoy a festive dinner celebration with your loved ones! Inspired by Western European cuisine and Christmas, two experienced chefs have specially prepared a seven-course meal, consisting of pastrami salmon with a topping of oscietre prestige caviar; poached pear salad; utterly delicious, creamy butternut squash soup; sweet and savoury black cherry roasted chicken; creamy truffle scalloped potatoes; haricot verts Lyonnaise; and panettone pudding for dessert to finish off with a sweet closing.
Price (s):
RM269 nett, paired with a bottle of Hermanos Lurton
RM499 nett, paired with a bottle of Drappier Carte D'or Champagne.
Availability: 24 December 2019 – 25 December 2019 (10am – 11pm)
12. The Chow Kit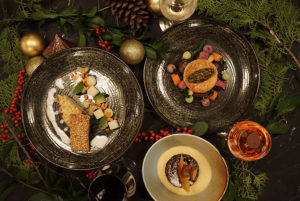 The Chow Kit Christmas menu
The recently-launched hotel is celebrating their first ever festive season! Their Christmas Day Brunch three-course menu includes traditional Christmas classics alongside Malaysian-fusion dishes. Start with Seafood Cocktail (scallop carpaccio, marinated tuna tartare, caviar and garlic chive butter, crispy fish skin with soy vinaigrette), Hainanese Chicken Rice soup, and a selection of appetisers such as foie gras and duck breast loh bak as well as smoked salmon and prawn otak-otak. As for mains, you have a choice between Tandoori Butter Roast Chicken, Roast Beef "Wellington", or Traditional Fish Pie. End the meal with Christmas Pudding served with ice cream and eggnog sauce.
Price: RM120++ per person, RM250++ with wine pairing
Availability: 25 December 2019
Contact: 03 2778 6666
13. Marini's on 57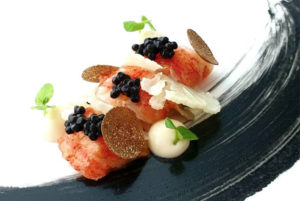 On Christmas Eve, head over to the 57th floor of Menara 3 Petronas for a festive meal at the Italian restaurant. The dinner menu consists of Poached Maine Lobster Tail with black truffles and caviar, Tagliolini with King Crab, Turkey Confit with Roasted Sweet Potato Foam, Pan-Seared Sea Bream with Porcini Mushroom Purée, and Roasted Lamb Loin with Pistachio crust. Desserts are Orange Sorbet, Nocciola Mascarpone (Hazelnut Crémeux with Almond Rocher) and Panettone E Pandoro (Classic Italian Panettone with Mascarpone Cheese Sauce).
Price: RM580++, RM680++ for window table
Availability: 24 December 2019
Contact: 03 2386 6030
For more Christmas/Festive content, visit our Buro Christmas Village.
| | |
| --- | --- |
| SHARE THE STORY | |
| Explore More | |