What are your fondest Lunar New Year memories? For some, it's the money you get from the red packets and for the others, the house visits. There are those who embrace the family reunions whereas some enjoy the festive music—that starts playing right after Christmas. Many remember their experiences with yee sang growing up and for the ones who celebrate the auspicious season, the idea of tossing with friends and family is something to look forward to. Throughout the month of January and up to the first week of February, Kuala Lumpur has a plethora of choices for you to ring in the celebrations on a prosperous high. Literally, the higher the better.
1. Four Seasons Kuala Lumpur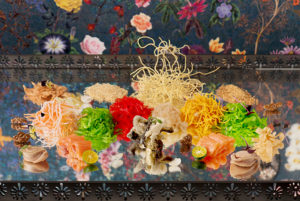 Four Seasons KL CNY yee sang
Chef Jimmy of Yun House has prepared a selection of yee sang that are made with ancient Chinese recipes and high quality ingredients. There are many types to choose from: salmon belly, tuna toro, Australian lobster, and other prized ingredients. You also have the option to add Norwegian salmon skin and crispy noodles.
Availability: 2 January 2020 – 8 February 2020
Price: RM148 nett onwards
Contact: 03 2382 8888
2. W Kuala Lumpur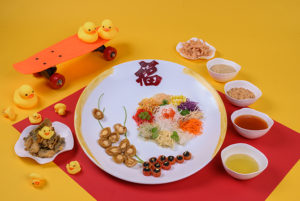 W KL CNY yee sang
For something really unusual, check out Yen's yee sang. The hotel collaborated with The Golden Duck from Singapore for their Salted Egg Fish Skin Crunchy Crisps. There are a variety of yee sang to try such as Norwegian Salmon Fish Yee Sang with Qiandao Lake Angel Beds and Tempura Crispy Lobster, Soft Shell Crab Yee Sang, and Dried Lettuce. One that really stands out is the Caviar, Gold Flakes, Truffles Oil, and Abalone Yee Sang.
Availability: 1 January 2020 – 8 February 2020
Price: RM118+ onwards
Contact: 03 2786 8888
3. St. Regis Kuala Lumpur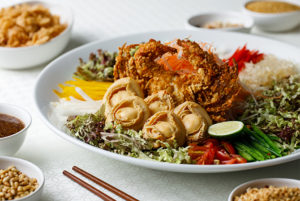 St Regis KL yee sang
The Prosperity Yee Sang here at The Brasserie is prepared with a base of finely chopped and sliced fresh fruits and vegetables as well as assorted nuts, seeds, and sauce. The Abalone and Crispy Soft-Shell Crab yee sang is an elevated version of the traditional preparation—from the recipe of the ancestral kitchen of Puan Sri Sharon Chua (owning family of the hotel).
Availability: 6 January 2020 – 7 February 2020
Price: RM238+ for medium and RM468+ for large
Contact: 03 2727 6696
4. Nobu Kuala Lumpur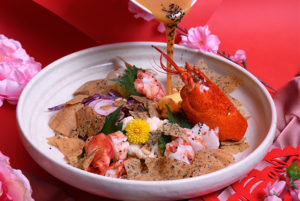 Nobu KL yee sang
The yee sang here is an unusual Japanese-Peruvian concoction by Executive Chef Philip Leong and his culinary team. What's special here is the Nobu Style Prosperity Lobster Platter—with cauliflower, asparagus, shiitake mushrooms, red cabbage, pomelo, jackfruit, pink radish, sesame seeds, homemade sour plum sauce, and of course, fresh lobsters.
Availability: 11 January 2020 – 2 February 2020
Price: RM288++ for two
Contact: 03 2164 5084
5. Grand Hyatt Kuala Lumpur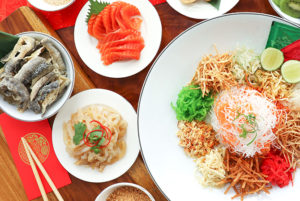 Grand Hyatt KL CNY yee sang
If you want to feast on yee sang with a stunning 360º view of the Kuala Lumpur skyline, Thirty8 will be the spot for you. Options include Jellyfish Yee Sang, Crispy Fish Skin Yee Sang, and Salmon Yee Sang.
Availability: 11 January 2020 – 9 February 2020
Price: RM168 nett onwards
Contact: 03 2182 1234
6. Four Points by Sheraton Kuala Lumpur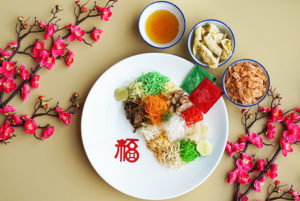 Four points by Sheraton cny yee sang
Head Chef Gerald Chong's version of yee sang at Quan's Kitchen takes inspiration from the Chinatown area. The Triple Prosperity Yee Sang consists of Chicken Bak Kwa, Chicken Lap Cheong, and Chicken Crisps. The trio is accompanied by pineapple and apricot dressing.
Availability: 10 January 2020 – 8 February 2020
Price: RM38 for half portion and RM68 for full
Contact: 03 2035 7333
7. Sofitel Kuala Lumpur Damansara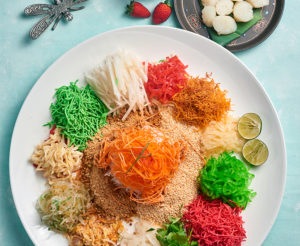 Sofitel KL Damansara yee sang
Head over to Wan Chun Ting for some refreshing twists to the yee sang you know. Interesting options to try are Two-Head Abalone Yee Sang, and Scallop with Snow Pear Yee Sang. The latter would require a booking prior to arrival.
Availability: 26 December 2019 – 8 February 2020
Price: RM88 nett onwards
Contact: 03 2720 6688
8. Mandarin Oriental Kuala Lumpur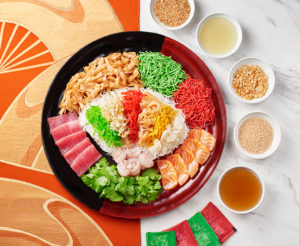 Mandarin Oriental yee sang
Ready for more yee sang this Lunar New Year? Check out the hotel's Lai Po Heen. There are six variations for you to toss to including the MO Signature Yee Sang—salmon, tuna, butter fish, and jellyfish presented in a shape that's synonymous to the hotel's fan emblem. Other options are Abalone yee sang, Canadian surf clam yee sang, Yellowtail yee sang, Salmon yee sang, and Vegetarian Snow Pear yee sang.
Availability: 1 January 2020 – 29 February 2020
Price: RM98 onwards
Contact: 03 2179 8885
9. JW Marriott Kuala Lumpur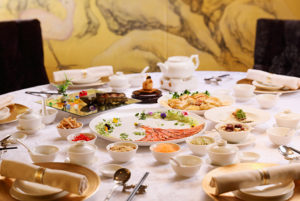 JW Marriott CNY menu yee sang
Executive Chinese Chef Wong Wing Yeuk from Shanghai has prepared classic Shanghainese dishes for the Lunar New Year. Head over to the hotel's Chinese restaurant, aptly named Shanghai, for a very special collection of yee sang that includes options such as lobster, geoduck, abalone, jellyfish, salmon, and fresh fruits. There is also vegetarian ham for those who prefer their yee sang meat-free. Shanghai's yee sang comes with a homemade sauce that's created using a well-kept secret recipe of Chef Wong.
Availability: Now – 8 February 2020
Price: RM108 onwards
Contact: 018 591 8537
For Chinese New Year menus and buffets in Kuala Lumpur, click here.
| | |
| --- | --- |
| SHARE THE STORY | |
| Explore More | |