Music
A pitch-perfect conversation with Malaysian singer Uriah See on his career and hopes for the future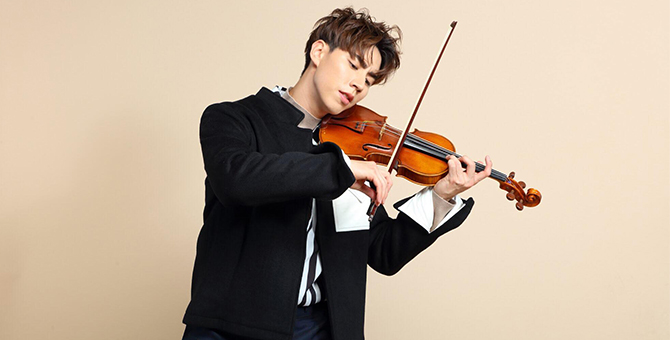 How much do you know about our very own music scene? Malaysia is filled with multi-talented musicians and Malaysians are beginning to take notice. From veterans in the industry such as Ning Baizura, Zee Avi, Siti Nurhaliza, and Fish Leong to the likes of Talitha, NYK, Yuna, and Andi Bernadee; we have a thriving pool of local talent. Recently, we had the pleasure of speaking to singer and actor, Uriah See—an artiste who knows how it feels to win.
Uriah See Khai, born in 1995 in Johor, has achieved quite a bit since winning the Astro Star Quest Chinese Singing Competition in 2014. Since then, the 24-year-old starlet has carved a name for himself—locally and internationally. This year, Uriah was the only non-Chinese national to compete in China's Super Vocal Season 2. The television competition centres around musical performers and opera singers in mainland China. The Malaysian violinist's participation in the programme catapulted him into the limelight (amassing close to 80,000 followers on Instagram) and the rest is history.
Currently managed by Idea Music Entertainment, Uriah isn't just involved in music. In fact, he showcased his acting abilities when he was casted as Hennessy Goh—the lead in a Singaporean drama series, Fried Rice Paradise. Along with his good looks, mesmerising vocals, and immense likability, it's no wonder that Uriah See Khai is going places.
Check out the interview below:
1. How do you think 2019 has been for you so far?
Going to China has been a really great part of 2019 because I've learned so much from it. It has been amazing exploring China. 2019 is a new step for me. There are a lot of new territories and a lot of new things to conquer but it's great.
2. Are there still things on your New Year's bucket list you haven't achieved?
Excluding work, there are a lot of things in my bucket list that I haven't done. Skydiving, paragliding, mostly outdoor activities. If it's my work, I guess I would say I haven't done—I write my own music but I haven't published my own stuff that I really like to do. So yes, that's on my bucket list.
3. Since winning the Astro Star Quest Chinese Singing competition in 2014, what have you done that you're the proudest of?
The immediate thing that comes to my mind is—after winning Astro Star Quest—I actually won a car. I gave that car away as a present to my cousin.
4. Who are your musical influences?
I love Michael Buble, Adele, Justin Bieber, and Pentatonix. If it's the Chinese market, it would have to be JJ Lin, Jay Chou, Wang Leehom, Li Ronghao, and Joker Xue. All these people.
5. What was it like staying in China?
At first, I wasn't used to the culture, and the way they communicate but after awhile, I got used to it. In the beginning, I was very quiet. I was afraid to say something wrong because my Chinese isn't as good as my English. I was afraid that I might offend people there. After awhile, everyone was really nice to me. They had lots of patience. Every time I said something wrong, they try to explain what I said wrong. China is really, really advance. Just a click of a button and you can get whatever you want. They will deliver right to your doorstep. They really take it up a notch.
6. Where are three must-visit spots in China that everyone should check out?
I would say the main cities of China. Beijing and Shanghai because those are the only places I've been to. Shanghai is very international. There are lots of great food and cafes. Beijing too. Beijing is coming up and it's crazy. I went there a couple of times. The first time I went there was winter. It was very, very cold. The weather was't so good but this time around—when I went back to China—it was great. The weather was so clear and the people were so nice. Everything's moving so fast. I like China; Beijing, Shanghai, and Changsha, if you like lobster strips. That's what they're famous for. Changsha's food is nice, which I agree. They are famous for mala xiang guo (hot and spicy pot) and sticky tofu. I don't know a lot of terms but they have a lot of nice food.
7. Do you miss Malaysian food and what do you crave the most?
I kept craving for roti canai. I was just imagining in my head for that one bite in my mouth. The first thing I did when I came back to Malaysia was to have roti canai.
8. Name two actors or musicians you would love to collaborate with, and why?
I have so many musicians I'd like to work with. Let's talk about Malaysia. I really like Ismail Izzani. I like his compositions, his songs, and the style that he's going for. I really do hope that we can collaborate in the future. I'd also like to work with Priscilla Abby. She does more on EDM but I like EDM. I'm not sure if I'm suitable singing EDM but I like what she does.
9. If you have to state one similarity between you and Hennessy, the character you played in Fried Rice Paradise, what would that be?
What we have in common is that we are very self-conscious about ourselves. Even though Hennessy is an extrovert, he is still very conscious. He's still afraid of what people might think about him or will say about him. That's sort of still how I am. We have that inferiority complex but express in different ways.
10. What are your upcoming or future plans that we can all look forward to?
I have lots of compositions yet to be published so I hope that everyone will one day get a taste of my music.
Rapid Fire Round
1. How many instruments do you play?
Three.
2. Do you any pets?
I have two dogs.
3. What is your biggest peeve?
I don't like when people snore very loudly.
4. The last thing you liked on Instagram?
A friend's video.
5. Are you a morning or night person?
Night.
6. What is your go-to karaoke song?
All Of Me by John Legend.
7. What is your favourite number?
Six.
8. How many languages do you speak?
Three.
9. First celebrity crush?
Emma Watson.
It seems like Uriah See's future in the entertainment industry is bright and promising—anywhere he goes. He's making Malaysia proud and we're looking forward to his upcoming projects. Thank you for taking the time to speak to us, Uriah!
| | |
| --- | --- |
| SHARE THE STORY | |
| Explore More | |