Love champagne but not quite familiar with the terms and jargons used when it comes to selecting a bottle of bubbly? Fret not. A fancy drink like the Moët & Chandon Brut Imperial (psst, it turns 150 years old this year!) may come with some fancy—and mostly French—words, but it's really not all that complicated; you don't even have to taste champagne for a living to know them. Below, a list of common champagne terms and what they mean, so you can cleverly whip them out at that next year-end soirée when someone tries to mansplain the difference between doux versus demi-sec…
Moet
Brut: A term from the champagne sweetness scale, which goes from Brut to Doux (the sweetest). It indicates how much sugar concentration is in the fizzy beverage. Brut is the most common variety of dry champagne.
Extra Brut / Brut Nature: Same as brut, but with even less sugar. Brut Nature or "Brut Zero" means there is no added sugar.
Dry (or "Sec" in French): Contrary to its name, this version is only slightly dry. Sec is on the sweeter side of the scale, right before "Doux" with a sugar concentration of 17 to 32 grams of sugar per litre. Note: Extra-Dry would be slightly less sweet, while a Demi-Sec is sweeter.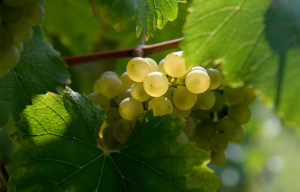 Blanc de blancs champagnes are made entirely of white grapes
Blanc de blancs: Directly translating to "white of whites", this indicates that the champagne is blended from 100% white grapes only. For example, chardonnay.
Blanc de noirs: As for "white of blacks", this means the champagne is made from 100% red grapes only. For instance, pinot noir.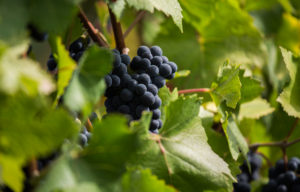 Blanc de noirs champagnes are made entirely of red grapes
Champagne: Champagne is an "appellation" and a small region in the North East of France. Making up only 0.4% of the global vineyards, its specific terroir and wine-making process are what makes it different from other sparkling wines.
Chalk: A key element of the champagne history. Its presence in the soil of the vineyards contributes to the unique character and flavours of the wines. It has alo enabled spectacular subterranean excavations for the champange cellar or "Crayères"—this is where the bottles are kept for years during the wine-making process.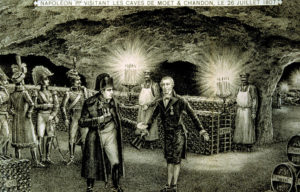 French Emperor Napoléon visiting the Moët & Chandon Crayères in 1807
Grand Cru: In the Champagne region, the top 17 vineyards are called Grand Crus and they are recognised for their exceptional quality of grapes (with a 100% ranking). This ranking is followed by 42 Premier Cru villages (90-99%) that make up the top 20% in the market, and 261 Crus (80-89%) comprising other villages, though the latter is rarely labelled on bottles.
Jeroboam: Large bottles are named after Biblical figures. The Jeroboam is named after two Kings of Israel and in Champagne, it is equivalent to four bottles (3 litres). However, in Bordeaux, a 3-litre bottle is called a Double Magnum and a Jeraboam is 4.5 litres.
Mousse: The foamy head that appears on your champagne glass-an indicator of fresh champagne is when the mousse is vigorous and lingers for a while.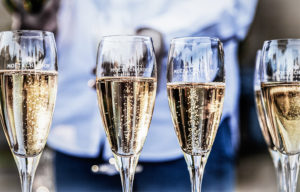 Signs of a fresh champagne: a fizzling foam (aka mousse) that forms on the glass after champagne is poured into it
Terroir: When it comes to wines and champagnes, the French term terroir refers to the specific climate, soil, terrain and even tradition—all of which impacts the taste of champagne.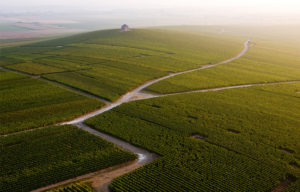 The specific terroir gives its unique character to the champagne
Time: From its 300 years of heritage to the patience required for every bottle, time plays a role at every level of the champagne production. Fun fact: It takes no less than two years to produce a bottle of Moët & Chandon Brut Imperial!
Vintage: This means that the champagne only consists of grapes harvested from the same specific year, instead of having a mix of wines from other years (see non-vintage, below). They're also complex wines, aka perfect for pairing with an array of festive dishes.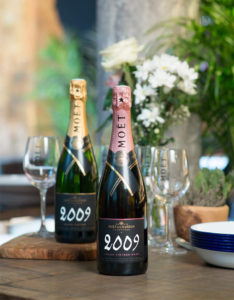 The Moët & Chandon Grand Vintage
Non-vintage: Bubbly that's produced from a blend of grapes harvested comprising different years (usually labelled "NV" on bottles). The objective of the Cellar Master is to re-create a consistent champagne taste for every year. FYI, more than 95% of champagnes are non-vintage!
Buro recommends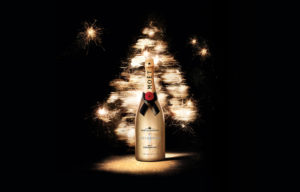 Moët & Chandon is celebrating the 150th anniversary of its signature champagne—the Moët Imperial—this year and they've unveiled a limited edition bottle to celebrate this momentous milestone: A golden-coloured bottle inscribed with a redesigned logo of the letter "I" for Imperial. Made of 2/3 Pinot Noir and 1/3 of Chardonnay, the new flagship bubbly (previously a non-vintage brut) is rich and luxe but bright and fruity at the same, evoking a taste that's akin to a basketful of ripe fruits complete with notes of fresh bread, biscuit and walnut. Our tip? Pair it with fish and seafood dishes-whether with canapés during aperitif or to savour throughout your main course.
The limited edition Moët Imperial bottle will be available at Jaya Grocer, B.I.G., Jason's Food Hall and Mercato. For more info about Moët & Chandon, visit their website here or follow them on Instagram and Facebook.
| | |
| --- | --- |
| SHARE THE STORY | |
| Explore More | |