Have you ever prepared a meal for dad? Here's something you can try this year—especially if you don't feel like dining out on Father's Day. Some say that the best way to get to a man's heart is through the stomach and food does the trick. On 21 June, put on your toque and start cooking. These recipes aren't just simple; they are also really fun to attempt. It's daddy's lucky day!
Chicken Francese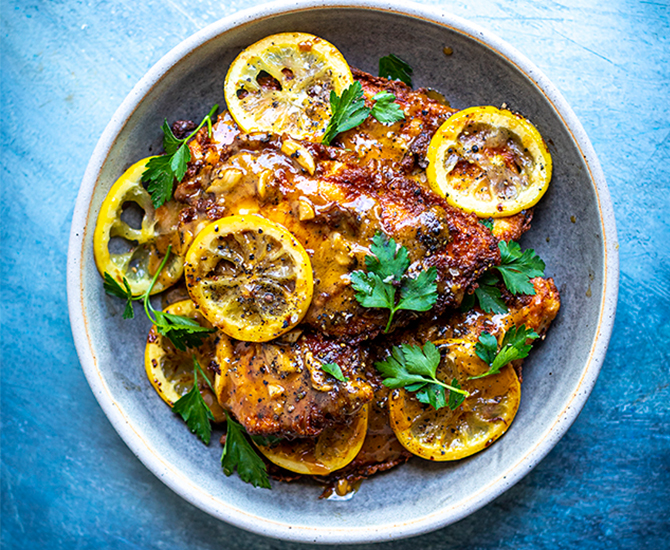 This easy-to-prepare chicken dish by Donal Skehan has everything it takes to be the perfect Father's Day meal. It's zesty, creamy, and dreamy. This Chicken Francese concoction serves two.
Ingredients:
—For the chicken:
2 chicken fillets
2 tablespoons of plain flour
2 eggs
25 grammes of parmesan (finely grated)
Zest of 1 lemon
—For the sauce:
25 grammes of butter
50 millilitres of olive oil
2 lemons (1 juiced and 1 sliced into medallions)
2 garlic cloves (chopped)
125 millilitres of white wine
125 millilitres of chicken stock
125 millilitres of cream
Small handful of parsley (chopped)
Sea salt and freshly ground black pepper
Steps:
1. Half across the centre for each chicken fillet. Make sure to do this across the length of the fillet.
2. Mix the flour with salt and pepper in a bowl for dredging and mix eggs, parmesan cheese, and lemon zest in another bowl. Continue until the concoction is combined.
3. In a large pan, heat a few tablespoons of olive oil on medium heat. Next, continue by dredging chicken in flour before dredging in the egg mixture. After that, place directly in hot pan. Repeat the steps for all chicken pieces and proceed to fry for three to four minutes on each side.
4. Before bringing back to the heat, drain off some of the oil from the pan. Then, continue by frying the sliced lemon medallions until for about two minutes per side. When the sliced lemon medallions are tender, you can then set aside with the chicken.
5. Melt the butter and fry the garlic for a minute utilising the same pan. After adding lemon juice and white wine, let reduce for approximately three minutes. Take another three to four minutes to stir in the cream and chicken stock.
6. Pour the hot pan sauce over the chicken on a plate and garnish with parsley to serve.
Nasi Lemak Burger
For dads that prefer something local and unique, the Nasi Lemak Burger is a great option. With a cooking time of under 30 minutes, it can be prepared really quickly.
Ingredients:
1 burger bun
1 crispy chicken patty
1 tablespoon of warm coconut milk
2 teaspoons of butter
3 teaspoons of pre-made ikan bilis sambal
1 fried egg
½ tablespoon of fried shallots
2 pieces of cut cucumber slices
2 tablespoons of oil
Steps:
1. Add one tablespoon of oil in a pan over medium heat before frying the egg until your desired doneness. After that, proceed to remove from pan and set aside. Add remaining oil utilising the same frying pan and fry the patty until golden brown. When the patty is ready, you can set aside.
2. Stir a combination of warm coconut milk and a pinch of salt in a small bowl. Then, split the buns into halves before spreading one teaspoon of butter per side. You can now place one and a half teaspoons of sambal on the bun. Make sure to do this on the base.
3. Place the crispy chicken patty on the bun after sambal before drizzling warm coconut milk on the patty. Proceed to put egg, fried shallots, and cucumber slices. Before placing the top of the bun, make sure to add one and a half teaspoons of pre-made sambal.
Griddled Beef with Htipiti Spread and Lentil Salad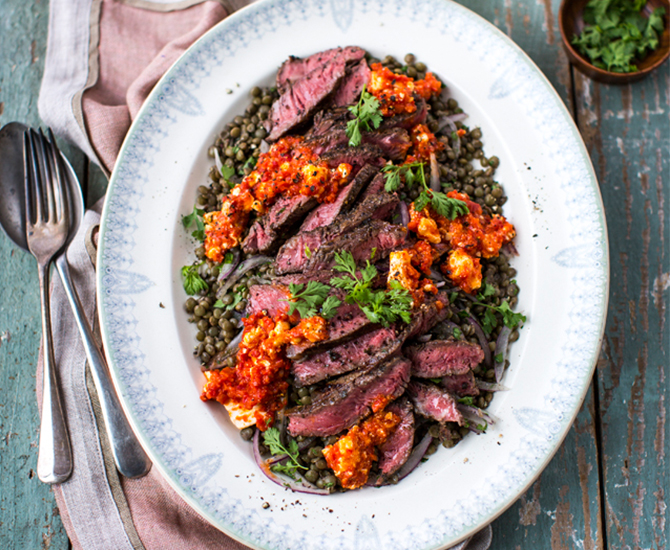 Here's one for dads that enjoy steak. This recipe serves four and takes about 45 minutes to complete. You will need a griddle pan and food processor.
Ingredients:
2 tablespoons of olive oil
1 tablespoon of balsamic vinegar
450 grammes of striploin steak piece
1 teaspoon of dried oregano
250 grammes of puy lentils (cooked and cooled)
1 red onion (finely sliced)
A handful of flat leaf parsley (finely chopped)
—For htipiti spread:
5 roasted red peppers
5 tablespoons of extra virgin olive oil
1 garlic clove (finely grated)
2 tablespoons of red wine vinegar
1 teaspoons of dried oregano
1 teaspoon of dried red chilli flakes
250 grammes of feta cheese (crumbled)
Steps:
1. Discard any seeds and membrane after slicing open the roast red peppers. This is for the spread.
2. In a mini food processor, blitz red peppers, olive oil, garlic, red wine vinegar, dried oregano, and chilli flakes. Continue in short bursts until the red peppers are broken down. Then, proceed to transfer the concoction to a small mixing bowl. Mix through the feta cheese.
3. Next, whisk olive oil, balsamic vinegar, and dried oregano together. Remember to season well with sea salt and ground black pepper. Coat the steak completely. After that, heat a large griddle pan over high heat.
4. Cook the steak for six minutes (per side) but make sure to position the meat at the centre of the pan. Let the steak rest for five minutes when cooked. Make sure you cover the steak. After five minutes, you can then slice into pieces.
5. Combine the lentils and red onion in a bowl before chopping the parsley in half and placing in the bowl. You can proceed to add olive oil. Don't forget to season adequately with sea salt and ground black pepper.
6. Finally, arrange the steak slices and htipiti sauce on serving platters.
Dad will definitely appreciate the thought and effort you put into preparing a meal for him on his special day. From steak to chicken to nasi lemak burger, these recipes are perfect for pampering and showing dad how much you love and adore him. If you're a father yourself, you can even try making them—especially with Year 2020 turning everyone into brilliant chefs.
For the Father's Day gift guide, click here.
| | |
| --- | --- |
| SHARE THE STORY | |
| Explore More | |