Food + Drink
Breakfast Jar: Overnight oats with banana and blueberry recipe
A quick yet healthy option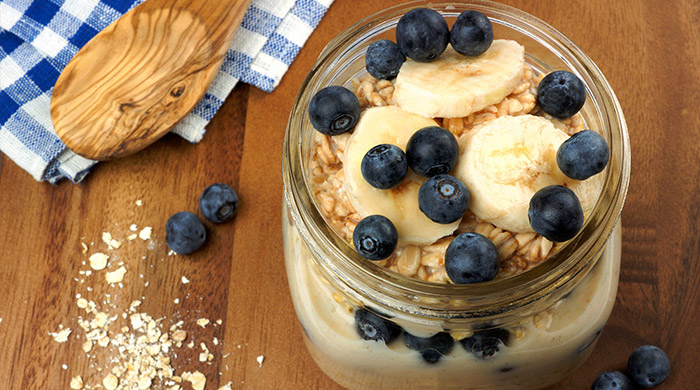 This is a delicious combination and a great balance of nutrients. Blueberries are one of the richest sources of antioxidants, which help us to fight off free radicals. Oats are full of fiber and are great for stress management as they help get the calm-inducing hormone serotonin flowing. Preferably go with whole rolled oats as they take longer to digest compare to instant oats, which means their calming effect will last longer.
Ingredients (serves 1)
5 tbsp whole rolled oats*
1 tbsp chia seeds
Almond milk
2-3 tbsp granola
1 small banana
½ cup blueberries
*You can use instant oats if you are unable to leave the jar overnight.
Method:
1. Place the oats and chia seeds in a jar and pour in the almond milk so that it covers the oats plus some extra as the oats and chia seeds will expand. Stir well.
2. Set the jar in the fridge overnight.
3. Remove the jar from the fridge. If the mixture is too thick, add more milk.
4. Slice the banana and layer most of the banana on top of the oats. Then add most of the blueberries. We are aiming for a layering effect.
5. Add the granola and finish off with the remaining fruit.
Get more nutritious yet delicious recipes like this on PurelyB, a healthy lifestyle website.
Related stories:
#SaladSundays: Healthy yet delish recipes
4 Trendy grains you should eat more of
| | |
| --- | --- |
| SHARE THE STORY | |
| Explore More | |