You don't need chestnuts roasting on an open fire at home to feel the festive spirit. While there is a myriad of Christmas menus in the Klang Valley to choose from for dine-in, those looking for a cosier, more intimate affair from the comforts of their home can easily order a whole festive feast from The Big Group's Big on Joy menu. Yes, complete with a classic roast turkey with chestnut stuffing and decadent Christmas Yule Log cakes. After all, the wide selection of options is inspired by Benjamin Yong's family holiday tradition.
You can choose the mix-and-match on your own from the a la carte menu or pick a festive feast according to the number of guests—and the latter can range from a turkey meal for two to an Ultimate Feast for 20 and more. Of course, there are also curated food boxes that would be perfect for an alternative Christmas meal or to bring to a potluck party. The Aussie Seafood Icy Box 2, for example, is filled with beetroot-cured salmon, a kilo of cold prawns with Virgin Mary sauce and accompaniments.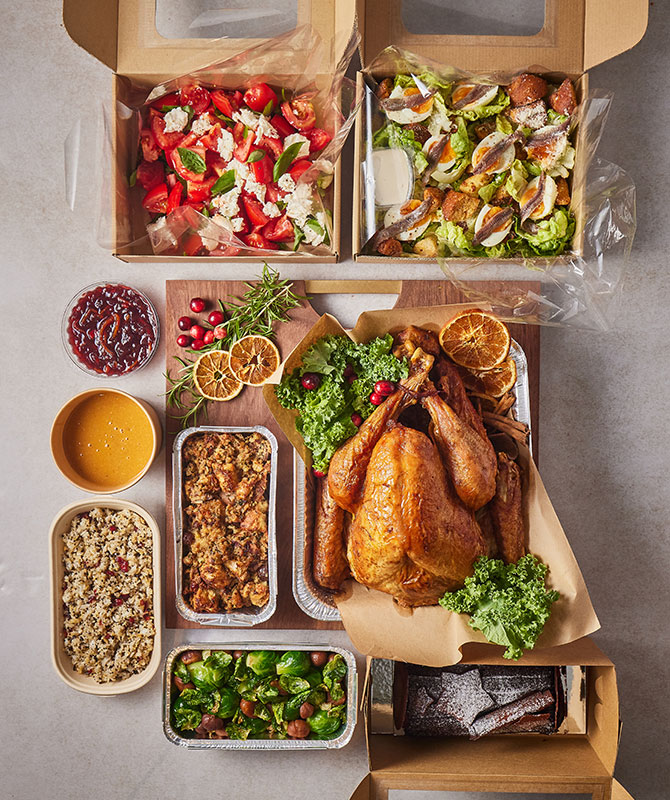 For team BURO Malaysia, being a party of nine, we had the opportunity to review the Family Feast: Whole Turkey Meal for an early year-end celebration. On the catalogue, the menu says it feeds six to eight. Let's just say that many of us had extras to bring home, so trust us when we say it's a very generous feast box. Here's what is included in the meal.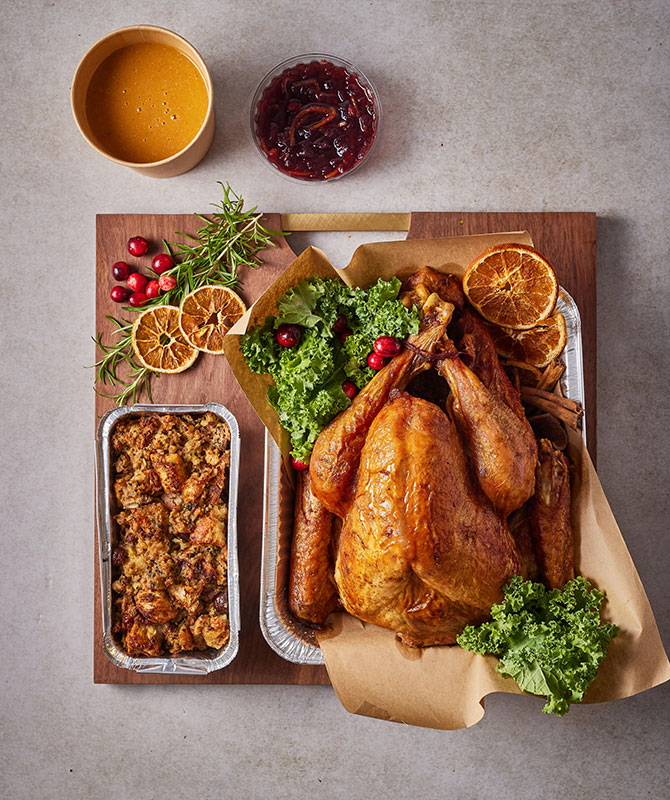 Classic whole roast turkeyserved with chicken, chestnut, sage and dried cranberry stuffing
Tender and tenderly roasted, the turkey was flavourful and paired beautifully with the traditional gravy and cranberry orange relish (be it separately or as a unique combo of sweet-meets-savoury). It's not a Christmas meal without turkey, and truth be told, you could be eating it for days if your party of guests have small appetites as this is one colossal roast turkey (and we love it)!
Olive rice
Despite its name, the first bite took each of us by surprise. With a slightly chewy texture, the olive rice was lightly seasoned yet a tad sweet with dried cranberry bits.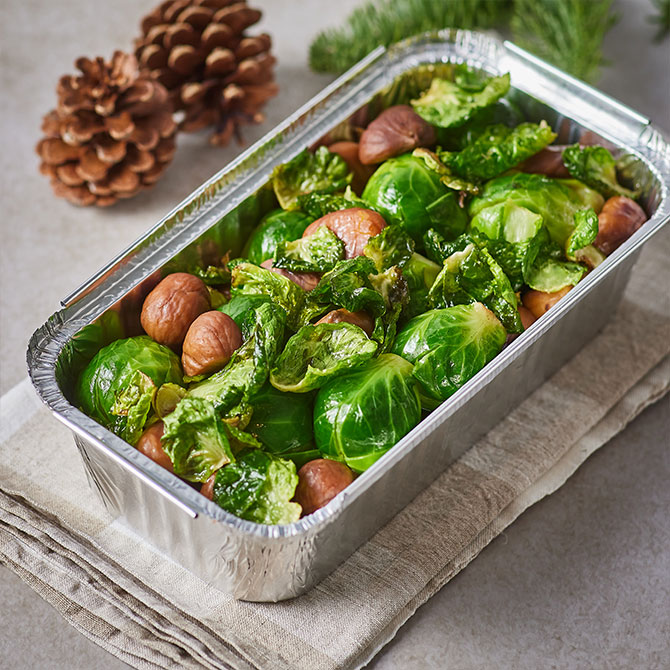 Roasted chestnuts and Brussel sprouts
With a slightly smokey flavour, the Brussel sprouts were fresh and perfectly roasted with a fantastic crunch in each bite.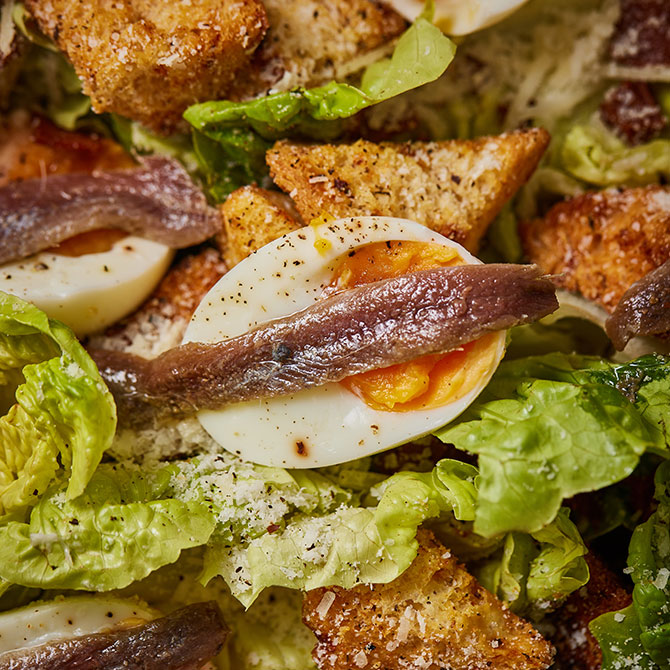 Caesar salad
It's a classic salad option; it's creamy and a little savoury (if you were to bite on an anchovy) but altogether a good balance when paired with the other items in the menu.
Tomato Caprese salad
Easily a favourite at the table, the tomato Caprese salad was the first to be cleared entirely before even starting on the turkey. Fresh burrata plus juicy tomatoes in one word? Addictive.
Yule log cake
A hundred per cent decadent, this cake is for the chocolate lovers, but if it's too rich for you (like it was for some of us), you can simply scrape off some of the chocolate cream. The cake itself, however, takes the, well, cake as it's moist and has the right amount of sweetness.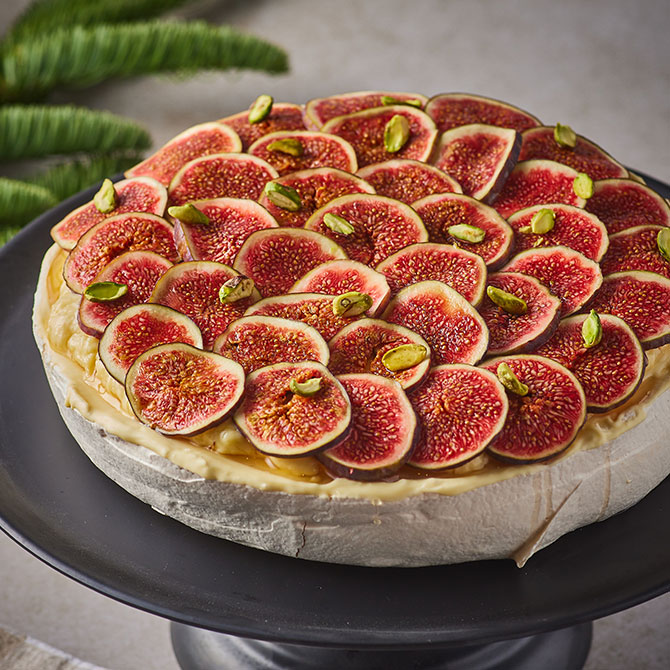 Bonus: Fig pavlova
The pavlova isn't part of the meal, but we couldn't resist—especially for those of us who aren't fans of chocolate (gasp, we know!). Delicate baked meringue topped with eggy pastry cream and sliced fresh figs with a drizzle of honey—it was a heavenly way to end our little Christmas get-together.
HOW TO ORDER
Download the Bigappetite app or visit https://bigonjoy.bigappetite.co
Fill in the order form at Ben's, Plan B, Ben's General Food Store, Ben's Bake Shop or Ben's Chicken Shop
Text the WhatsApp Concierge at 012 3313 913
THINGS TO NOTE
Orders must be placed and paid in full minimum at least 48 hours before pick-up or delivery date (by 12pm)
Orders can only be collected at Plan B @ Bangsar Village, Plan B @ Publika, Ben's General Food Store @ Plaza Batai, or Ben's The Linc
For more information, visit www.thebiggroup.co.
| | |
| --- | --- |
| SHARE THE STORY | |
| Explore More | |