After sharing the news of Babe, Malaysia's first restaurant by a Michelin-starred chef late last year, we (Cai Mei and I) finally had the opportunity to have a taste of the complete omakase-style Japas (Japanese-accented tapas) menu; and it was nothing I've ever experienced.
Nestled at the iconic pool deck on the 11th floor of [email protected] in Damansara Heights, we were greeted by a cosy yet classy interior of mirrors, velvet seats, white sequinned pillows, hues of gold and amethyst, and a panoramic view of the city skyline. Already, I was thinking, "this could get comfortable".
Our menu for the evening was 'Chiku' with an additional dish to kickstart the media session: a not-your-average Alphabet Soup. The 'soup' was actually thick beetroot and strawberry juice! I knew we were off to a good start.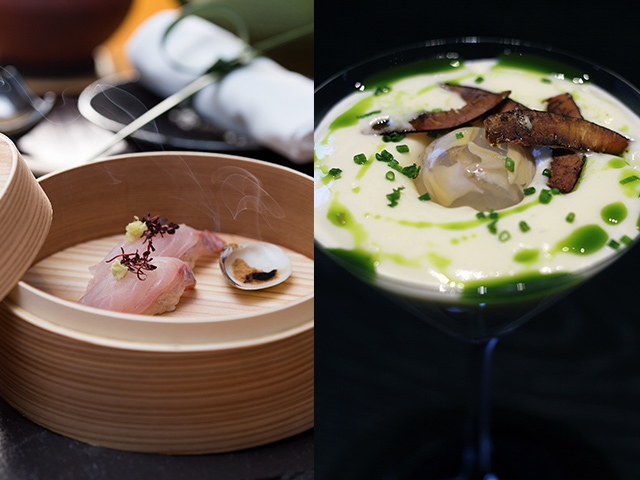 1000 Year Old Smoked Cypress Yellowtail Nigiri, Japanese Clam Chowder
The next dish was the Japanese Clam Chowder that was more mousse-like than the usual ones we would eat. But it was the smoked coconut "bacon" strips that served as the 'icing' on top for me. After a few spoonfuls, I discovered a small crystal ball-like jelly at the bottom that seemed to be encasing a water-like liquid. As soon as I burst it in my mouth, it was no water—it was the essence of a clam.
As the evening continued, I realised that Chef Jeff Ramsey and his crew have literally mastered the phrases "an explosion of flavours" and "looks can be deceiving". A dish called Caesar Salad came looking like a green tea chocolate coated ice cream ball on a spoon with parmesan on the side. It tasted cold, refreshing and yet as healthy as a whole salad bowl. As a non-salad person, it was a delight.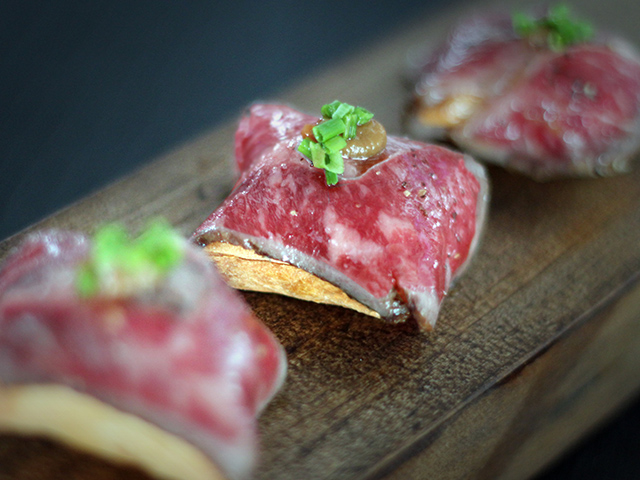 Niku Jaga
A surprise at first sight and at first bite, Babe's Japas is, without a doubt, gastronomically good but it's the novelty of each dish that makes the dining experience more memorable. Ramsey's vision when creating Babe was to make it a place with not stiff but emotional connection, and not just between the customer and the plate that sits in front of them but between each other. With such unique creations that serves as great ice breakers and conversation starters, this isn't difficult.
The Virtual Truffle Steak is another notable mention. As a master of modernist cuisine, Ramsey's exquisite food can be described as part science, part food. Babe, in essence, is a multi-sensory dining experience. This dish, for instance, required us to first sniff a truffle-perfumed tissue before taking a bite of the marinated steak. The result: a magical blend of tastes where the meat tasted extra flavourful. This was inspired by the science that your nose can sometimes trick your mind and other senses.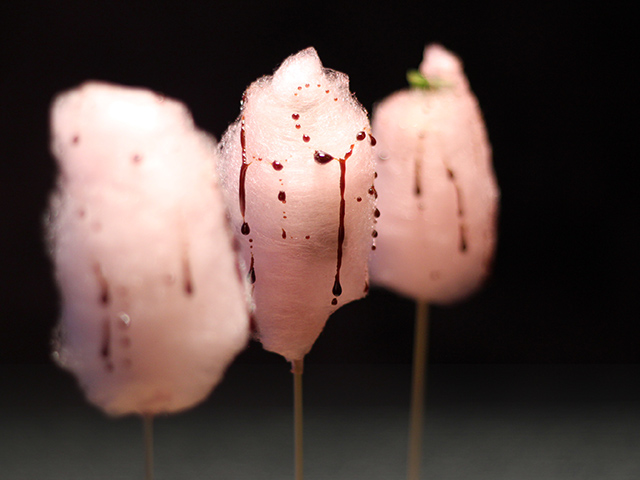 Unagi Floss
I have too many good things to talk about Babe and 15 (even if some of them were sharing plates) is too extensive to describe in one go but the dessert (one of), Godzilla's Rage is a fun finale to the menu. A light flavoured meringue on a stick, you dip it into liquid nitrogen for eight seconds, pop it into your mouth and you'll soon be bellowing smoke from your mouth and nostrils.
What I liked about my dinner at Babe that night wasn't solely on the taste or how Instagram-worthy the food looked—it was the overall experience that you probably wouldn't be able to get elsewhere. Two hours and 15 lil dishes passed sooner than I had expected. Then again, you know what they say—time passes when you're having fun and my dinner at Babe played true to those words.
Babe's 'Chiku' menu is priced at RM200++ nett per person and they're only open for dinner. Check them out on Facebook or Instagram @babe_gastro for more info. To make dining reservations, please visit their website or email [email protected]
Related stories:
Shinjiro: Redifining 'Izakaya' dining
Godiva's soft serve is finally in Malaysia
| | |
| --- | --- |
| SHARE THE STORY | |
| Explore More | |