Perfecting a craft is a task that takes time and resilience. With over 20 years of experience, Chef Kenichi Ishikawa, Tenshin's head chef, has mastered the art of tempura. Now, he is showcasing his craftsmanship of "edomae" style through three different omakase menus at Tenshin, The St. Regis Kuala Lumpur (formerly known as Ginza Tenkuni).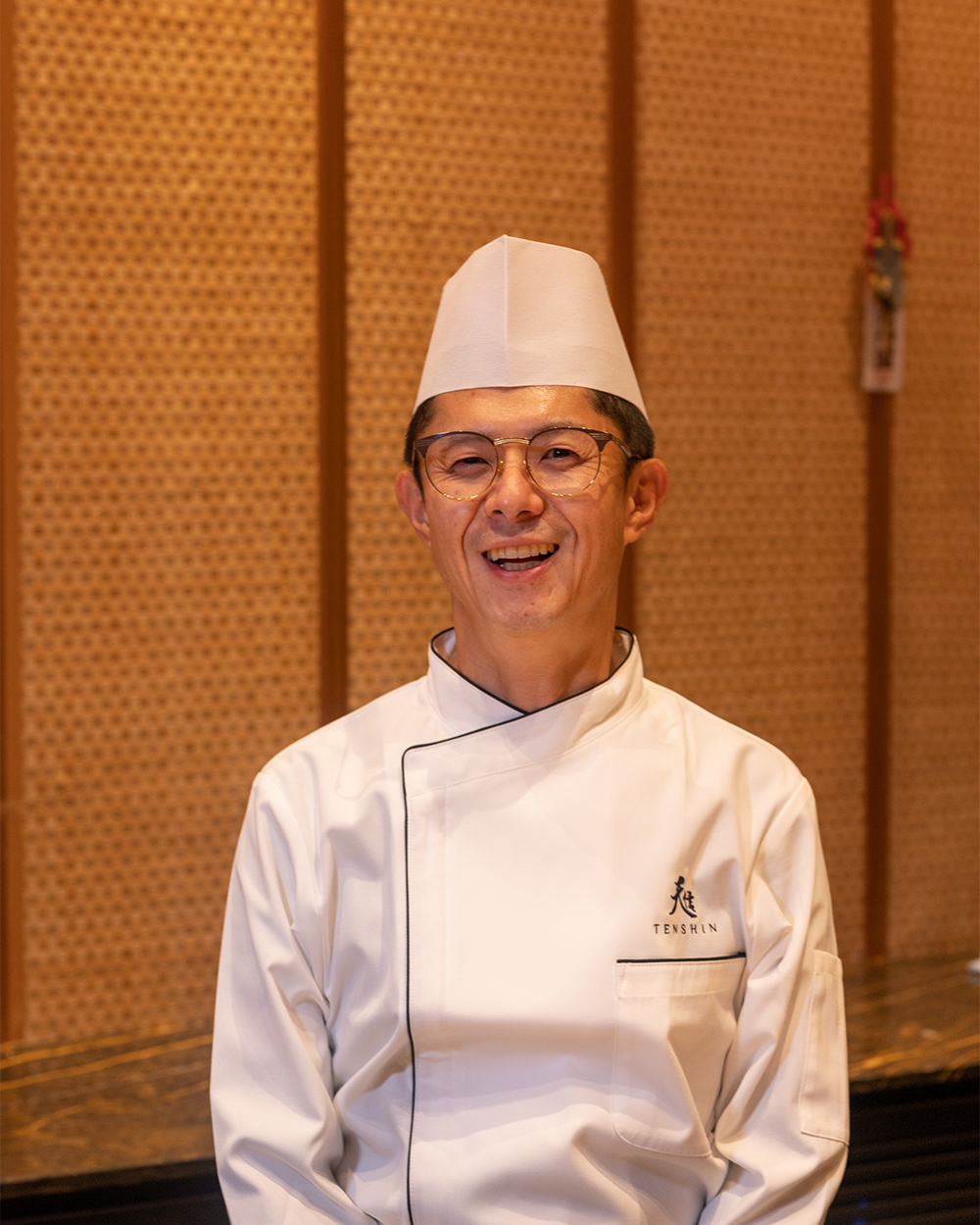 Chef Ishikawa's brand of heartful tempura omakase is made using a secret blend of oil and batter that's flown from Japan, ensuring the highest quality and authenticity. Combined with his ability to control oil temperature, this creates a light and crispy batter that goes well with each ingredient presented.
I was fortunate enough to try the Kanzen menu which consists of one appetiser, 10 tempura, one rice dish, and one dessert. This tempura feast at Tenshin was unlike any other and if you'd like to know what to expect, read my full experience ahead. 
A WARM WELCOME TO TENSHIN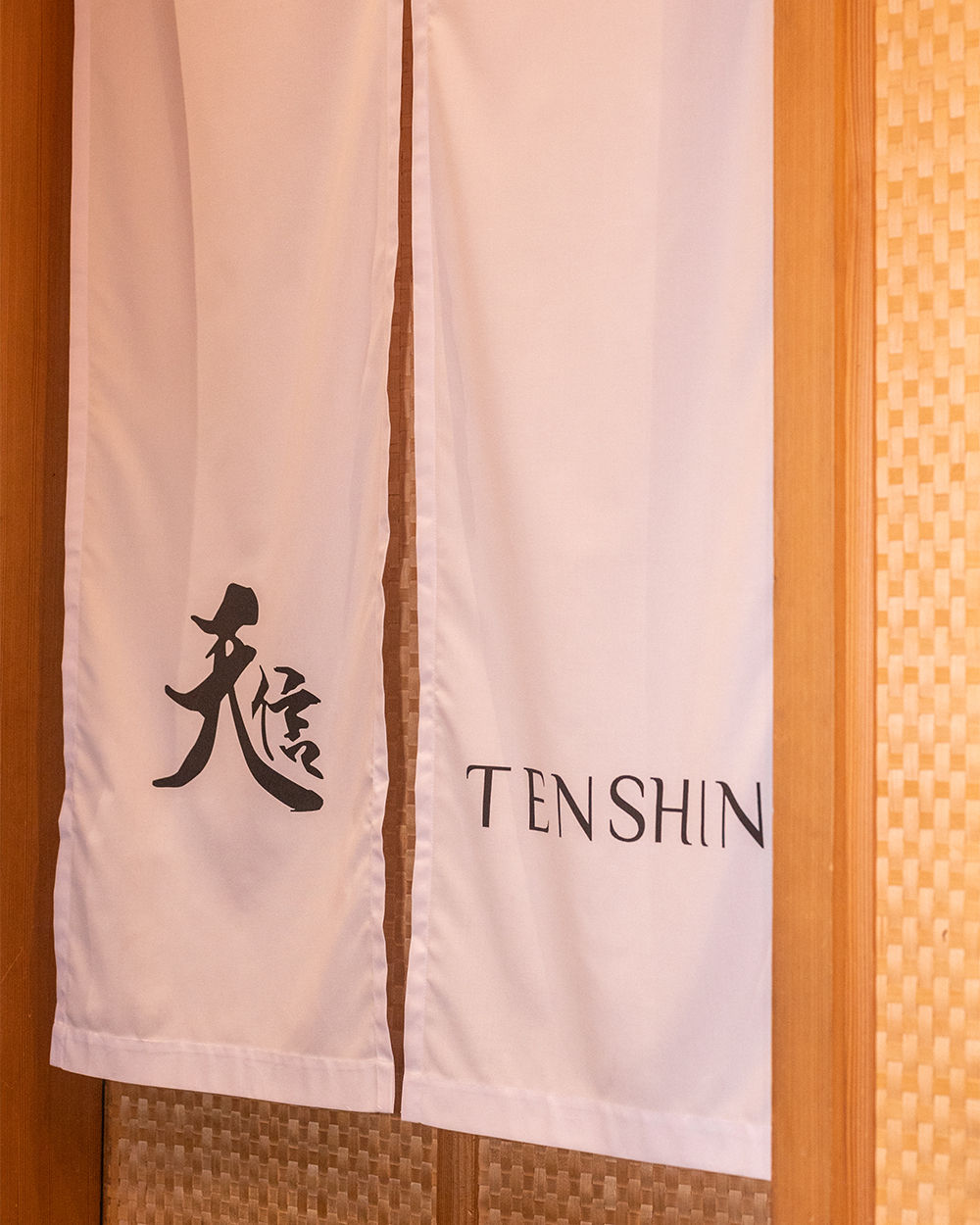 To celebrate the reopening of Tenshin, lunch started with Kagami biraki, a tradition that marks new beginnings. A wooden mallet is used to break through the wooden lid of a sake cask and on the third call of "Yoisho!"—an expression used to show effort—the barrel is broken. The sake is then distributed among the guests and we toast to a good meal (and good fortune) ahead. 
LET THE FEAST BEGIN 
It's the way Chef Ishikawa prepares his ingredients with the utmost care and respect that makes watching a master do their work incredibly intriguing. To whet our appetite, the omakase started with toumorokoshi tofu, sweet corn tofu with a refreshing taste—an ideal start to the meal. While we ate the appetiser, we were told of Chef Ishikawa's signature dish—satsumaimo. The dish is Japanese sweet potato coated in batter and flash-fried first, then kept in the oil to cook at an incredibly low, controlled temperature for one to two hours.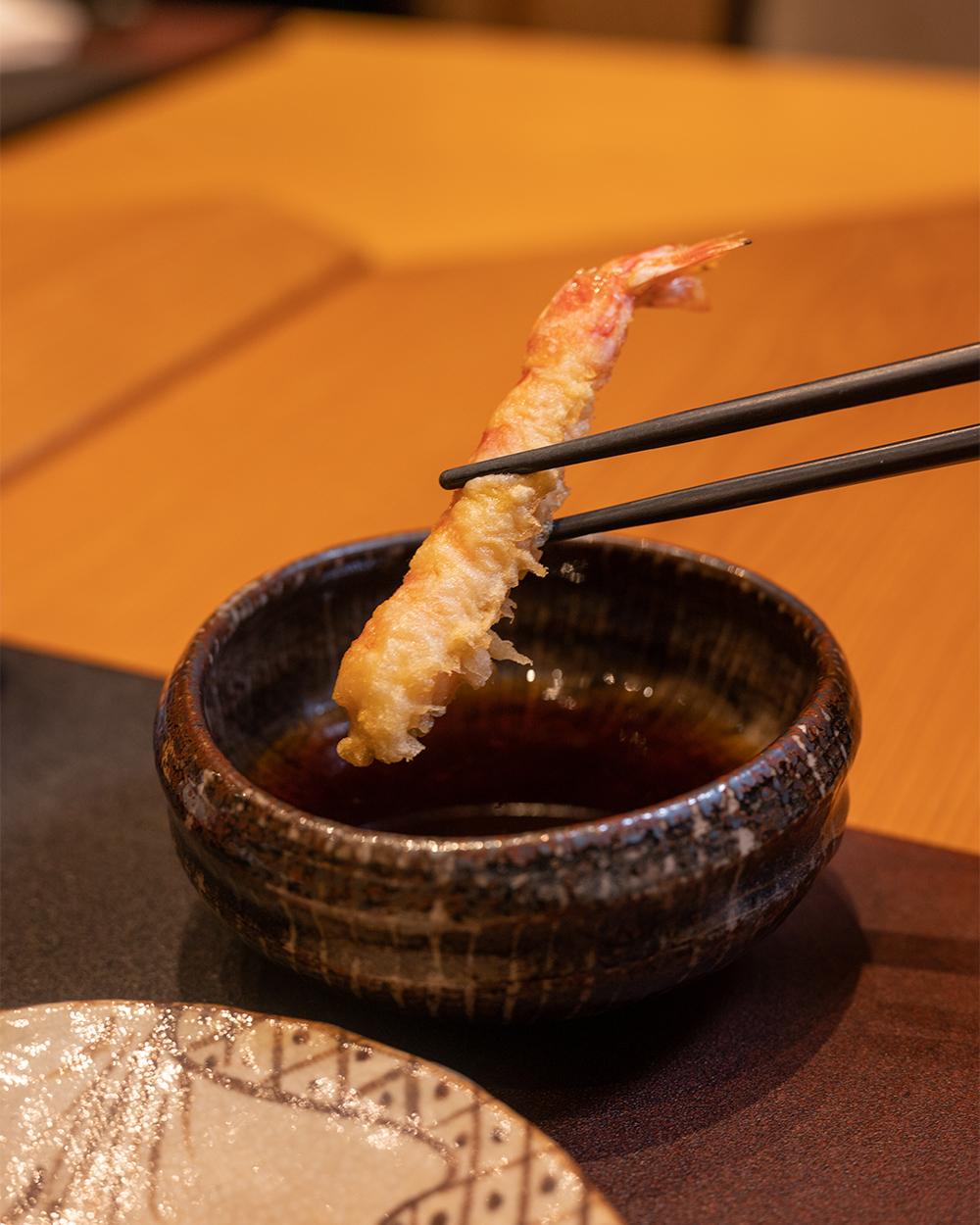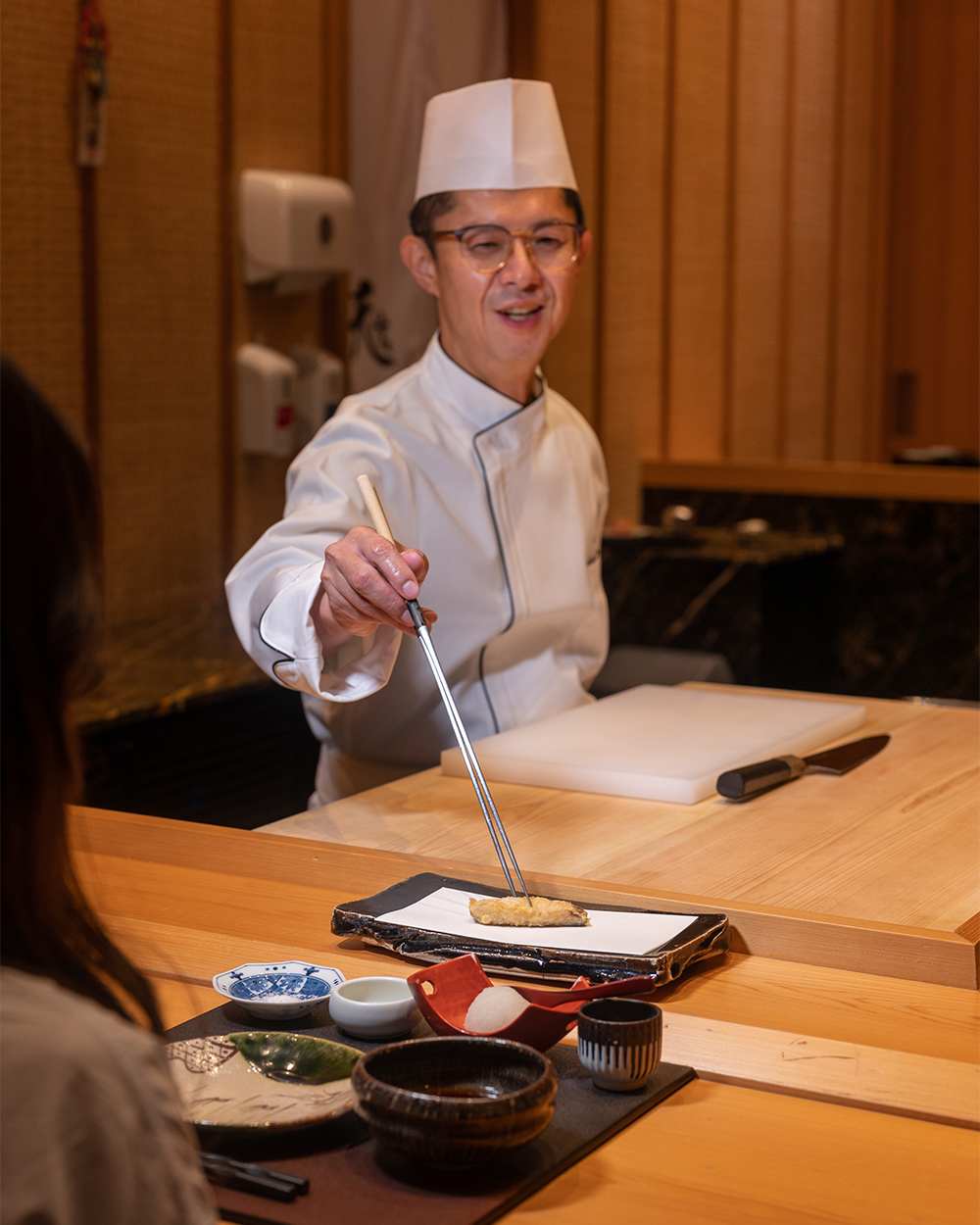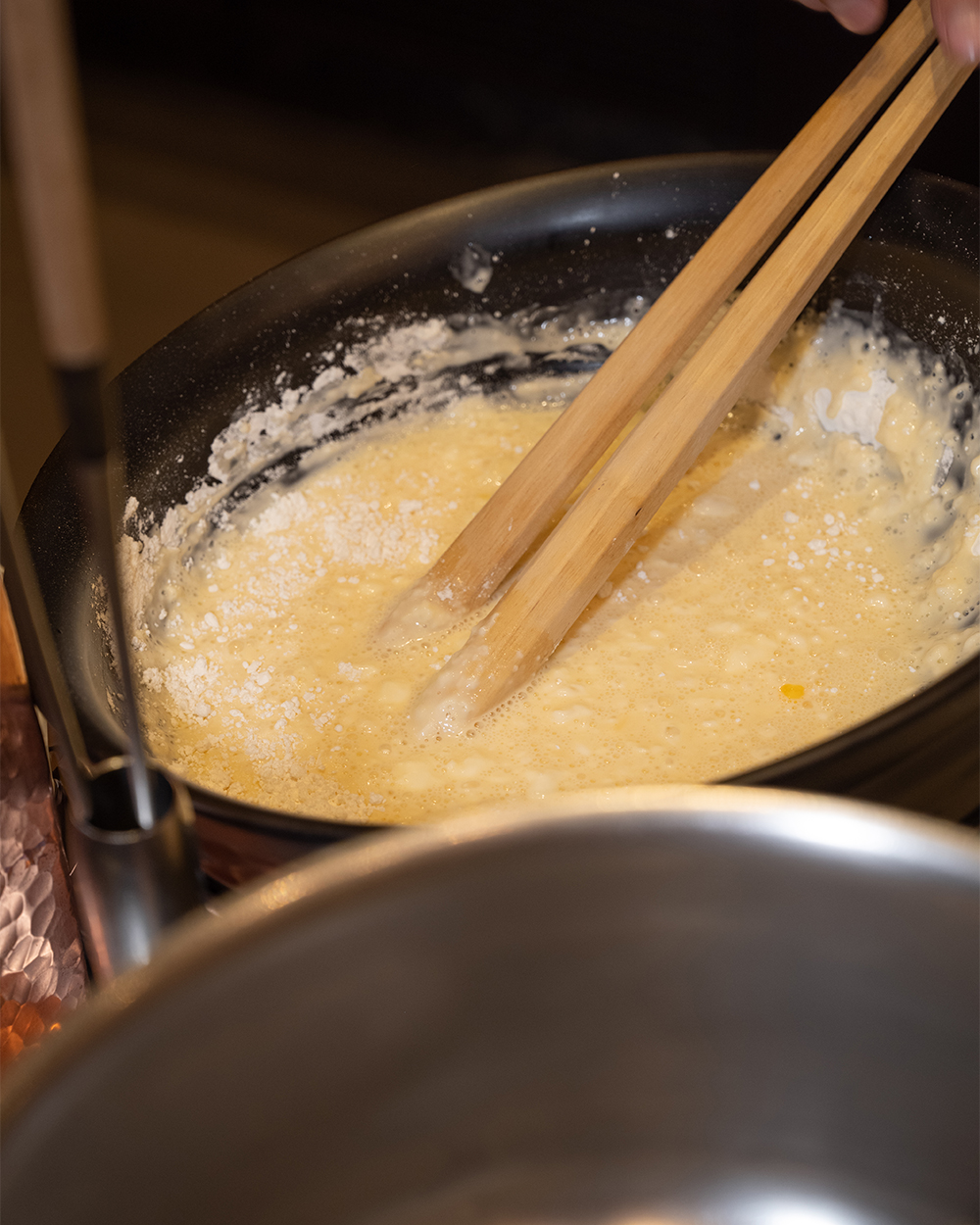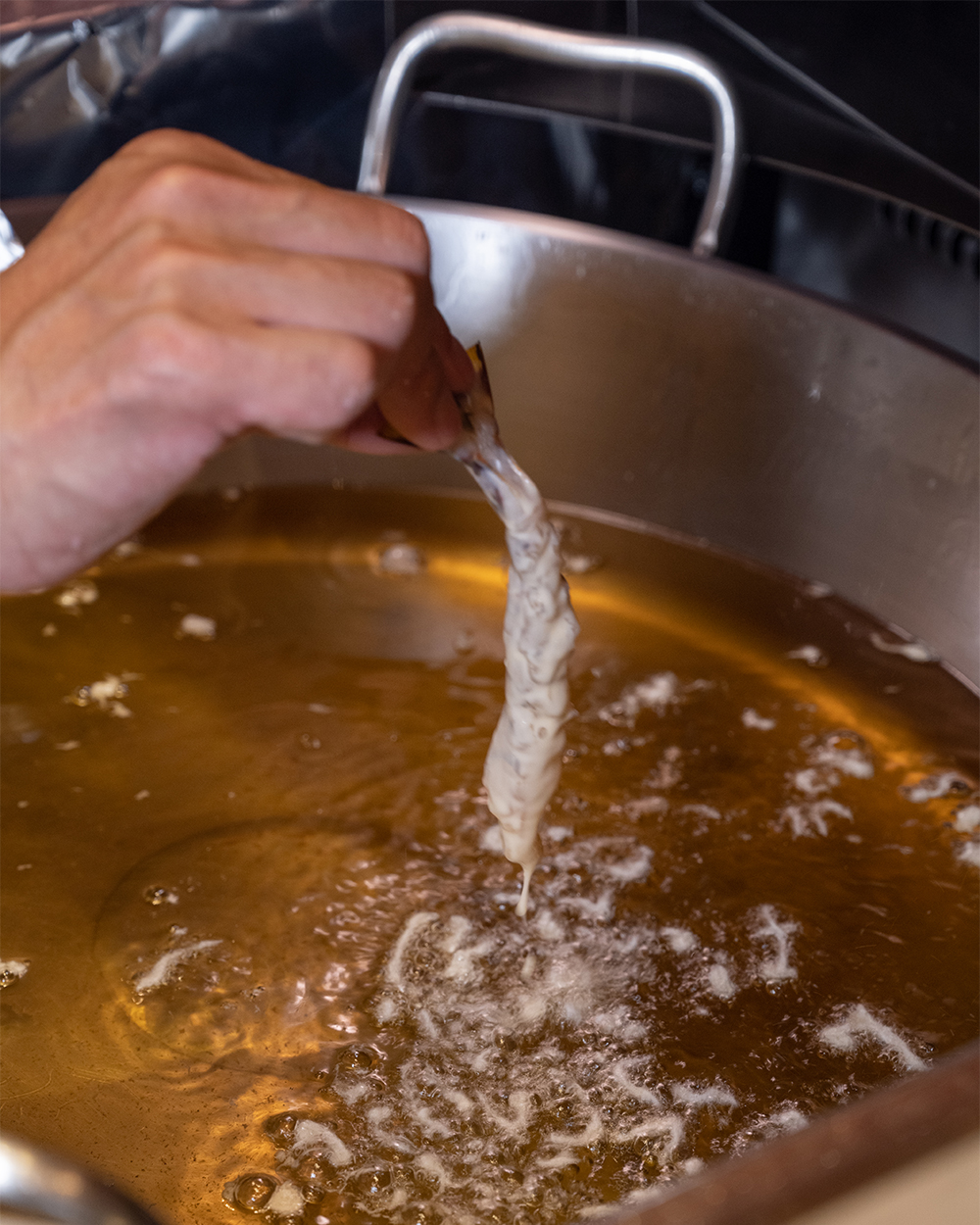 After that, Chef Ishikawa began preparing the first round of tempura. As the ingredients, batter, and oil were curated with maximum effort, the tempura requires minimal accompaniments. There are only two ways of eating tempura—you either eat it with salt and lime or dip it in tentsuyu, a sauce with grated radish. Chef Ishikawa's tentsuyu sauce is a house secret, rich in umami and complements every course. 
Next, we had a whole Japanese prawn—ebi and ebi no atama (yes, including the head!)—as it's lighter on the palate. I was pleasantly surprised at how much I liked the prawn head because it's something I always put away, even though I know that's where most of the flavours come from. Then it was followed by toumorokoshi (sweet corn), tachiou (swordfish), okra (lady's finger), and akanasu (eggplant)—all coated and fried to perfection.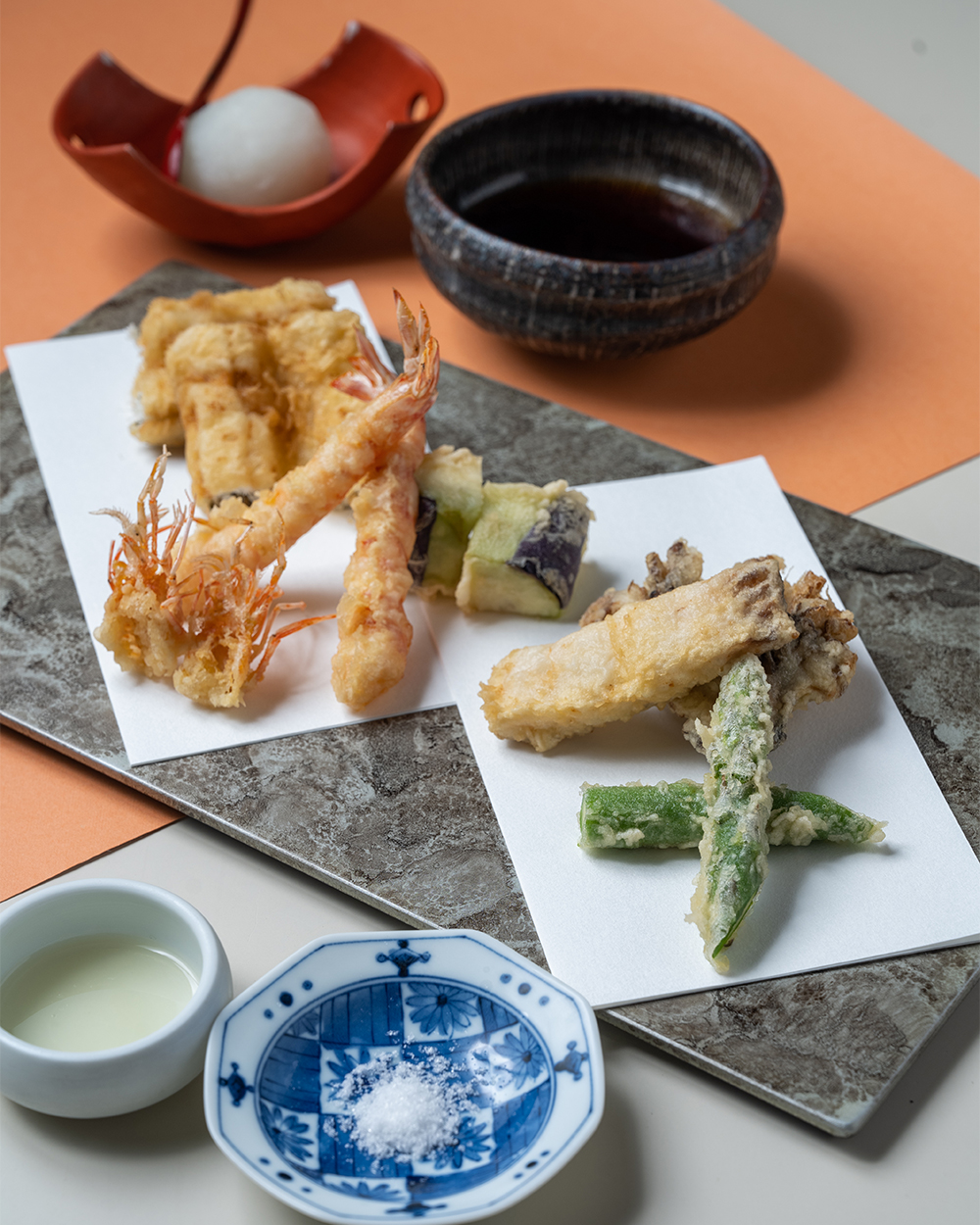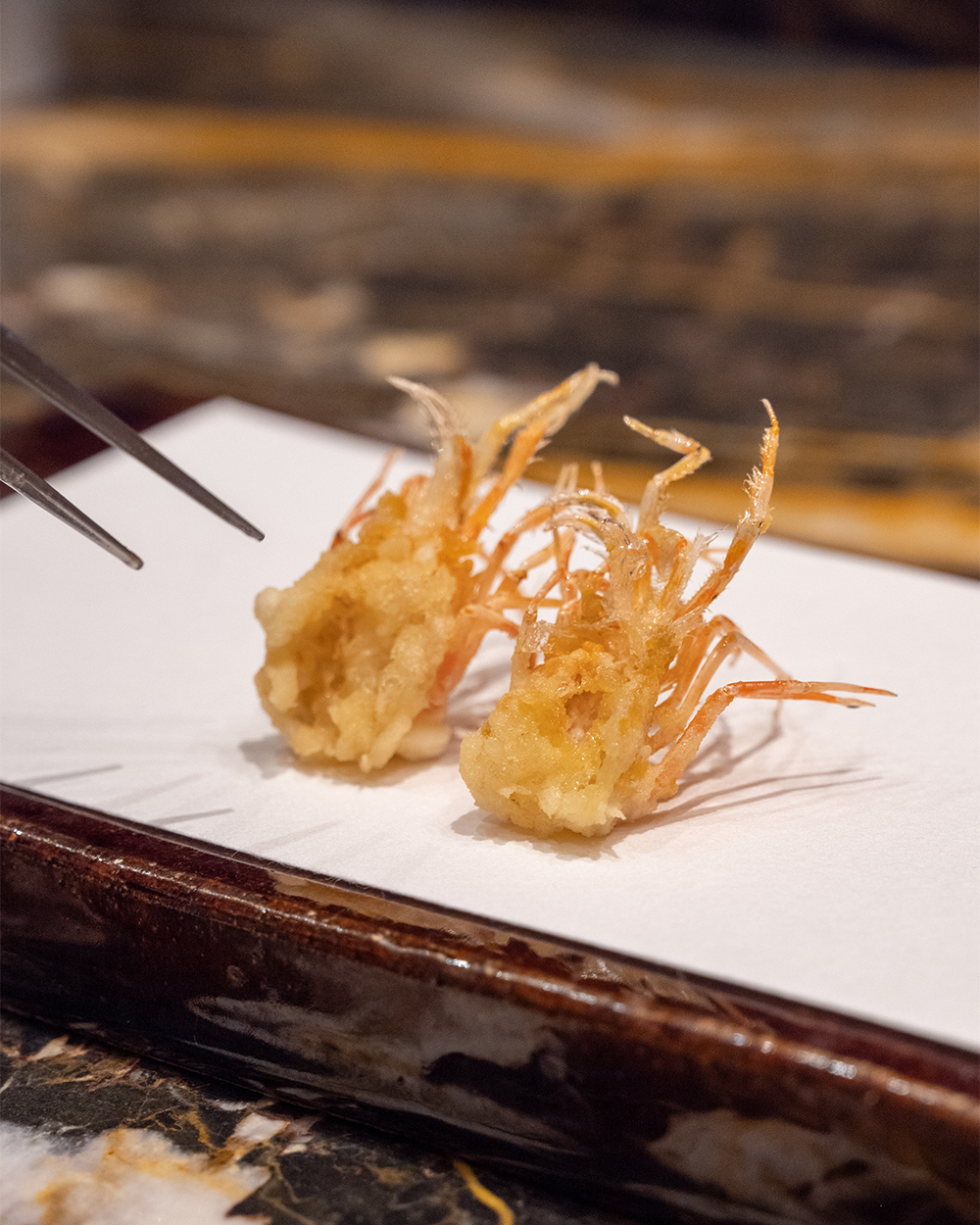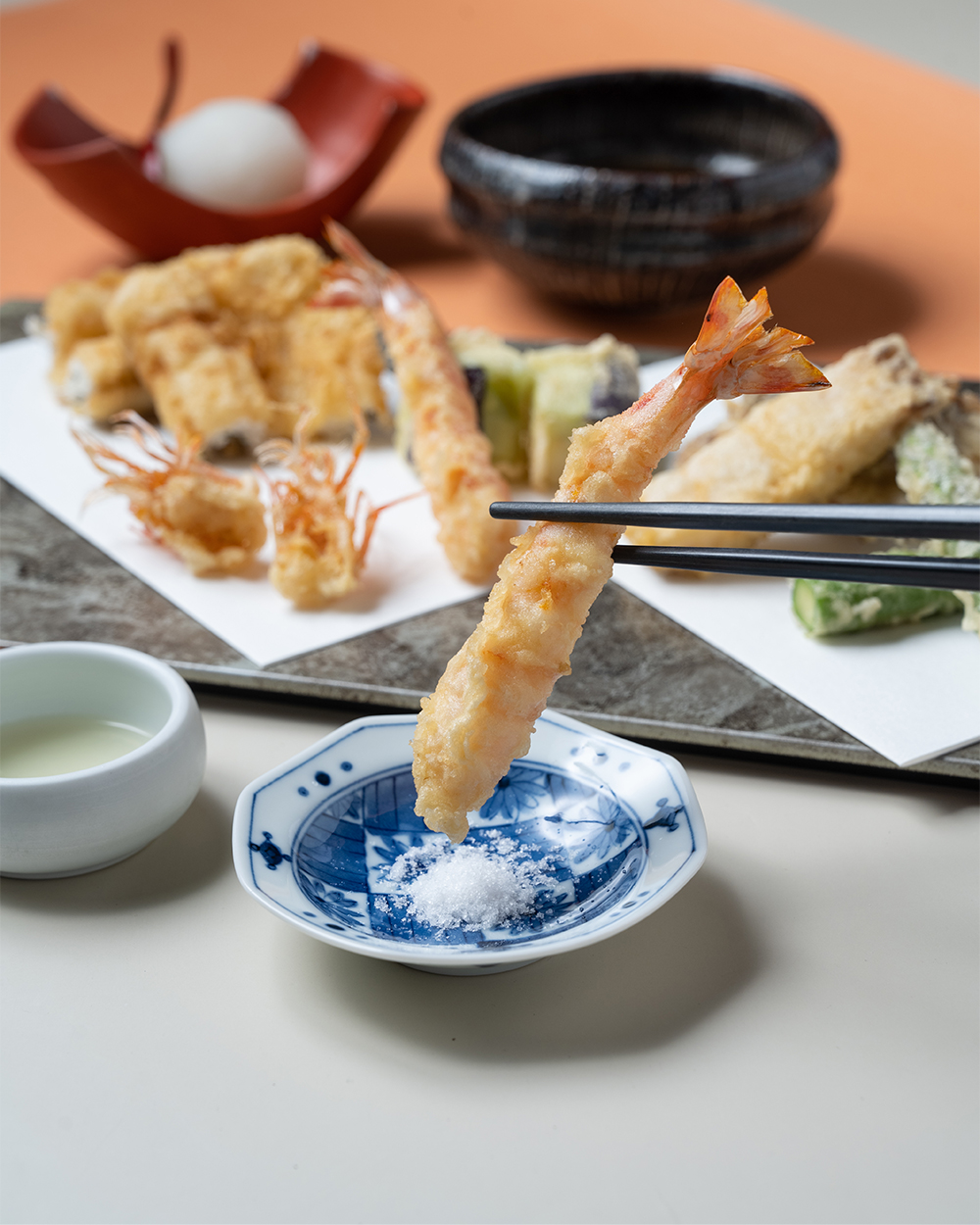 To tantalise our tastebuds, we were then served mosuki no sunomono—a tangy entree consisting of seaweed with vinegar, before we started on the second round of tempura. 
With every dish Chef Ishikawa presented, he proceeded to explain which condiment—salt and lime, or tentsuyu—would suit it best. Round two presented kisu (whiting fish), shiitake (shiitake mushroom), and anago (sea eel). As we rounded up the tempura dishes, it was clear how much attention to detail was put into choosing these ingredients as every one of them was fresh and tasted incredible.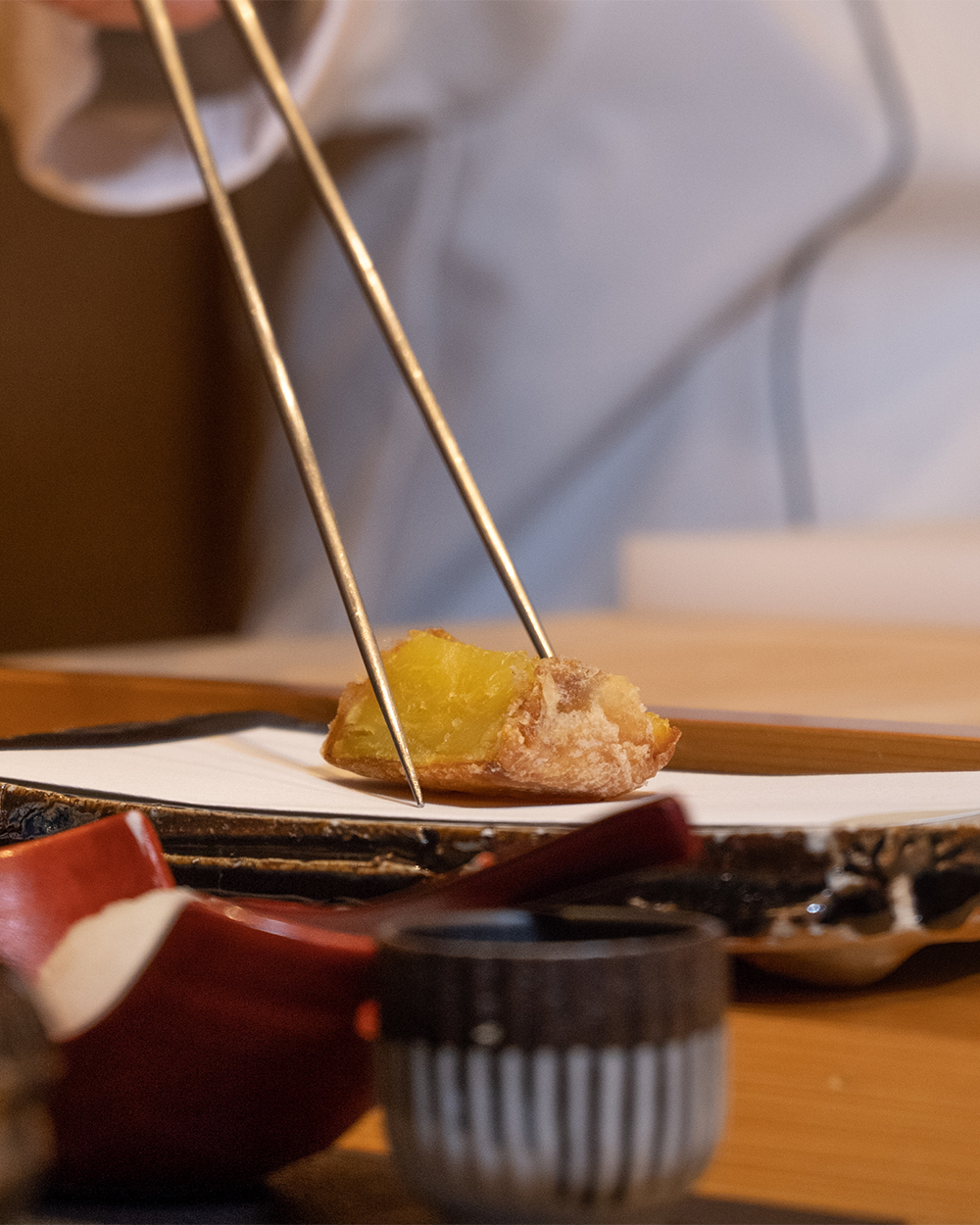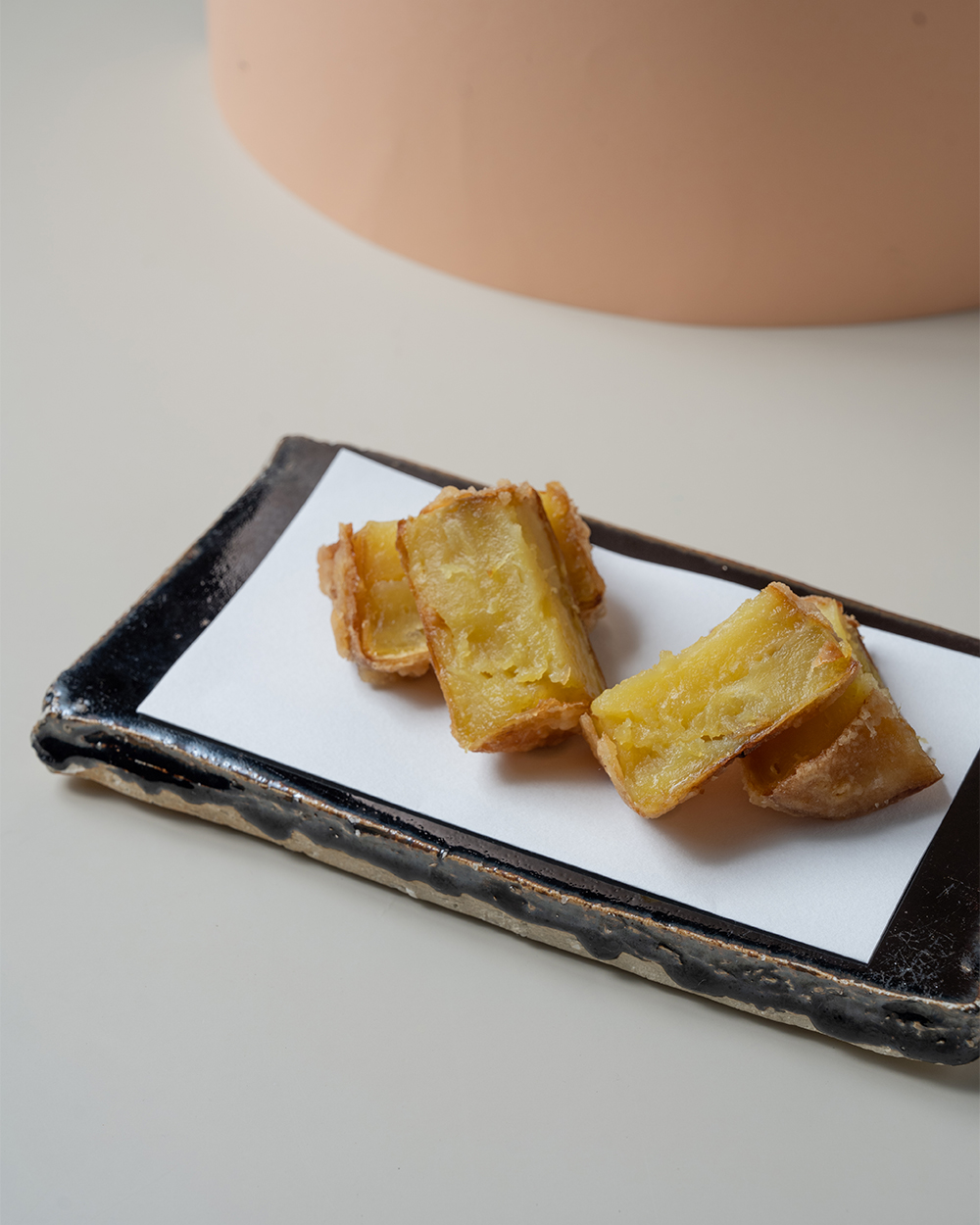 Almost an hour into our meal, it was time for the star of the show. The satsumaimo was finally ready to be served and it did not disappoint. As Chef Ishikawa cut into the root vegetable, I could see the golden flesh of the sweet potato. The interior was tender with bursts of sweetness, while the exterior had the perfect crunch.
Up next was the rice bowl, koebi to masai no kaki age tseukemono akadashi, offering small shrimp with a mixed vegetable pickle served on top of rice with a side of miso soup. We were given a choice of tendon (kakiage with sweet sauce) or tencha (kakiage with green tea and bonito stock). I chose tendon as I preferred something sweet. It came with an egg on top with a yolk that burst into the rice bowl, making it a creamier dish. The miso soup on the side was great as it helped elevate the flavours too.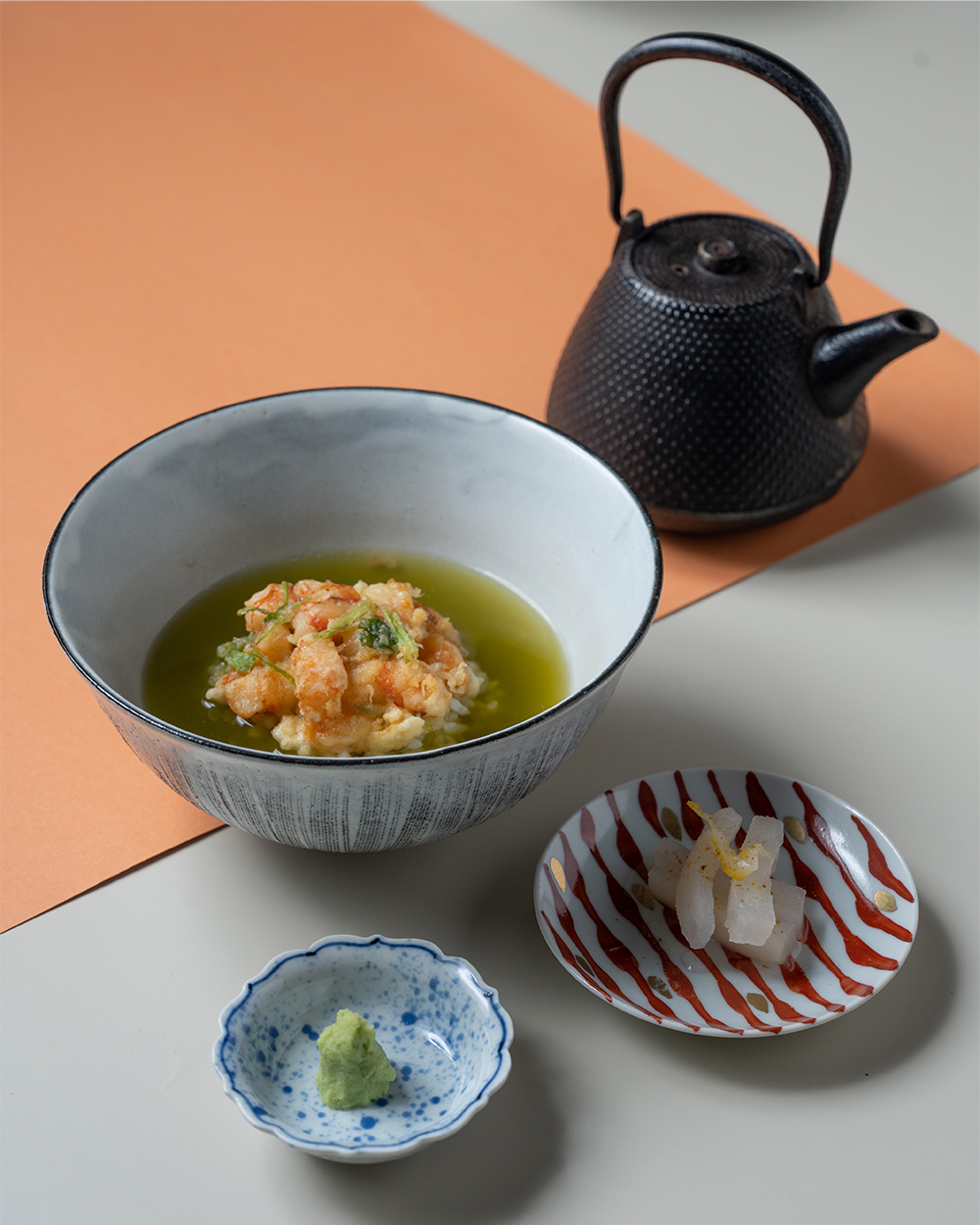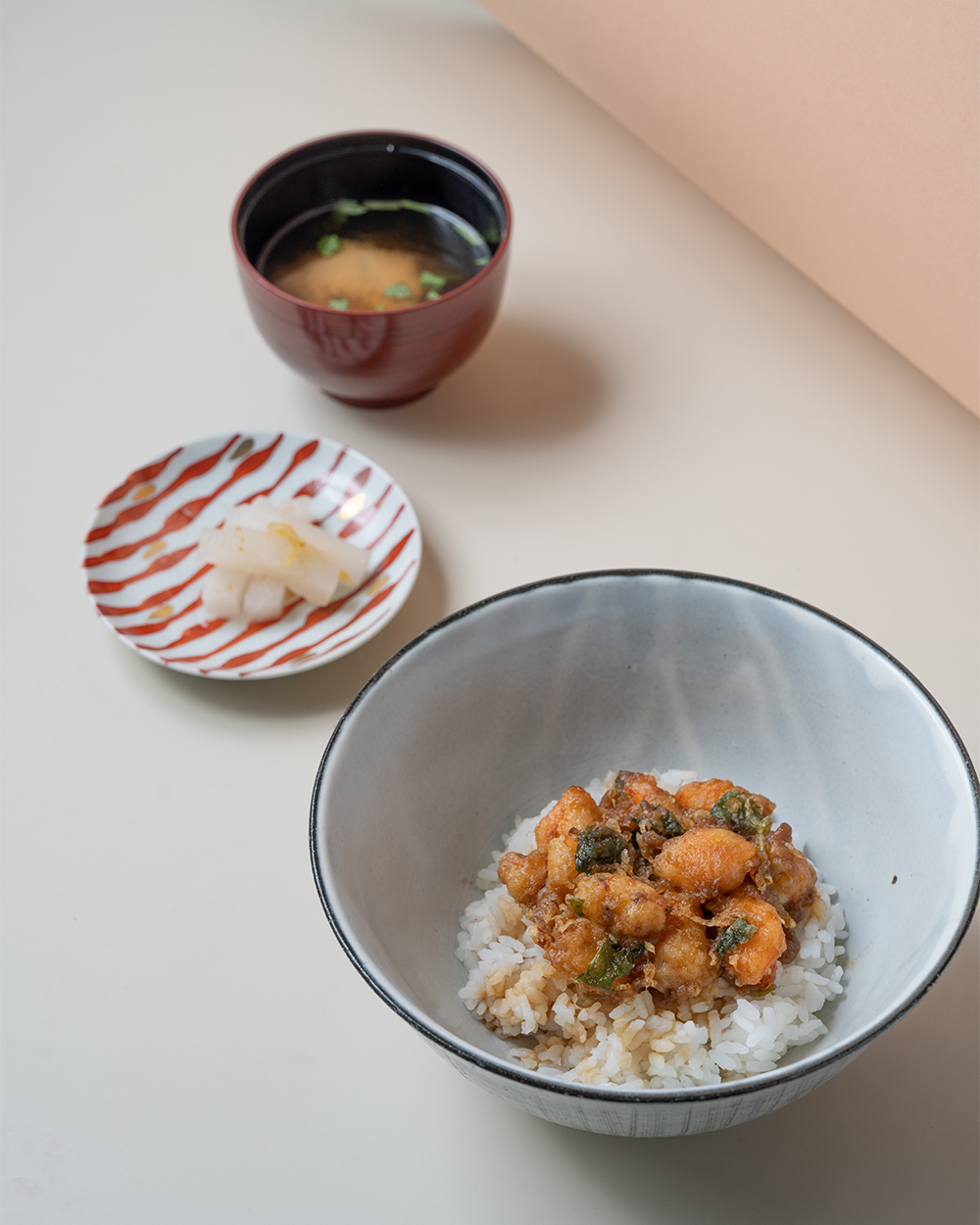 Now, what's a meal without dessert? Between the Japanese egg pudding and strawberry ice cream, I decided to go with the latter as I needed something tangier to top off the meal. Although it's considered the simpler choice between the two, the refreshing strawberry ice cream did not disappoint. 
As my first tempura omakase, the experience at Tenshin was truly amazing. From start to finish, it's apparent that every aspect of the meal was well-thought-out with dishes that complement each other wonderfully.    

TENSHIN
Address: The St. Regis Kuala Lumpur, Kuala Lumpur Sentral, 50470 Kuala Lumpur, Federal Territory of Kuala Lumpur
Operation hours: 
Tuesday to Sunday  

Lunch – 12pm to 2.30pm (last order at 2.15pm)

Dinner – 6pm to 8pm and 8pm to 10pm (last order at 9.30pm)
Price: From RM400
For reservations and enquiries, call 012-330 3600 or visit their website here.
Read more food and drink stories here. 
| | |
| --- | --- |
| SHARE THE STORY | |
| Explore More | |