We break down the various types of vegan milk alternatives today and how to choose the best one for you based on your needs and preferences
Plant-based food advocates no longer have to search far and wide for options in Malaysia. In fact, what was once reserved for vegans and tree-hugging activists has now entered the mainstream food and beverage industry, hot on the heels of the sustainability movement.
Non-dairy milk alternatives are arguably one of the most sought after plant-based foods, with many cafes and coffee joints now offering substitutes to standard milk. Coupled with lactose intolerance, dietary restrictions and personal preferences, there's now a serious case for vegan milk alternatives in the country.
Back in the day, most may be familiar with soy, almond and rice milk alternatives. Since then, the growing demand for alt-milks has added several other options made from beans, nuts, grains and rice to the table. We break down the various types of vegan milk alternatives today and how to choose the best one for you based on your dietary needs and preferences.
Almond milk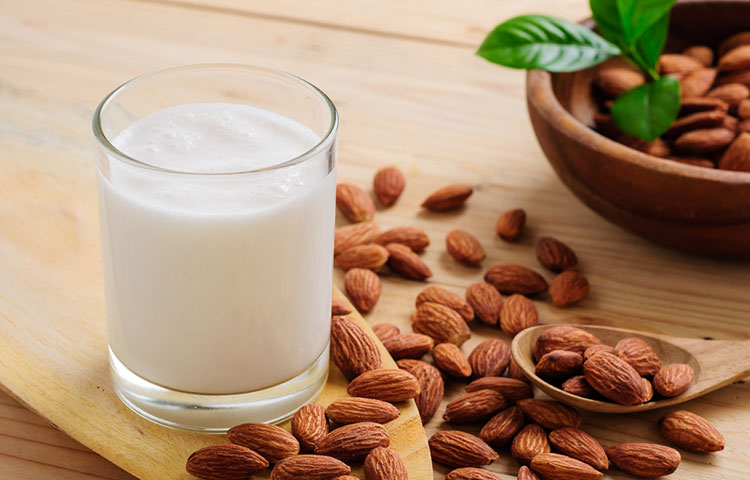 Almond milk is a popular replacement for dairy thanks to its slightly sweet, nutty flavour. It's made by soaking almonds in water, then blending and straining the mixture to remove the solids. The longer the almonds are soaked, the creamier the milk will be.
Pros: It's high in calcium and vitamins E and D and relatively lower in calories compared to other non-dairy alternatives.
Cons: Since it doesn't take a lot of almonds to produce almond milk, it isn't high on protein and doesn't count much towards your daily protein intake. Almond milk is also infamous for being bad for the environment as its production requires a high water consumption.
Recommended for: Baking, drinking, smoothies
Try: Blue Diamond Original Almond Milk, 137 Degrees Almond Milk
Cashew milk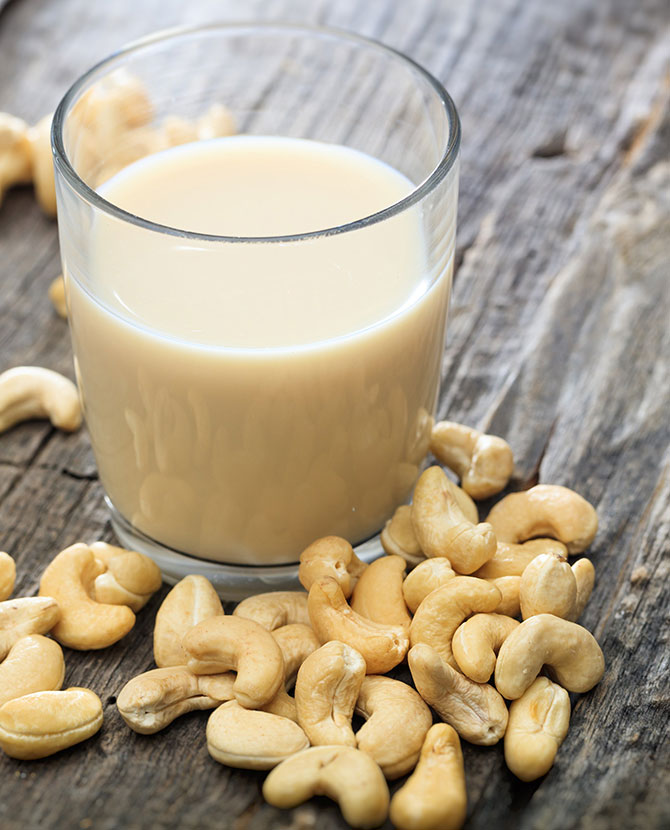 Although cashew milk is less common among the nut milks, it is touted as the most similar to cow milk. It features a thick, creamy texture and is suitable for those starting out in their plant-based journey.
Pros: Cashew milk is low in fat, carbs and calories—a great option if flavour and weight management are your main considerations in making the transition to vegan milks.
Cons: Like almond milk and all other nut milks, cashew milk is low in protein and lacks nutritional value overall.
Recommended for: Baking, drinking, coffee
Try: Sanitarium So Good Cashew Milk
Coconut milk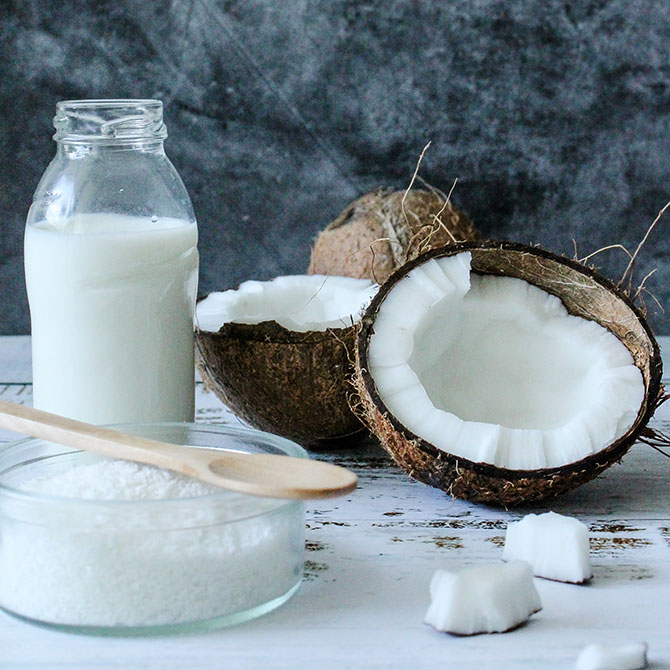 There are generally two types of coconut milk in the market: canned coconut milk (coconut cream) and carton coconut milk. The former is ideal for cooking curries and creamy bases, whereas if you're talking about beverages, the latter is the one you should be looking for.
Pros: If you're a fan of coconut, chances are this alt-milk will be up your alley. In terms of nutritional value, coconut milk is full of healthy saturated fats, vitamins, minerals (copper, folate, selenium, and magnesium), and amino acids.
Cons: Like nut milks, coconut milk is low on protein compared to dairy. It's also higher in calories, which isn't ideal if your goal is weight loss. With that said, you can opt for thinned and unsweetened coconut milk to manage your calorie intake.
Recommended for: Cooking, ice creams, desserts
Try: Milklab Coconut Milk, Pure Harvest Organic Coco Quench Coconut Milk
Hazelnut milk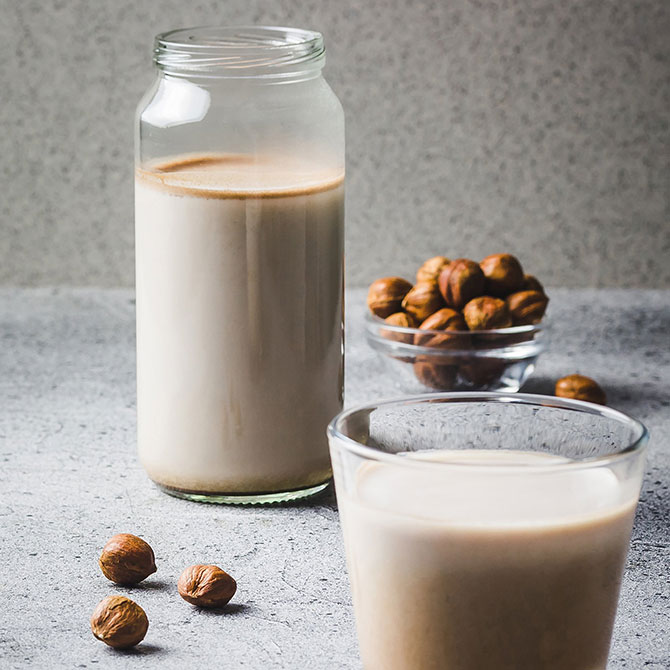 Hazelnut milk is made by roasting hazelnuts, soaking them in water, then blending them and straining the liquid. Fans of hazelnut may enjoy this vegan milk alternative, which is said to have a stronger nutty flavour than most milks.
Pros: It is packed with healthy fats and fibre, and is also a good source of vitamins B1, B2, B6, and E. Coffee houses particularly enjoy this because of how well it pairs with coffee.
Cons: Most nut milks are low in protein and hazelnut is no exception, although it does offer more than double the amount of protein in almond milk. It's also high in fat and calories, but low in calcium.
Recommended for: Baking, drinking, coffee
Macadamia Milk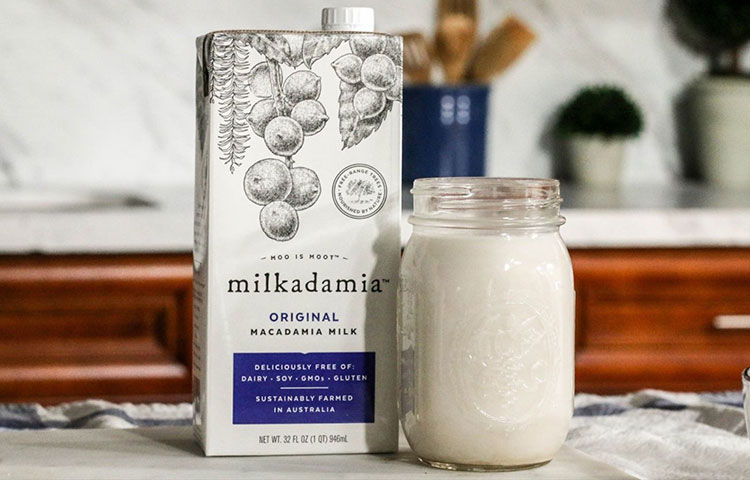 Macadamia milk is another new kid on the block that's catching on in the dairy-free world due to its rich, creamy flavour. Similar to other nut milks, it is made by blending soaked macadamia nuts with water.
Pros: Aside from the fact that macadamia lowers your risk of heart disease and stroke, its milk is rich in vitamin B1 and D, magnesium, and manganese. It's also a good low-carb option.
Cons: We run the risk of sounding like a broken record here, but macadamia milk—like all nut milks—is low in protein.
Recommended for: Baking, drinking, coffee
Try: Milklab Macadamia Milk, Milkadamia Unsweetened Macadamia Milk
Oat milk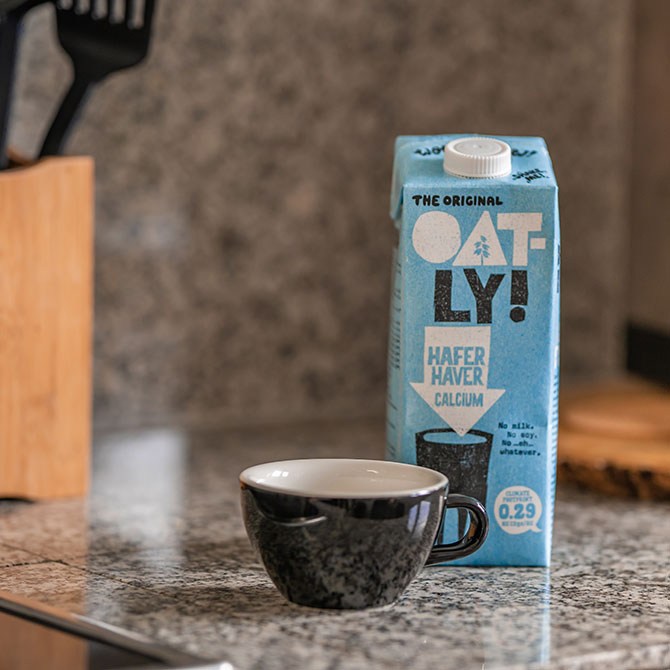 Oat milk is made by soaking oats in water then blending and straining the liquid, which results in a rich, creamy profile. It is one of the more common milk alternatives that can be found at most grocery stores and cafes.
Pros: This plant-based option is favoured for its nutritional value that's low-fat and high in fibre, protein, calcium and B12. It is also allergy-friendly and cholesterol-free.
Cons: It is higher in carbs and calorie to fat ratio, which may not be preferable if you're watching your carb consumption.
Recommended for: Baking, cereals, coffee, drinking
Try: Oat-ly Original Oat Milk, Minor Figures Organic Oat Milk
Pea milk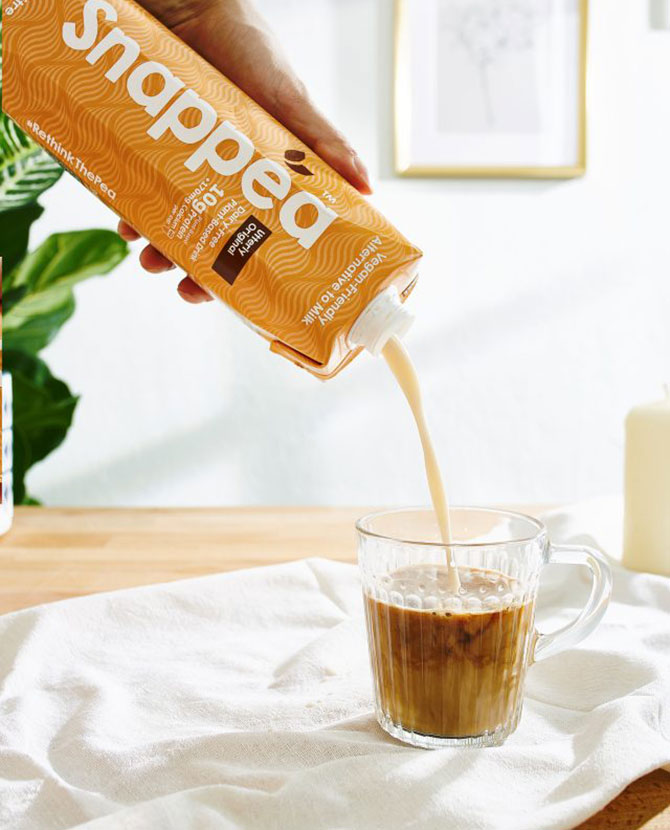 One of the newer milk alternatives around that's fast gaining popularity, pea milk is made by milling peas in to flour, separating out the protein and blending that in water. It has a smooth, creamy texture and a nutty flavour that may include hints of vanilla extract.
Pros: Peas are known to be high in protein, so it follows that pea milk (which is derived from pea protein) is high in protein too. Plus, it has fewer calories than cow and soy milk, as well as higher omega-3 fatty acid content. As pea milk is soy- and nut-free, it's safe for most people with allergies and intolerances.
Cons: Pea milk often contains sunflower oil, which is high in Omega-6 fatty acids that contribute to inflammation.
Recommended for: Drinking, smoothies
Try: Snappea Original Pea Milk, Sproud Original Unsweetened Drink, Mighty Pea Milk Original
Soy milk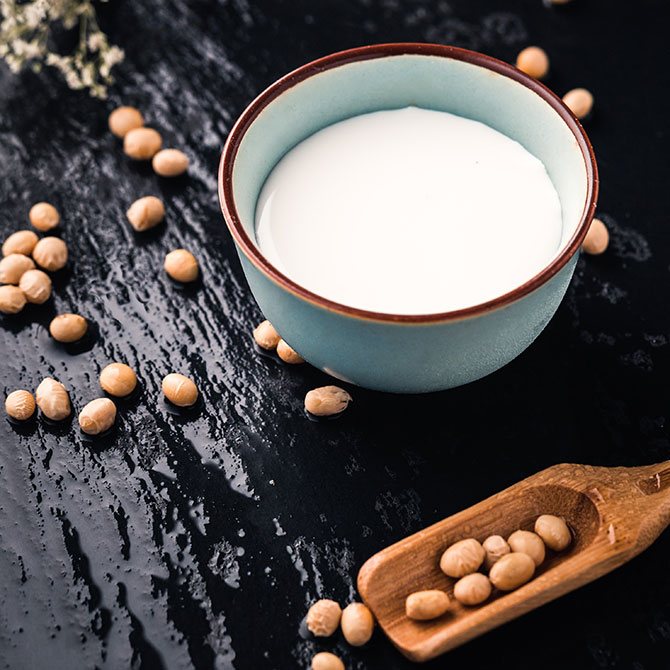 Soy milk is probably still the most widely offered alternative in the market today. It is made by soaking soybeans and grinding them in hot water, which produces a nutty flavour that is sometimes fortified with vanilla.
Pros: Of all the alt-milks, soy milk is the closest to dairy in terms of protein and calories. It also offers healthy doses of calcium, omega-3 fatty acids and vitamin A.
Cons: There's a high percentage of genetically modified (GMO) soy in the industry, so be careful to look for non-GMO labels to avoid developing allergies or possible estrogen-like effects. It's also advisable to consume in moderation as too much soy intake is attributed to bloating and discomfort.
Recommended for: Cooking, drinking, cereals
Try: Plenish Organic Soya Unsweetened
Rice milk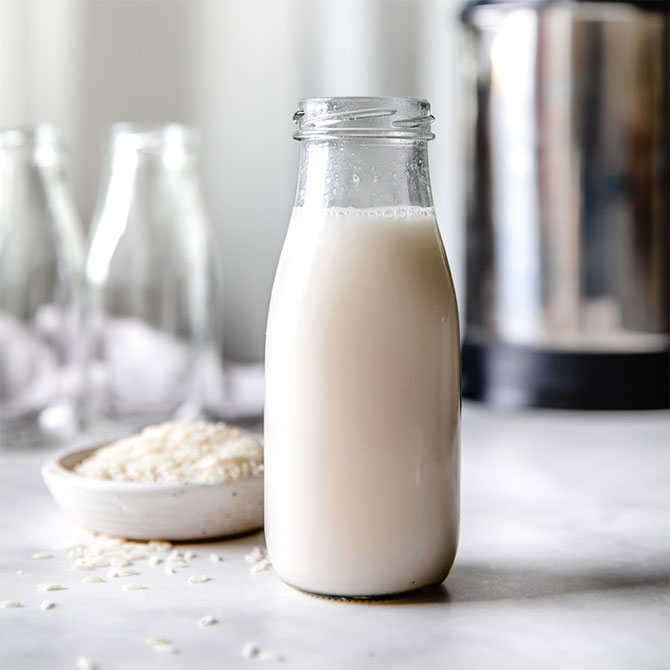 When you combine milled white or brown rice with water and strain out the grains, you're left with rice milk. It is known to have the lightest texture among the milk alternatives, featuring a subtle sweetness from the rice.
Pros: Rice milk is the least allergenic milk substitute, which makes it a safe option for those with allergies or intolerances to gluten, soy, nuts and dairy.
Cons: Unfortunately, it has very little nutritional value and may cause a spike in sugar levels due to its high glycaemic index. It is also higher in calories and sodium, which is why experts don't generally recommend it unless you're allergic to other milk alternatives.
Recommended for: Baking, cereals
Try: Pureharvest Organic Rice Milk Unsweetened
Others: Edamame, flaxseed
We've included several other milk substitutes that are less common in Malaysia, but may be worth considering if you have access to them. These include (but are not limited to) edamame milk and flaxseed milk.
Edamame milk: Preferred for its source of protein, fibre and antioxidants but may cause minor side effects such as stomach discomfort
Flaxseed milk: Light and relatively flavourless alternative that's low in calorie and cholesterol and rich in Omega-3 fatty acids, but low in protein
For more plant-based and vegan alternatives, head over here.