Where great views, chill vibes, and delicious drinks and bites await
Just a few minutes walk away from the happening hotspot that is The Row you'll find Hotel Stripes Kuala Lumpur, an urban-quaint destination in the heart of KL for staycations and getaways. But accommodation aside, it is worthy to note that you might just find your new favourite bar for drinks after hours at the hotel's rooftop too. Meet Man Tao, a modern yet charming neighbourhood nook-inspired rooftop pool bar overlooking the city.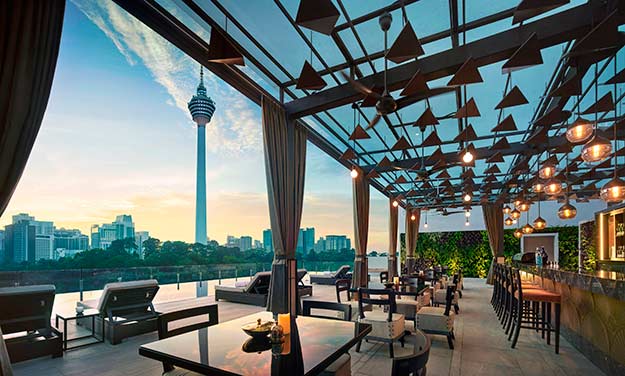 In the drinks department, Man Tao excels in concocting Tsingtao beer-themed cocktails, often featuring a compelling combination of tropical ingredients and exotic aromas. Their handcrafted signatures include China Doll, Moon Goddess, Spicy Rooster and Tsing Tini. True to its name, the bar is also known for their steamed mantaos—light, fluffy buns served with an innovative variety of fillings. For a Malaysian twist, try their signature mantao with ayam kunyit filling. 
For the best experience, we suggest getting there before sundown. Imagine yourself enjoying cocktails and delicious bites with good company to a breathtaking view as the sun sets across the city—not a bad way to end the day at all. 
Man Tao is located at the rooftop of Hotel Stripes Kuala Lumpur. For more information, visit the website.