Curious to know if vegan meat is actually good? I tried the best of Malaysia's meat substitutes so that you don't have to
I won't lie to you: I love meat. I love the texture, the flavour, the versatility; it's very clear why it's such a staple of the Malaysian diet—duh—it's delicious. That said, despite my occasional carnivorous tendencies, I am not averse to vegan food. In fact, I'd say it's actually great... if you know where to find it and/or cook it.
READ: 9 Best plant-based and vegan-friendly restaurants in KL
I'm not here to preach the benefits of a vegan diet, either (though, to be fair, they are plentiful). No, I'm here to tell you exactly what you want to know: Do vegan substitutes hold a candle to the real thing?
I'll be assessing two brands of vegan meats according to five criteria: 
Mouthfeel and texture
Taste
Smell
Appearance
Believability
Now, without further ado, here are my honest thoughts:
Green Monday X Omnimeat
The first meat substitute on the roster is Omnimeat, a vegan, hormone-free, antibiotic-free, and Buddhist-friendly alternative to meat. This substitute comes in three forms: Luncheon, Mince, and Strip. 
I had the pleasure of sampling Omnimeat through their collaboration with Nourish by Kenny Hills Bakers—I tried both the Omnimeat Luncheon Pastry and the Omnimeat Mince Spaghetti Bolognese, and I have to say I was pleasantly surprised.
With regards to the bolognese, if I hadn't explicitly known that it was vegan, I would have just assumed it was made with chicken mince. If you ask me, the Omnimeat managed to capture the texture of real chicken mince, as well as the look of it. 10/10.
However, I cannot conclusively comment on the flavour nor the smell of the mince as the tomato sauce disguised it. That isn't necessarily a bad thing, though—if you're a fellow meat-lover looking to cut down your meat consumption without compromising too much, cooking Omnimeat in a saucier dish (say, chilli, lasagne, or dumplings) could be a good method for you.  
The vegan luncheon meat substitute was a completely different story, however. The pastry as a whole had the perfect texture—with a crispy and flaky crust and perfectly cooked filling—and the luncheon substitute was pretty spot-on in smell and appearance. I cannot comment on how the taste of the meat holds up to the real thing as I've never actually had luncheon meat (my body is a pork-free zone), but I'll tell you that on its own, it's good.
In fact, after tasting the Vegan Luncheon Meat Pastry, I was so impressed that I immediately went and ordered more of the luncheon meat, to see if I could get it to taste as good at-home. I fixed myself some ramen and fried the luncheon strips according to the directions on the packet, and I wasn't too disappointed!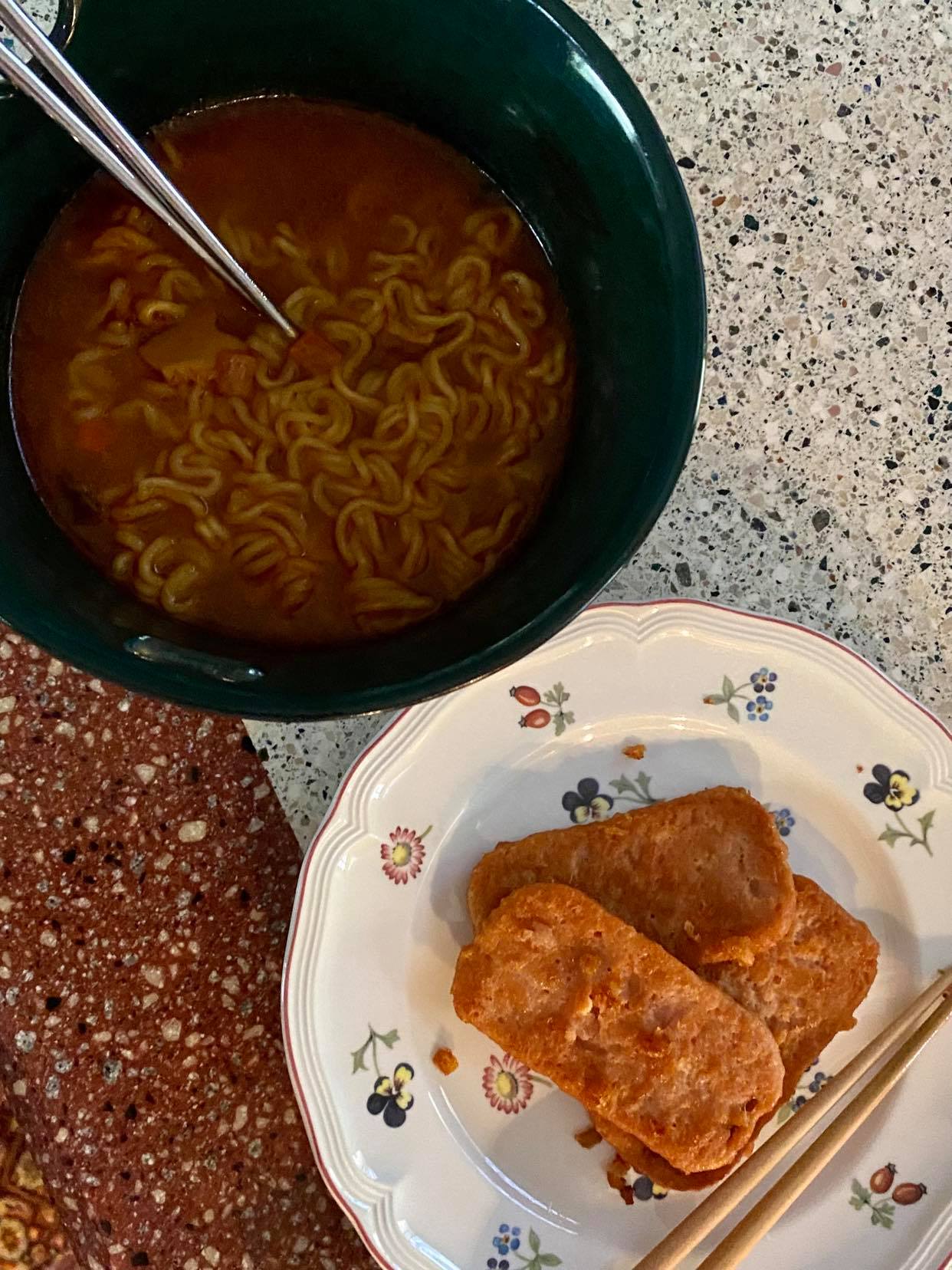 Fried in nothing but a little vegetable oil, the luncheon meat gets some good colour on it and keeps that texture I have now grown to crave. However, in the future, I'll probably add a touch of garlic and onion powder here and there to cover that initial synthetic taste that is common in most vegan and vegetarian meat substitutes. That said, the synthetic taste is only there for a second, then it disappears, leaving nothing but a tasty (and guilt-free) treat behind—with a few minor tweaks, it's a winner in my books!
You can find OmniMeat online here, or at Ben's Independent Grocer, JayaGrocer, Village Grocer, Oliver's Gourmet, and selected AEON supermarkets, as well as Nourish by Kenny Hills Bakers and Botanica+Co.
Beyond Meat
First and foremost, I'd like to declare that this isn't my first rodeo with Beyond Meat. As far as fair reviews go, I think I'm most objective when it comes to Beyond Meat, purely because I've tried so many different interpretations of it. As a result, I am pretty confident that I have a good scope of what it's capable of, and that I have given it enough chances to prove itself.
As a meat substitute on its own, I only have two words to say: Nice try. When I heard that the brand had landed in Malaysia, I immediately sought it out. I headed for the frozen section at the supermarket and picked up the Beyond Burger and the Beyond Sausage and cooked them to the brand's exact specifications. The verdict? It's hit or miss for me.
Unfortunately, I had overly-high expectations prior to trying it out (pretty much everyone I knew was raving about how convincing it was as a meat substitute), and it did not bode well for the experience. In terms of appearance, it's almost there—technically, the patty juices and crumbles as real meat does, but something about it just looks off. Further, the texture is pretty good, but it does depend on how you cook it.
Overall, it's not bad. However, the one issue I have with this particular "meat" on its own is the overwhelming, metallic taste that hits with every other bite—if you've tried it, you probably know what I'm talking about. Sometimes, it's so strong that you can literally smell it wafting off the patty. I cannot say for sure, but I'm pretty sure that the taste comes from the addition of iron mineral in the "meat". The brand blends a few minerals (such as calcium, iron, and salt) to replicate the "bloody" taste of real meat, but I could honestly just do without.
That said, this flavour tends to come out more with the burger than it does with the sausage. In fact, the sausage is pretty comparable to a British Lincolnshire sausage. It's tasty enough that I would happily swap out my beef and chicken breakfast sausages for Beyond Meat's sausages a few times a week (at least for the sake of my cholesterol).
That said, with the right condiments, the Beyond Meat burger patty can be salvaged, metallic taste and all. Enter stage left: Morbites' take on Beyond Meat.
Beyond Meat X Morbites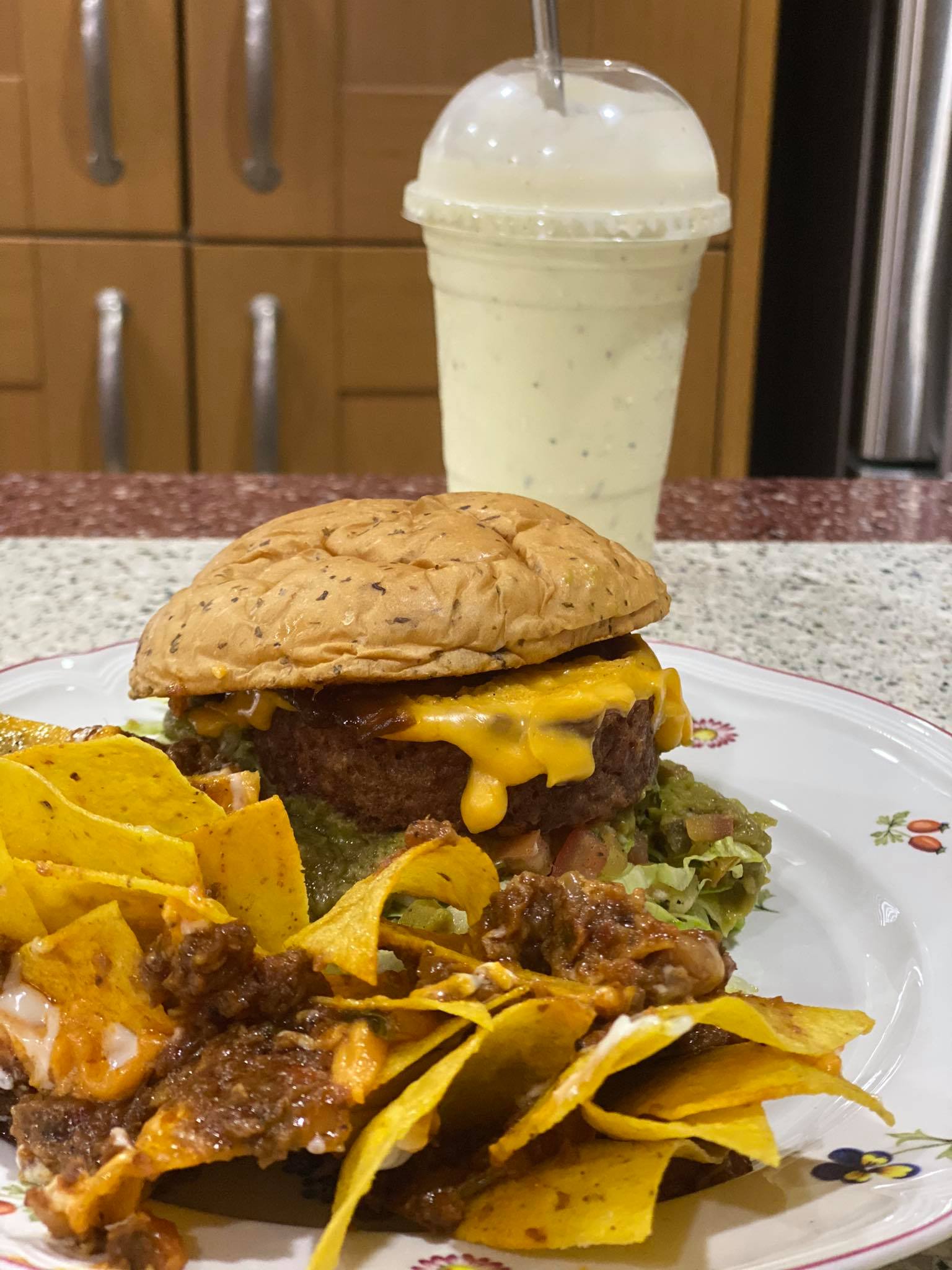 Don't be fooled by that convincingly melty cheese—this burger is completely vegan, as long as you ignore the beef chilli nachos and mango smoothie I requested on the side (oops). The Morbites Vegan Burger consists of the Beyond Meat burger patty, topped with green lettuce, vegan cheese, creamy guacamole salsa sauce, and Morbites' famous onion jam between homemade focaccia buns.
I thought it was actually a really nicely balanced burger—the acidity of the tomatoes in the guacamole salsa sauce played surprisingly well with the sweet onion jam. Plus, together, those two ingredients helped to disguise the synthetic taste of the patty, while the melted vegan cheese and fresh lettuce added some very nice texture to the burger.
I have to say, the patty still doesn't taste like meat on its own, but I'm almost fooled once you add the rest of the ensemble into the mix.
All in all, I'd genuinely order it again.
You can find Beyond Meat here on Vegan District, or try it out at Morbites.
So, with all that in mind: Do vegan substitutes hold a candle to the real thing?
Sure, if you know what you're doing.
Find more food reviews here.