Not a single scantily clad server in sight but this was still the hottest place in town
We arrived just as dusk began to fade. Overhead, a hot pink neon sign flickered and tossed some serious flattery our way.
"U look hot in a bikini," it said.
What a way to entice diners—thankfully, the heady fuchsia glow hid our blushing faces as we walked past the cheeky blurb into an expansive dining room that evoked an industrialist New York warehouse bathed in saucy Miami heat.
The restaurant may be named 'Bikini' but the menu was anything but skimpy. Embracing the au courant culture of shared plates, diners are advised to select an item or two from each section—Mouthfuls, Raw, Cured, Garden, and Land and Sea. The left margin of the menu, however, held one more option—tell your server, "Feed Me" and for the rest of the night, Jethro takes the wheel; Executive Chef Jethro Vincent, that is.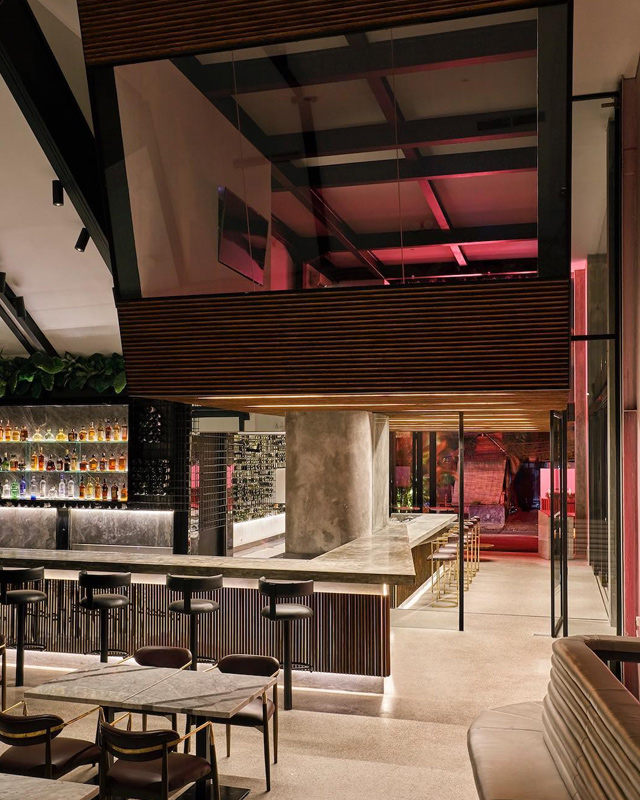 Our curtain-raiser came in four mouthfuls: beetroot, oyster, foie, and beef. Familiar flavours they certainly were, but their final iterations escaped our succinct expectations. The oyster was a cracker, the beef played second fiddle to puffed wild rice and nori, elderflower-pickled is our new favourite way of having beetroot and the foie... Let's talk about the foie. Four robust rolls arrived at our table on a gilded tray, resembling Cuba's finest. A dish with grey ash followed. Sure, you'd be disappointed if a smooth smoke is what you were after but luscious foie gras parfait laced with piquant quince, then rolled up in a flaky pastry tuile composed a cigar that's addictive sans nicotine. And the ash? Just caramelised butter and breadcrumbs, blackened with vegetable charcoal; also, just the most ingenious dip ever.
As we anticipated our next bout of oohs and aahs amidst zealous chomps, we raised our glasses to the beauty of Bali and our #BuroGetaway. Drinks came courtesy of award-winning mixologists, and the inventive cocktails warranted a few bright-eyed squeals of their own. 'Berries by Day, Dragon by Night' was a medley of red fruit balanced with a spike of citrus honey and Tanqueray gin. A faint hint of goji lent an earthiness to an otherwise sweet salut to the palate. The 'Tea Merchant's Breakfast' was poured into an art deco conical teacup. A sparkly and soft prosecco foam cushions the lips before welcoming a chamomile-tinged gin; airy and slightly bitter from the marmalade, this was sophisticated and exciting at the same time.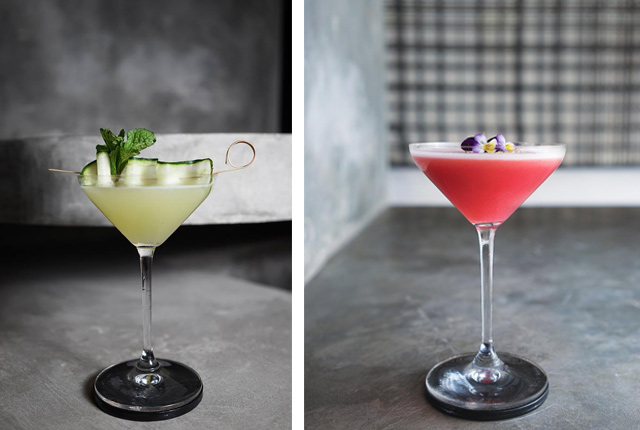 A round brass tin containing translucent oceanic morsels and various blobs of green piqued our interests immediately when the raw dishes were served. Bikini's take on aguachile, the spicy Mexican ceviche dish uses prawn and scallop as its base, cucumber brunoise for texture and freshness, and dewy ice plant shoots alongside cilantro caviar to add pops of flavour. The vibrant dish is mellowed by creamy dollops of avocado to counteract the acidity of the dressing; tying every spoonful together beautifully. We then travelled to Spain for the best of cured meats. A slightly damp crust on the focaccia did not bode well for the dish. But draped atop juicy (and much less briny) Sicilian olives, ribbons of sharp iberico paleta mingled wonderfully with the delicate milkiness of a manchego custard. This turned out to be so enjoyable, we hardly missed the jamon nor minded the bread.
Just before the mains, we were taken on a stroll through the 'Garden'. A leafy interlude we expected but a bounty we received. Bikini surprised us time and time again. Amongst the plates, it was the greenest that made the best impression—defying convention that a salad does not fulfil. We speak of the cucamelon-inspired cucumber salad. Our server mentioned a mint sorbet and feta snow but a sneaky peek into the chef's Instagram revealed that a total of three varieties of cucumbers were deployed for this. Also, the superior sweetness and grape-like texture of compressed rock melon spheres over conventional melon balls, any day. Corn came crumbed and carrots came candied—we're oversimplifying here but trust us when we say we'd devour bowls of these in front of a good Netflix original. A vegetable snack revolution could very well be underfoot!
With just a pocket of space remaining, a deep, dark platter landed on our table. Like a crown, a rack of Australian lamb was presented in a glistening fried shell, strewn with fragrant jewels of chilli, pepperomia, and peanuts. More of those flavour-packed aromatic bits swirled around the inky pool of black vinegar that soaked the ends of each rib—redolent of sinfully rich Asian sauces. Leaving no scrap of meat behind, we surrendered spotless ribs to be whisked away to the back of house.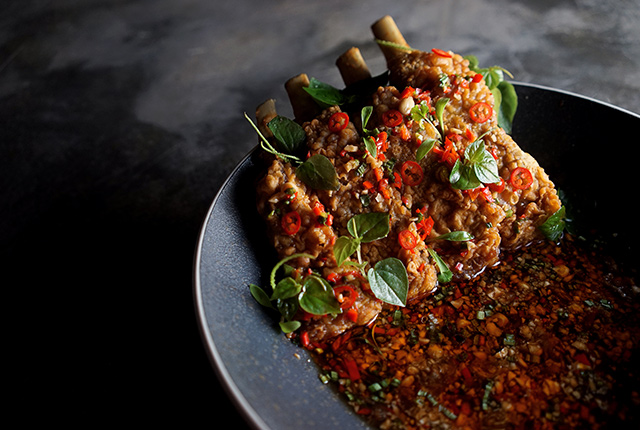 The restaurant made certain that it was a sweet surrender and nothing less. Fortunately, we still had dessert stomachs reserved for such a time as this. Cue the finale. The kitchen's mastery of ingredients and balance was drilled in one last time through beetroot, fermented goats milk and honey. Poetically reminiscent of our first mouthful, but in the way the prior was restrained, this was chaos magic personified. Under ambient light, we observed and we dug in, unveiling new elements with our sleuthing tongues. Layers of texture supplied revelations with every spoonful. Think Pollock; no matter how seemingly spontaneous an art piece may look, underneath the abstract lies control. Watch:
Bikini lives up to its name; the food was a visual feast, a sexy dining concept that whets the appetite and ignites a hunger. Oh yes, tweezers were absolutely necessary to keep things flawless but just as we got distracted, we were reminded, "Eyes up here!" because there were definitely brains behind this beauty. Our compliments to the chef! Hope ours are as flattering as the one we got coming through the door.
Bikini is located on Jl. Kayu Cendana, No. 6, Seminyak, Bali.
Related stories:
#BuroGetaway: Playful flavours aplenty at Sangsaka, Bali
Hit refresh after the after party at Away Spa, W Bali – Seminyak