The tech industry is indeed still a male-dominated one. There are some known female figures in the field but clearly, not enough to even be on par with the number of known male industry leaders.
Narrowing further to our country, Malaysia, alone, the numbers are even smaller. This month, we're aiming our spotlight to three Malaysian women working in the local tech industry—despite it still being considered an unconventional career path, and despite gender gaps and stereotypes.
A lengthy conversation broken down into a three-part series, previously, part one had the ladies explore common misconceptions and the gender gap. This is part two, which talks about the average working day and potential courses to take (yes, even if you're currently on a career path far from what you desire). Meet the three Malaysian women in tech who will be sharing their world with you.
WHO ARE YOU?
WEI JIA CHEN

Head of Consumer Product

Fave Asia

SEBASTIAN WANG

User Interface & Experience Designer

Kurechii

BRENDA LAU

Mobile App Developer

Apptivity Lab
Wei Jia: I'm currently Head of Consumer Product at Fave (by day), wife and mother of a two-year-old toddler (by night). I love living in the digital world (from using apps for transport, commerce, or entertainment) but have a strong appreciation for the great outdoors (mountains and the sea, I gravitate to them every chance I get).
"Fave is your personal companion for finding the best deals and great meals on the go with FavePay. Available at thousands of your Fave-ourite restaurant and shops across Singapore, Malaysia and Indonesia. She has also previously worked on KFit"
Sebastian: My name is Sebastian Wang, commonly known as the girl with a boy's name. My specialisation is Interactive Media Design. I'm currently working as User Interface & Experience Designer at Kurechii, a Malaysian-based indie game developer.
"Kurechii has created a throng of exciting indie games which include King's League, Tiny Guardians and the award-winning role-playing game, Postknight. Sebastian is currently working on the upcoming King's League 2."
Brenda: I'm Brenda and my life has revolved around technology since I was young. I learned how to use computers back when I was still in kindergarten! I've been working at Apptivity Lab as a Mobile App Developer for almost a year now and I strive to develop apps to help our community!
"Apptivity Lab is a bespoke mobile app creation company in Malaysia with quite an impressive portfolio of clients such as Digi, Sunway Pyramid and Axiata. Some of the past works include Vidi, Wanderclass and Grab."
/Part Two/
AN AVERAGE WORK DAY
Wei Jia: 
8.30am – Breakfast and morning routine with my two-year-old son as we bond over milk and coffee. I read him a book before I order my Grab to work.
10.00am – Sprint with engineering team to plan our next two weeks. New feature launches, product experiments, optimisation work… we have so much to do! Prioritisation is key.
11.30am – Weekly management meeting as we recap on departmental progress in view of company targets. Country team updates are key to how we plan our product roadmap.
12.30pm – Quick lunch at a FavePay outlet. Getting cash back is always a win but it's also a great way to QA our product.
2.00pm – 1:1 with a teammate to see how he/she is doing.
3.00pm – Meeting with our Design Lead to discuss the mockups for our upcoming product line. We discuss the intricacies of designing for the latest iPhones. So much more screen space to sell FaveDeals on the iPhone XS Max (yay!), but we needed to ensure that our interactive elements complimented the home indicator and notch.
4.30pm – Coffee. I need coffee.
5.00pm – Some much needed meeting-free time to be able to look at data. We were AB testing variations of our app homepage to provide a better user experience—how did it go?
7.00pm – Leave work to take the LRT home. Occasionally bumping into colleagues along the way, which is a great way to do some casual catch up after a long day at work.
Sebastian:
Every day is generally a busy schedule with a number of deadlines. To save time, I will take out my iPad to draft down my ideas and sketches while waiting for the bus.
Brenda:
As an app developer, I'm in front of my MacBook Pro most of the time, using Xcode (an Integrated Development Environment) to make iOS apps, finding solutions and reviewing code. When I really need to concentrate, I listen to music. After a long day of work, I come home to watch videos and my favourite series on my iPad.
THE BEGINNINGS
Buro:
When did you develop an interest in the world of tech and the makings of it?
Wei Jia:
I studied in Australia for seven years before returning to Malaysia to work in corporate finance. The transition was a reverse culture shock. I love Malaysia, but there were many inefficiencies in how we go about our daily lives that could be solved by technology. This ranged from how we take public transport to how we interact in the service industry to how we make purchases. I was inspired to pursue tech as a means to effect change, digitally, for the better.
Brenda:
I've loved creating things ever since I was a child. In primary school, I took additional art classes and I would write short stories and even modify website templates. I knew for sure I was going to study Arts when I grow up—until my secondary education. I was more interested in math and science because learning how things work seemed easier than plain memorising facts to past exams. I thought, hmm, maybe I'd become a pharmacist or biologist. Then, my dad got me an iPad and I fell in love with apps. I'd download a whole bunch of them to test them. When the time came to decide what course I'd pursue for my tertiary education, I combined my love for creativity, science, and most importantly, apps together, and found my path to doing tech.
Buro:
And when did that interest turn into a decision to pursue it as a career?
Wei Jia:
There was a point in my corporate finance career where we were actively looking to invest in the burgeoning tech scene. I was meeting the co-founders of many tech startups that were charting their way to a better Malaysia. I was excited by how these companies were disrupting offline experiences for an improved digital one. Tech was an enabler, a means to empower, and the portal to a digital sea of knowledge like never before. I made a conscious choice in leaving the corporate world to pursue tech from the ground up—starting by writing one line of code at a time.
Sebastian:
Art and design have always been a passion of mine. I feel that art can be a powerful medium to deliver a message, and to complement it, the world of tech seemed to be the right direction to go, seeing that it is a medium of the modern day.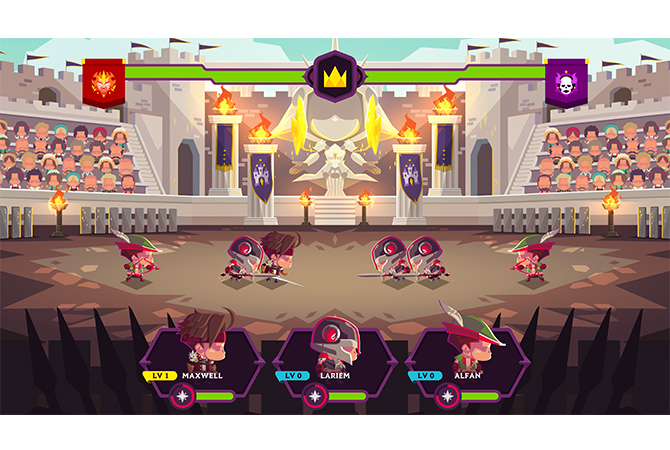 Brenda:
My father, being in the tech industry, suggested that I study computer science as well. I was reluctant at first, but after some thought, I realised that creating software was another way of expressing one's creativity: interpreting designs and the way they look and feel.
I remembered how I felt when I got my first iPad and how I fell in love with apps. I wouldn't admit it at that time, but I decided to pursue app development with the intentions of re-creating the experience not just for myself, but for others as well.
During my Foundation in university, I was still unsure about my choice and there wasn't going to be a programming course until the first year in degree… so I decided to learn programming myself and it just clicked! From then on, I always loved the feeling of finally understanding a concept and coming up with solutions to create software that looked and felt the way I wanted.
EDUCATION & JOB QUALIFICATIONS
Wei Jia:
My university education has nothing to do with what I do today—I graduated with a Bachelor of Law/ Commerce, majoring in accounting, a "commercially safe" choice! Prior to transitioning into tech, I received a scholarship to pursue a web development boot camp with Next Academy, a coding boot camp based in Kuala Lumpur. It's amazing how that nine-week boot camp became the foundation of my journey into tech via software engineering and later on, product management.
Sebastian:
BA (HONS) in Interactive Media Design at The One Academy.
Brenda:
I studied Information Technology at Asia Pacific University. When the time came to choose a specialised field, I chose Mobile Technology without a doubt. I learned the basic of computer science and programming at university. I learnt to develop iOS apps with Swift (a programming language) and I managed to get an internship at Apptivity Lab in 2017. During my time there, I learned so much from the hands-on experience as well as from great seniors who helped push me in the right direction. I think I did well because after my final year of university, I asked to join them full-time and they accepted!
/End of Part Two/
Stay tuned next week for Part Three.
Original: https://www.buro247.my/lifestyle/career/malaysian-women-in-tech-interview-misconceptions-g.html
| | |
| --- | --- |
| SHARE THE STORY | |
| Explore More | |