Having a job where you can do the things you love is always a dream. Having a job that keeps your mind and body in check also seems ideal, especially if it's your passion. Have you ever thought that since you're going for such regular sessions of yoga, you might as well be an instructor, spreading the joy it brings, helping others find that inner peace, and teaching its benefits? Even if you plan to do it part-time, like most things, it requires a lot of prior consideration. Luckily, we had a chat with full-time yoga instructor Robyn Lau on what it takes and what it's like.
Hi Robyn! Tell us how you got on the path of being a yoga instructor.
It all began when I was in the fifth year of my corporate job. Life was comfortable, I had a stable income and work was enjoyable, and yet, I wasn't able to say I love it. I realised being stuck in a desk-bound job isn't something I see myself doing for the next 30 years of my life. At that time, I've been practising yoga for over a decade and what started as a workout had already become something spiritual for me. I felt its benefits: I knew my mind and body better, it helped me recover from a lower back injury, I was more mindful, and I established more meaningful relationships with the people around me, including myself. I wanted to impart these very benefits to others. That was something I'd love doing so I got certified and got paid to do it. One of my best decisions ever.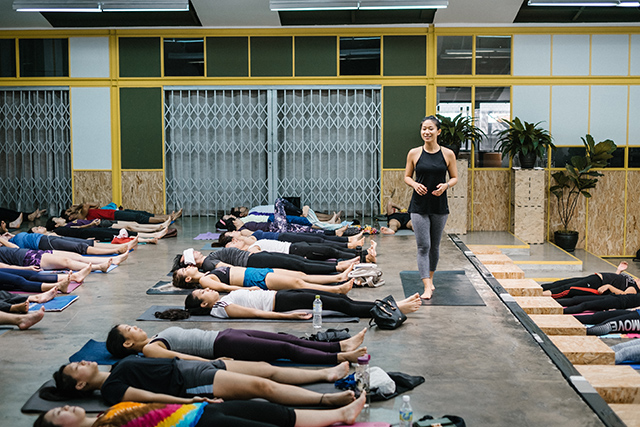 Walk us through a day in your shoes. 
My first class of the day is usually at 7 am which means I have to be up by 5.45 am to clock in a quick meditation and jump into the shower. Then, I'd make my way to class with a protein shake topped with coconut oil, to-go style. By 11 am, I'd have taught three classes before heading to the gym to train or practise till 2 pm. What follows is five hours for me to have a wholesome lunch, have meetings, run errands or take a quick nap. In the evening, I'll have one or two classes and usually get home by 10 pm, where I'll put together a simple meal, wind down and go to bed.
What's the best part about your job?
For the longest time, I've told people that I'm living the dream because practising yoga is like playtime for me, and when people come to share their practice with me, it's like having friends come over. But really, the best bit of it is being able to share a space with people and their personal goals — making a positive change, recovering from an injury, reaching a fitness level, etc — and playing a role in that a journey of theirs.
And the worst?
Dealing with administrative issues such as late/non-payments. As a freelance teacher, my income can be affected based on where I choose (or not) to work. Hence, I have a fixed schedule with studios, corporate companies and private students; and I'm very strict with cancellations. Most of them are generally respectful but I've had occasions where the client cancelled due to a last minute hair appointment or I'd show up but the secretary forgot to inform me that it has been cancelled — and I wasn't even compensated for my travel time. Over time, I've learnt to pick clients, be firm and most importantly, be able to let go of certain people/organisations because no amount of money is worth the frustration, time and feeling of uncertainty caused by their inconsideration.
It's always tough at the beginning. What was the biggest challenge you faced when you were starting out?
Unlike many people I know, I dove right into being a full-time yoga teacher. Which meant I had no choice but to hustle for my paycheck. I agreed to teach every class even if it meant I had to jump from one class to another without any breaks. I remember always being exhausted at the end of the day. I fell sick often and worst of all, I stopped practising on my own because I was always too tired to do so, which led to me questioning my choice of converting my passion into a career in the first place. Luckily I persevered and learnt that short breaks do make a difference. While bills need to be paid, do take some time to take care of yourself.
What kind of qualifications are required before one can become a yoga instructor?
Honestly, I wish this can be more regulated. There are many types of Yoga Teacher Training (YTT) offered across the globe. The most recognised one is by Yoga Alliance (YA), which starts with a 200-hour course and then, 300 hours as an advanced certification.
I did my 200-hour YA Teacher Training in Koh Samui with an American teacher, Anna Sugarman, who I love listening to and deeply resonate with. There are a few centres in Malaysia that offer teacher training certification but my advice is to talk to the teacher first to see if you're able to resonate with him/her. Ask them about their program to see if it addresses all the main areas that contribute to excellent teaching. If you can, talk to a recent alumnus as well to get a sense of the course.
Considering the fees of YTT and the lack of a full-time job, how much money should an aspiring yoga instructor prepare to spend or have on hand before making the leap? 
First, make sure you have enough money in the bank to pay for essentials for up to at least four months. If you're doing a full-time teaching training certification, you'll be dedicating a whole month without income to attend classes. Course fees can range from US$800 to US$8,000 and if you're doing it in a foreign country, most of them don't include flight and accommodation. I spent RM25,000 for my YTT in Koh Samui and that included my certification, return flight, accommodation and three meals a day. Take the time to research on the teacher/centre. It's more important to be well prepared to handle challenges as a yoga instructor after you've graduated than have a beautiful sunset view throughout your course. The centres in KL which offer YTT, if I'm not mistaken, only have part-time weekend courses, which would mean taking a longer time to graduate.
You teach yoga at several places. What's the reason for doing this instead of being tied down to one studio and is it common for yoga instructors in KL to do so? 
I teach at various studios for different reasons. Mostly because I enjoy the variety of practices and students. It keeps me challenged as a teacher. But most teachers don't get tied down by one studio because the studios are not able to offer enough classes per week to fulfil the expected income. Some studios also prefer to have a few teachers on board to give students a variety of classes to attend.
What's a common misconception about yoga instructors in Malaysia?
That we are vegetarians! Some say you are not truly practising yoga if you eat meat because Ahimsa, the yogic practice of non-violence believes that it's violent to take the life of another living being. However, not all body types can thrive purely on vegetarian diets. I fall into that category. I've tried to go meatless for a while but my body was not in the best state as I was feeling malnourished. I think vegetarianism is only a small part of living without hurting other living beings. I believe in a more rounded approach where we should consider our every action for our environment. Another misconception would be that we do yoga while we teach but most of us don't complete the entire sequence as our attention usually shifts to the students during the class.
Any upcoming plans for 2018? 
I'm so pleased that my weekly community class is still growing — it's on every Saturday morning at APW Bangsar. I'm currently working on a subscription business which will launch in Q3 and I'll be hosting a series of yoga workshops in Klang Valley in Q4. In between all that, I have started teaching more regularly in Bangkok and Singapore. Dates of classes are usually updated on my website and social media profile.
Last, but not least, what advice would you have for anyone aspiring to be a full-time yoga instructor?
Given that there are so many certified yoga teachers out there now, competition is strong and there's no guarantee you will secure enough classes right away to cover your monthly expenses. Bear in mind that studios are reluctant to pay more for teachers who lack teaching experience. So be patient with yourself — the only way to get better is to keep teaching — and with your students — you don't know what they're going through. Be mindful of falling sick or getting injured because it could affect your income. Above all, the key to being a successful teacher isn't about following the blueprint of another teacher's career, it's about being yourself.
Follow Robyn Lau on Instagram for more updates, inspiration and schedule.
| | |
| --- | --- |
| SHARE THE STORY | |
| Explore More | |