When it comes to wedding favours, you would want to gift something your guests would actually like instead of them leaving it at the table, right?
It's wedding planning season (evident by the increase of wedding fairs in KL of late) and we've previously covered various essentials: from wedding photographers to videographers to the latest bridal designers. But what about the smaller details like the form of your wedding favours? If you're opting for wedding packages—especially those by hotels—more often than not, it's already included; and more often than not, it's could range from fruit cakes to chocolates to generic couple-y salt and pepper shakers. Nothing wrong with those but they do come with the risks of guests leaving them behind at the wedding due to its impracticality. We say, give gifts that guests can use or enjoy—it doesn't have to be expensive. Team Buro shares some of the best wedding favours they've received at Malaysian weddings to date to help give you some ideas. 
TERRY SAW, editor-in-chief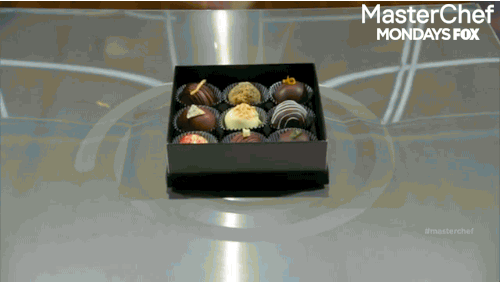 "I'm going to be boring (super practical) and say good chocolates please—hold off the yawn and hear me out. I honestly do not expect gifts and am just genuinely happy to be at a friend's wedding and over the years, have received my fair share of coasters, personalised (not with my initials, but the couple's faces) paper weights, picture clips and a notebook filled with another couple's PDA photos (why?)—all of which I was never able to put to good use. Quality chocolates, or other gourmet snacks, however, are perfect for sustenance especially for Chinese wedding 'never start at 7pm' dinners—you know what I'm talking about! Less wastage and happy guests—what's not to love?
GWEN ONG, deputy editor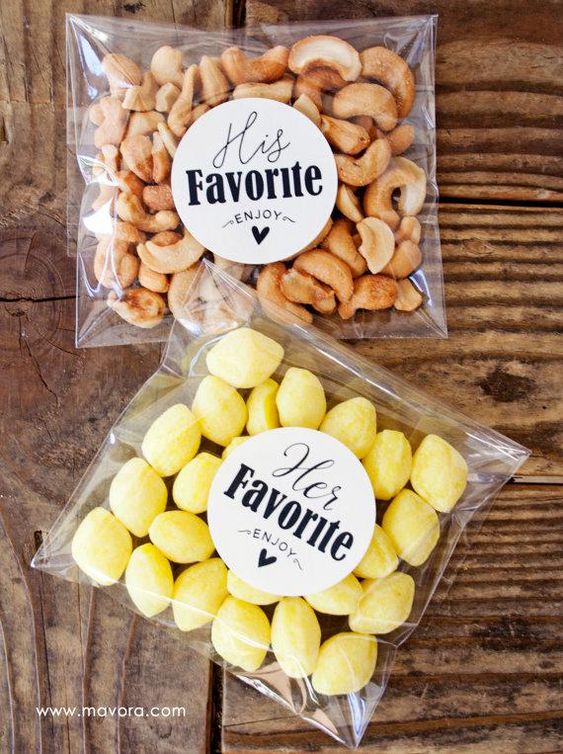 via Pinterest
"The best kind of wedding favours for me is anything to do with food. What better way to mark a joyous occasion than through the tummy, right? At my best friend's wedding dinner, she had a 'potluck' table full of cakes, desserts and sweets prepared by her family that could be enjoyed by anyone. What a hit it was! Plus, food is something that can be appreciated immediately if the bride and groom are running late to the dinner and you're famished. Haha! Here's a cute suggestion that I saw on Pinterest recently—two bags of snacks labelled as his and her favourites. I'd totally munch on them, especially if they're filled with iced gem biscuits and prawn pillow crackers."
JOAN KONG, fashion editor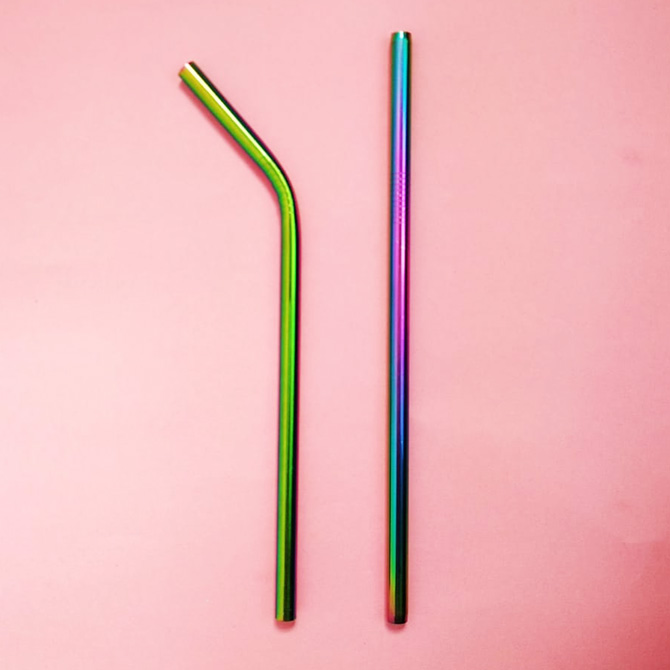 SHOP NOW
"Chocolates have been the default wedding door gift for as long as I can remember, but when it comes to the best (and most memorable) ones, I could easily count them with one hand. That being said, I attended a close friend's wedding recently, and her door gift of choice? Metal straws, complete with a brush and a canvas case! With more and more restaurants omitting plastic straws (the full enforcement will begin in 2020), the gift couldn't be any timelier and any more thoughtful. However small, with everyone playing a role, it'll definitely make a difference."
STEPHANIE BOEY, fashion writer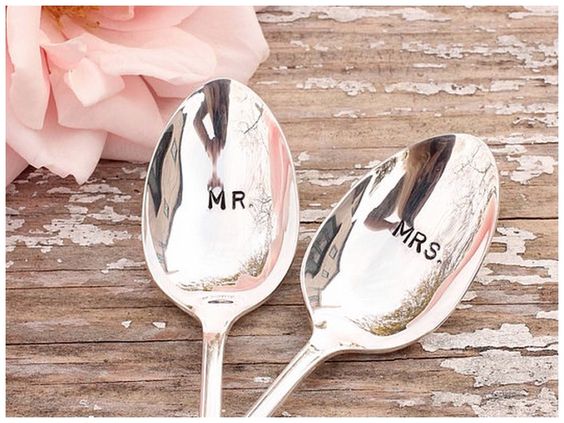 via Pinterest
"I once went for a wedding where the bride and groom gave away silver cutlery engraved with the wedded couple's initials and wedding date. I enjoy thoughtful and useful gifts to remember important moments, and a cutlery set is definitely high up on my list (a girl's gotta eat!). I keep mine at my desk at work and use them whenever I bring food from home (a girl's gotta eat but she also has to save money!) Everytime I dine in, I'm reminded of the momentous occassion and the happy memories that were made that day. A lovely thought as I dig into my food. Bon appétit!"
WEI YEEN LOH, senior beauty writer
SHOP NOW
"Wedding favours that check the 'functional' box in my list are my absolute favourite. Nothing beats a gift that resonates with the theme of the wedding, but at the same time, something that I actually would want to use (instead of merely leaving it on the table at the end of the night—I confess, I may have done this with stale pieces of fruit cakes at some weddings.) So far, the most memorable wedding favour I've received was definitely a miniature 100% natural candle that was handmade by the bride (and her bridal team, I'm guessing). Extra points go to its natural scent—no cloying, overwhelming fragrance with this one. Candles make the best additions to home pampering sessions, so this one was fully utilised by the end of that week."
RACHEL AU, lifestyle editor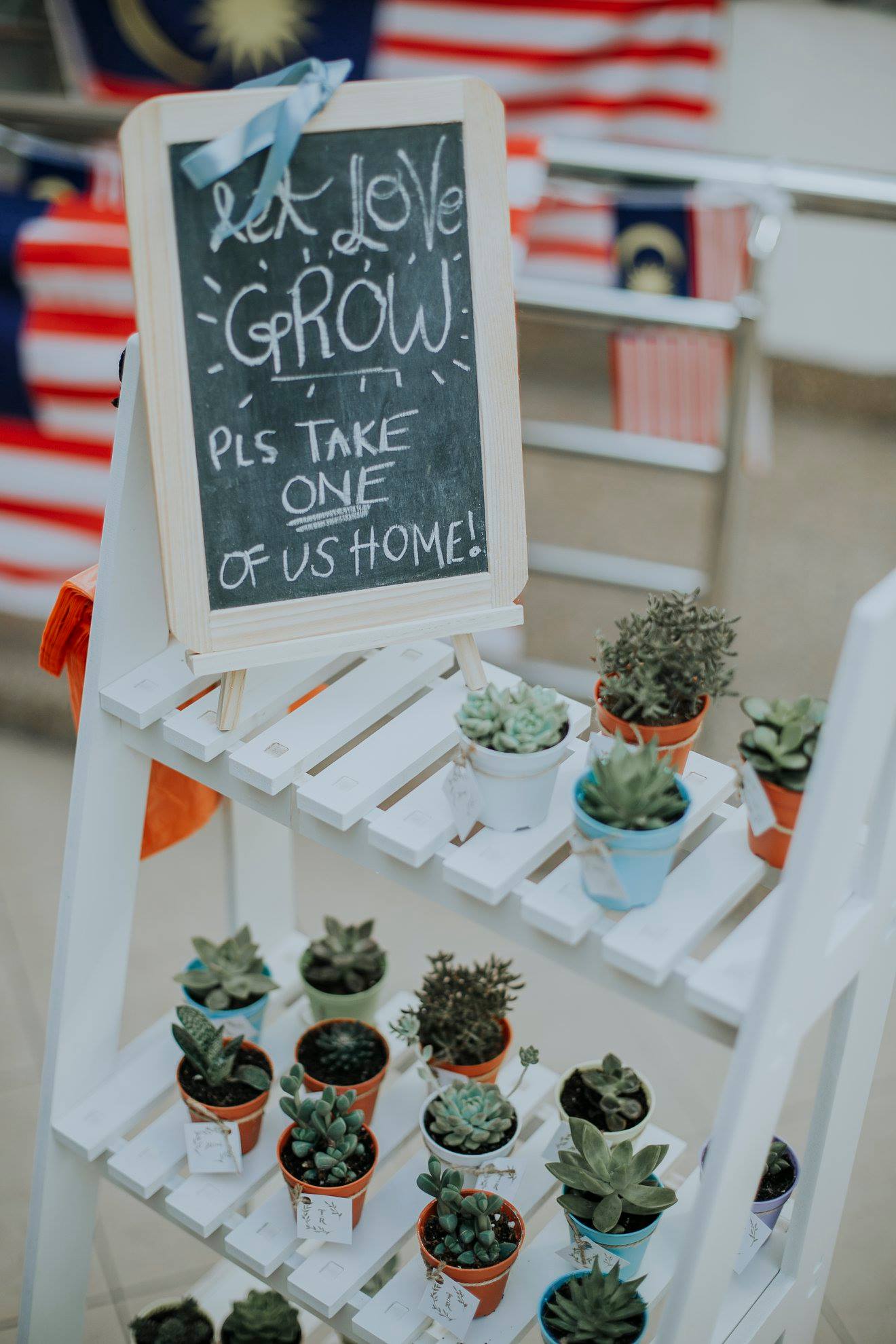 "Read on and you'll find that my good friend and colleague Alyssa has already picked an answer I'd otherwise have chosen for this Team Buro Answers edition. Luckily, I had two sessions and it's not cheating if I quote my own wedding, right? For my church wedding, the official wedding favour was a cup of ice cream by Forty Licks because who doesn't love ice cream, right? True enough, despite ordering extra tubs, they were all gone before lunch ended (even my husband didn't get to enjoy a scoop). On the side, we had also set up a shelf with succulents for people to take home (should they wish to), which doubled as decor (at the start of the ceremony)."
SU FEN TAN, senior writer
SHOP NOW
"Personalised agate stones. A personal touch goes a long way, even more so when it comes to something you can have and hold for years to come. I'd imagine these lovely agate stones by Kami Design to be precious additions to the wedding guests' possessions. Unique? Check. Personalised? Beautifully so. Practicality? Besides being a pretty piece for the table, it can be used as paperweight or coaster too."
ALYSSA LEE, special projects writer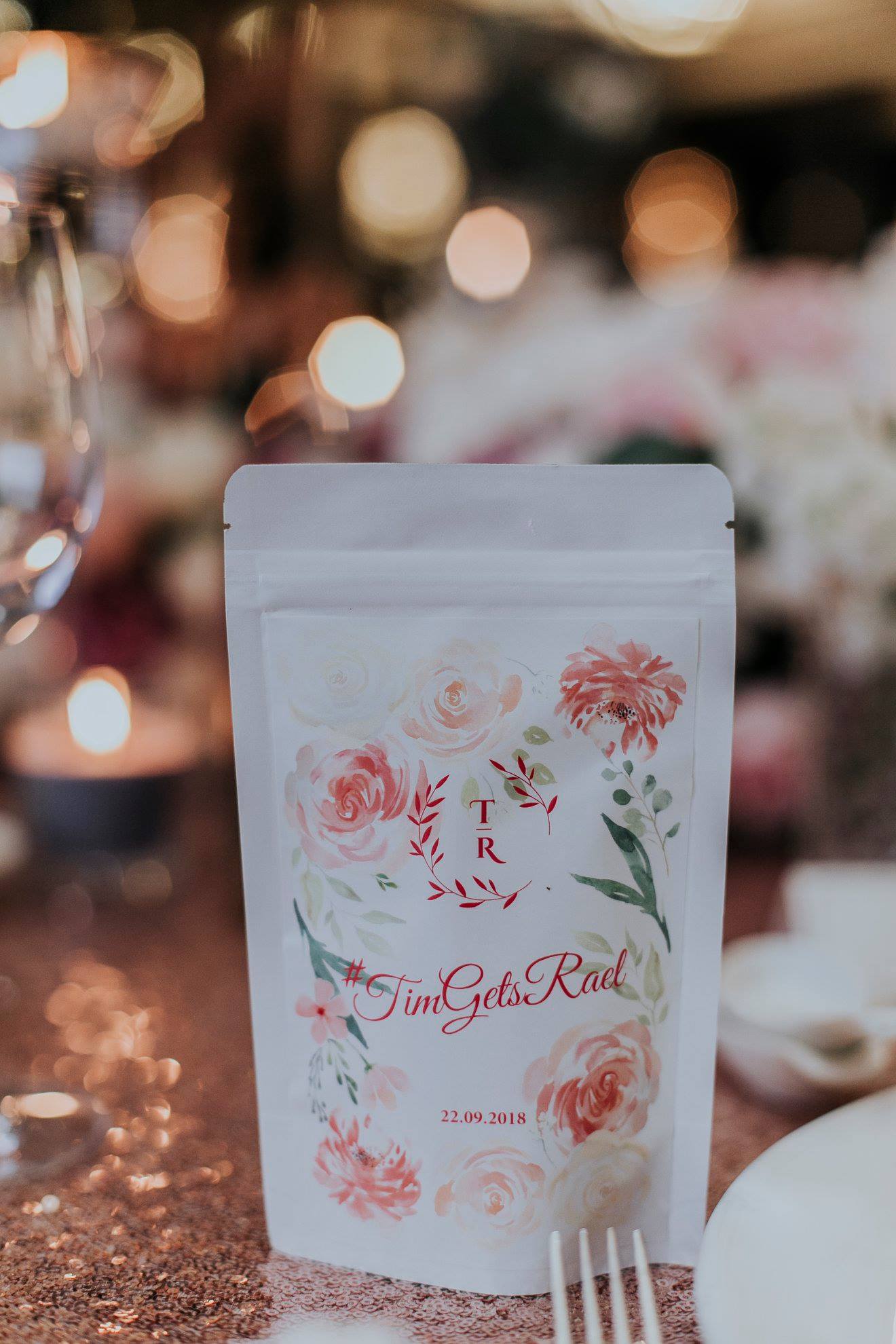 "In light of the major clean-up movement spurred on by one petite Japanese decluttering fairy, I am really trying to limit the things I bring home with me. Think about it, the less clutter you create, the less time you would need tossing it out. This is why I much prefer gifts I can enjoy without expanding my collection of pretty (and) useless items at home. So, last year, during the wedding of Rachel Au and Timothy Cheok, the former being Buro's lifestyle editor—who is also the resident pun-master extraordinaire, a colleague and wonderful friend—a squeal of delight escaped me upon finding the sweetest door gift: a very generous packet of raisin, cranberry and honey granola at my seat. It's hard to beat something that can spark joy in your belly for three mornings in a row. Also, extra points for not gifting soggy cakes in metallic boxes that guests have to try to stuff down their pipe after an eight course meal. Well done, Rae!"
YISUEN CHONG, art director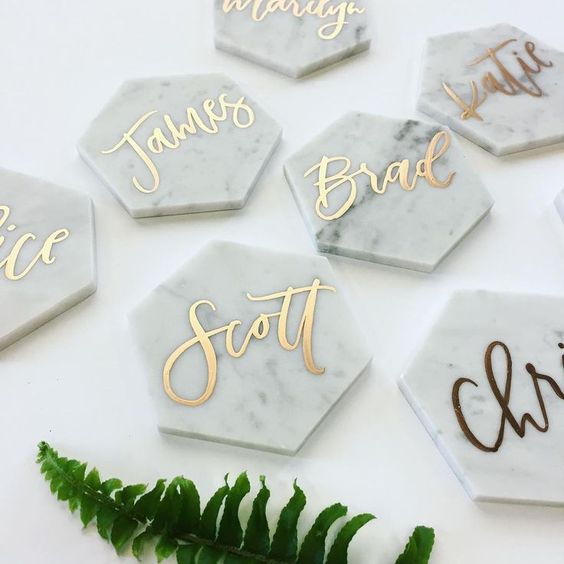 via Pinterest
"For me, I loved this gorgeous marble coaster I once received at a friend's wedding. Can a wedding favour get any classier than this? I don't think so. What more one personalised with my name on it, I would definitely use it every single day. Although it's on the pricier side when it comes to wedding favours, I'd say it's worth it since each piece is unique on its own."