Do you have anything planned this Sunday? Don't let self-isolation spoil the fun—check out what you can do on Easter Sunday
This year, Easter Sunday falls on 12 April—a date that changes every year (usually between 22 March and 25 April). Here's a fun fact: The first full moon after the vernal equinox (Paschal Full Moon) determines the date of Easter every year by coinciding with the first Sunday after the Paschal Full Moon. Oh, this also signifies that spring has arrived in the northern hemisphere.
What are your favourite Easter traditions? Whether you like decorating Easter eggs, eating chocolate bunnies, munching on hot cross buns, or forming your own Easter basket, there are so many ways one can celebrate the special day. Easter celebrations might be different this year but that doesn't mean they have to be dull. Although we are all staying at home and practising social distancing while the Movement Control Order is in effect, we can always find interesting things to do this Sunday—from food to craft.
1. Get Limited Edition Chocolate Easter Eggs and Easter Brunch Box from The St. Regis Kuala Lumpur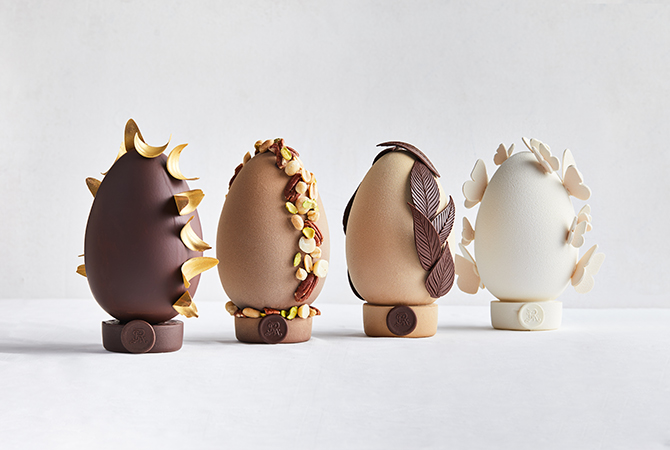 Each measuring at 20 centimetres in height, The St. Regis Kuala Lumpur's limited edition chocolate Easter eggs are inspired by the city's tropical sanctuaries. Each limited edition chocolate egg contains mini 66 percent chocolate ganache eggs, praline feuilletine chocolate eggs, and sugar eggs. They will be available from 8 April 2020 for self-pickup from the hotel. For delivery, you will have to arrange for your preferred delivery vendor to pick up on your behalf. Make sure to place your order a day before collection.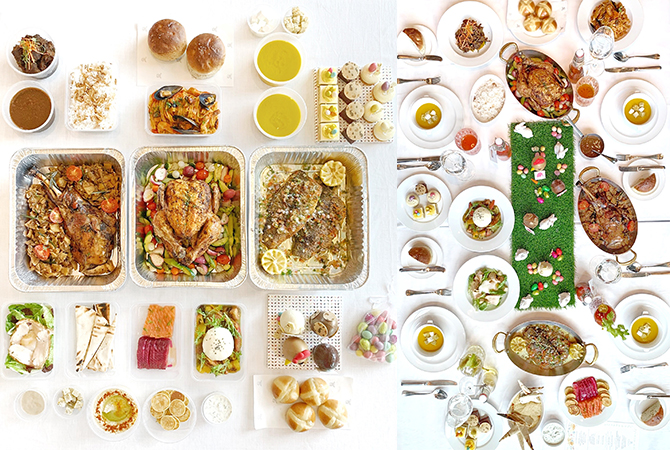 The Easter Brunch Box comes with The Brasserie's signature focaccia bread, Slow-cooked Lamb Shoulder, homemade Tagliatelle, Beef Short Ribs Rendang Tok with Basmati Rice, Pan-fried Citrus Seabass, Easter Hot Cross Buns, The St. Regis Cheesecake, and more. You can also complete your Easter Brunch Box with cocktails such as Negroni, Asam Boi Mary, and Fine French Faire for RM50+ each. Available on 12 April 2020, you are required to order 48 hours prior. 
Price: RM168+ (Chocolate Easter Eggs/RM398+ (Easter Brunch Box)
Pick Up Time: 10am - 6pm
Contact: 03 2727 1111 or [email protected]
2. Easter Menu from Nathalie Gourmet Studio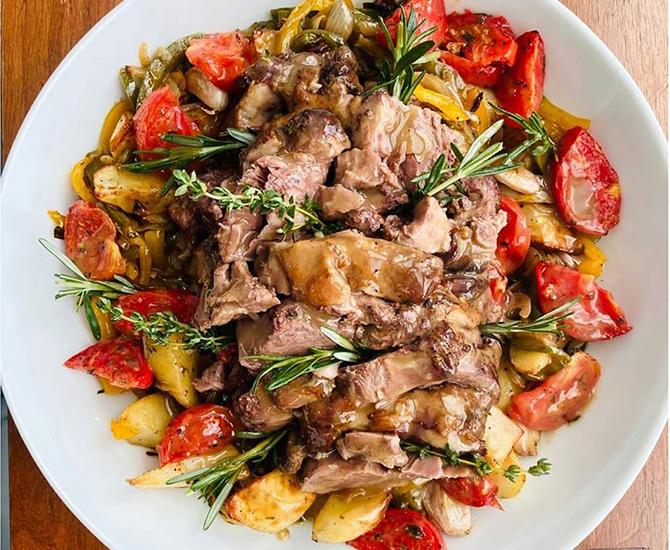 Available for delivery from 11 April to 13 April, the Easter menu from Nathalie Gourmet Studio consists of dishes such as The Lamb at RM68+ per portion (seven hours cooked leg of lamb with Guedra vegetables); Ginger and Seafood Blanquette at RM65+ per portion; The White Rabbit's Surprise at RM28+ per portion (Exotism chocolate egg); and Praliné chocolate egg filled with surprises at RM27+ each. You also have the option of ordering a bottle of red or white wine—priced at RM110+ per bottle. Make sure to pre-order by 10 April (Friday).
Availability: 11 April 2020 - 13 April 2020
Price: RM27+ onwards
Contact: 03 6151 6610 or [email protected]
3. Bake your own Hot Cross Buns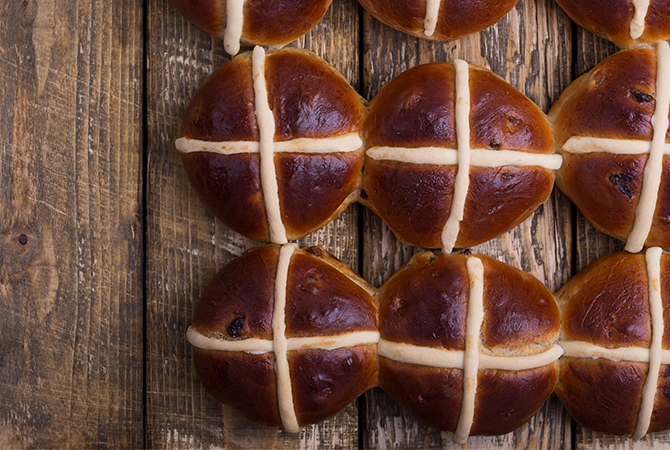 If you've never attempted to make your own hot cross buns for Easter (or ever), this Sunday is perfect for that! Here's a recipe for you to check out—and it makes 16!
Ingredients you require are:
200 millilitres of milk (plus some for glazing)
3 cardamom pods (bruised)
1 cinnamon stick
2 cloves
¼ teaspoon of grated nutmeg
Pinch of saffron
20 grammes of fresh yeast
50 grammes of golden caster sugar (plus some for glazing)
450 grammes of strong white flour
100 grammes of butter
½ teaspoon of salt
½ teaspoon of ground ginger
3 eggs
150 grammes of currants
50 grammes of mixed peel
3 tablespoon of plain flour
Steps:
1. In a pan, heat 200 millilitres of milk gently together with cardamom, cinnamon, cloves, nutmeg, and saffron. Turn off the heat when it starts to boil and leave for an hour. Turn on the heat again to blood temperature before mixing the strained milk with yeast and 1 teaspoon of sugar.
2. Tip the flour into a large mixing bowl and grate over the butter. Mix well with a food mixer before adding the rest of the sugar, salt, and ginger. This is also where you start to beat two eggs together.
3. Create a hole in the middle before proceeding to add the beaten eggs and the yeast mixture. To make a soft dough, make sure to stir in while adding enough milk. Continue to knead for 10 minutes until smooth and elastic.
4. Lightly grease another bowl then put the dough into it. Cover and leave the dough in a warm place  for a few hours until doubled in size.
5. After doubling in size, tip it out on to a lightly-greased work surface and knead for a minute. After that, proceed to flatten it out and scatter over the fruit and peel. Spread the fruit around evenly by kneading again.
6. Separate into 16 similar pieces and roll them into bun shapes. Place them on lined baking trays and make a cross mark onto the top of each. Cover and put in a warm place again until doubled in size.
7. Pre-heat the oven to 200ºCelsius before beating the last egg together with some milk. Put a pinch of salt into plain flour and mix with enough cold water to make a stiff paste. With egg wash, paint the top of each bun and draw a thick cross on the top of each using a piping bag or teaspoon.
8. Bake in the oven for about 25 minutes until golden.
9. While waiting, mix 1 tablespoon of caster sugar with 1 tablespoon of boiling water to brush them when the buns come out of the oven. Transfer to a rack to cool and eat with as much butter as you desire.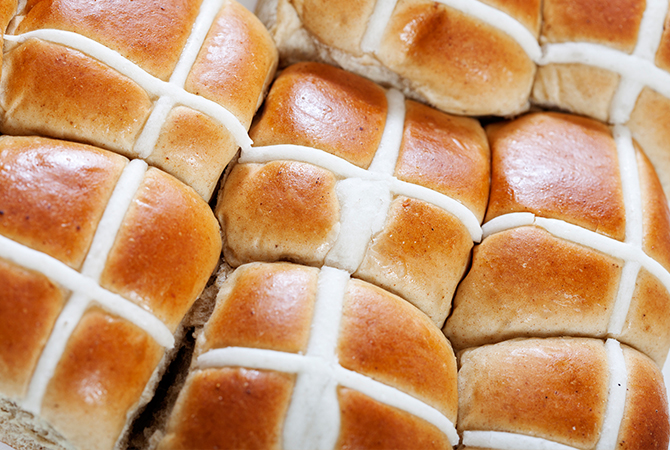 The recipe definitely requires some effort but the rich and golden delight will be worth your time. At the end of the day, you will be adding hot cross buns to your growing list of things you can do. If you don't have some of the ingredients, why not experiment a little? You and your loved ones will be super satisfied this Easter.
4. Set up your own Virtual Easter Egg Hunt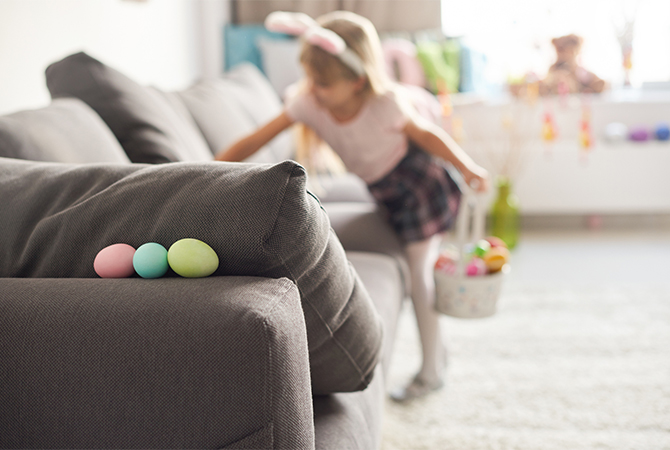 Don't let Miss Corona ruin your beloved Easter tradition. With the help of technology, this is something you can do with friends and extended family—while practising social distancing. Here's how:
A) Set a time and place—You have to bring everyone together so make sure that all the parties know when to "appear". There are a plethora of ways to send out your invitations; through email, a call, a text, an email, or even an electronic invitation.
B) Everyone needs to have goodies—We all know that a major part of an Easter egg hunt is the search. That's where the excitement lies. Coordinate with the parties involved to make sure that there are actual tasty goodies when the eggs are cracked open.
C) Prepare Easter eggs—It's important to fill the Easter eggs; whether you're at home alone or with a large family. It adds to the excitement of the hunt, even if you will be the only one eating them!
D) Decide on the technology—Depending on the number of participants, make sure to choose the appropriate medium to use for the virtual Easter egg hunt. Zoom and FaceTime are great options. It is always better to test things out a few days before to ensure that things go well on the actual day of the event. Ah, technology!
E) Be the hunt leader—Make sure to hide all the eggs in places that can be seen easily on camera. This allows other parties to spot (and shout) when they see them. As a hunt leader, your job is to explore your home (with your camera facing what you see) and narrate. In a way, you're both a tour guide and a videographer! Another thing to note is that you will have to get closer to the eggs and show your hands picking them up whenever someone calls out an egg.
F) Count and enjoy—When the virtual Easter egg hunt has ended, it is time to count the eggs in the basket. Show the other parties what you have inside the eggs and enjoy them together with everyone else. Chat over a cup of tea or coffee and connect over chocolates. Remember Point C about ensuring all parties have treats? This is why that's crucial!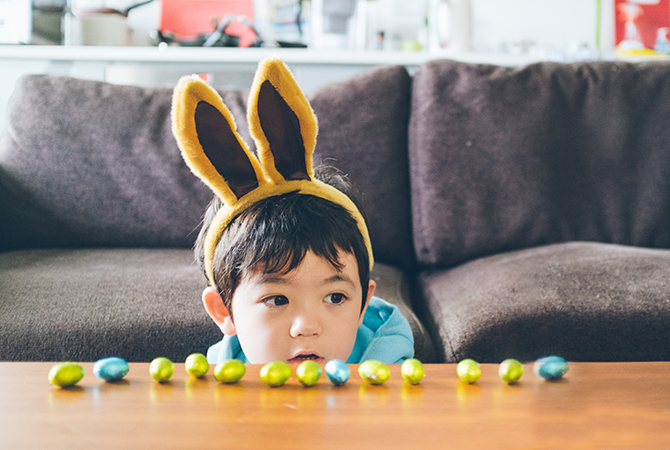 There you have it! A virtual Easter egg hunt is suitable and fun for everyone; adults and children. It is a great way to spend this Sunday with your loved ones without having to leave home. Social distancing might come first—but you don't have to compromise on a good time. Happy hunting!
5. Get crafty and make DIY Emoji Easter Eggs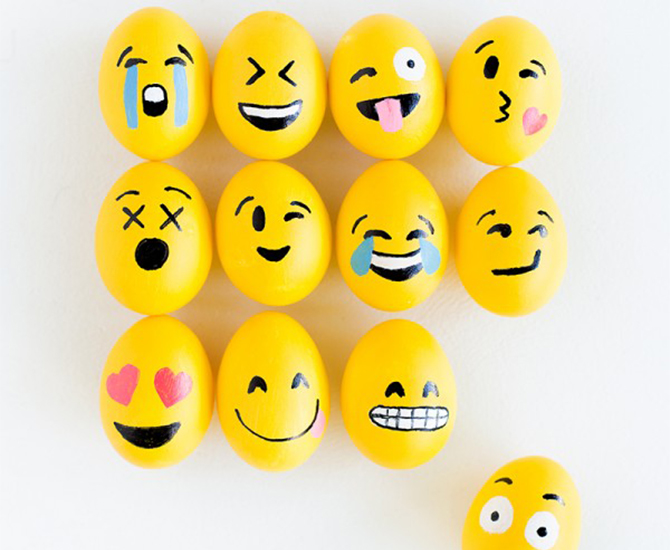 When was the last time you dyed or decorated Easter eggs? It's the perfect time to give the Easter tradition another go this Sunday. It's a great way to bond with your loved ones. The best thing about this specific DIY is that it is really easy to do and doesn't take too long. Of course—they are really cute too!
You will need eggs (either paper mache eggs or blown-out real eggs). In addition to eggs, you will also require yellow, white, pink, and turquoise craft paint as well as black and red paint markers.
Start by painting all the eggs yellow and let them dry completely. When the eggs are dry, it's time for you to start putting a face to an egg. It really depends on what emojis you intend to draw. Just follow the examples in the image above or craft your own expressions. You could even come out with emojis that express how you feel at the moment.
Place them all over the house, or use them for your virtual Easter egg hunt! Fun, easy, and keeps you safe at home.
6. Nero Nero's Family Easter Lunch Menu
To help you celebrate this Sunday, the Italian restaurant has curated a special lunch menu with dishes prepared by Chef Giuseppe Lioce. Available for both takeaway and delivery and accepting pre-orders only, dishes you will get include a full loaf of Apulia Foccaccia Bread, fours slices each of Casatiello Cheeses and Turkey Ham (with salty cake), four squares of Torta Pasqualina (Spinach and Ricotta Easter Pie), Insalata di Polipo e Patate (Spanish octopus and potato salad), Lasagna all Bolognese (Beef lasagna with béchamel), Orecchiette al Ragù di Agnello (with slow-cooked lamb and Roman pecorino cheese), and Braciola di Manzo e Polpette (Beef rolls and Apulia meatball stew in tomato sauce). For dessert, you will have a selection of Easter treats by pastry chef Giordano. The Easter lunch menu is suggested for four. 
Address: L3-02, Jalan Damanlela, Damansara City Mall
Contact: 013 469 4546
Price:  RM550+
Website | Facebook | Instagram
7. Watch Andrea Bocelli's 'Music For Hope' Live Concert from Duomo Cathedral in Milan
This Sunday, the Italian tenor and global music icon will give a solo performance at the historic Duomo, the cathedral of Milan, Italy, by invitation of the City and of the cathedral. The concert will be exclusively streamed live globally on Andrea Bocelli's YouTube channel and he will be accompanied only by the cathedral organist, Emanuele Vianelli—playing one of the world's largest pipe organs.
Pieces include the well-loved Ave Maria setting by Bach/Gounod and Mascagni's Sancta Maria. For Malaysians, this will one of the most uplifting ways to end Easter Sunday. After all, the concert's mission is to represent a message of love, healing, and hope to Italy and the world—uniting the world in the face of a global pandemic.
Date: 13 April 2020
Time: 1am (MYT)
To watch, click here.
8. Make your own Dark Tiramisu Mocha with the new Barista Creations Range from Nespresso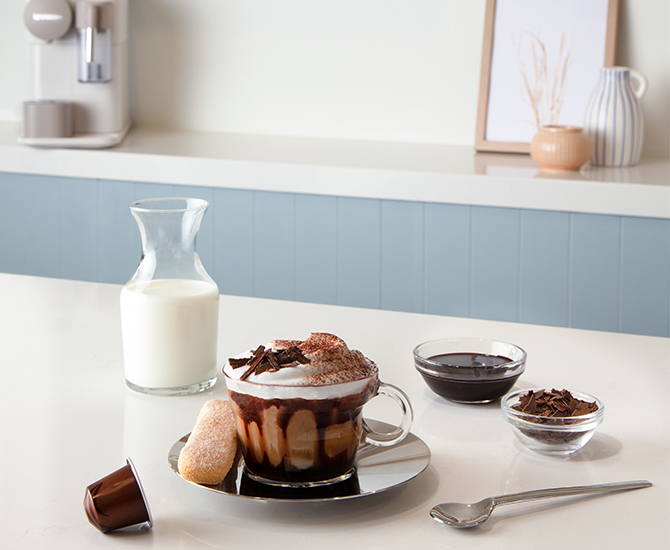 Why not get creative this Easter Sunday? Using Nespresso's newly relaunched Barista Creations flavoured coffee range, you can create your own sweet indulgence for yourself and loved ones. Check out the steps below.
Ingredients you require are:
Barista Creations' Cocoa Truffle
Cailler Chocolate Powder
Dark Chocolate Powder
Tiramisu Syrup
Milk
Steps:
1. Drizzle 5 millilitres of dark chocolate sauce at the side of your cappuccino cup.
2. Add 2.5 millilitres of tiramisu syrup.
3. Pour milk into Aeroccino Milk Frother to minimum level and prepare cappuccino hot milk froth.
4. Pour 40 milliliters of milk into cup and fill the cup with 80 millilitres of milk froth.
5. Extract coffee 40 millilitres of Cocoa Truffle coffee into the cup.
6. Dust with cocoa powder or chocolate flakes.
Nespresso's new Barista Creations flavoured coffees are available online for ordering here. If you don't have the Nespresso capsule, why not try the Dark Tiramisu Mocha recipe with what you have at home?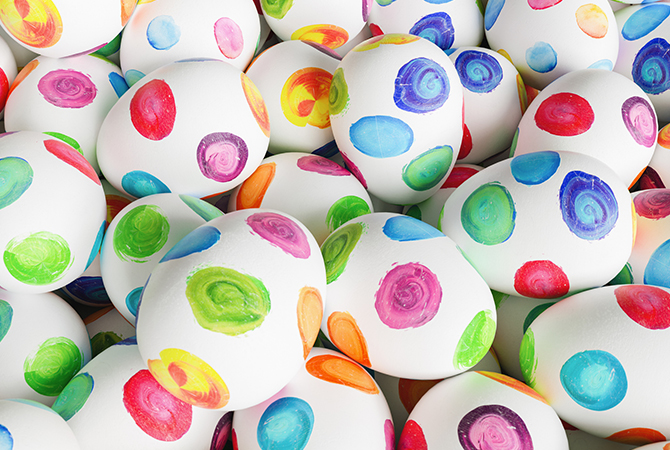 There are a myriad of interesting ways to celebrate Easter this coming Sunday. Life is all about adapting to various situations and with the COVID-19 pandemic going on, it is up to us to keep things positive. Let's continue to practise social distancing and #StayHome during the Movement Control Order.
Happy Easter!
For more things to do at home, visit this website.