Everything that happened during Buro at Riuh for #BuroLovesGiving
Our hearts are full
This pretty much sums up the recent weekend for us and we thank you, and you, and you—all of you
Since the inception of Buro Malaysia (or Buro 24/7 Malaysia, as we were previously officially known), we made sure to end every year with a bang. Thus, the birth of #BuroLovesGiving. For three years, we gave gifts of appreciation to our Friends of Buro to thank them for their support. It was great but we wanted to do something more. 
For this year's #BuroLovesGiving, we teamed up with Riuh for a charity market to help give back, specifically to the Dignity for Children Foundation. It was apt since we started the project with a charity market back in 2015, and now, still fresh from 'Burolution', we're doing the same.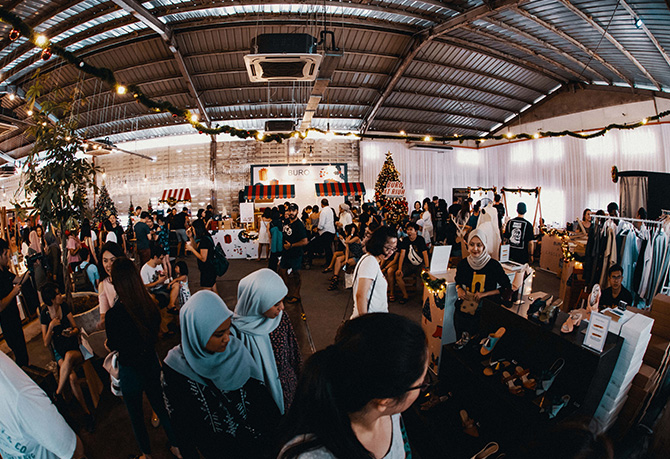 The plan was simple yet wide-scaled. Buro at Riuh would be a part of Riuh's Christmas-edition market. We'd have a variety of items for sale, some treats, performances and workshops; and part of the proceeds will all go to the Dignity for Children Foundation. After weeks of planning, it all finally happened last weekend at The Gasket Alley in Petaling Jaya, registering a total of 11,500 visitors for the entire event. 
Local fashion designer Cassey Gan brought her pillows and pillowcases, tote bags, earrings, dresses and tops-all decked in her signature style of prints and silhouettes. In the same fashion, Tsyahmi brought pieces for both the ladies and the guys, including items from his latest bridal collection and T by Tengku Syahmi. 
To complete the lineup of fashion items up for grabs, Nelissa Hillman joined in with some of the brand's newest shoes, sandals and heels; while Wanderlust + Co brought a stunning collection of gold-plated jewellery, including the heart-shaped locket that was recently spotted on Bella Hadid. 
As body- and skincare is often popular as gifts, we managed to rope in Handmade Heroes with products made for the face, lip, body and hair. Even better, they're known to be cruelty-free and uses natural ingredients without preservatives, synthetic chemicals and animal by-products. The Dignity for Children Foundation was also there to sell their Transformational Enterprise items as well as to raise awareness of their cause.
Then, over at our Buro booth, we had Christmas cupcakes (made by The Buttercake Factory), Christmas soaps which included a gingerbread man one (made by Wunderbath), and our anti-spill Buro coffee cups. Next to it, which quickly became a popular Instagram spot, we also had a lush Christmas tree where people could hang a bauble and a wish with a minimum donation of RM5.
To finish off that theme of gifting, the talented team at Kami Design manned the bespoke gift wrapping station where visitors could choose from an extensive range of wrapping paper, ribbons, charms and even add customisable greeting cards. 
And since gift shopping usually takes a while, Whimsical Gelateria was there to help refresh visitors with a selection of delicious gelato flavours, including the special Buro flavour, Merry Berry. (By the way, you can still get Merry Berry at their Publika store till the end of December 2018 with RM1 from every sale going to the Dignity for Children Foundation!)
Phew! Isn't that quite a list? But that's not all. There were also four workshops spread over the weekend. On the first day, Wunderbath taught people how to make bath bombs while Saya held a natural soap-making class. The next day, Letterings.my gave an intense introduction to brush lettering while things got pretty yummy at The Buttercake Factory's Decorating Baked Goods workshop. Everyone who joined went home with a new budding skill set and their masterpieces of the day. 
Performances took place at Stage 2 on another side of The Gasket Alley, but not before Hunny Madu kickstarted it with a rap from the Buro at Riuh space, leading the audience to the stage itself and performing a few new songs. With the energy still buzzing, the De Fam girls took over with one of their most popular songs, With You. Next up was Bihzhu, crooning a musical smorgasbord of upbeat and jazzy songs before Leaism takes over and rocks the stage. The mood shifts to a more chilled vibe with indie band Kaya and last, but not least, singer-songwriter Talitha. 
At the end of Buro at Riuh, we were proud to finally announce, and present, to the Dignity for Children Foundation that the amount raised from the weekend was a total of RM13,276.60. This was thanks to each and every one of you. To the ones who came out both days to be a part of Buro at Riuh. To the ones who came and purchased one (or more) items. To the ones who visited and got to know the charity, the brands, the people, us. Thank you and here's to a great 2019.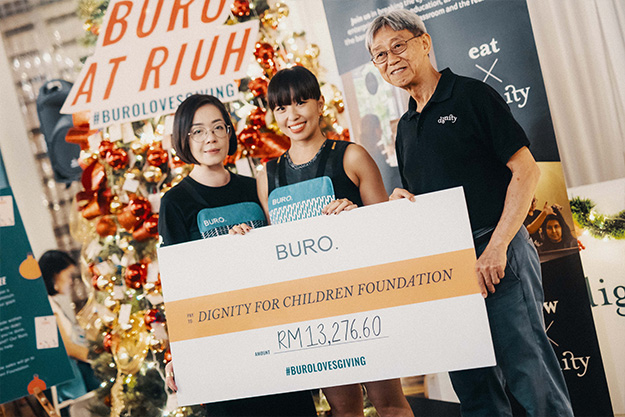 Related articles
Buro 24/7 Selection