The tie-dye trend has returned and its been making a splash on our style radar. A popular fashion statement from the flower power era, colourful tie-dye tees were a common sight in the mid to late '60s. Do a quick search on the world-famous 3-day Woodstock festival in 1969 and you'll find a slew of the psychedelic print peppered among the crowd.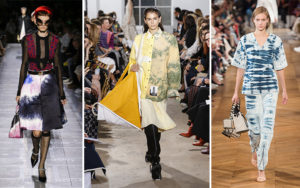 From left to right: Prada, Proenza Schouler, Stella McCartney
50 years later, the bold trend is making waves again but its 21st century update differs from how our parents' generation may remember it. Seen on the runways during Spring/Summer 2019, Prada, Proenza Schouler and Stella McCartney brought back the once flower flower-driven trend to be appreciated by the youth of today with a more sophisticated touch. Instead of casual cotton tees, its resurgence is presented through the likes of full circle skirts, oversized button-downs and elevated denim. The overall look: Less hippie, more hipster.
Shop the trend with our top 15 picks below:
{insert gallery tpl="slide-freesize.tpl" id="[Стандартная] Tie-dye" rid="7282″ order="a_tstamp"}