Sun's out, toes out
There's something about the ways the Scandinavians do fashion. The style is synonymous with pared down but well made basics, tailored but effortless at the same time. A typical outfit would entail a trusty pair of blue jeans, a cotton crew neck t-shirt topped off with a structured jacket. This uncomplicated, unostentatious way of living is so popular it even has a name: Scandi-chic. It is this nonchalant coolness that propelled Swedish favourite Acne Studios to fashion cult status as well as sneaker brand Eytys (a fellow Swede) and streetwear brand Han Kjøbenhavn (Danish), and resonates to normcore fans around the world.
You can trust the Scandinavians to be the underrated trendsetters with their interesting, unabashed fashion choices. At Copenhagen Fashion Week, we spotted footwear that we imagined wouldn't normally make the cut on a street style camera: Flip flops. We were equally surprised by the presence of the rubber slipper. This is an all-new level of normcore and dressing down. Are you up for a style challenge? Do it like the Danes with these tips:
#1 Smarten it up with a button-down and a wrap skirt
The formal pairing balances the informality of the chosen footwear. It's business on the top and (super) casual Friday at the bottom.
#2 Pair it up with the season's fiercest print
It's all about the animal kingdom this year — unleash your wild side.
#3 Sliders work, too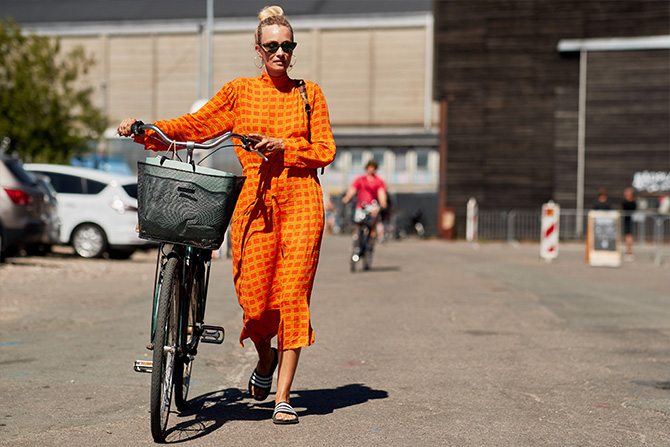 Not a fan of the thong? Sliders are just as effective. Polish off with statement accessories like cat-eye sunglasses and oversized hoops for extra flair.
#4 Maxi dresses and flip flops make the sweetest odd couple
For maxiumum effect, go with a fully printed dress. The length and volume of the apparel offsets the bareness of the footwear.
Need more styling ideas, swipe below: