From Marine Serre's patterned, sequined coverings (earlier designs even included a high-end air filter and are now sold out) to the latex gimp masks of Richard Quinn's kinky floral glamour, fashion masks were aplenty on the Autumn/Winter 2020 runways. While the trend pointed to the collective sense of dystopian dread running throughout the season's sartorial visions, we never could have predicted (at the time) just how prescient it'll prove to be only a mere few months later.
With RMCO taking effect this week, the majority of us will be venturing back into the great outdoors to navigate the new normal. Hand-washing routines and physical distancing aside, face masks will become an essential component of everyday life, if they aren't already. The next stage of Malaysia's relaxing regulations called for public mask-wearing in its updated Standard Operating Procedures (SOPs). Plus, despite the initial back and forth, the CDC now recommends the use of face masks as it helps lower the spread of the virus in public settings (when worn correctly) and strengthens the distancing measures that we're already doing.
As these medical necessities fold naturally into our daily wardrobes—trend forecasters predict that masks will be worn with the same unthinking passivity of a coat and hat during our new day to day, while WWD posits that it could even end up on the red carpet by way of mask couture—why not invest in a reusable one that speaks to your personal style?
Leave the medical-grade masks to the healthcare professionals. While the surgical-grade N95s are known to offer the highest level of protection, they should be reserved for health care workers as reusable cloth masks perform most of the tasks of single-use masks and are more environmentally friendly. A recent analysis by UCL scientists found that single-use masks, if worn by every single member of the UK public, will contribute to an extra 66,000 tonnes of contaminated plastic waste annually. 
What of the uneasy tension between a public health crisis and the fashion industry? In a recent New York Times story, Vanessa Friedman addressed the capitalist opportunities that tend to emerge from times of trauma, writing that while "the mask becomes the first signifier of the individual, it could also become a sign of aspiration, achievement and inequality". For the meantime, big luxury houses are focusing their efforts on creating essential PPEs for the medical community and towards European relief efforts, but what happens when the pandemic eases and they decide to join the bandwagon of public demand?
While it's important not to undermine the significance of the mask as a show of solidarity and civic virtue during a time of increased pain and isolation (e.g. DON'T buy a mask to flex), this also points to a bigger conversation about the necessary change and behaviour required in the fashion system if it's to become more environmentally and ethically sustainable in the future. As mindful consumers, we should be conscious of our purchases, taking the time to research how items are being made, whether or not the company values align with that of our own, asking for more transparency, etc.
Same goes for the reusable face mask. Multiple brands worldwide have shifted their production efforts to craft affordable masks options out of deadstock and sustainable materials, with most of them giving back to the frontline or donating to communities in need through 1-for-1 models. Purchasing masks from smaller, independent brands are a good way to support them during the economic downturn and make a positive contribution towards wider social and environmental concerns if they're upcycling fabrics or adopting donations-based models.
If you're in the market for a reusable mask, we've rounded up a list of mask-manufacturing, conscious fashion brands from around the world to help you get started: 
Melinda Looi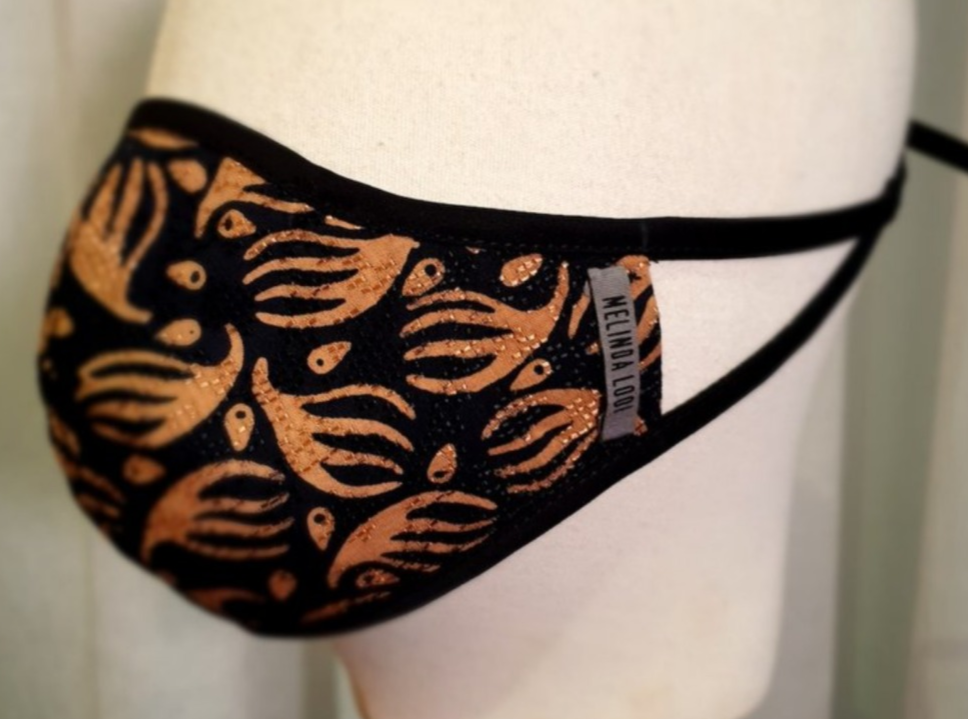 Not only has she collaborated with Tom Abang Saufi to create the #UnityMask collection for medical frontliners, but Malaysian designer Melissa Looi also designed limited-edition face masks for you to stay stylish and protected at the same time. Coming in vibrant, abstract designs, the washable masks are eco-friendly and adjustable, featuring a three-layer design, extra long fabric straps, and a filter pocket that can be refilled with PM2.5 filter inserts.
Available here. 
Khoon Hooi
Local brand Khoon Hooi turns up-cycled fabrics into washable face masks designed in motifs drawn from their own archives. From knitted intarsia florals to more simple silk covering in mint, each mask features dual-layer protection and an inside side slip opening for you put in a disposable filter (every purchase comes with a 5-layer refillable filter). If you find masks to be highly uncomfortable, the design for this range will change your mind. It features adjustable stoppers for straps and a built-in nose clip to ensure it fits your face as well as it can.
Available here.
Lisa Von Tang
Over in Singapore, designer Lisa Von Tang fashioned soft 100% silk masks out of pure Egyptian Cotton sourced from Italy. Available in 13 different colours, this reusable face mask features a padded nose bridge and will be great for those with sensitive skin. It may feel like the most luxurious option of the other offerings, but for every LVT face mask that you buy, five surgical masks will be donated to community initiative contribute.sg 
Available here.
Shaofen
Young local designer Shaofen injected some new life into her fabric scraps by turning them into reusable, zero-waste masks. Available in classic colours of black, red, taupe and white, the breathable fabric coverings come with a filter slot, elastic loops and removable ribbons, adding a touch of effortless elegance to your everyday outfit.
Available here.
Minor Miracles
The Singaporean print and textile label is best known for its dreamy, whimsical designs by local artist Dawn Bey and the studio has made use of its leftover fabrics to create a series of bright reusable masks. Only released in batches, the next collection will be available in unique renditions of their Breath of Gerberas print and this time, all masks will be sewn by the women of their Malaysia-based factory. Each mask features a filter slot and elastic-band straps, arriving on June 12. All profits will be split two ways to different COVID-19 funds to help local migrant workers through the Covid Migrant Support Coalition and Migrant Workers' Assistance Fund.
Available here. 
Batik Secrets
Following a supply shortage of masks during the first MCO phase, Malaysia-based Argentinian designer Maureen Clarke set out to make her own face masks by hand from batik fabric scraps to support the underprivileged during the pandemic. The two-layer cotton masks come with a pocket to slot in disposable filters and are made out of 100 per cent cotton hand-stamped batik leftovers from her previous collections. Each mask sold will help support batik artists, seamstresses and families in need.
Available here.
Olive Ankara
Singapore-based designer Ifeoma uses cutoff Ankara fabrics drawn from her heritage to create reusable, reversible and washable face masks in vibrant, patterned prints. The 100% cotton wax print masks include elastic ear loops that are adjustable for ideal fitting and a pocket to slide in an additional mask if you want higher protection. 10 per cent of sales go towards donations for local charities that support migrant workers and people in need during these dire times.
Available here.
Collina Strada
One of the more popular offerings around, LA-based designer Collina Strada reinvents deadstock materials from her previous collections to make floral face masks fastened with delightfully patterned bows, which also includes a built-in filter opening. The purchase of every mask provides five more to healthcare workers in NYC. For those with a penchant for more minimal designs, Strada also recently launched a new collection of veggie-dye masks, available in muted palettes of green and purple with tie-around fabric strings. Following the same 1:5 ratio, sales from this collection will contribute donations to the BLM movement.
Available here.
Tia Adeola
NYFW breakout Tia Adeola found a creative way to give us face masks just as beautiful as her signature silhouettes. Drawing from the research of masks designs during the Renaissance era, the  Nigerian designer has created lace-adorned, ribbed masks embellished with ruffles and a velcro fastening. At the moment, the hand-washable mask is available in black and orange, and 75 per cent of the profits made will be donated towards COVID-19 relief.
Available here. 
British Fashion Council
The BFC has launched 'Great British Designer Face Coverings: Reusable, for People and Planet', a joint campaign with Bag of Ethics to create sustainable, reusable fabric face coverings designed in London by six British designers, including Halpern, Julien Macdonald, Liam Hodges, Mulberry, RAEBURN and RIXO. The project aims to raise £1 million, with 100 per cent of sale profits going to charity—to be split between NHS Charities Together Covid-19 Urgent Appeal, BFC Foundation Fashion Fund and Wings of Hope Children's Charity. Each designer face mask is available in packs of three and features two protective pouches.
Available here.
Etsy
If you want to support small businesses, Etsy is a great place to shop. Many of the platform's crafty vendors in Malaysia and beyond have shifted to making hand-made face masks. Many allow you to customise your own design and pick your own fabric, while others donate parts of their profits to local communities in need. From linen embroidered coverings to smooth satin styles, the online market place won't be an easy shop but it's a worthy trove of diverse offerings.
Available here.
| | |
| --- | --- |
| SHARE THE STORY | |
| Explore More | |