Gwen Ong, Deputy Editor: Giorgio Armani, Look 1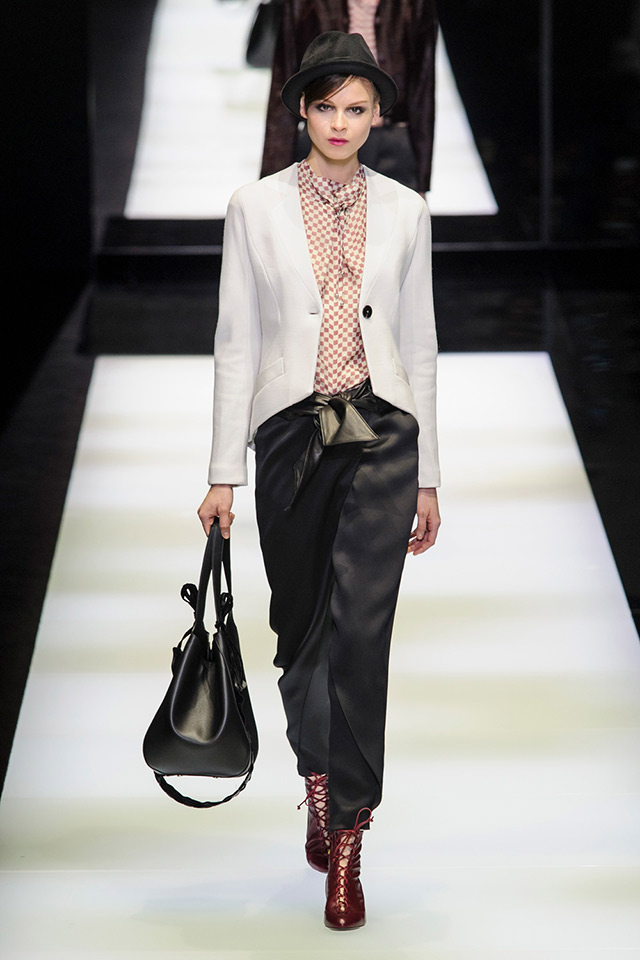 Sharp tailoring and smart suits seems to be getting its fair share of high moments at the Fall runway. Giorgio Armani sent down an edit of some 80-plus looks that saw models in cropped jackets and pants, oversized coats paired with voluminous skirts and even more of the jackets-pants combo. It was a sleek showcase that had colours, texture and silhouette, one that the designer executed well. He caught my eyes with his opener Look 1. I call this the refined rebel; I like how the whole look comes together to show off an edgier side of femininity where you don't have to sacrifice comfort for style.
Rachel Au, Senior Lifestyle Writer: Salvatore Ferragamo, Look 1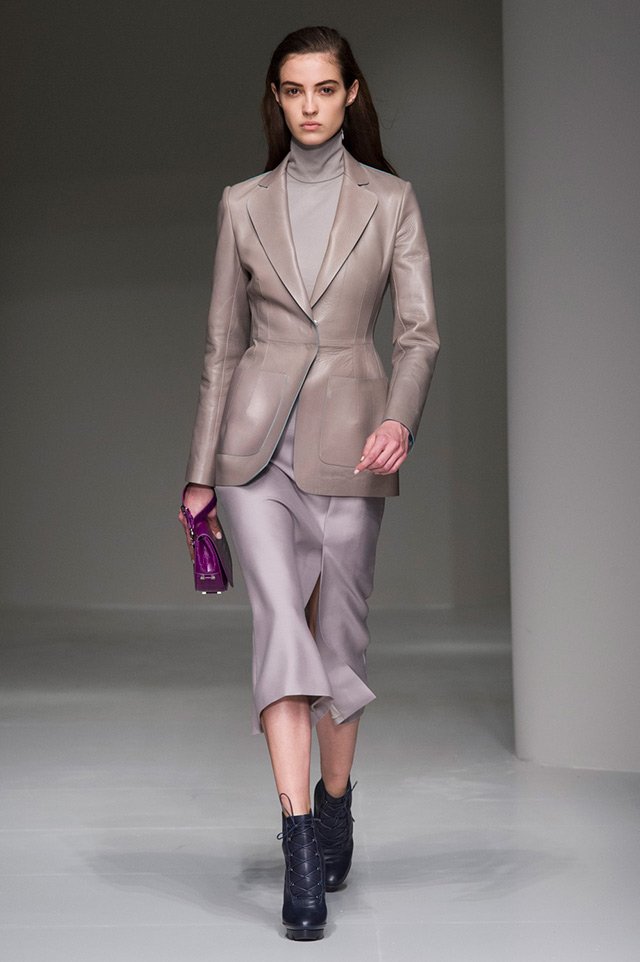 I must say I'm starting to keep to my style resolution as gone are the days where I'm so transfixed on desiring a runway look that's blooming in pastels or lace. That's half a lie since I do have 'cheat days' where I just can't say no. But for Milan Fashion Week AW17, Fulvio Rigoni has my heart. His second collection for Salvatore Ferragamo mostly saw an array of luxe leather pieces matched with graceful, comfortable textures. The looks are just as the keywords of inspiration he described in a preview: "dynamic, sensual, luxe, comfortable." Look 1, in particular, with that incredibly butter smooth dove grey leather blazer over a turtleneck and a slit silk skirt – both of a similar hue -, embraces all four of those words. It's my kind of 50 Shades of Grey – or just three shades actually.
Loh Wei Yeen, Fashion & Beauty Writer: Bottega Veneta, Look 1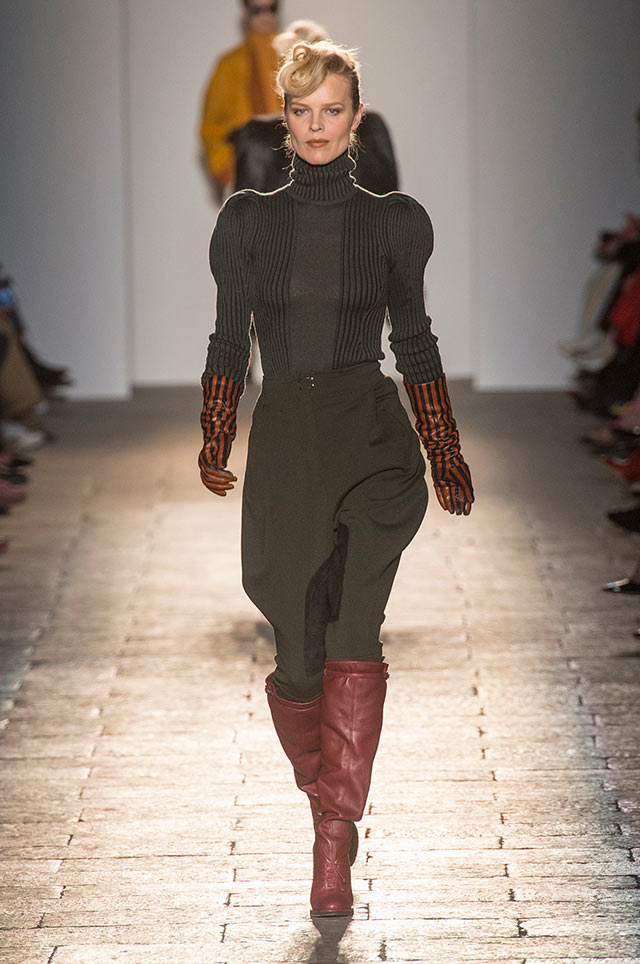 If there's anything that can convince me to wear puffy shoulders and equally slouchy jodhpurs in the same colour scheme, it's this entire look that my ultimate supermodel crush Eva Herzigová wore to open the Bottega Veneta show. Tomas Maier never fails to inject class and modern elegance to any collection, but this time around, he looked to the '40s for inspiration in creating silhouettes that spoke of understated power and glamour. Also, what's not to love about those brilliant leather accessories that complemented this equestrian-leaning ensemble to a tee?
Tan Su Fen, Writer: Versace, Look 28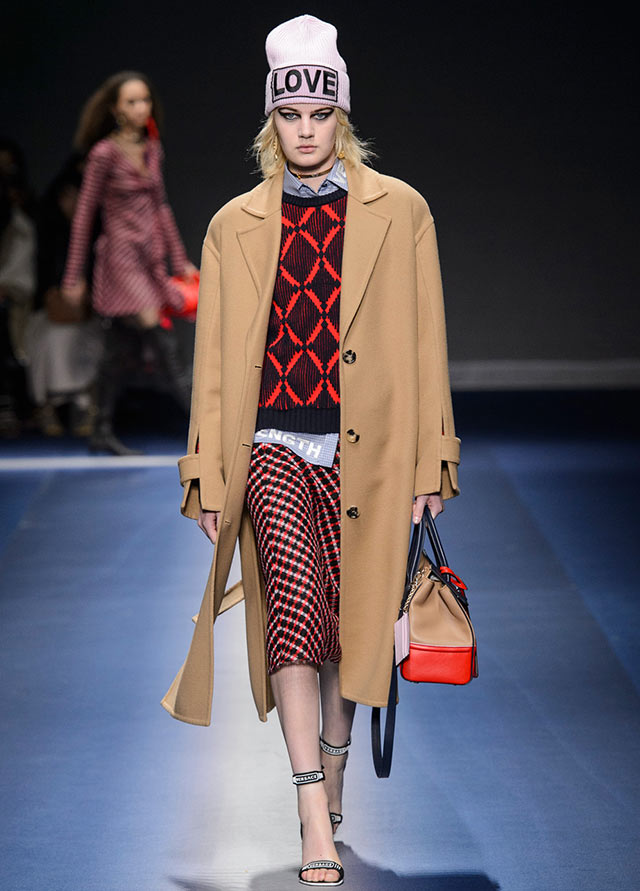 For fall, Donatella Versace delivered a show with a message—"A call for unity and the strength that comes from positivity and hope"—a message that I appreciate. This positive messaging came in Versace's signature bold, sexy and empowering aesthetic laced with a street edge, and also in literal manner with the words 'Unity', 'Love', 'Courage' and the likes printed or embroidered in capital letters on many a piece in the collection. One of my favourite looks is this preppy-meets-street ensemble, where a camel coat is worn over a graphic knit sweater and skirt, with a subtle flash of 'Strength' on the tails of the chambray shirt—pieces that can be worn separately to add versatility (and positivity) to my wardrobe.
Alyssa Lee, Editorial Assistant: Tod's, Look 9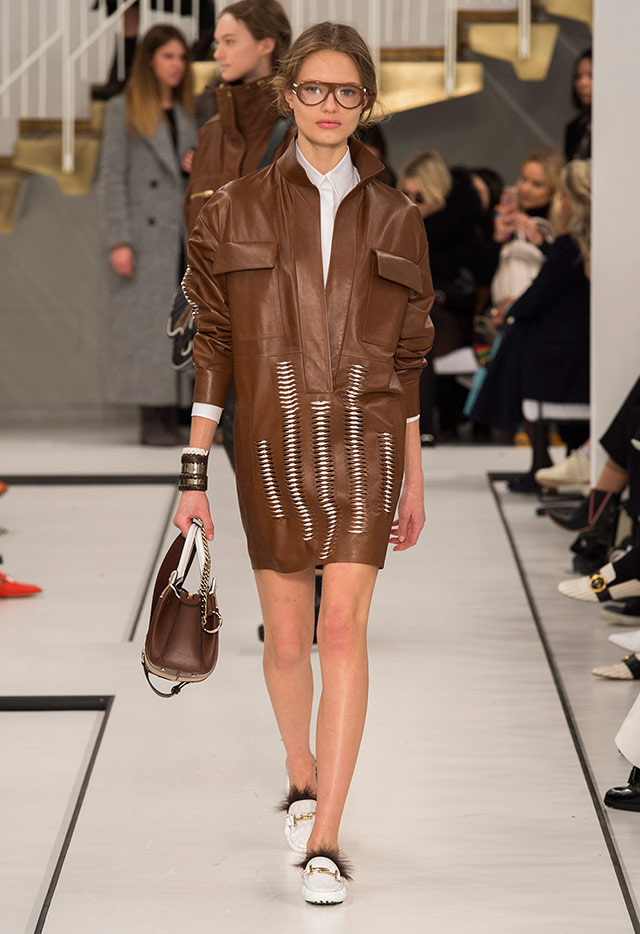 Tod's shift of focus from leather goods to outerwear in the fall show has been deemed a wise move by industry critics. The brand's mastery of the material shone through beautifully in supple coats and structural blousons cut from paperweight skins. Look 9 is a modern coat done right; proportionally fresh, roomy yet sleek, minimalist with just the right amount of design thought incorporated. Half the reason for my pick: Those aviator spectacles that nail that coveted geek-chic appeal and lend an easy hint of added intellect (albeit faux and just for show). In terms of footwear however, I remain on the fence with the furry feet—especially when the fluff is so close in colour to my (non) natural chestnut locks. God forbid I be mistaken for a distant cousin of one Bilbo Baggins. Yikes.
Don't forget to check out…
Paris Fashion Week AW17: Highlights of Day 1
| | |
| --- | --- |
| SHARE THE STORY | |
| Explore More | |