Gwen Ong, Deputy Editor: Rock classic colour schemes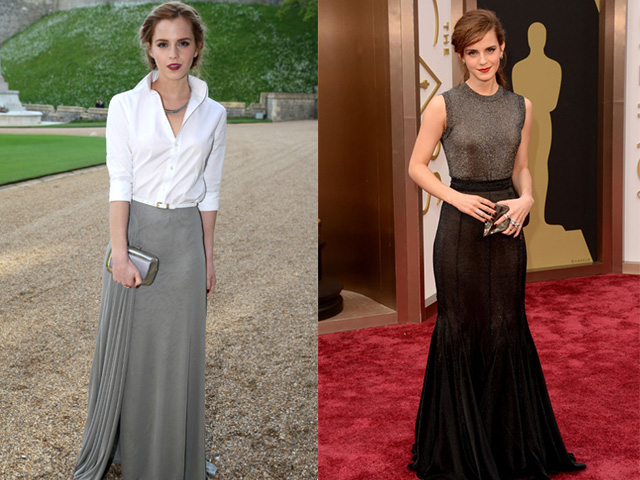 For 2017, I'm going to be looking at adding more hues in my clothing (I hear ye friends who have commented that my wardrobe is rather muted). Although I have no problem with colours (except for pink), I tend to gravitate towards safer choices like black, white and grey in the last few years. It's just easier to sort out laundry days ok! Anyway, I will admit that life is much more fun with all spectrums of the rainbow. But if I do regress like all humans do, I will be looking at Emma Watson for style inspo. That girl has some serious OOTD game—her monochrome outfits are always on point. I love how effortless she looks and yet refined in her fashion picks.
Jasmine Leong, Senior Fashion Writer: Be less timely, more timeless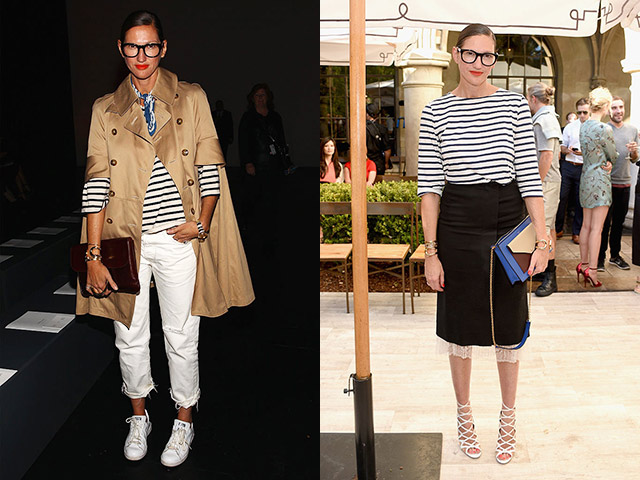 Over the years, I had gone through several phases (some more disastrous than others) of fashion. Bohemian chic, vintage cool; you name it, I've worn it. While I wouldn't consider myself a trend victim, I guiltily admit that I sometimes would not hesitate to purchase 'It' pieces of the moment—which, in no time, will end up at the bottom of my closet. Hence, my New Year's fashion resolution is to focus on timeless pieces rather than trends that will be just another passé in a few weeks time. Easier said than done, but I will (try my hardest to) focus on buying high-quality wardrobe staples or statement pieces that I can wear for years. Outfit repeater or not, best believe I'm going to make it work, with J.Crew Creative Director, Jenna Lyons as my #inspo.
Loh Wei Yeen, Fashion & Beauty Writer: Take more fashion risks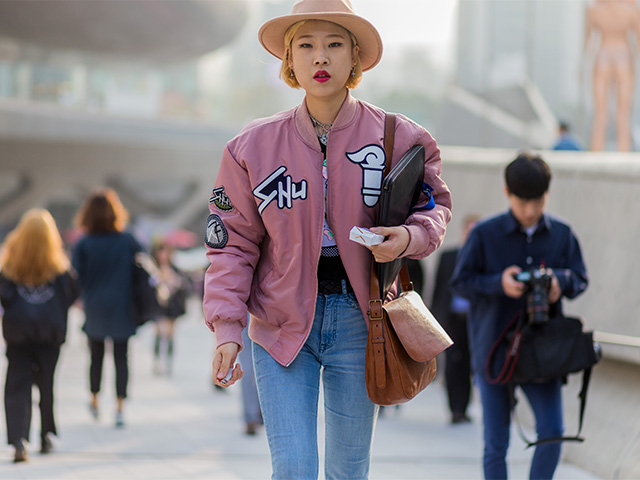 There's a reason why I veer towards neutral-coloured clothing and a plethora of jeans—they are foolproof and always easy to mix and match without risking a fashion faux pas. But this has resulted in my less adventurous disposition when I shop. For instance: I never got round to hopping on the trendwagon when it comes to things I like, such as pleated skirts, boxy bomber jackets, and deconstructed denim. For 2017, I'm gunning for a bolder approach to tackling trends that intrigue me, instead of steering clear of it in fear of looking comical or out-of-place. Bring on the tide of colours and scores of prints.
Rachel Au, Lifestyle Writer: Be more dressed up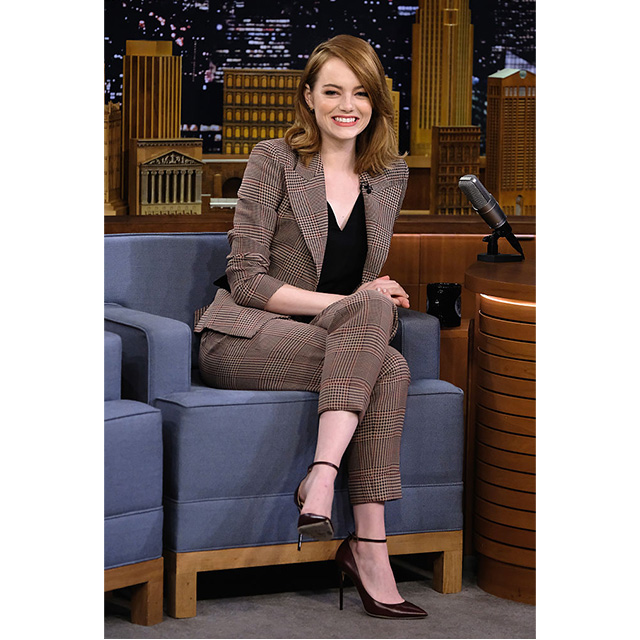 My style inspo has (and will) always been Taylor Swift but to avoid my colleagues completely removing my little resolution (or scoffing at it) here, I'll go with my next favourite: Emma Stone. (Wishful thinking: Only because, I've already mastered the TayTay look.) In contrast to Taylor's sometimes-feminine-sometimes-edgy-sometimes-laidback style, Emma has more often than not been spotted in a more matured fashion sense. Sleek silhouettes, style-meets-comfort, and a chic elegance—a statement that you don't need a lot to look good. So for 2017, I aim to channel just that—being a little more dressed up and being a little more matured about it. (But most likely, it'll still be Taylor Swift.)
Tan Su Fen, Writer: Invest in wardrobe essentials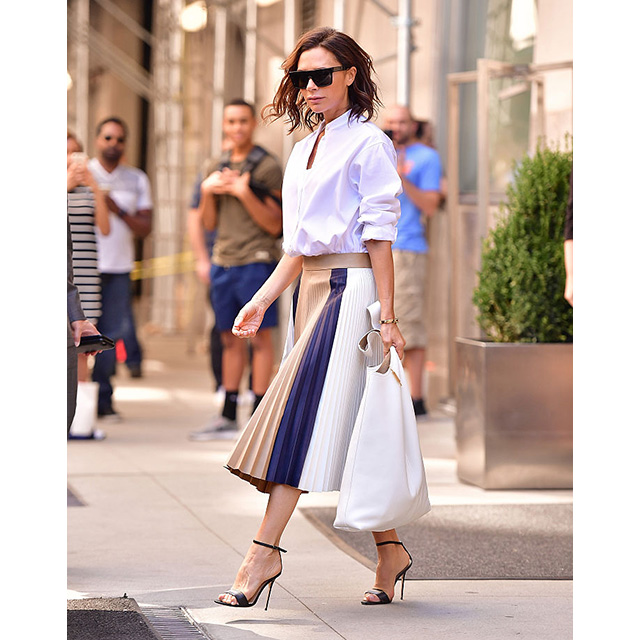 Even at work I've slipped into the cycle I thought was only going to happen in college: In the beginning, I tried to put a little more effort in what I wore to work—it didn't take too long before the t-shirt and jeans combo started kicking in (sorry fashion eds). But despite always going back to the same few pieces, impulse buys have seen my wardrobe expanding till the point where it desperately needs a clean-out. Thus, my new year's style resolution is to cut down on frivolous spending, and keep the wardrobe limited to high-quality staples that are work friendly, and will still look good anytime, anywhere.
Alyssa Lee, Editorial Assistant: Go bold or go home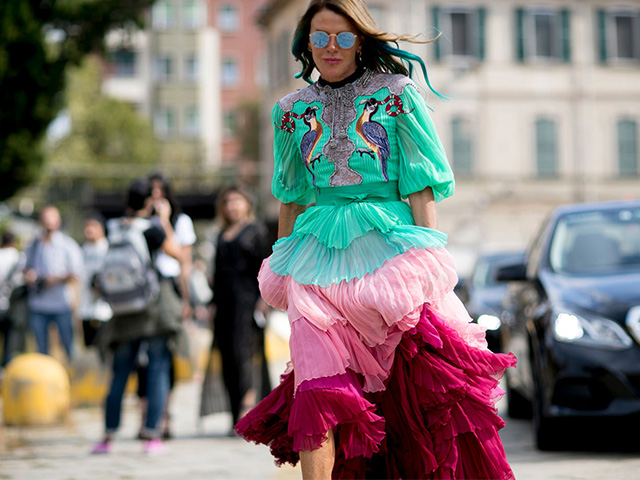 I wouldn't say that minimalism is overrated but maybe it's interpretation could be skewed. The minimalist wardrobe typically consists of basic, fuss-free pieces in a gamut of monochromes—and by the sheer number of grey jumpers I own, my style aspirations are clear. But 2017 shall be time for a little switch up. I'm not saying I'd go from zero to FOMO but a little pizzazz has hurt nobody. Plus, a closet of treasures to pass down would be the dream, but a trunkful of black and grey would barely make a (future) daughter beam. So, I'll be buying the fabulous, the colourful, and the "Where-am-I-gonna-where-this-to"s. After all, a colourful Gucci dress like Anna Dello Russo's would look perfect…layered with that grey jumper I have! Hey, mix-and-match is practically the definition of fashion, no?