Salvatore Ferragamo's legendary Rainbow suede sandal in 1938 was specially made for an equally legendary figure: on-stage and on-screen icon, Judy Garland. The shoe in question? A vibrant multi-coloured suede platform in gold nappa with a cork heel—fit for the queen of show business.
Fast forward to 2018 and Salvatore Ferragamo have updated the iconic silhouette with sustainability in mind—introducing Rainbow Future. The hand-finished platform is constructed from conscious materials: veritable wood, organically certified crocheted cotton (in accordance with the Global Organic Textile Standard), lined in leather finished using Layertech (finishing technology which produces zero carbon dioxide emission and water consumption), water glue, non-galvanised brass and sewing thread from 100% recycled material. The result is a toned down, muted version of the original silhouette that's easy on the conscience.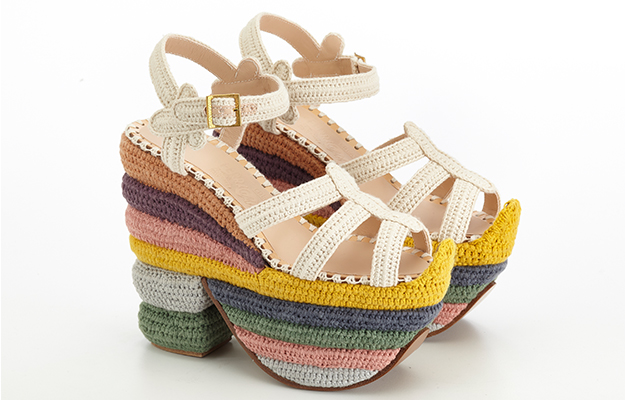 The sustainablility aspect doesn't stop there. Purchase a pair of Rainbow Future and you'll notice the packaging is made from 100% biodegradable cotton bags and 100% recyclable FSC cardboard shoeboxes. The limited edition Rainbow Future only has 100 pairs in circulation so you might wanna snap them up ASAP. Need a pair? The Rainbow Future sandal is currently available in Hong Kong and is priced at HKD29,500 (approx. RM15,142.15).
Click through the making of Salvatore Ferragamo Rainbow Future sandal below:
{insert gallery tpl="slide-freesize.tpl" id="[Стандартная] Salvatore Ferragamo Rainbow Future Sandal" rid="6321″ order="a_tstamp"}
| | |
| --- | --- |
| SHARE THE STORY | |
| Explore More | |