It might seem like Adwoa Aboah has it all—the 25-year-old model is regularly seen on the runways and campaigns of some of the fashion industry's most prominent labels; she beat the likes of the Hadid sisters and Kaia Gerber to take home the Model of the Year accolade at the 2017 Fashion Awards; she's one of fashion's most vocal activists on the need of diversity in the industry; and she's the founder of Gurls Talk, an online platform and "safe space" for girls to share and discuss anything without any judgement or stigma.
But the road to where Aboah stands now hasn't been easy. In fact, for a long time, she struggled with drug and alcohol abuse, on top of depression and bipolar disorder. Despite being brought up in a privileged household—Aboah's father Charles is one of London's go-to location scout, while her mother Camilla is a successful fashion agent—her troubles started when she went to boarding school as a teenager. She smoked her first spliff at 14, and was introduced to drugs a year later at her first Glastonbury festival. It only got worse during her university days, as she spiralled further into the depths of depression.
Just a little over two years ago, she attempted suicide with an overdose at a rehab centre in London, entering a four-day coma before moving to a psychiatric hospital, where she spent a month to recover. Fortunately, that dark period of her life served as a wake-up call, and not a dead end. "I like to remember where I was and where I am now," Aboah told The Sun in an interview. "It's not something I'm going to forget. I could have very easily not been here, so I feel like it's respectful to remember."
It was a turning point in Aboah's life. Two months on from her recovery, she landed her first Vogue cover on the magazine's Italian edition—and she only looked upwards since then. Now, clear-headed and sober (her only vice being cigarettes), Aboah is focussed on making an impact. Most recently, she was appointed as British Fashion Council's Positive Fashion Ambassador for Model Health and Diversity. A fitting role, given her prominence in the industry, coupled with a passion for activism fuelled by her own experiences with addiction and mental illness.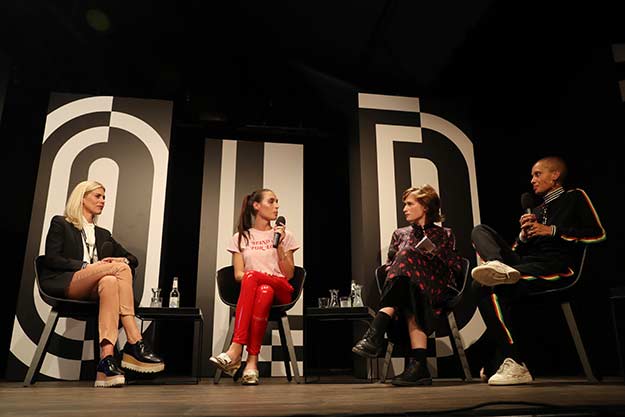 Outside of fashion, she spearheads Gurls Talk, an online community where young women are encouraged to discuss any issues, be it mental health, addiction, sexuality, body image, or "just whatever we want". This came after realising how opening up to people to discuss her struggles is a powerful tool in overcoming her battles in mental health. "When I'm around those women, so much of the burden I carry, the depression and the bipolar, the fear of ever going back into that dark hole, is completely taken away," Aboah told Business of Fashion. "When we're all taking part, I don't have to be ashamed about it or explain myself, the all understand. So Gurls Talk is as much for my benefit as anyone else's."
To date, Gurls Talk has been a vehicle of empowerment for girls to accept and express their true selves, and Aboah intends for it to continue making an impact: "I want it to be obvious that my presence and my opinion and my commitment to breaking stigmas are here to stay." It goes beyond an online presence as well. In January 2017, Gurls Talk together with Women Under the Influence (WUTI) and Romance Journal filled a bus and headed to Washington D.C. for the Women's March in a bid to make a difference and have their voices heard.
Fresh off her Model of the Year win last month, Aboah is already starting 2018 strong, starring in Miu Miu's Spring/Summer 2018 campaign and art directing one for Burberry, in which her cousins are featured along with herself (of course), while not relenting on the activism front, lending strong support to the monumental #TimesUp initiative. Be sure to keep your eye out for Adwoa Aboah for time to come, because this striking young woman is here to stay.
| | |
| --- | --- |
| SHARE THE STORY | |
| Explore More | |