As the COVID-19 pandemic continues to worsen globally, many countries—including China, Denmark, France, Ireland, Italy, New Zealand, Poland, and Spain—have implemented lockdowns to contain the pandemic, as well as Malaysia which has imposed a restricted movement order from March 18 to April 14. The fashion industry has also come together to join the fight against COVID-19. Below, all the biggest names and brands in fashion who have made a donation so far:
April 25, 2020
Mulberry
View this post on Instagram
Mulberry has announced it has begun producing PPE gowns in its Somerset factories for the NHS frontline workers, particularly, for the University Hospitals Bristol and Weston NHS Foundation Trust. Aside from that, it's also supporting the Scrub Hub—a network of volunteers making scrubs to order for NHS staff—by cutting large volumes of PPE fabric using its machinery, which will then be distributed to the community groups to be stitched. Fund-wise, the brand has raised over 75,000 pounds via its Coronavirus Appeal for the local UK charities and support groups.
April 21, 2020
Loewe
On top of initiating an all-new digital event titled Loewe En Casa, the Spanish luxury fashion house is also pitching in to fight the pandemic. In a joint statement released by Loewe's CEO Pascale Lepoivre and artistic director Jonathan Anderson, the duo announced that the brand will be donating 100,000 surgical masks to the Spanish Red Cross, and it's also producing non-surgical ones to be distributed to volunteer workers, its employees and their families. From every item sold from its upcoming Paula's Ibiza collection (between May and August 2020), Loewe has also pledged to donate 40 Euros to educational projects "to ensure a better future for children in socially vulnerable groups", starting with an initial donation of 500,000 Euros. The initiative will be carried out in partnership with Plataforma de Infancia—a Spanish alliance of social organisations that works to protect children and adolescents' rights.
April 11, 2020
Louis Vuitton
Two days after announcing its protective mask initiative, Louis Vuitton has revealed that it's also producing hospital gowns at its headquarters for six Parisian hospitals that are "in urgent need of protective gear".
April 9, 2020
Louis Vuitton
Louis Vuitton has reopened and repurposed 12 of its 16 workshops in France to produce hundreds of thousands of non-surgical protective masks for its staff, nearby retirement homes, and healthcare workers. According to an interview with WWD, its chairman and chief executive officer Michael Burke said that the brand will be keeping around 20 to 30 percent of masks for internal use, and the rest will be donated. The French Maison also relayed a special thanks to its "hundreds of artisans who have volunteered to create these masks, as well as everyone doing their part to fight this global pandemic".
April 7, 2020
Tod's
The Della Valle family, who are the owners of luxury Italian accessories brand Tod's, has donated 5 million Euros on behalf of their employees "to support the family members of health personnel who lost their lives in the fight against COVID-19," according to the press release. "Their selflessness and courage will forever be an example to all of us," the Della Valle family adds. On top of that, they're also inviting the public to contribute to the fund, which is called "Sempre con Voi" (always with you, in English).
April 1, 2020
Dior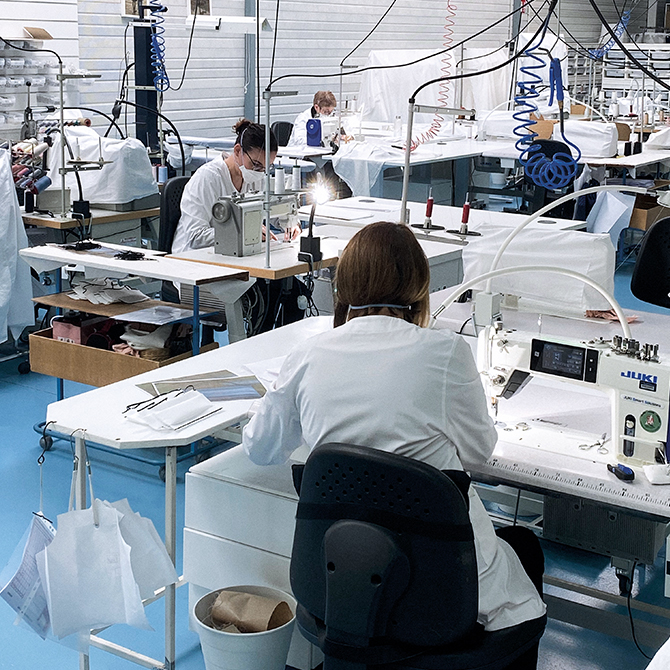 Dior has reopened its Baby Dior ateliers in Redon, France to support its parent company LVMH's ongoing efforts to produce new masks for the healthcare frontliners. The French Maison also paid tribute to its petites mains, aka its seamstresses who, "in an exceptional show of solidarity, are working tirelessly to protect them."
Capri Holdings
Capri Holdings—the luxury fashion group that owns Michael Kors, Versace, and Jimmy Choo—has pledged USD $3 million to the COVID-19 relief efforts across the globe. In a statement released by the brand, its Chairman and CEO John D. Idol says, "Our hearts and souls go out to those who are working on the front lines to help the world combat the COVID-19 pandemic. We thank them for their remarkable dedication and courage and want to support them and the hospitals where they work. We also aim to strengthen organizations dedicated to helping the community. This is clearly a time for people to come together in every way and on every level, because we are all stronger in our united resolve. I want to thank Donatella and Michael for their personal commitments."
John D. Idol and Michael Kors will both be donating a total of USD $1 million, while the latter's eponymous label will contribute another USD $1 million. From the combined USD $2 million, USD $750k will be distributed to the NYU Langone Health and New York-Presbyterian Hospital, USD $250,000 to its longtime philanthropic partner God's Love We Deliver to provide meals for people with serious illnesses, and USD $250,000 to A Common Thread to give financial relief for the fashion community.
Versace is also donating USD $400,000 to the San Raffaele Hospital, and USD $100,000 to the Camera Nazionale Della Moda italiana for the "Italia, we are with you" project, a campaign to donate healthcare equipment and ventilators to the hospitals in Italy. This is on top of the one million yuan and 200,000 Euros donated by the brand and Donatella Versace and her daughter, Allegra previously.
Jimmy Choo will donate USD $500,000 that will be split equally to the National Health Service COVID-19 Urgent Appeal by NHS Charities Together to support hospital staff and volunteers, and the World Health Organisation's COVID-19 Solidarity Response Fund.
March 28, 2020
Burberry
Burberry has pledged to dedicate its resources to support the fight against the COVID-19 pandemic. Aside from retooling its trench coat factory in Yorkshire to make non-surgical gowns and masks for patients, the brand will also be utilising its global supply chain network to fast-track the delivery to the UK National Health Service. Aside from that, the company's funding the research by the University of Oxford for its single-dose vaccine that's on course to begin human trials in April, and donating to charities including FareShare and The Felix Project that tackle food poverty across the UK.
Chanel
Chanel has contributed 1.2 million Euros to an emergency fund for the public hospital system in Paris and emergency services in France, and is donating 50,000 face masks not only for healthcare personnel, but also for police and firefighters. On top of that, the Maison is also planning to get its partner manufactures on board to produce protective face masks and gowns.
March 27, 2020
Giorgio Armani
Following Giorgio Armani's initial donation to the Luigi Sacco and San Raffaele hospitals and the Instituto dei Tumori in Milan, as well as the Instituto Lazzaro Spallanzani in Rome, the designer has also made a contribution to the hospitals in Bergamo, Piacenza and Versilia in the Tuscany region. In addition to that, the Armani Group has announced that all of its Italian production plants will be switching to manufacturing single-use medical overalls for healthcare frontliners who are helping to combat the COVID-19 pandemic.
March 26, 2020
Ralph Lauren
The Ralph Lauren Corporate Foundation have commited USD 10 million that will be split among four organisations. The first, to provide financial grants through the Emergency Assistance Foundation for its employees who have medical, eldercare or childcare needs; second, the World Health Organisation (WHO) to support countries in preventing, detecting, and responding to COVID-19; the Council of Fashion Designers of America (CFDA) to assist those in the fashion industry; and lastly, to its own Pink Pony Fund for cancer research. On top of that, the American brand has also started producing 250,000 masks and gowns with its manufacturing partners to help relieve the shortage during this period.
Gucci
Its president and CEO Marco Bizzarri has previously made a personal donation of 100,000 Euros to hospitals in the Emilia-Romagna region, and now, Gucci will also be joining the fight by making two separate donations to its crowdfunding campaigns. One million Euros will be donated to the Italian National Civil Protection Department via Intesa Sanpaolo's ForFunding platform; and another one million Euros to the United Nations Foundation's COVID-19 Solidarity Response Fund in support of the World Health Organisation (WHO) through a Facebook USD 10 million fundraiser. The #GucciCommunity is invited to make a donation, and Malaysians can donate via this link.
Bvlgari
On top of the donation made to Rome's Spallanzani Hospital early February, the Italian brand will help manufacture several hundreds of thousands of hand cleansing gel in the next two months to be supplied to all medical facilities through the Italian Civil Protection Department. The gels—distributed in 75ml recyclable bottles—will be produced by its long-term fragrance-manufacturing partner, ICR.
March 23, 2020
Prada
After its co-CEOs Patrizio Bertelli and Miuccia Prada donated six intensive care units to three hospitals in Milan, the brand has also announced that it has started producing 80,000 medical overalls and 110,000 masks for healthcare personnel, following a request from the Tuscany region.
March 18, 2020
Inditex
The Inditex fashion group which owns fast-fashion brand Zara has announced that it'll be lending its factories and logistics team to the Spanish government to produce hospital gowns and masks for medical staff and patients. The company also revealed its plans to convert some of its textile-manufacturing factories to produce medical supplies such as hospital gowns.
March 17, 2020
Moncler
Moncler is donating 10 million Euros to support the construction of a hospital with over 400 intensive care units in the ex Fiera Milano area in the region of Lombardy, Italy. In a statement released by the brand, chairman and CEO Remo Ruffini says, "Milan is a city that has given us all an extraordinary time. We cannot and must not abandon it. It is everyone's duty to give back to the city what it has given us so far. I have expressed to the councilor Giulio Gallera the will to work on this great project from the moment it was hypothesized and now that there are reasonable certainties on the feasibility, we are ready to support it. I am sure that the team of the Region of Lombardy, also facilitated by the experience of Guido Bertolaso, can bring this great initiative to become a reality as soon as possible."
March 18, 2020
Vivy Yusof and Fadza Anuar
Local retailer FashionValet's founders Vivy Yusof and Fadza Anuar have also laun
| | |
| --- | --- |
| SHARE THE STORY | |
| Explore More | |